Android 7.0 Nougat has been released and those who have Google Pixel or Pixel XL are using it. The user interface of new OS seems quite similar to the previous version Marshmallow but has improved features and offers better functionality for sure.
Few people believe that Google has made the new operating system a bit complicated, but may be they are not aware that Android 7.0 Nougat includes many hidden features that not just simplify your tasks but also help you manage the phone is a smarter way.
Android Nougat Feature and Hidden Tips and Tricks
Some features help you extend battery life and save data usage and some let you respond faster to any notification that you receive. There are plenty of Android 7.0 Nougat features that are a bit hidden and here in this article, we will tell you about them so that you can get the most out of this extraordinary OS.
1.Split Screen Mode
Split screen is not a new feature and some OEM versions have already included it in their flagship smartphones. However, now it is a stock feature so anyone having Android Nougat in his phone can get the benefit of it.
The feature works fine in both portraits as well as landscape modes. If you already have an app open and want to jump into another app at the same time, then log press, the recent apps button and it will show you the carousel of recently used apps from which you can choose any and initiate the split-screen mode.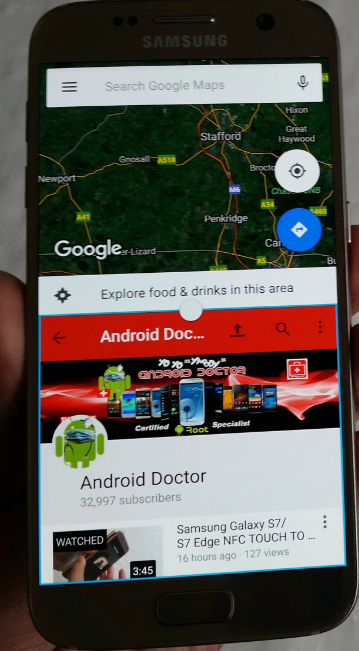 If you are using this feature in portrait mode then you can resize the windows a little bit as well. In order to exit the multi-window mode you can either long press, the recent apps button again or drag the barrier towards one side completely. Let us inform viewers that all apps don't support multi-windows feature.
2. Data Saver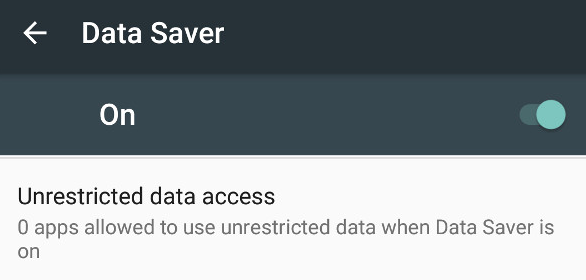 Data saver is an important feature which helps you to control your data usage and save the battery life in standby mode. The data saver feature is disabled by default, but you can enable it from Settings > Data Usage > Data Saver. Tap on it and data access of all apps will be restricted. Though, they will continue working, but less frequently. You can decide which app will have data access when the screen is off and open data access of that one. Data saver is a nice solution to avoid exceeding monthly data usage limit.
3. Switch between recent apps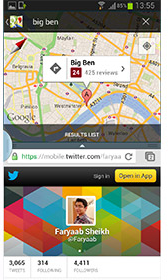 Android 7.0 Nougat allows users to switch between two most recent used apps effortlessly which can help them to work faster. In order to switch back and forth, you need to double tap the tiny square recent apps button. The facility is available in both full app and split screen mode.
4. Silence Notifications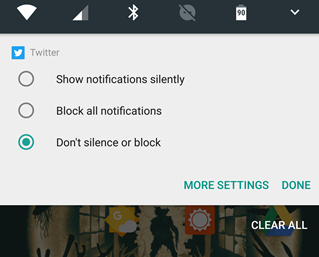 All notifications are not so important and, at time some of them disturb and cause irritation when you are busy. For instance, getting reminders from Facebook about every friend doesn't seem to be essential all the time. The new Android Nougat allows users to silence such notification and for that you need to just,
Press and hold the notification
Three options with radio buttons will come up,
Select the first option that says 'show notification silently'
Tap on done
5. Expand notifications
There is no need to jump into the email app to check unread messages all the time because Android Nougat has come up with expendable notifications that reduce your dependency on apps and save your time as well as efforts. In Android Nougat you will see a tiny arrow on the right side of your email notification, if you click on it, then the notification will be extended and you would be able to see the headlines of all your unread email at a glance.
In Android Nougat you will see a tiny arrow on the right side of your email notification if you click on it, then the notification will be extended and you would be able to see the headlines of all your unread email at a glance.
6. Enhance battery life from Home Screen
Android Nougat is filled with many useful features and one of them is this one that displays battery drain graph and also tells users about the battery percentage. You can easily get to know about the estimated time left and figure out for how long the battery will last. In order to get such details you need to tap on the battery icon from the drop down menu only.
Apart from giving all the above-mentioned details, this feature can also help you to increase battery life by making little changes. For instance, there is a Battery saver option which can restrict background applications as well as GPS and also control CPU so that your battery can last longer. Though, the battery saver options won't be available while charging the phone.
7. Respond to messages from the Home screen
It is one the most useful feature which saves your time and efforts. You can reply to any message directly from the notification area and for that you need to just choose a message and tap on reply, immediately a text box will open up and after typing the message you can send it from there to the relevant person. There is no need to open the message app to respond back all the time.
8. Get quick access to Multiple options
In Android Nougat lets user access titles of their choice directly from the notification shade. You can extend the arrow to see the full list and decide which tile will appear here permanently by clicking on the edit icon. The facility allows you to embed new tiles and re-order the tile location by long pressing and dragging any existing shortcut.
Various options like cast, invert colors, airplane mode, Bluetooth, hotspot etc. can be found here. If you tap on battery or Wi-Fi tiles, then you will get a quick view instead of heading to the settings page that used to happen earlier.
9. System UI Tuner
The UI tuner provides extra options to tweak and customize the user interface and since its an experimental feature and may disappear in a future release, it comes with a safety working. If you want to enable this feature, then swipe down the notification area and long press the gear/settings icon, under the system section you will see this menu.
The system UI tuner gives you multiple options like do-not disturb feature and power notification control. It also allows users to tweak the status bar and even enable split screen mode with swipe up from the overview button.
10. Change DPI size
Android Nougat allows users to change the DPI (Dots per Inch) settings that determine the size of fonts and icons appear across the operating system. The facility is useful for those who have weak eyesight and require larger fonts to see everything clearly. You can change the size from Display Settings > Display Size options.
11. Set Second language
Android Nougat lets users set their native language as a primary or secondary language in the phone. In order to activate this feature you need to,
Go to the Settings menu
Tap on Languages and Input
Tap languages
Add new one from the list
If you use google keyboard and regularly switch between languages, then there is a solution for you as well.
Go to Languages and Input
Head to Virtual  keyboard
Tap on google Keyboard
Select languages
Remove the check mark from 'use system language'
Set out locals through the slider
12. Customize keyboard theme
If you are a big fond of Google Keyboard then its a good news for you. Android Nougat allows users to customize their dull keyboard theme, and replace it with any image as a background. In order to enable this feature you need to go to Language and Input > Virtual Keyboard > Google Keyboard > Theme.
Verdict
Android Nougat is coming in many upcoming smartphones and will be used by millions of people globally very soon, that's why it is important to know about the cool features and functionalities of this OS so that you can take the benefit of them and handle your day-to-day task more effectively.