It's while now since the launch of Asus Latest Mid-range smartphone Zenfone Max Pro M1 to take on the Xiaomi's Redmi Note 5 Pro. The Zenfone Max Pro M1 was specially launched for India in the partnership with India's e-commerce giant Flipkart. Although the phone looked promising bundled with all the advanced features and functionality to compete with Xiaomi's Mid-Range Smartphone with specs and price to be considered a common factor.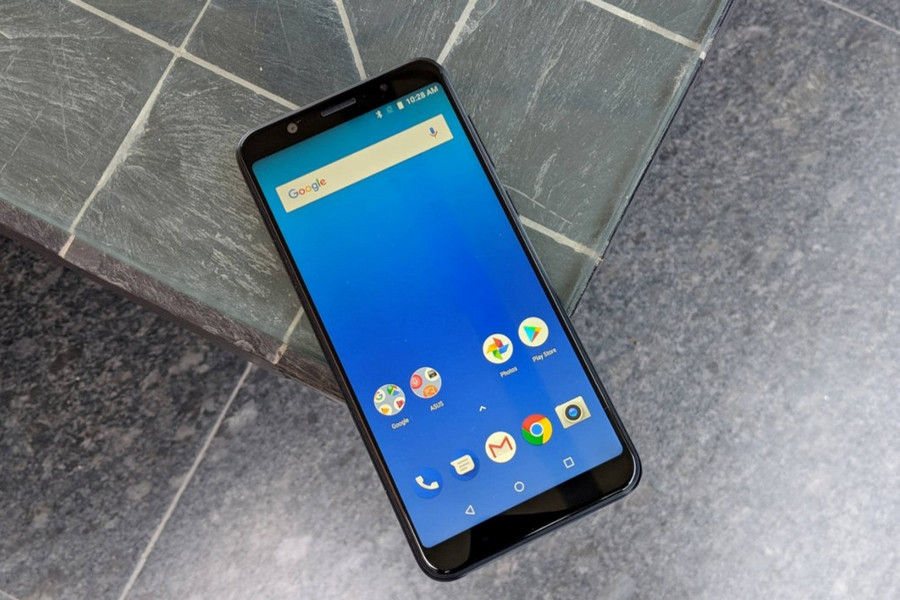 Zenfone Max Pro M1 was launched in three models- 3GB/32GB, 4GB/64GB and 6GB/128GB of which the former two models are open to buying in the ongoing sale on Flipkart but the later 6GB version will be out very soon to take on Redmi 5 Pro 6GB variant. Both of the pretty good value for money phones and carry their own stand out features. Although we are not here to compare these devices instead to tell you more about Zenfone Max Pro M1's features.
So if you are a Zenfone Max Pro M1 user or planning to buy, here are few features which can make your head turn to this device. In this article, we have listed few hidden features including tips and tricks to help you know more about your phone and make the most of the amount you have paid to get this beautiful looking mid-range smartphone from Asus.
Asus Zenfone Max Pro M1 Tips and  Tricks
There are 14 Asus Zenfone Max Pro M1 Tips and Tricks which can be handy while using the smartphone. So let us get started…
1. 100GB of Google Drive storage
Asus has been offering 100GB of Google Drive Storage with a year of validity for free with Zenfone Smartphones and you get the same with this latest smartphone. There is not much to do to avail this offer, simply head Google Drive App and sign in using your existing or new Google Account details and you are good to go.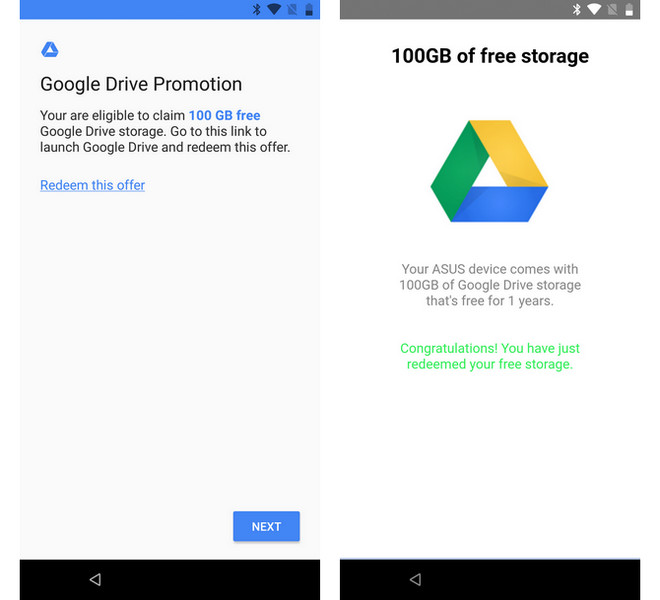 Upon signing in, it will show you a screen offering the free storage, Click on "Redeem this offer" to claim and it is done. On next screen, you will get a Confirmation Screen for successfully claiming the offer with the validity of one year.
IMPORTANT NOTE: Users can claim this 100 GB of FREE Storage on Google Drive only once with their handset.
2. Go2Pay Wallet
The Zenfone Max Pro M1 is integrated with a third-party wallet "Go2Pay". You can either access it from the app drawer or head to System >> GoPay in the Settings.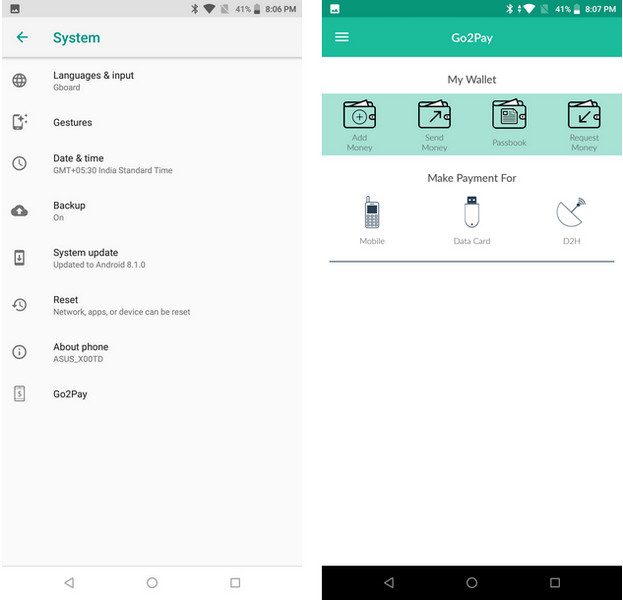 Zenfone users can use this like any other wallet to recharge their numbers or DTH connections and to Send or Recieve money from others using the bank account or mobile number (generally what we see in PayTM).
3. Wireless Casting Using Zenfone Max Pro M1
As per today, all the upcoming Android Smartphone come pre-installed with screencasting feature. You can use it directly from the Notification Panel or simply head to Settings >> Connected Devices >> Cast.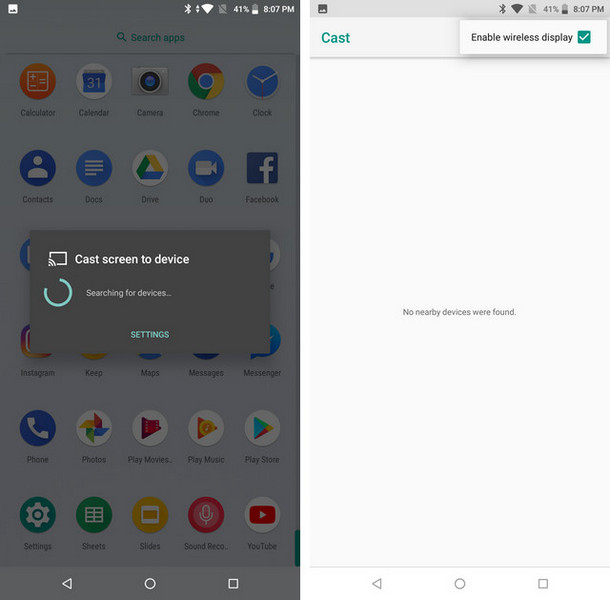 Although to use this feature, you must have a smart TV or smart STB or a Chromecast on their non-smart TVs to cast your favorite content from your smartphone wirelessly. It is very easy to setup, you can also use it on Apps with the cast icon.
4. Gestures on Asus Zenfone Max Pro M1
Using gestures directly from your Home Screen increases your productivity offering you to use your 2018s phone efficiently. Although having gestures is not a thing to brag about but they do get handy quite a time like drawing gestures to open an app or for quick action like Torch and more.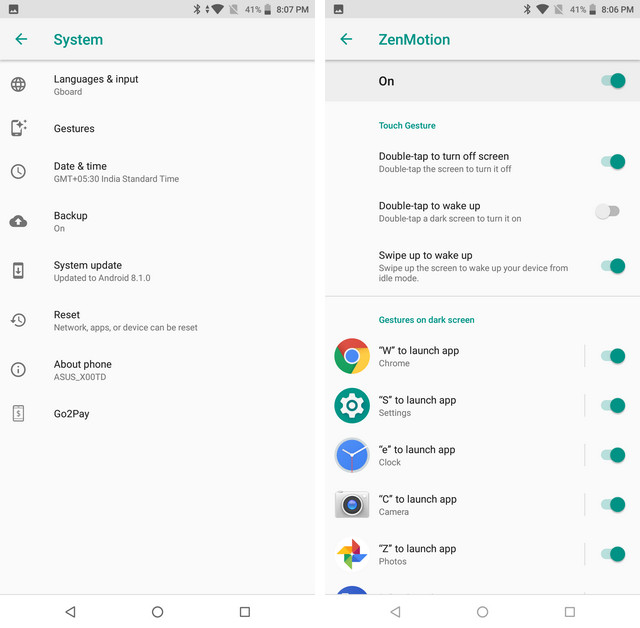 To enable gestures, go to Settings >> System >> Gestures >> ZenMotion and toggle on each action to enable the gestures on the dark screen. Now every you want to open an app quickly, draw the Alphabet you chose and the app/action will be done.
5. Enable Bokeh Mode (Depth Effect) on Zenfone Max Pro M1
As portraits mode is quite a trend now and Asus doesn't want you to go off trend too. You can take great Bokeh Mode shots on Zenfone Max Pro M1 to blur the back on both front and main camera.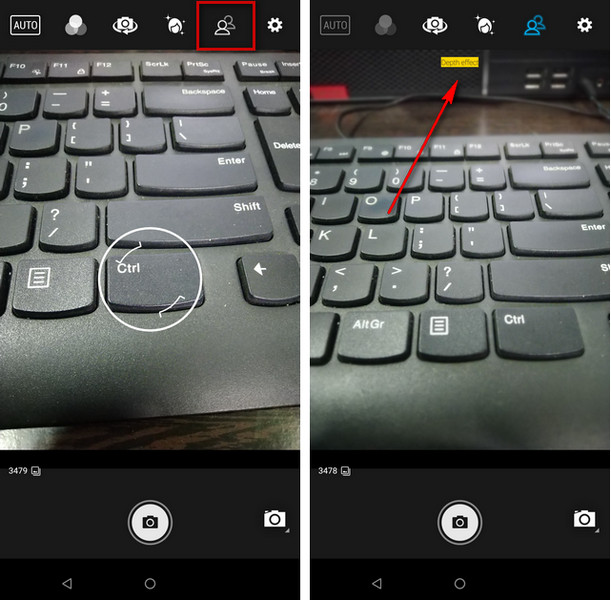 To enable the Portrait Mode on Asus Zenfone Max Pro M1, open Camera and click on Depth Effect Icon (refer image). You can capture Bokeh shots using your handset.
6. Camera Shortcut
Like Gestures to use Apps directly from the locked screen of your Phone, you can also directly jump to Camera if you want to capture some quickies. This feature lets you quickly open camera by pressing the Power Button Twice.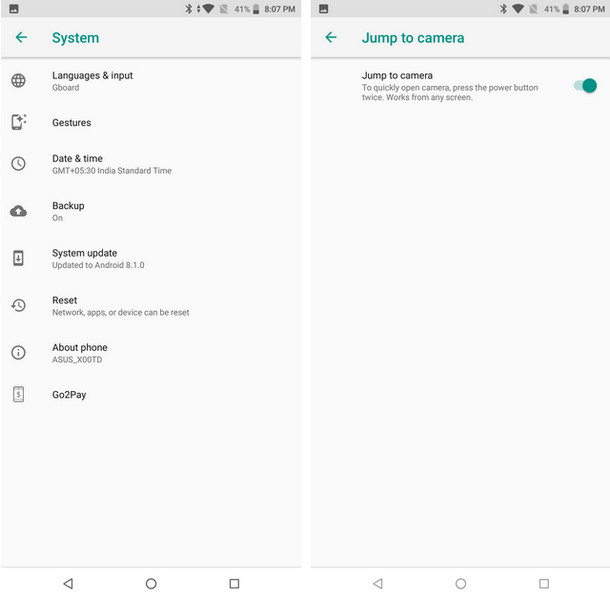 The "Jump to Camera" feature is enabled by default on Zenfone Handsets, if not you can go to Settings >> System >> Gestures >> Jump to Camera to enable it.
7. Enable to Show Battery Percentage on Home Screen
While battery takes up less space on the status bar but doesn't let the user depict the exact percentage of battery left on your Phone where displaying the battery percentage gets handy. The Asus Zenfone Max Pro M1 shows only the battery icon by default but you enable the option to show the battery percentage right on your status bar.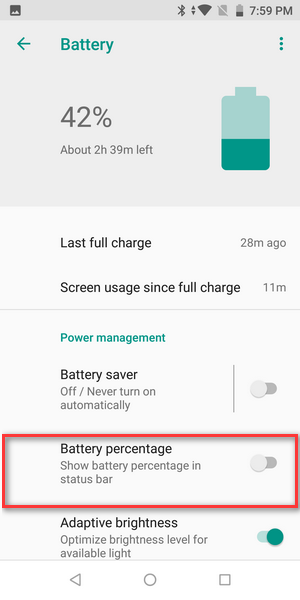 To enable it, head to Settings >> Battery and toggle on "Battery Percentage" option to enable it. Now the battery percentage will be shown right on your Status Bar.
8. Notification Panel Customization
On the first start of the phone, its notification panel consists all the useful and regularly used app icons by default but it totally depends on an individual. So to customize your device's Notification Panel, swipe down on the home screen to open the panel, hit the pen (edit) icon and customize your Notification Panel accordingly.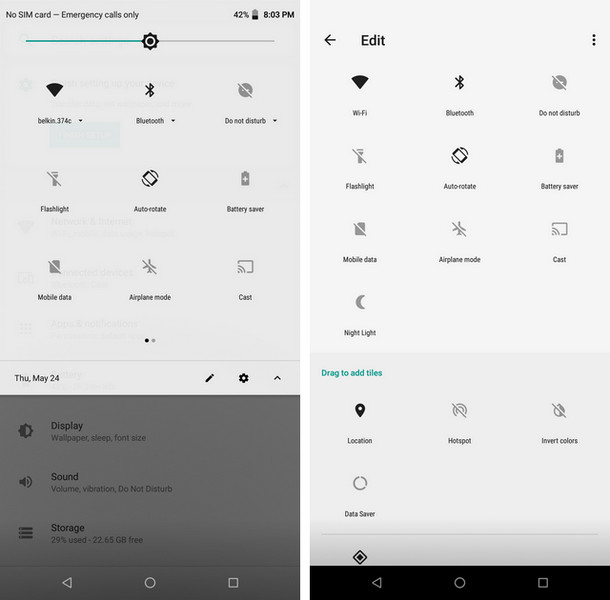 This way you set shortcuts up according to your usage and remove the unused ones from the main screen.
9. Quickly Switch to the Previously Used App
Switching quickly to the previous app is very convenient when needed. You can quickly switch to the app by double tapping the "recent apps" button and it will switch to the previously opened app.
10. Screen Pinning Feature
Screen Pinning is a great feature to lock the currently opened app or screen on your phone. It indeed is an excellent way to save your privacy breach while you give your phone to a person. Upon enabling this feature, the user will stay to the same app or screen until disabled, for disabling the person has to enter the password or the phone will be locked.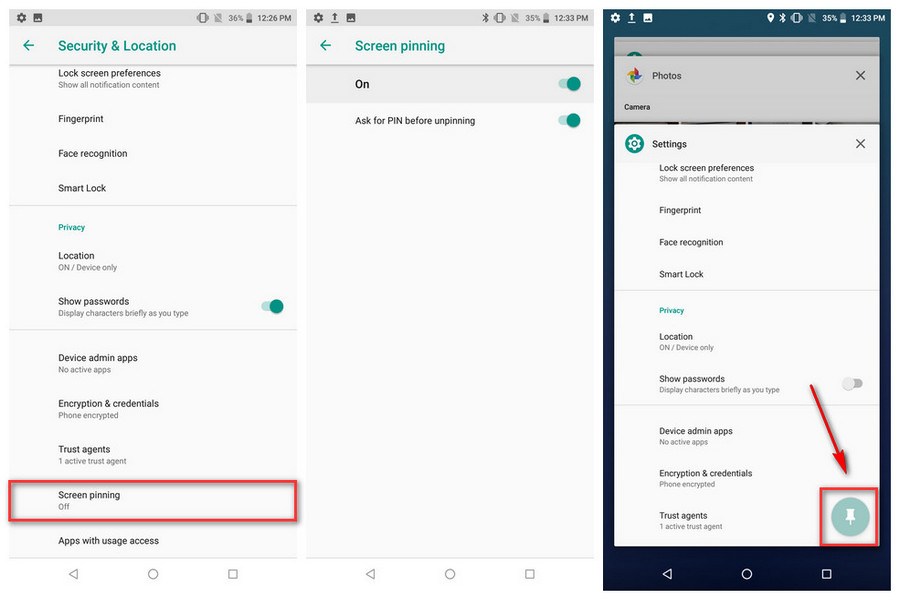 To enable screen pinning, head to Settings >> Security & Location >> Screen Pinning and press on recent app button to see the pin icon on the preview of the currently opened app (refer image). To disable or to unpin the screen, you have to tap on the back and recent apps buttons at the same time.
11. App Shortcuts
App Shortcuts were introduced with the Android Nougat and it stayed, while few users dislike it, most of them loved it as it shows the app-in shortcuts right on the home screen without even letting you open the app.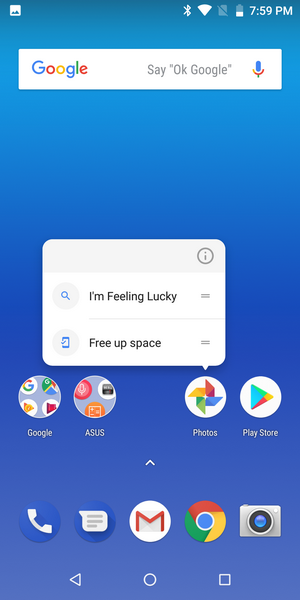 To show the shortcut menu, just tap and hold on the particular app and it will show you all the shortcuts the app offers.
12. Free Up Internal Storage
Internal Storage is used to install your app on the phone and also hold the system application and operating system. And after a while, you check the storage to be full and generally tend to download a third party application to clean the junk.
But what if we tell you there is no need to download any 3rd party app when you yourself can do it. All you got to do is clear the cache memory and the app data which was saved on the phone while we browse will be cleared. The data is stored to decrease app loading time and it is suggested to clear the cache memory is some interval of time. To clear open Settings >> Storage >> Cache, now click on cache option and you will be prompted with the notification to clear the data, press OK.
13. Google Assistant on Zenfone Max Pro M1
Google Assistant comes in-built with every android phone now and is an excellent feature to perform multiple tasks via your Voice Commands. However, to use the Assistant, you will have to activate it first. To activate, long press the home button and follow the shown instruction to enable it.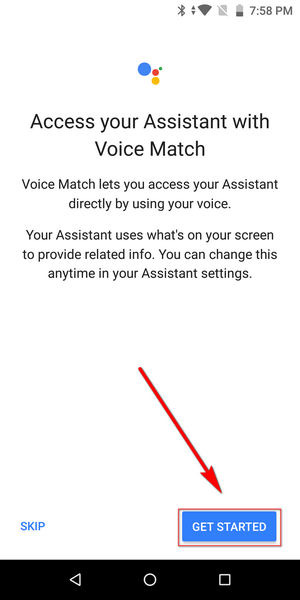 Google Assistant takes your commands and performs it for you. There are many interesting questions and commands Google Assistant follows, you can check them here.
14. Night Light Scheduling
In the generation where we use our smartphones until we sleep, bright white screen lights can strain your eyes. So while your eyes are sleepy and don't want to hurt them, head to Settings >> Display >> Night Mode.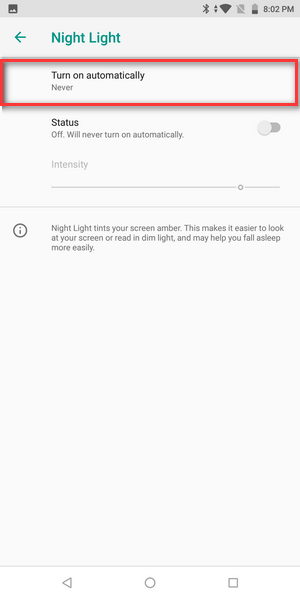 You can set the Night Light Scheduling from the settings or directly activate it manually from the Notification Panel or Settings.
15. Split Screen Mode
Split-screen Mode is a great way to increase productivity and multi-tasking. To use this interesting feature, just tap the "recent apps" button and drag the required app to the top of the screen. Now as the top part shows the cropped part of the dragged app, you can now select the other app and use it for multi-tasking.
However, few apps don't support the split-screen feature and it will show you if it doesn't.
Make the most out of Asus Zenfone Max Pro M1 using these Amazing Features
If you are Zenfone Max Pro M1 user or willing to buy it, these hidden features of Android and your phone can be handy. While these features are easy to use, you can try each one out and use it accordingly.
Also, tell us which feature you liked the most or would like to see on the device.