In the world of growing AI tech, all the companies including start-ups are working hard in the development of dope AI tech gadgets or their accessories. So we bring you the Aurga, a smart camera assistant to make your photography experience better with AI learning.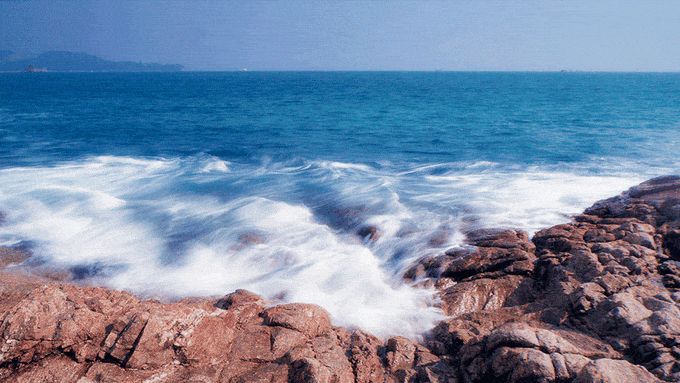 Aurga, a group of engineers, photographers, and product designers has recently announced a crowdfunding campaign in Los Angeles for the worldwide launch of Aurga Smart Camera Assistant & Personal Cloud Storage for your DSLR's. This DSLR accessory was developed to bridge the gap between the latest tech and the old traditional DSLR technology. With that this lets you control the cameras using their mobile app for both iOS and Android and leaves no disappointment in its investment. Aurga made their mark to the Kickstarter campaign in January 2018 and had crossed upto 200% of its pledged goal.
How Aurga Works?
Aurga being a smart assistant accessory helps you shoot photos, develope timelapse videos plus provides encrypted personal cloud storage to store your photos. This ultimate camera assistant has full support for 60+ DSLR models including leading brands like Nikon and Canon.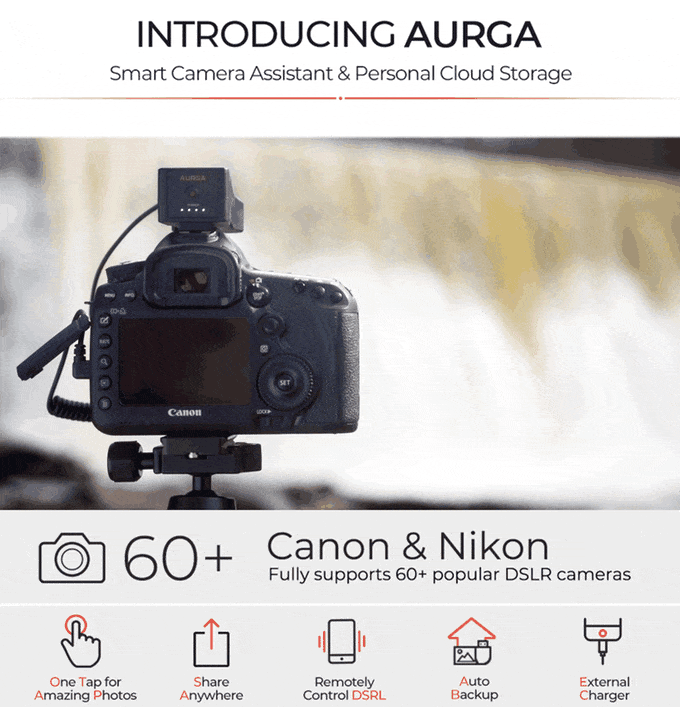 Aurga has AI enabled Automatic Configuration to assist your DSLR with the best configuration settings in any light conditions to get the best shot out of your camera. It also calculates the number of exposure, depicts them at different focus positions and blends them into one clear final image. Its smart algorithm keeps on learning from thousands of images including sample photos and keeps improving day by day.
How to use Aurga?
Aurga, your DSLR's smart assistant, gets attached to the flash mount on your DSLR and can be used using its apps from up to 100 feet away. With its sub-par automatic optimal settings to capture some extraordinary photos anytime you want. With its different modes of photography such as HDR, portraits, time-lapse, action photos and more.
Using Aurga guarantees to master all type photographic modes, no matter what the scene or subject is, it instantly makes adjustments in configuration settings to deliver the picture-perfect results.
The other functions it includes are: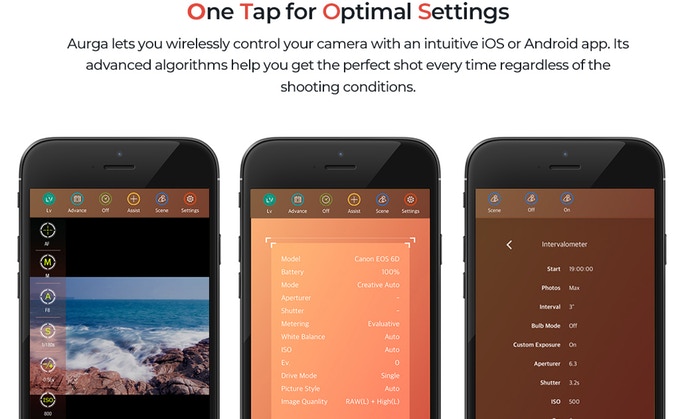 Aurga gives you the freedom to deliver you the best shot using your DSLR with its optimal settings with just a single tap. All you need to do is place it in the direction of the object, and its AI enabled configuration will do the rest.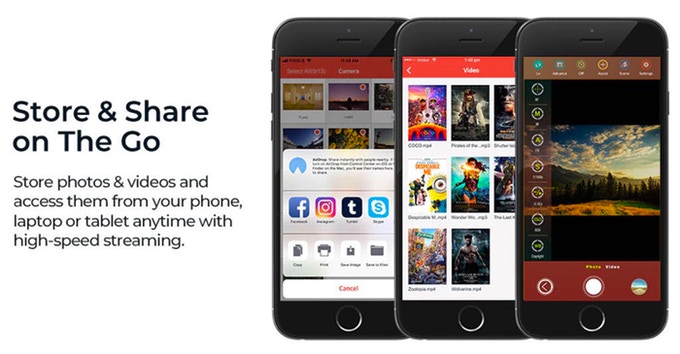 You can directly share your favorite photos using its mobile app to any of your contacts on email, WhatsApp or any other dominant sharing platform.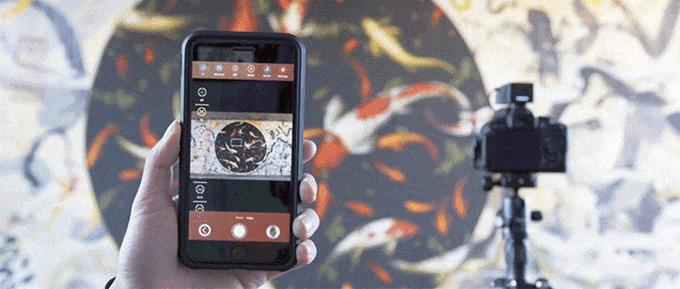 Using its dedicated app, you can control Aurga wirelessly for up to 30 meters after setting your DSLR on a tripod to get the steady shot.
While you are busy taking your favorite photos, Aurga Smart Assistant automatically backs up your photos to its cloud storage using WiFI which is secure and can be accessed later. This features guarantees you do not lose a single photo while you are on the go.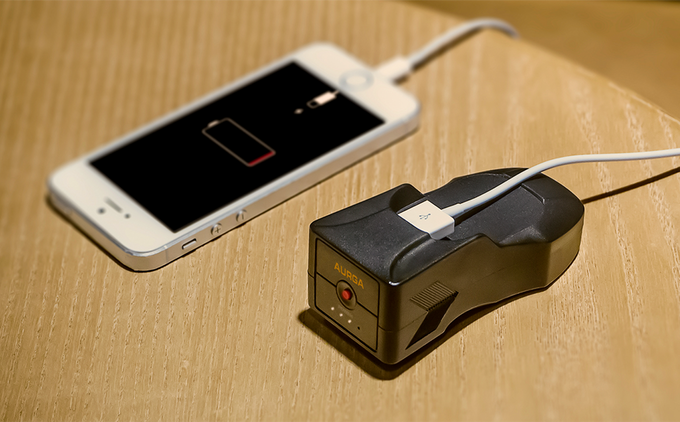 While you are away for some photographic sessions and your phone is about to die, worry not. Aurga has support for an external charger with its 2600 mAh battery to juice your device enough for simple usage.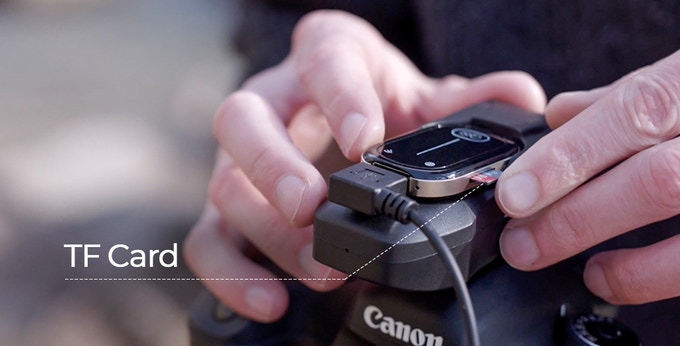 With the support of external storage for up to 256 GB, you need not worry if your Camera Memory Card gets full and gives your freedom to take the maximum shots using a TF memory card.
AURGA: Smart Camera Assistant & Personal Cloud Storage
Aurga makes it very easy to shoot any photos by analyzing thousands of photos to get the best optimal settings for any shooting conditions, and Aurga's AI gives you 6 quick presets to use in a single button push.
6 preset configurations:
Timelapse
HDR
Portrait
Light Trails
Moving Object
Depth of Field
App Support
Using its apps, you can capture, share images wirelessly and control all your camera settings.
Aurga works with Nikon, Canon and 60+ popular DSLR cameras.
App supports any iOS 9.0+ and Android 4.4+ smartphone
Smart Assistant AI
Adjust ISO, Aperture, Shutter using manual mode
Support for Timelapse mode with Advanced Controls
Hardware Specifications
96 g weight
2.4 G 802.11 b/g/n WiFi network
100 feet (30 m) Wireless Range
Micro USB
2600 mAh Battery
Wrapping it Up
Aurga is the solution for all your not upto the mark pictures using which you can bring out the best in your photos and thus show others and brag about it. The product is still running in Kickstarter Campaign and is available for pre-order at a discounted price. So what do you think will this AI-powered camera assistant will change the world of photography with its day to day image learning, do tell us in the comment section below. Also, share it with your friends or family who need this smart assistant.
Thanks for Reading. Adios.