A logo is a graphic mark, emblem, or symbol used to aid and promote public recognition. It may be of an abstract or figurative design or include the text of the name it represents as in a logotype or wordmark.—–Wikipedia
In modern life, the logo is getting more and more important. That's because an effective logo can not only speak for a company and a brand but also attract many potential clients. However, it will cost a lot to hire a professional designer to get a right logo, which becomes a barrier for the majority of small business owners and startups. Thus, DesignEvo is born at the right moment.
DesignEvo is a free and user-friendly logo maker that allows even a newbie to create a stunning logo in minutes, with which you can create company & organization logos, website & blog logos, brand logos and so on. Don't worry if you do not know any design knowledge or skills, DesignEvo has prepared everything for you: 3,000 stunning templates, 100+ stylish fonts, various of shapes and powerful editing tools.

But how to make a brilliant logo in minutes?
First, choose from 3,000+ well-designed templates.
DesignEvo provides 3,000+ delicate logo templates for you to make logo easily. There are various of template for you to choose: abstract logos, gaming logos, sports logos, etc. It sets up a search box on the home page with several popular searches under it. You can just browse through the different categories or search them by using the keywords or popular searches to find the logo you need. There are also some popular categories on the left side of the editing page, which make it convenient for you to find an ideal logo.
All of the templates are fully customizable, which means you can adjust every element of the logo, color, size, effect and so on freely.
Second, search from millions of icons.
In order to satisfy your needs, DesignEvo has prepared much more materials including the millions of icons. These well-sized vector graphics tend to meet all your needs with all kind of icons. Click the [start from scratch] button in the top right corner to enter the editing page with icons.
There is a list of 20 popular keywords of icon searches that maybe remind you of what should be found.
Just search on the left side and select what you like to customize the template you chose. Or you can also start from one of the preferred icons and design with your unique inspiration. With the powerful editing tools, you can change the icon's position, size, color, background, effect, layout and so on.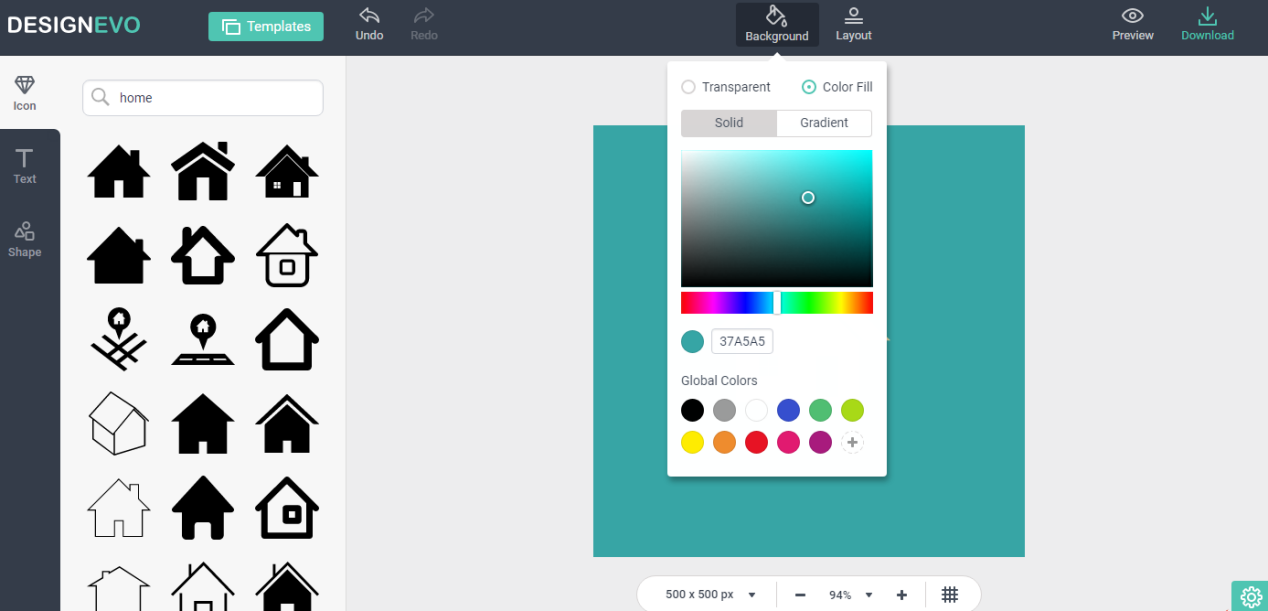 Third, decorate with hundreds of fonts and stylish shapes.
You can find various of shapes here: badge, decoration, line, banner, symbol and so on. Choose one or two shapes to customize your logo if it is necessary. All of them are vector graphics that enable you to design high-quality logos. They can also make your logo looking better.
The slogan is necessary for a logo. A stunning logo must with an impressive slogan.
DesignEvo is so sweet that developed two kinds of fonts including classic style and art style with different forms and colors. Select a favorite one and add it to your logo, the type several words. Only with a few clicks, you can get a stunning logo.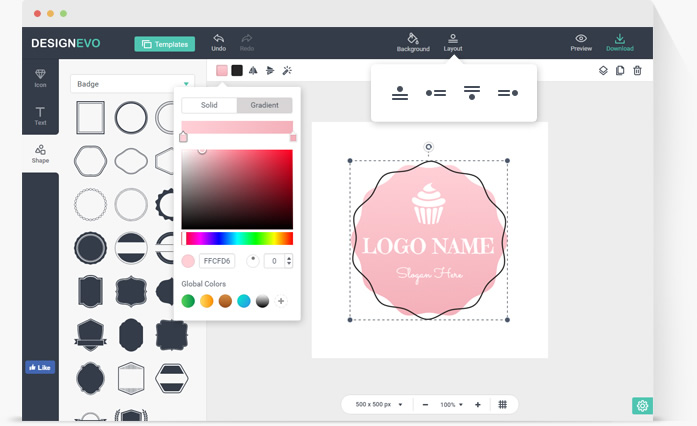 Finally, preview & download.
When you have finished your logo, click the [preview] button in the top right corner to check your logo. You'll see your logo on a book cover, on a screen, on a T-shirt and so on. Thus, you can check whether it is suitable for your needs. Otherwise, you can do some adjustment to make it more proper, which can also save your time and energy.
When you download the logo, there will be three types of the output: jpg, png, png with transparent background. Choose the most suitable one for different occasions, and it won't have to make or download again.
See how it works at
Conclusion
There are still much more advantages that I can't tell, which need yourself to test and experience. After all, different people have different feelings about the same thing. But one thing is certain: DesignEvo is worth for your belief.
In short, DesignEvo is a never-miss-out online graphics tool. It does not only allows you to make logos for free but also enables you to create logos with a professional appearance as a real designer.
DesignEvo is born to help people who need logos without much effort. So no matter who you are, small business owners, startups or freelance workers, you can use DesignEvo to get a stunning logo and make your design dream come true.
Why not try to create a logo with DesignEvo right now?
PS:As a fresh hand, I have some words for you.
1. DesignEvo is undoubtedly a powerful logo maker that helps a lot, but it is not difficult to use at all. In the whole design process, all you need to do is click and select.
2. The well-sized logo templates may inspire you if you have no idea what to do or how to do.
3. Refer to the preferred template if you are not good at matching colors or adjusting the position of every element.
4. Never lose confidence if you are a newbie. It's normal if you can't create an ideal logo for the first time, but you'll if you can just try one more time.
There are some tips for logo design:
1. Limit your typefaces
2. Don't be scared of scale
3. Respect the space of other elements
4. Mind your colors
5. Clean, crisp, clear
6. Create order with alignment
7. Keep it simple
8. Creativity and originality
9. Use hierarchy to order your content
10. Wonderful white space
Good luck for all of you. You'll love to make logos on your own with the help of DesignEvo!