Remember the Chinese mobile manufacturing company XiaoMi unveiling a bezel-less smartphone the MI-Mix 2 that almost took your breath away with its unique look. Well, another smartphone has been added to this bezel-less craze by DOOGEE- a relatively new Chinese company. DOOGEE MIX 2 is an improvement over their earlier version DOOGEE MIX with wider screen, faster CPU, more RAM, 4K video recording, AMOLED screen and 4 cameras. Compared to its giant competitors like Samsung and Apple, DOOGEE has priced this version well within common man's reach. It might take inspiration from Mi-Mix but has its own uniqueness and is not subtle when compared to its predecessor. Before going through the full review let us first look at the specifications.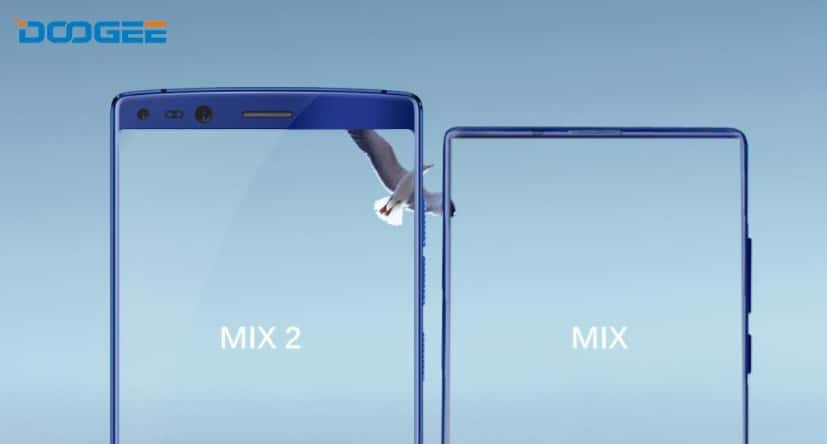 Specifications
Product name: DOOGEE MIX 2
Dimensions: 144.3 mm x 76.3 mm x 8.2 mm
Weight: 198.5 Grams (With Battery)
Device: Smartphone
Operating System: Android 7.1 Nougat
SIM type: Nano
Battery: 4060 mAh
Hardware:
CPU: Helio P25
RAM: 6GB/8GB
Internal memory: 128 GB expandable up to 256 GB
Display:
Screen type and size: AMOLED 5.99 inch
Resolution: FHD+ resolution (1080*2160) and aspect ratio of 18:9
Camera:
Type: 4 cameras
Front camera: two 8 MP with 130 degree wide lens
Rear camera: 16 MP and 13 MP
Other features:
Face recognition unlocking system with 3-D face mapping
Rear mounted fingerprint sensor
(USP) What's unique with DOOGEE MIX 2?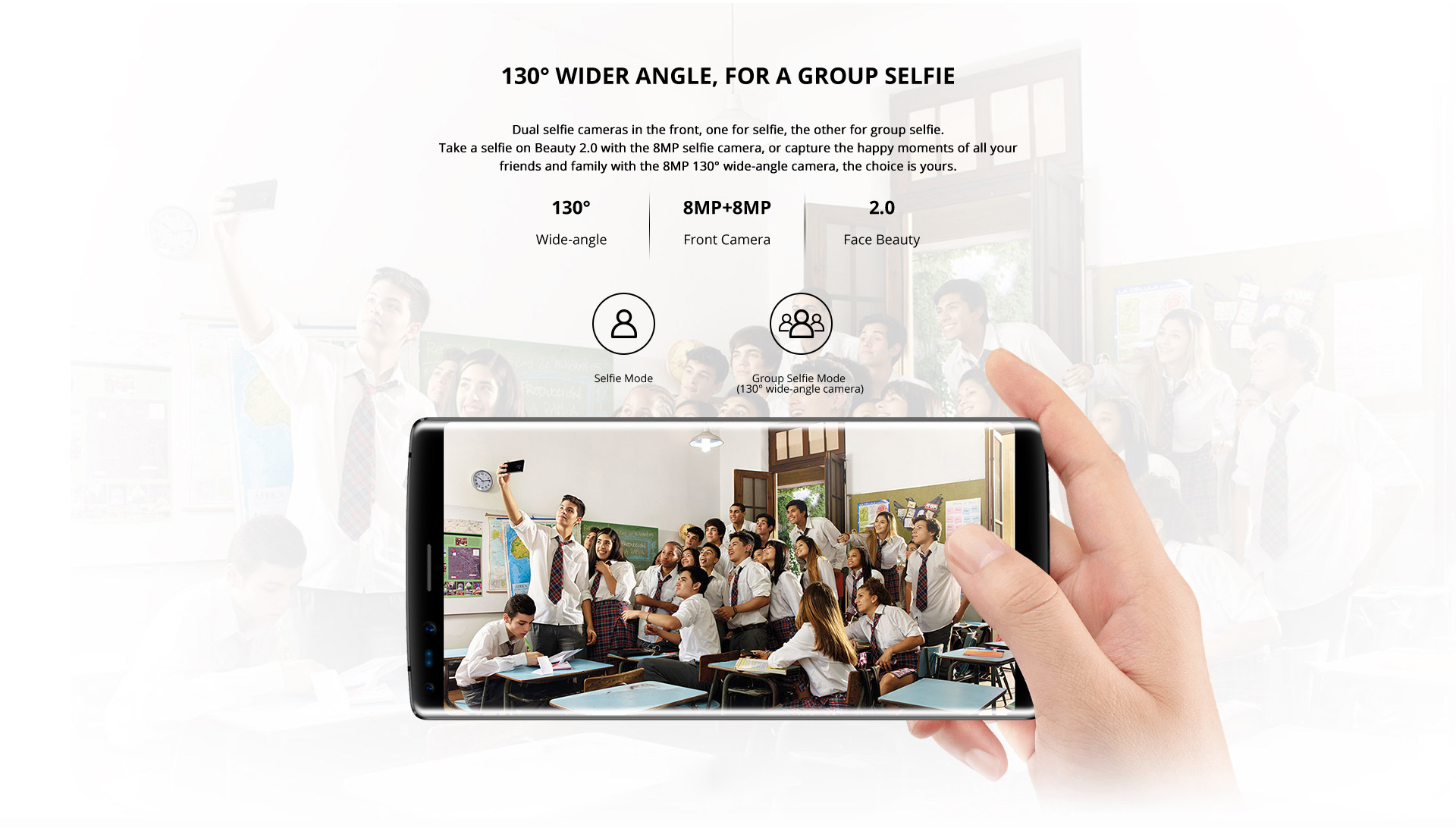 Apart from rocking physical aspects this smartphone is set to redefine photography experience by offering you innovative technology. This new model features 4 cameras (quad-camera): two front cameras and two rear cameras. The front cameras are of 8 Megapixel each equipped with sensor for selfies. It has 130 degree wide angle lens which is good news for people like me who love clicking group selfies and have always struggled to include everyone in a single click.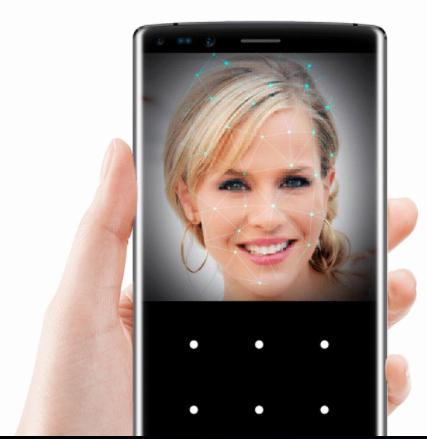 The rear cameras are also two- one is of 16-megapixel and the other one 13-megapixel dual. One of the chief highlights of this smartphone is its Blur mode that runs on professional algorithm. Trying to keep this smartphone at par with Apple, Doogee has tried to introduce a new unique security feature- 3D Facial Recognition. You might have guessed by now, it is similar to Apple's iPhone X feature- Face ID. With 3D mapping of face, face recognition mechanism for unlocking your device has been made much friendlier.  In addition to this there is a finger print sensor mount at the rear part.
Thankfully, taking a cue from the criticism they had drawn on usage of micro USB port in their initial DOOGEE MIX, they have moved onto USB Type-C, which is in fact a great relief.
DOOGEE MIX 2 has Helio P25 premium performance chip inside with 6 GB/ 8 GB RAM and 128GB internal memory expandable to 256GB to give your smartphone the running speed of Usain Bolt.
The DESIGN
One word- STYLISH. This is one of the cheapest smartphones that gives you the look and feel of a premium one. Matte effect laden Aluminum sides, high quality glass back (be careful of the fingerprints though), attractive colors will definitely make you feel rich. After the success of their initial bezel-less smartphone DOOGEE is back to vow us with their improved version-DOOGEE MIX 2.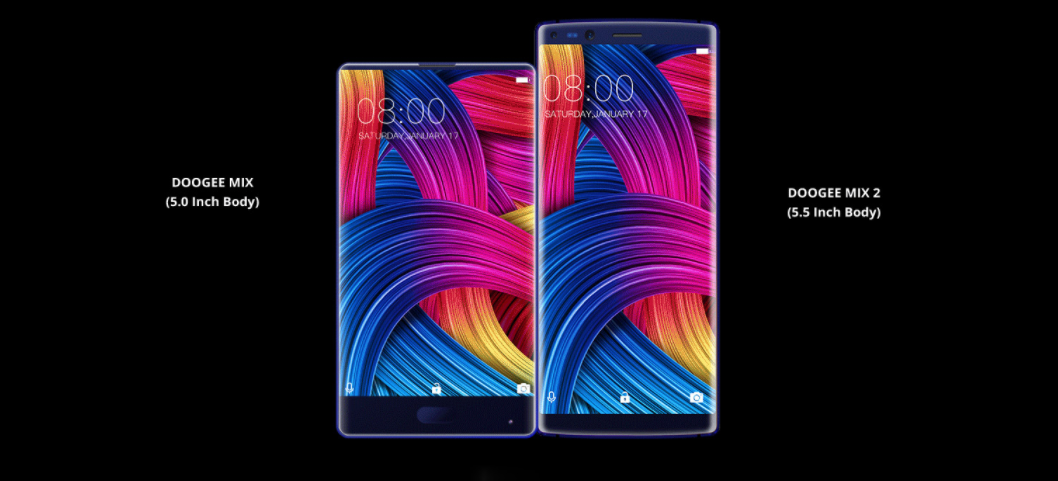 Addressing the earlier scopes of improvement the Version 2 tries to reach new horizon of magnificence. The one area the Doogee Mix shines brightly and gives more than what it price justifies, is its design. Doogee has given an ambitious spin to this sub-$200 smartphone. Though its screen size is 5.99 inch but it is still pocketable. Similar to Xiaomi Mi Mix 2, DOOGEE Mix 2 has the screen aspect ratio of 18:9 and resolution of 2160 x 1080. But, unlike Mi-Mix which received some flak for missing the earphone and instead using bone conduction mechanism for sound, Doogee has provided enough space to let the earphone fit in smartly.
Power and volume buttons have been placed tactically at the sides while there is USB Type C port at the base to charge the smartphone as well as provide connectivity to speakers. LED flash is just next to the cameras. The camera setup is crammed at the top, so that, it doesn't sit awkwardly at the base of the device. Overall, screen size is same as an iPhone but the footprint is smaller. The 1080p display is an improvement over their earlier version that disappointed us with 720p display.
However, the biggest issue bothering me is poor viewing angles in bright light/ sunlight. This is one sphere where almost every smartphone suffers badly and DOOGEE is sure no exception to this. I kept my hopes a little too high in this regard and surely feel disappointed.
Software
DOOGEE MIX 2 makes use of Android 7.1 Nougat operating system and it surely is fantastic. This is one of the best versions of Android, produced by Google and has June 2017 security patches. It is customizable but the biggest flaw I have noticed is the heavily machine dependent English translation which makes this handset a little difficult to live with. Poorly optimised operating system has really taken a toll on the performance that could have been much better.
Performance
The Doogee Mix 2 is a surprise package with the amount of hardware at such low cost compact body. Before delving further let me give you a quick clarification. There has been some confusion among tech reviewers and experts that Doogee is marketing the MediaTek chipset as Helio P25. They are more willing to check it for themselves by taking the phone apart.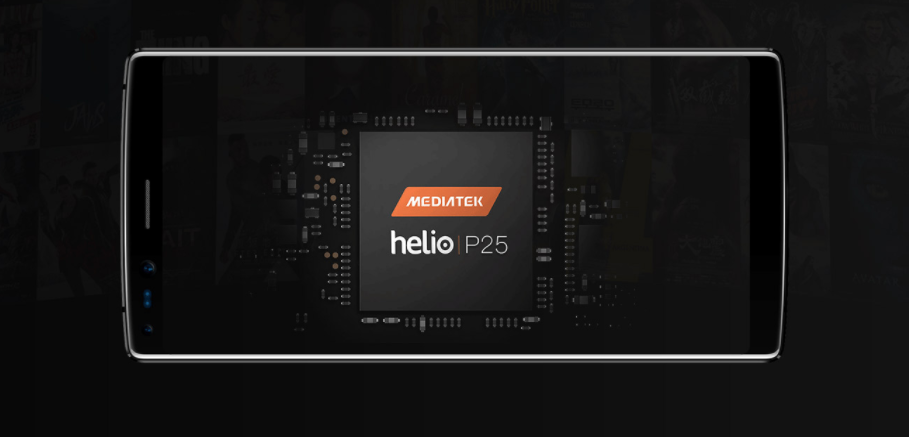 There are even claims that few apps displaying the hardware information report the chipset as MT6757, which definitely makes it a Helio P20. Remember, these 16nm chipsets are more or less the same, and the main difference lies in the CPU clock speed. So far, it is only the Helio P25 chip that is capable of supporting quad (8 MP+ 8MP; 16MP + 13MP) cameras.
Our unit has four cores at a max of 2.93GHz and the other four at up to 1.39GHz. Sure, it's not the upper 2.6GHz limit the Helio P25 is advertised to be theoretically capable of, but in its current configuration, we found the chip to be potent enough, stable and running reasonably cool under load. Frankly, that's more important in our book than any formal branding.
The 64GB unit has 4GB RAM back up, and frankly speaking it is quite impressive for such a low cost efficient device. Despite the poorly optimized OS, the MT6757CH easily manages to hit the bull's eye with its performance.
Speaking of camera performance, I remember what a disaster Doogee had made in its earlier version of Mix by skipping on the camera department. I had high hopes that despite facing constraints of a tight budget, DOOGEE would have avoided the similar damage this time.
Bezel-less display in a smartphone consumes a lot of internal space, even though Doogee has tried to avoid it, by keeping little bezels on the handset screen as compared to Xiaomi Mi Mix. It is genuinely very difficult to manage space when both the display assembly and quad camera setup are space-hungry. But Doogee has managed the bragging rights with this 8 MP+ 8MP; 16MP + 13MP ISOCELL setup. The brand name- Samsung ISOCELL has set up expectations very high for a remarkable camera experience. DOOGEE doesn't fail this time.
The smartphone has sensors which measure physical quantities. These physical quantities are then transmitted to the application processor. The smart phone has an in-built electronic component called accelerometer that is capable of measuring tilt and motion. A fingerprint sensor provided at the rear is one of the easiest and safest methods to protect your smartphone. There is a proximity sensor to detect whether the user is holding the device near face during a call. If that's the case, the proximity sensor shall turn off the display to conserve battery consumption from the display and to safeguard against keypad presses. The Mix 2 is Dual SIM capable, thereby making it possible for you to insert two different SIM cards and simultaneously use them from one phone.
Conclusion
The Doogee Mix is not a copy of Xiaomi Mi Mix, and is in fact an improvement over it. The fingerprint reader and Gorilla Glass 5 protection is pretty impressive.
Average Battery life.
Display is good but problematic in bright light or sunlight.
Doogee OS is poorly optimized. You may come across slow-downs and unresponsiveness.
Performance from the MT6757CH is really solid, regardless of whether it is a Helio P20 or P25 chip.
Quad camera equipped smartphone is a reality now and pictures are impressive no doubt.
Technically 4K video capture is available, but in reality it is usable only if the phone is steady and not making a lot of movements.