When it comes to video games, using a game controller adds to the gameplay experience. PC games support playing with the mouse and keyboard but some games are best played with the controller. It makes the game more interactive and enjoyable. If you are playing a multiplayer games like Fifa then, you will be able to play your best with it.
There are a lot of different game controllers available that could be used with PC, Mac, Android or iOS games. EasySMX makes gaming accessories with premium quality. The Easysmx Wireless Game Controller makes it possible to enjoy your favourite games without worrying about tangling wires.
Easysmx wireless game controller is a well-built device that will enable you to take the gameplay experience to a whole new level. It has a lot of features and is capable of doing everything that you expect from a premium game controller. We tested the Easysmx controller by playing a classic game like NFS- most wanted and new ones like Hellblade and Far Cry.  It supports both PC and X-Box 3. Also, you can connect it to your Android phone and control your games with it.
Design and Built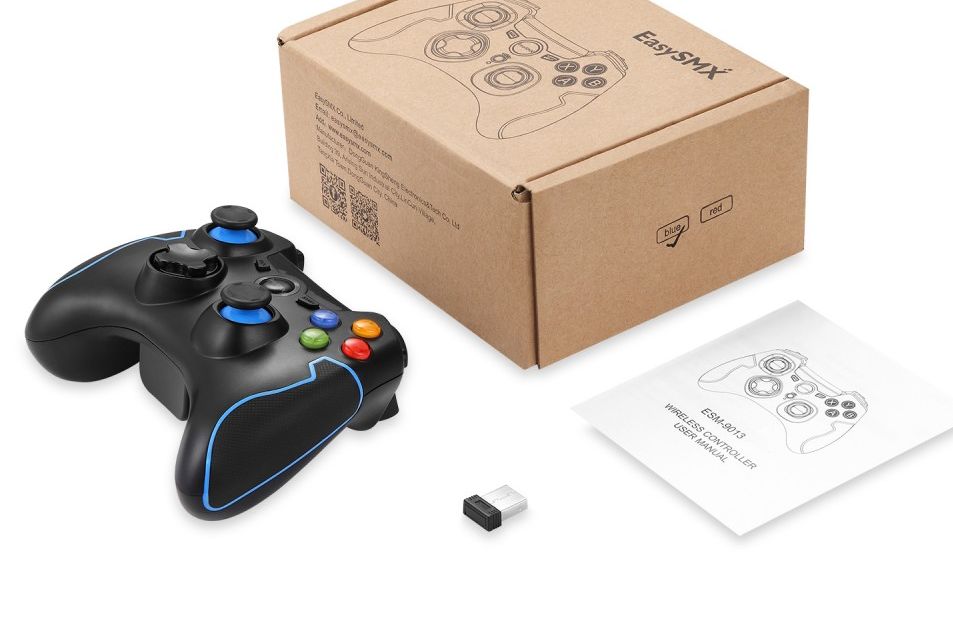 This controller is neither too heavy nor too light. The ergonomics are good and it provides a superb grip to hold while playing games. The plastic used for making this gadget is durable and it is unlikely to crack from minor bumps. Buttons have a nice tactile feel to them. Many controllers have loose buttons and joystick after heavy long-term usage but the robust button placement in it keeps it safe.
It requires two AA size batteries to run this device. The battery easily lasts for a long time without the need of battery replacement.
Performance
In most controllers, the joysticks are placed side by side but it is slightly different. In EasySMX ESM9013 top row, you find the left joystick, back, start and power button. Beside it, there is X, A, Y, B buttons. The right joystick and navigation buttons are placed below it.
During our test, we find no lag whatsoever. The response time is quick so that your gameplay does not face any difficulties. You do not need any additional drivers to get this running.
Pros
Premium build quality
Good Button Placement
Budget-friendly
Cons
Not as durable as other premium controllers
Flamboyant exterior
Final Verdict
Video games have become a huge industry. Online multiplayer games offers a very challanging ecvironment to play for gamers. Gaming gear is necessary for pro gamers. Like best gaming RAMs  and other needed accessories to make your game run smoothly.
There are many budget Game controllers available that you can choose. The EasySMX game controller provides a balanced quality at a pocket-friendly price. If you are planning to buy a new one then it can be one of the best options to consider. As it is wireless so playing with it is a treat for gamers. The build is not the best but fulfils the purpose.