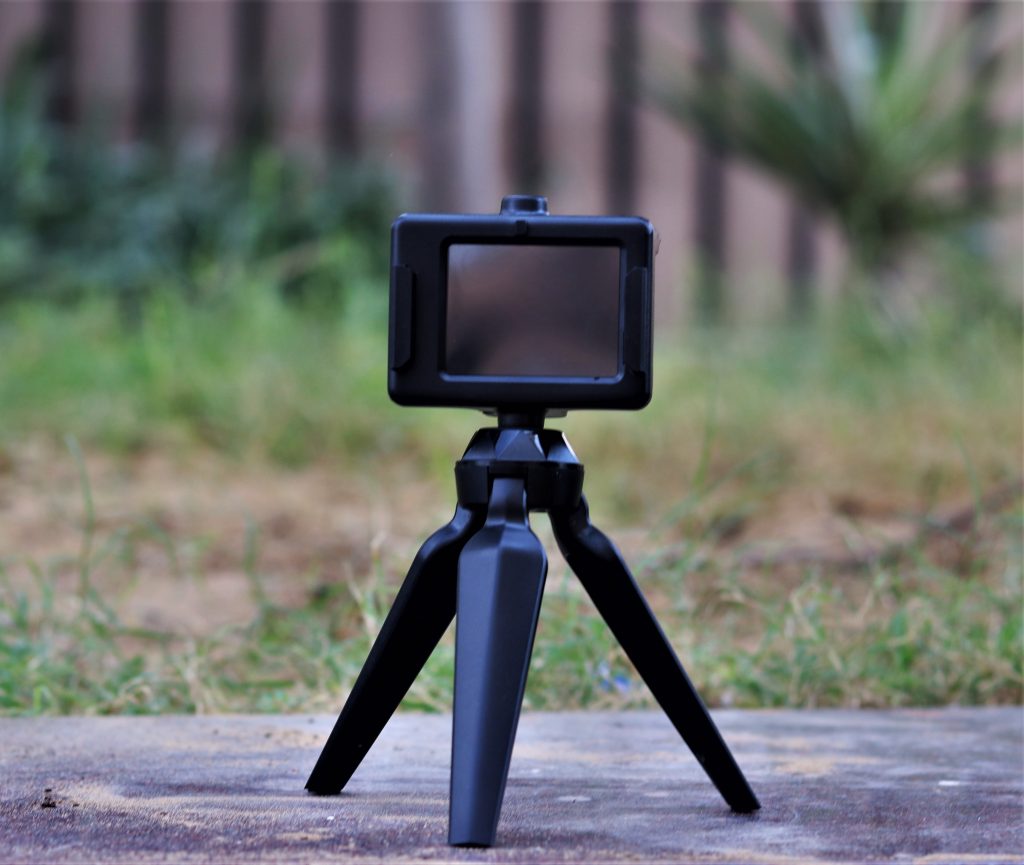 We want to capture and record each and every adventure we are doing. Whether it be playing any sport, riding bikes or any water adventure, this is the root of increasing trend of action cameras. And Why not? We are living in the era of full flush technology, and we have devices and gadgets that can capture everything whatever we do that too in FHD or UHD at least. Same goes with the Eken H9R 4K Action Camera. The design of the camera is to capture the brimful actions.
Overview
The camera has every possible thing that an action camera can have in this range. The Chinese companies never fail to amaze users around the globe. What they contrive to invent in the given range, can't be expected from any other place. The camera is yet again a masterpiece by Eken. The gear is compact though pretty comfortable in capturing 170-degree wide angle 4k UHD videos.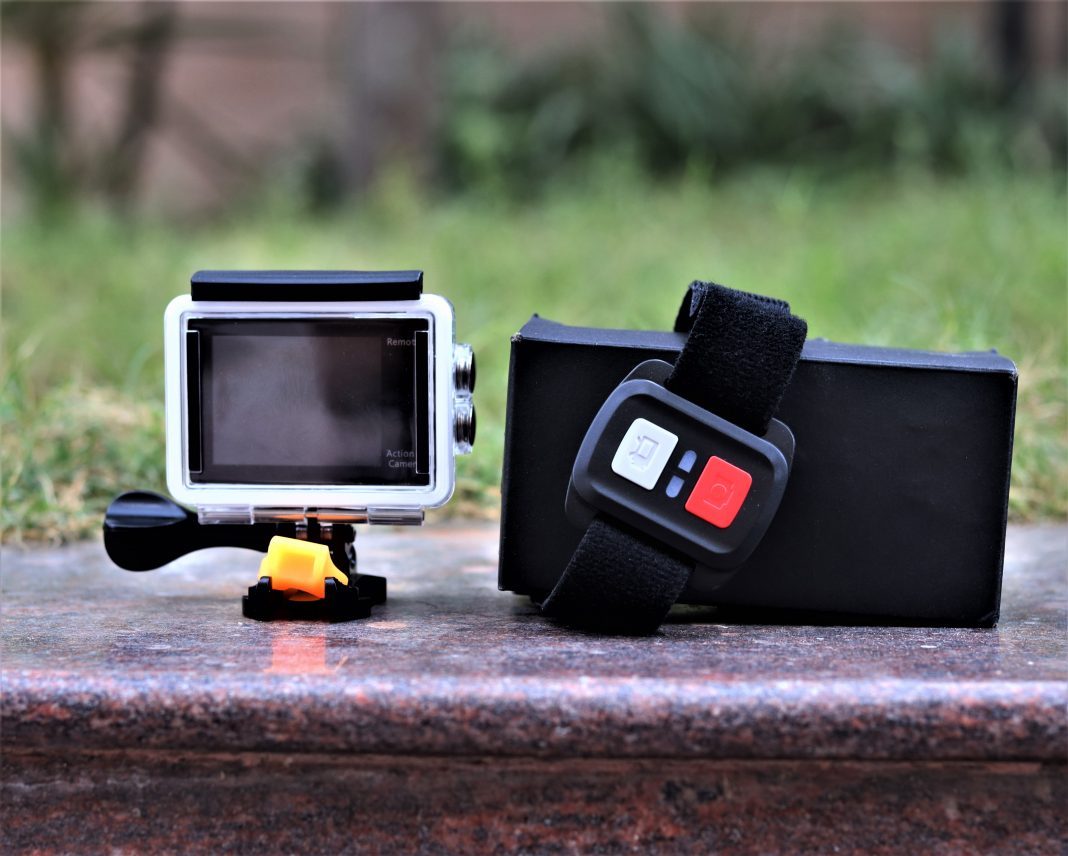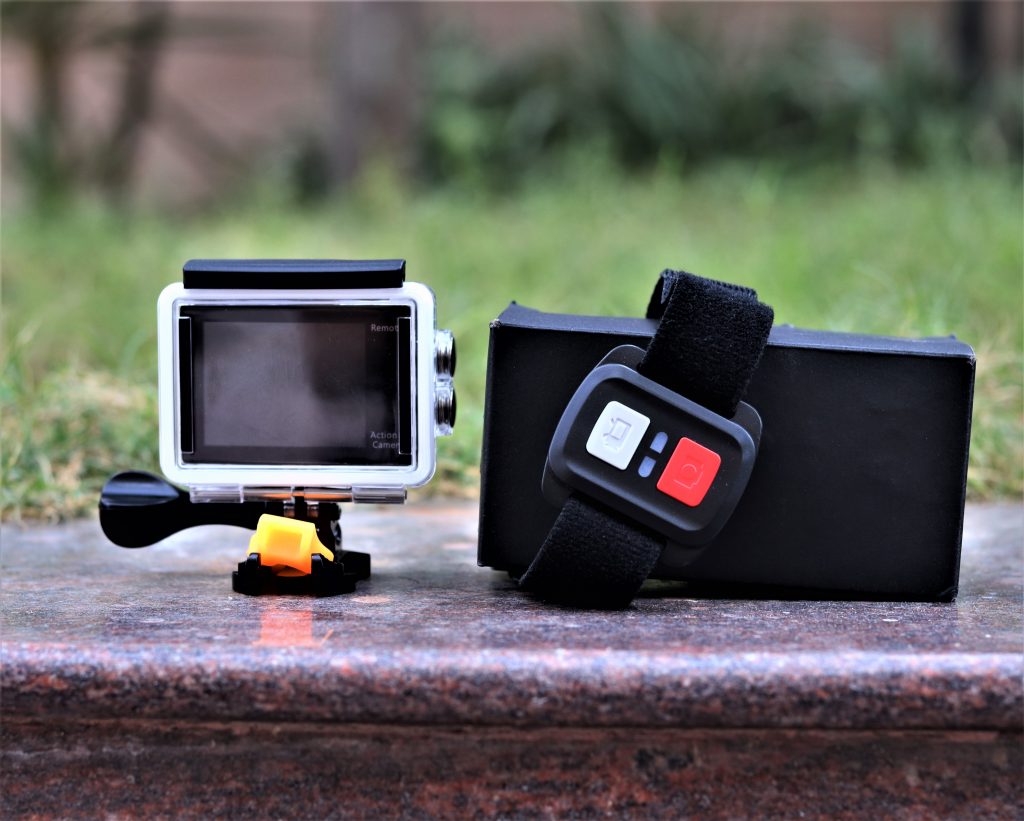 Nevertheless, the best is the offering of 25-30FPS in 4k resolution. Adding on to the specialties, it has inbuilt WiFi HDMI port and 2 inches screen to view pictures and video. You can handle the device with a remote given with it for clicking pictures and videos. The best part is device come with the waterproof case which can protect device up to 30M especially for those who want to capture their water actions. Sounds adequate and exciting? Isn't it? Let's look what's more the device have in it.
Design and Display
The design has got nothing new with it, yet I would love to call it a lovely compact device which can capture pictures and videos at the 170-wide angle. You can carry it anywhere in your pocket. It is just a mini rectangular shaped box which has the display screen on the one side and lense and power on the other side. A select button on the top. On the sides, it has ports HDMI and charging on one and another side it has arrow keys for wifi and display of whatever captures. However, it doesn't have a touchscreen display yet it manages to be a user-friendly product.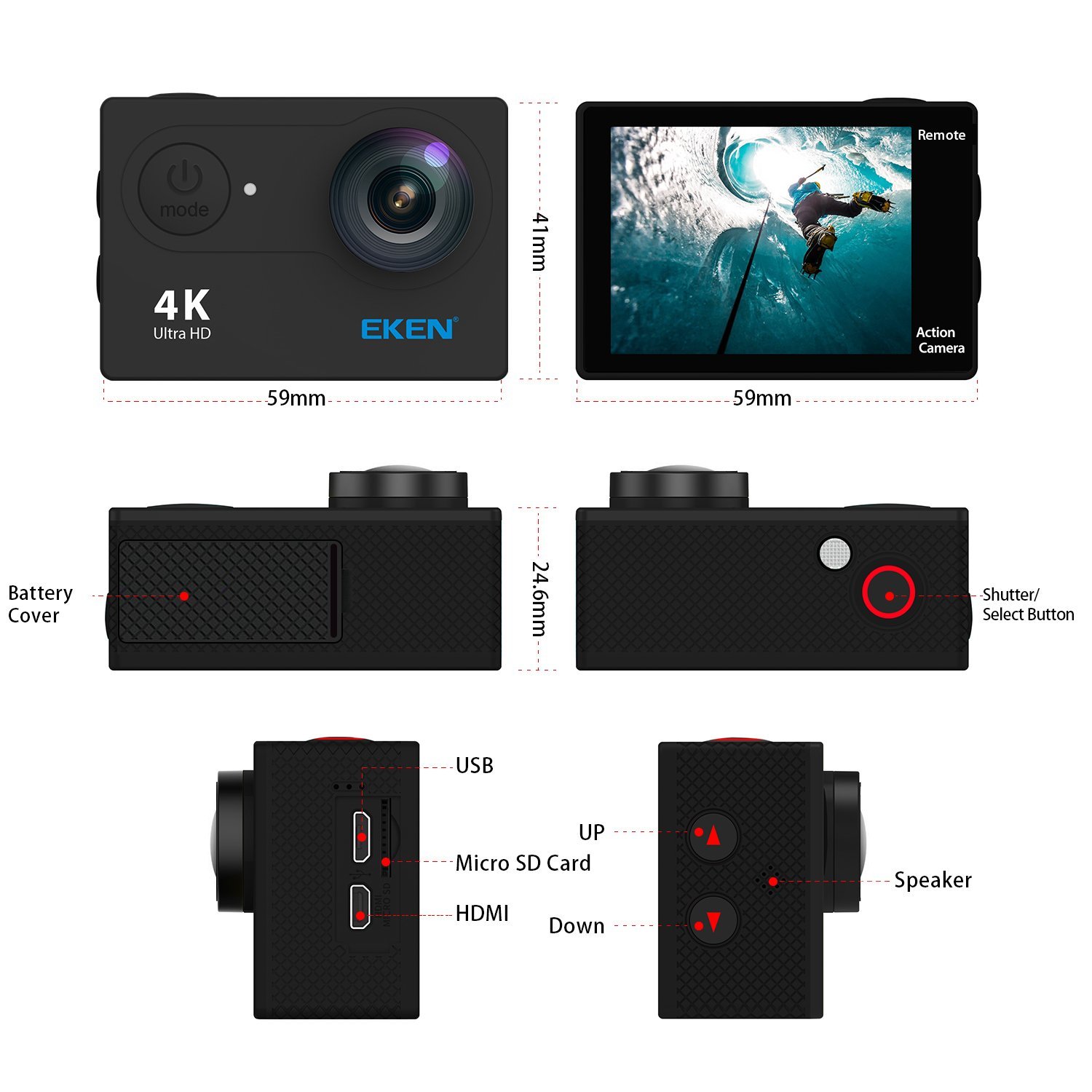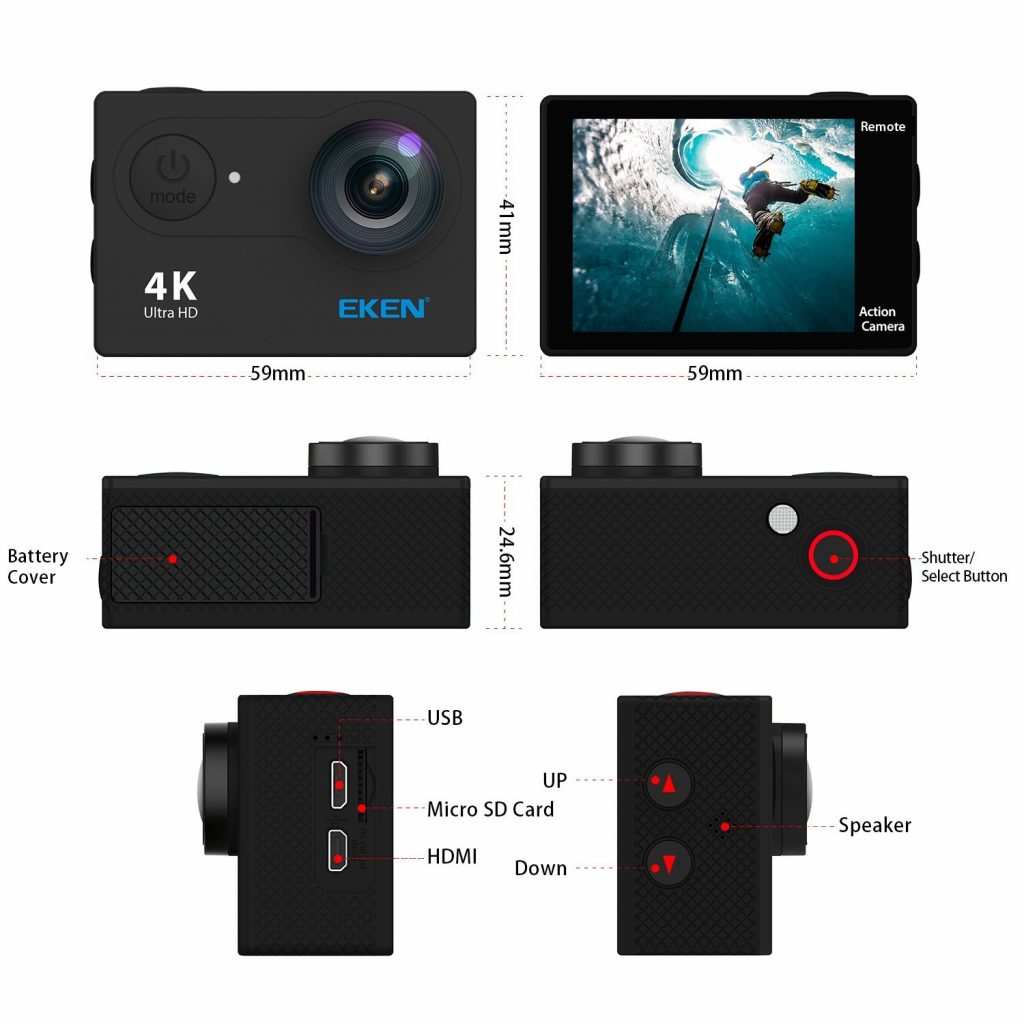 Performance
As I said, it will never fail to amaze its users. Whether it be outdoor sports or attaching it to helmets, surfboards or handlebars, are an integral part of many extreme sports. It can capture all that from wherever placed 170-degree wide angle view. The camera allows 4K ultra high definition video shooting which is in excessive current demands. The camera uses Sunplus 6350 chipset and the OV4689 image sensor which is seen as a pro to the device. Nonetheless, Built-in WiFi 802.11 which can easily suit Android 4X quad-core and iOS 8 devices. Although, it lacks at some points as the instrument is not touchscreen and performance go real bad in low lights. Otherwise, from time-lapse to looping video or capturing Brust pictures
Otherwise, from time-lapse to looping the video or capturing Brust pictures, performance is acceptable. We can set Date and Time, screen saver, power saver according to our needs. Even there is the option to set the power frequency in the setting. What more comfort we can ask in such price. One can control it from a remote from 15 meters away. The remote is yet again on accessories which you can tie on your hand and control the camera. Moreover, we can download its app and oversight from there too.
Qualities
Exciting gears for riders as they can capture all their action by fixing the mount over to helmets or handlebar etc.
It comes with the waterproof protecting cover so that underwater action won't be missed anymore.
The H9R has its remote control that can work from the distance of 15 meters if you want to capture something from a distance.
It has high frame rate video mode that captures at 1080p60 or 720p120. You can watch your action videos minutely in your laptop/computer.
It even has a mini tripod if you seek for capturing time-lapse and or video from a stable point.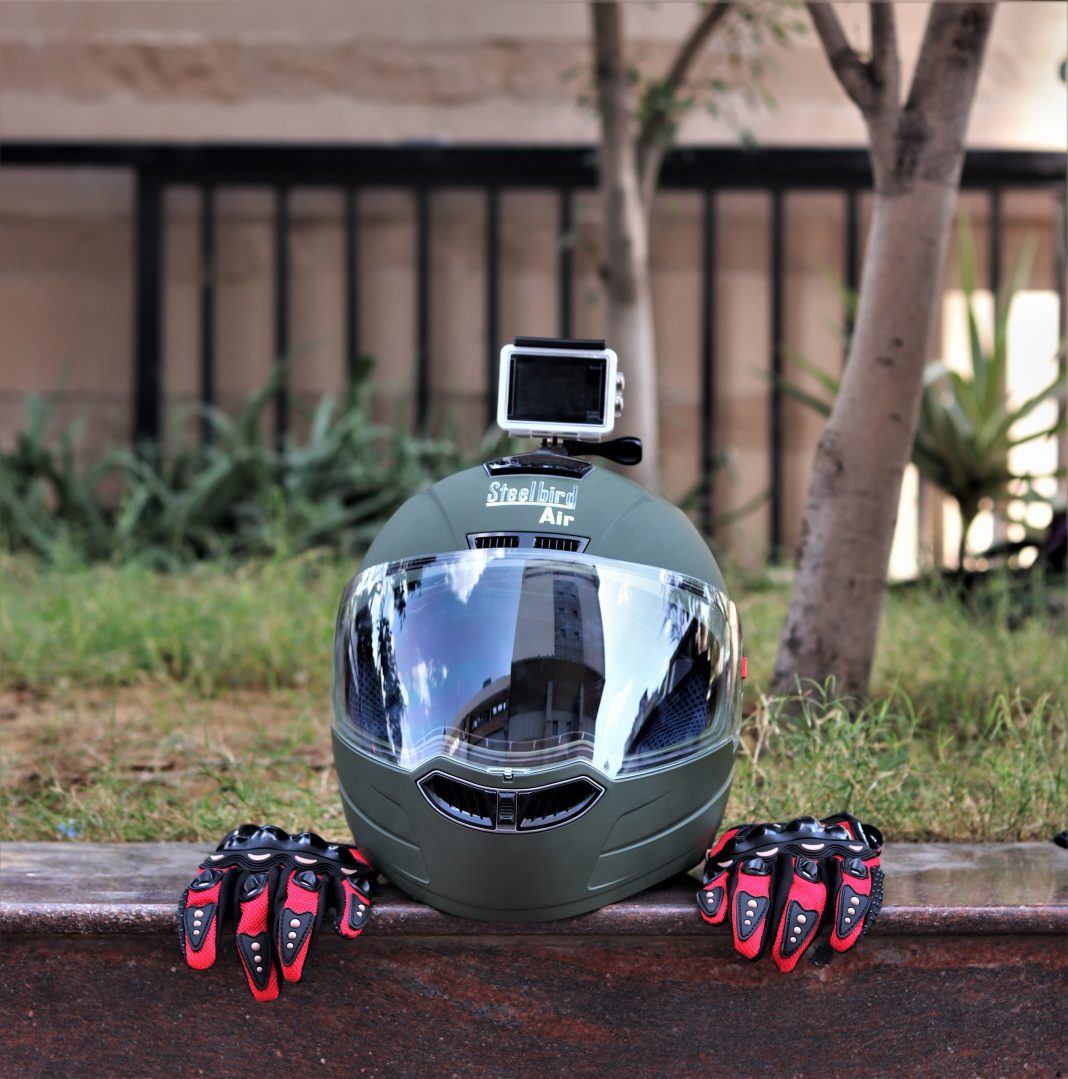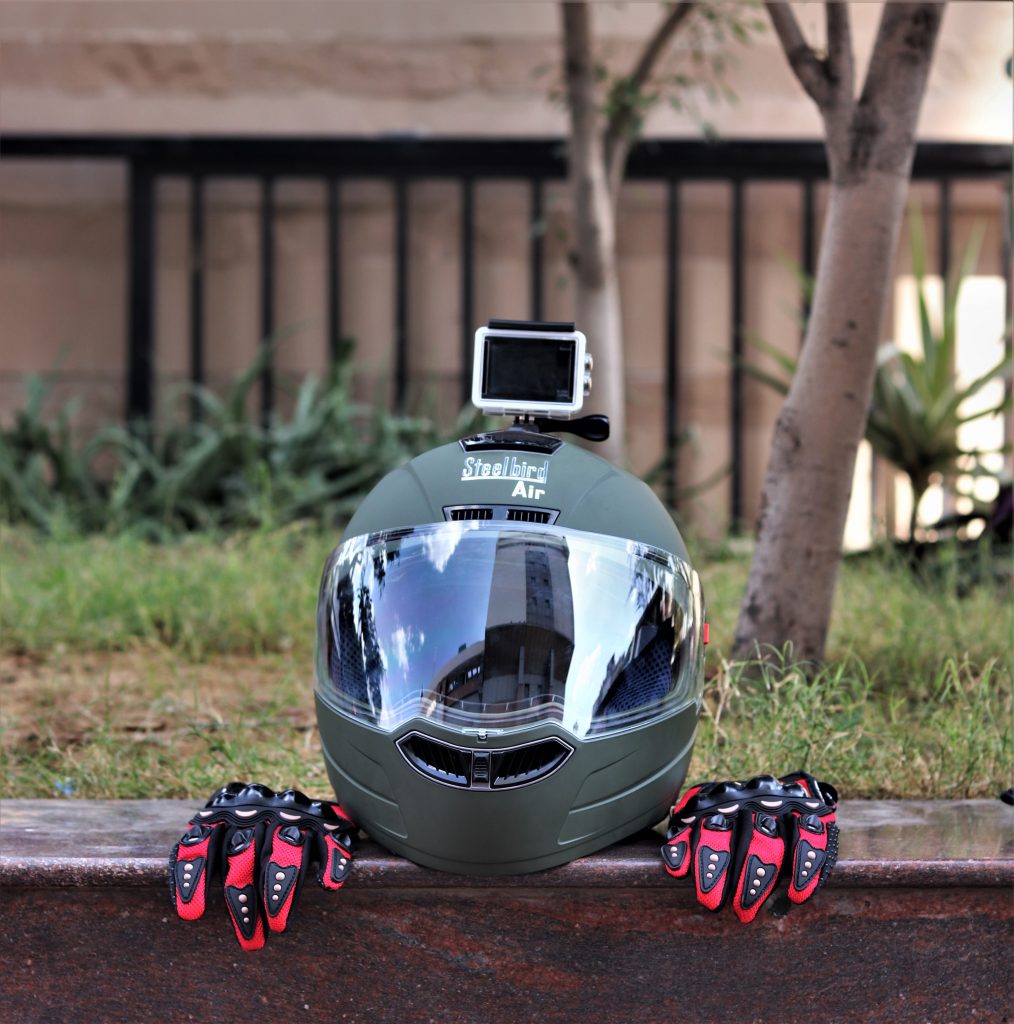 Features
4K ultra high definition video shooting
170-degree wide angle
Sunplus 6350 chipset and OV4689 image sensor
Built-in WiFi 802.11 b/g/n
Waterproof housing case, up to 30m water resistance
With 2.4G 3m water resistance remote controller
Looping video on / off (10min at 1080P, 5min at 4K / 2.7K)
Burst photograph (3 photos)
Timestamp (off / date / date and time)
Time-lapse recording (2s / 3s / 5s / 10s / 20s / 30s / 60s)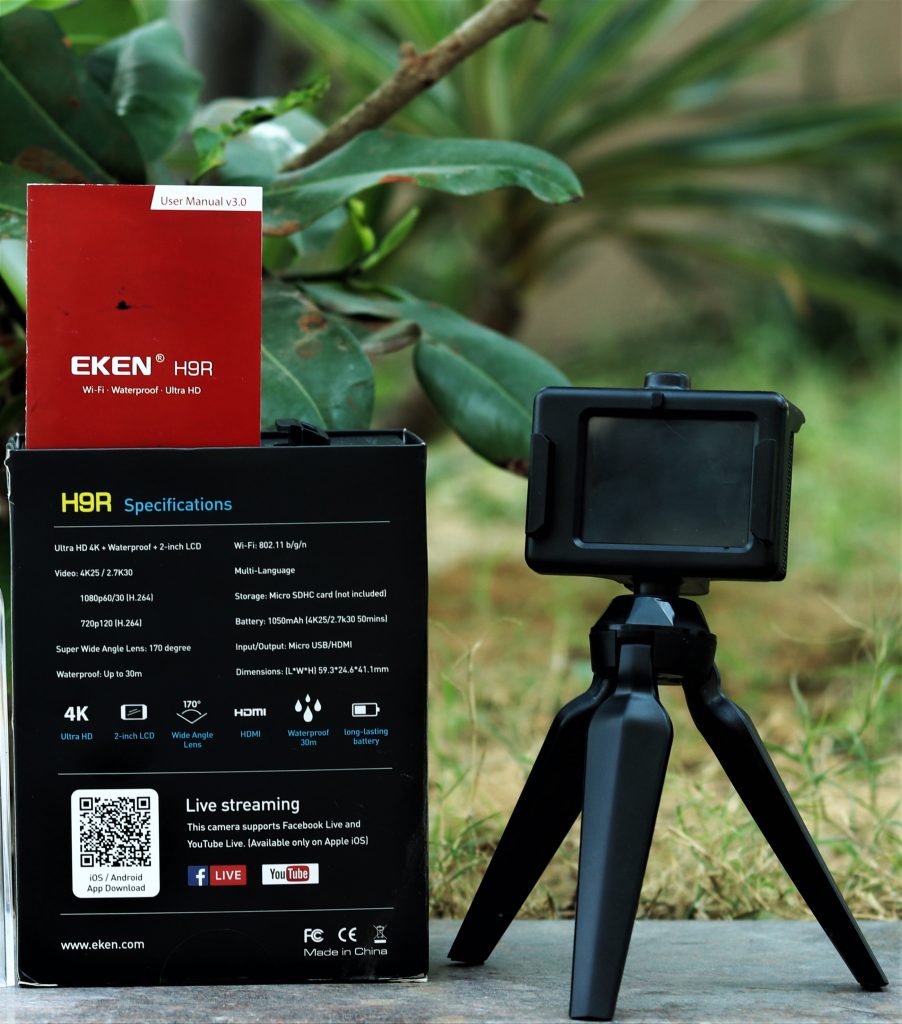 Functions and Settings
Video Resolutions: 720p (120fps), 1080P (60fps), 1080P (30fps), 4k (25fps), 2.7k (30fps)
Looping Video: On/Off option
Time Stamp: You've the option to show date or date & time in your recordings.
Exposure: +-2.0/+-1.7/+-1.3/+-1.0/+-0.7/+-0.3/0
Photo Resolution:12MP/ 8MP/ 5MP/ 4MP/ 2MP
Burst Photo: 3 SHOTS
Time Lapse: 2s/3s/5s/10s/20s/30s/60s
Power Frequency: 50Hz, 60Hz or Auto.
Screen Saver: Off, 1 min, 3 min or 5 min.
Controls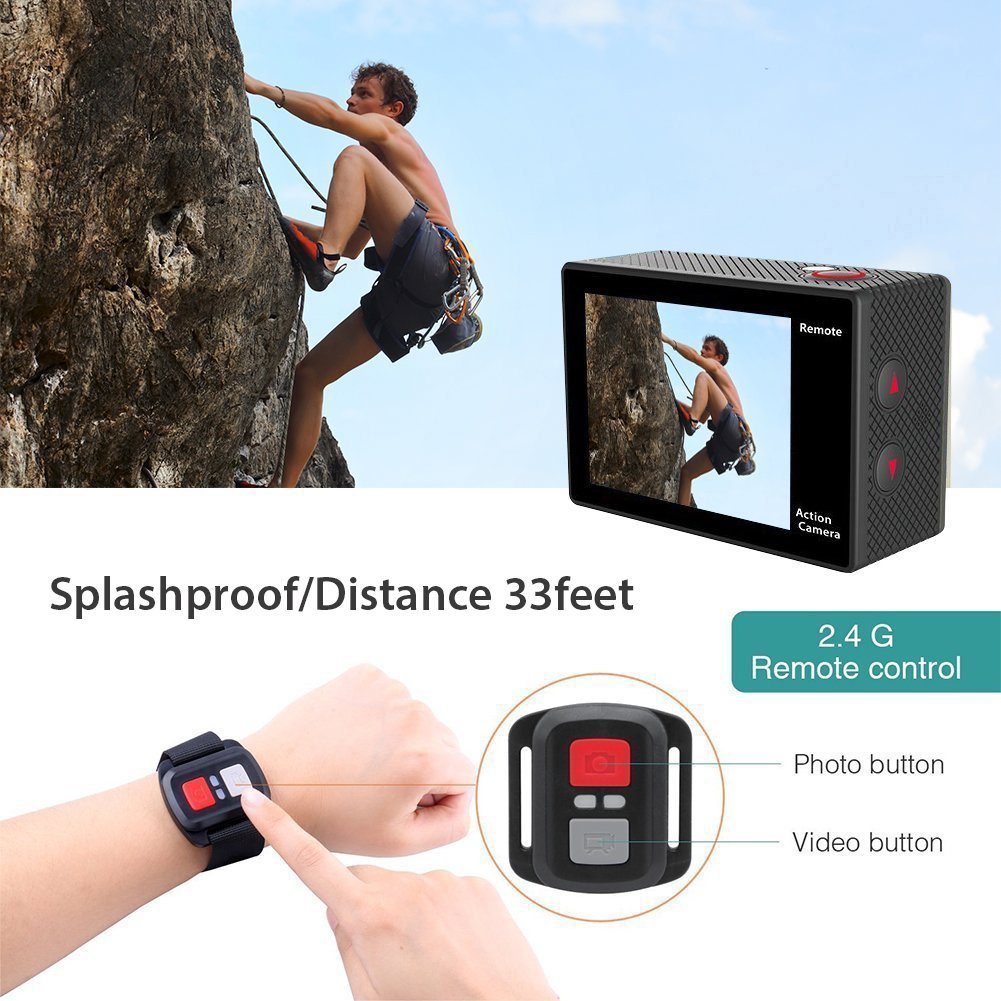 Remote Control: 
splash proof (not waterproof!)
Working distance 15m
Wifi connected
Remote Control via app
Download the app
Press down button of the camera to turn on the wifi
Open up the EZ iCam App and select the camera option to see live view.
Specifications
General
Brand: Eken
Model: H9R
Type: Sports Camera
Chipset Name: Sunplus
Chipset: Sunplus 6350
Function: Loop-cycle Recording
Features: Wireless
Storage
Max External Card Supported: TF 32G (not included)
Class Rating Requirements: Class 10 or Above
Display
Screen size: 2.0inch
Screen type: LCD
Power
Battery Type: Removable
Capacity: 1050mAh
Charge way: USB charge by PC
Working Time: 1.5 hour at 1080P 30fps, 50min at 4K 10fps / 1080P 60fps
Primary Info.
Wide Angle: 170 degree wide angle
Video/Image/Audio
Decode Format: H.264
Video format: MOV
Resolution: 1080P (1920 x 1080),2.7K (3264 x 2448),4K (3840 x 2160)
System: PAL
Output : HDMI
Image Format : JPG
Audio System: Built-in microphone/speacker (AAC)
Exposure Compensation: +0.3,+0.7,+1,+1.3,+1.7,+2,-0.3,-0.7,-1,-1.3,-1.7,-2,0
Accessories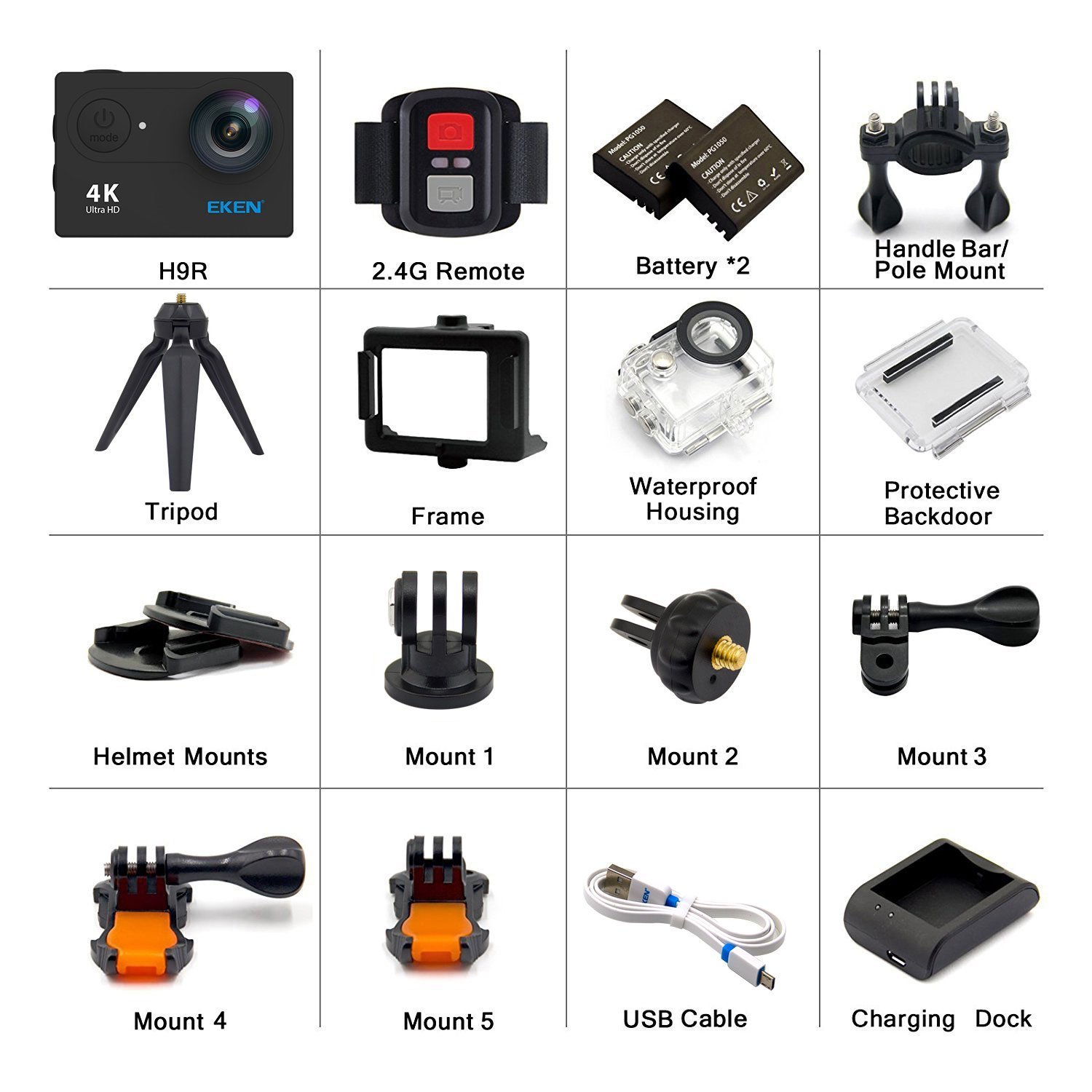 Pros and Cons
Pros
 The 2″ display is very bright
 Waterproof cover and accessories
 Ultra sharp recording in 1080p with 60fps
 Cheaper as other action cameras
Cons
Fast draining batteries
No touchscreen
Poor in low lights
Lack in some options
Personal Verdict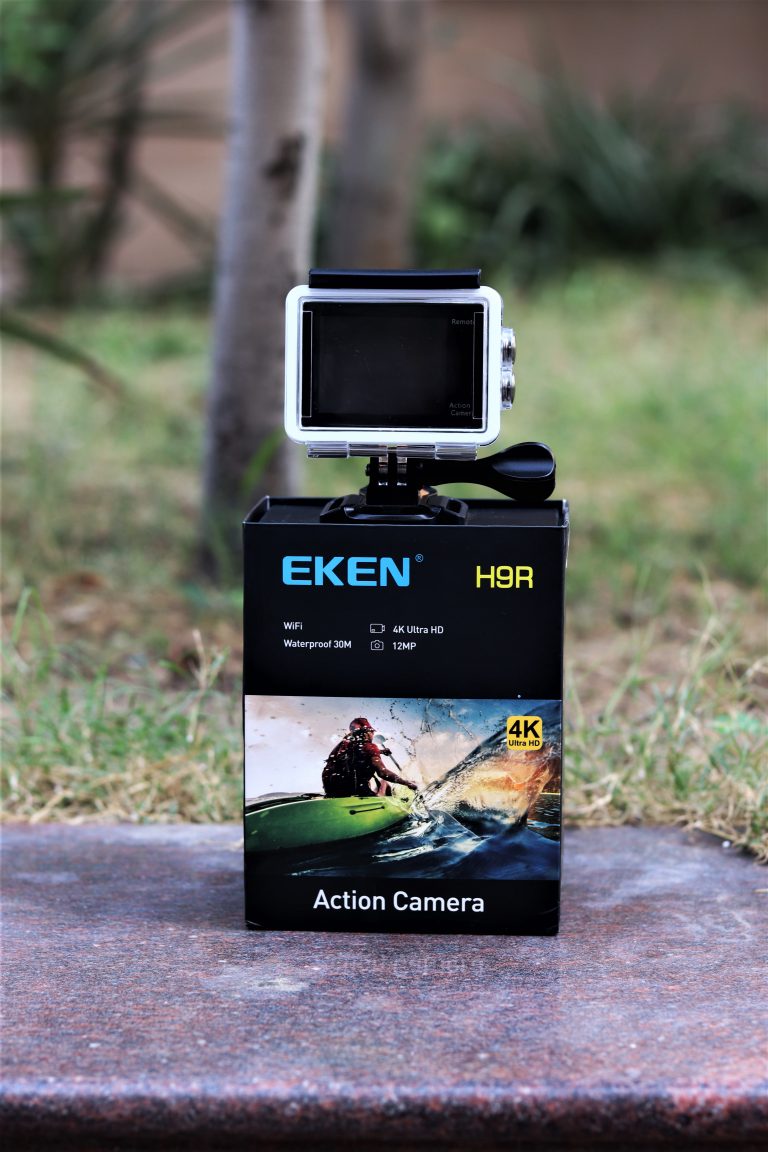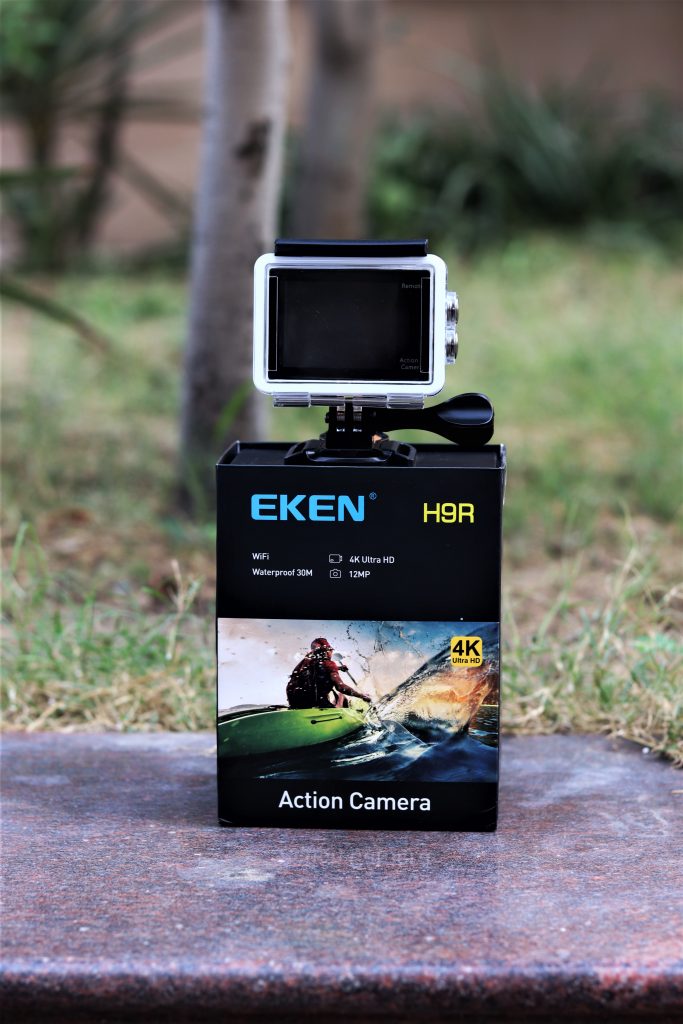 Within the given price the camera shows excellent performance. Most of the cameras of similar price don't even show this much. If you're a beginner and have this much of budget, then this gear is surely for you. You just need to look for what action or sport you want to capture. The equipment comes with wide variety of accessories to help you out in time. I guess this is the best part of Chinese companies. They never fail to offer more than what is needed.
However, the given app by Eken lacks some features and battery dies very early if we compare to other action cameras like YI action cam and firefly 6S. Even the images are sharper than Eken H9R, Yet product marked its place in one of the best action cameras.
Here is a short video of my personal experience with EKEN H9R 4K Action Camera Ultra HD, as I'm passionate about places, nature, biking, and camping since childhood. So I've just given a shot to that only. A glimpse of EKEN H9R working.
Clearly, the best part is capturing the view of wide 170-degree angle. Interestingly, you can leave your camera on a place, it can secretly capture a lot without grabbing public attention. You can witness glance of it.
You can buy the gear from clicking on the below button.
Use Coupon: K93ZJNUB Price: $57.63
We are here to offer best product in best budget to our readers, below is the given coupon code to get your product by reduced price by $6.16.
EXPIRED DATE : 2018-9-21
For more variety in Action camera click the below button.
Happy Shooting of all Your Actions and Sports 🙂