Facebook came up with a new visual machine learning technology yesterday. Using the same technology they used to suggest friends you may want to tag in photos or videos you uploaded. However, these new features help you find the photos right there on the facebook but you are being tagged in using machine learning. This feature helps you detect when others upload photos consisting your face and might attempt to use your image as their profile picture or any other misusing purposes.

Moreover, after launching this feature, you get alerts when someone uploads a photo consisting your face using the facial recognition technology. Now when your face shows up in any newly added photo/post, it appears in the Photo Review on your Facebook profile you can either tag yourself in the photo or ask the uploader to take down the photo (because you did not like it, or more). Also, you can either report to Facebook or do nothing and leave it be.
Facebook is also introducing a way for visually impaired people for them know more about who is in the photos they find on this giant social media platform.
So with this feature, Facebook wants to make sure you know and take control of your photos uploaded to the Facebook database, even when they don't tag you. This will boost the confidence among its users that there are not any pics getting uploaded or being mistreated without your knowledge. It also curbs the impersonation. However, Facebook has no plans for using this technique for content relevancy sorting or advertisement targeting, like showing you ads related to the locations of the photo you are tagged in or showing you more news feed posts of the friend who posted an untagged picture of you.
How does it work?
Facebook has been using the facial recognition technique since 2010 and has helped people in many ways, like in getting closer to friends and more. What it does is, it analyses the pixels of photos you are already tagged in and creates a string of templates to recognize your face for future.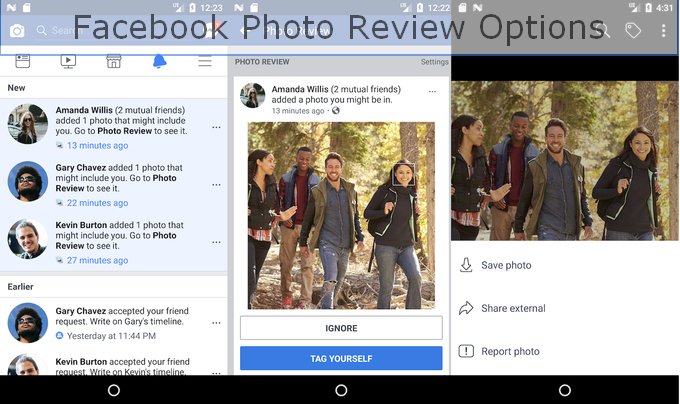 But there is a catch and that is when someone uploads a photo with your face on it and you are in the selected audience for that post, you will be notified even if you are not tagged. Moreover, you are in control of your image and have few choices to choose from to either tag yourself in the post or ask the uploader to take down the photo with also an option to report to Facebook about it. But if you are not on the audience list you won't be notified of the upload.
How to Enable it?
Photo review is an option that lets you know about the photos being uploaded to Facebook consisting your face. When you turn it on, anytime someone uploads a new photo with your face. Thanks to the face recognizing technique.
To turn on Photo Review Suggestions:
Click ∇ (on its website) or ≡ (on its App)at the top right of any Facebook page and Select Settings.
Select Timeline and Tagging from the left column.
Look for the setting Face Recognition.
Choose from Yes or No according to your preference.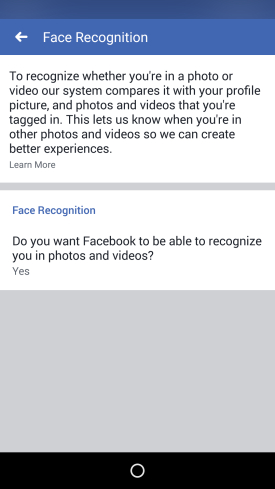 It is very easy to manage Face Recognition via simple settings with a single Yes/No control. Also, if your current setting is set to none, then by default the settings are set to No and you won't receive any tag suggestions until you wish to change it.
Wrapping it Up
This new Photo Review Technique on Facebook is a great feature and will start rolling out in coming weeks globally except the Canada and France region where privacy laws prohibit Facebook's tech. Although it is a great step to curb down the misuse of photos and give its users confidence over their data safety. However, everything has a limitation and so does this feature which doesn't allow you to review the images unless you are on the audience list.
If you face any issues while using this feature or have any query regarding it, please feel free to comment down the section below and we will try our best to come up to you with a positive response. Also, do share it with friends or family to lets them about this feature. Thanks for Reading. Adios.