If you are really into sports and adventure and you want to capture those amazing movement then Furibee has brought its new 4K camera called as "Furibee F60." Whether you are into any sports like swimming, running, cycling or biking, skating or you go out in adventures like hiking, sky diving or scuba diving, Furibee has brought just the right camera for you to match with your adventure and adrenal rush.
FURIBEE F60 Review 4K WiFi Action Camera
Furibee has been known to produce some high-tech devices with some stunning and eye-catching design. From cool quadcopters to Ultra high definition cameras all are there made by Furibee to match your excitement and with a competitive price tag, you cannot just ignore this product.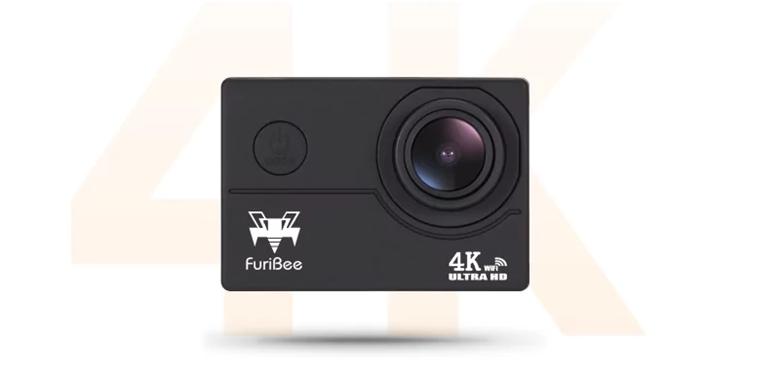 At a glance:
Furibee F60 4K action camera helps to produce smooth videos at the ultra-high definition (UHD). It can capture videos at 30 frames per second (fps), with a video resolution of 3840 x 2160. It comes with AllwinnerV3 chipset which helps to capture 4K resolution. It also comes with a30m waterproof case in case you want to go under water and capture the beautiful movements. Go now and order this beautiful tech, go to gearbest and place an order now.
| | |
| --- | --- |
| Brand & Model | Furibee F60 |
| Storage | 64 GB (external Card) |
| Lens | 16 MP |
| Resolution | 4K UHD |
| Display | 2 inches |
| Price | $ 30.77 |
Features:
Let's us dive into what it offers and how well does it stand out from other similar cameras like GoPro.
Lens and chipset:

 Furibee F60 comes with a 16 MP lens. It has the capability to record Ultra HD videos at 30 frames per second (fps) at a resolution of 4K (3840 x 2160). It also comes with Allwinner V3 chipset to match with the lens to capture high-speed motion videos perfectly, but at the same time taking videos which are clear and vivid quality. The camera lens has a wide angle view to capture any video with an angle of 170o, with a large aperture, with more light to capture the beautiful scenery. It also provides better depth and view quality.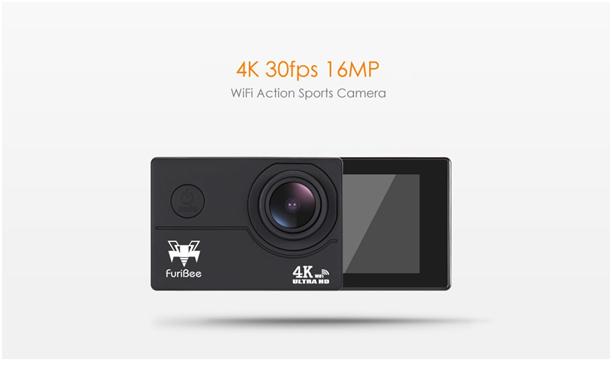 Video and image: F60 camera can record both video and images. Images are saved as .jpg format. The video is saved as MP4 format. You record video at a resolution of 4K with 30 fps. If you want 60 fps then you have to downgrade the image quality to 1080p.
Design: The device is light weight with only 55 grams and small in size. It is built from premium plastic and comes in black color. It also has a waterproof case which you can put on it and go underwater with a depth of upto 30 m. You can also use accessories like monopod or gorilla pod selfie stick or other accessories to go with it.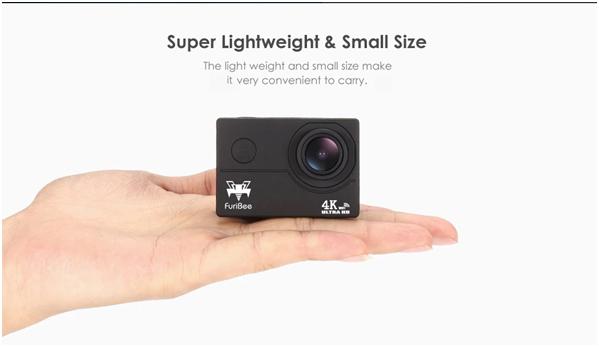 Display:

Furibee F60 has a 2-inch display with a resolution of 320 x 240, for you to view or review what it is recording or has recorded. It also comes with Wi-Fi to get connected with your smartdevices. It supports both Android and iOS. The app is free to download. You can record videos, photos and use other features and as well as view them. You can download the XDV app from

Google play store

for Android user or from

iTunes

for iOS users.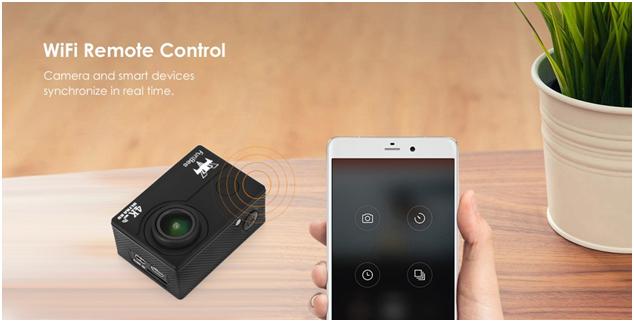 Battery: Furibee F60 has a removable battery and has a capacity of 900 mAh. It comes with USB charge which you can charge from your PC even. It takes 3 hours to completely charge up and gives 60 minutes of working time. It has a standby time of 200 hours so that you never miss any moment of your life.
Other features: There are some other mentionable features like:

It has Wi-Fi feature to connect with smartphone with a range of 10m
Waterproof case up to 30 m and has a waterproof rating of IP68
It has time stamp
It supports 64 GB external memory card (not provided with the package)

Supports time lapse, loop recording, and slow-motion function.
Pros
Small size and very light to hold
Waterproof case upto 30m
4K recording at 30fps considering its price point

Wi-Fi connection up to 10m
Cons
No night visions

No Auto focus and anti-shake
Should you buy it?
Furibee F60 comes with some of the promising features and made especially for sports or adventure freak and considering the competitive price of $25.99(Flash sale price), you can definitely go for. We have checked the image it captures, which is decent and also wide-angle lens helps to capture beautiful images. Features like time-lapse, loop recording, Wi-Fi synchronization and 60 minutes of working time are good and if you don't mind having night vision and auto focus then you can definitely go for. You can buy at online e-commerce retailer gearbest.