The Internet has changed a lot of things around us. From bank transaction to watching movies, the Internet is now the center point of all. With the introduction of new streaming services like Netflix and Hulu, the scenario of watching movies and TV shows has changed.
Today there is a load of content available online. The quantity of content is so much that you can spend days watching it continuously. With so many streaming services, movies and TV shows available online, it becomes difficult to find the best and where to watch it. Google Play Movies & TV app now brings you a new feature that will let you search the movie you want to watch and check which streaming service is available for this.
Google Play Movies & TV is an app that allows the user to watch new content directly on the mobile device. You can also purchase a movie or watch it on rent by paying a small amount. It is available for Android devices and Chromecast.
Google Play Movies & TV – New Features | Review
Recently Google added a new feature called Google Play instant, which let the user play the game demo before installing it. The Google Play Movies & TV has added two new features to increase the user-friendliness and utility. Here are the new features and how to use it.
1. Find Streaming Service
With this new feature, when a user searches for a particular movie or TV show, it will show you the available services where this movie is available. Currently, it only shows you the option of buying or renting the content. It shows you, ABC, CBS, FOX NOW, Disney Now, HGTV, BET Now, NBC, Hulu, HBO NOW, HBO Go, Amazon Prime Video,  Showtime, Comedy Central etc.
2. New Genre Tab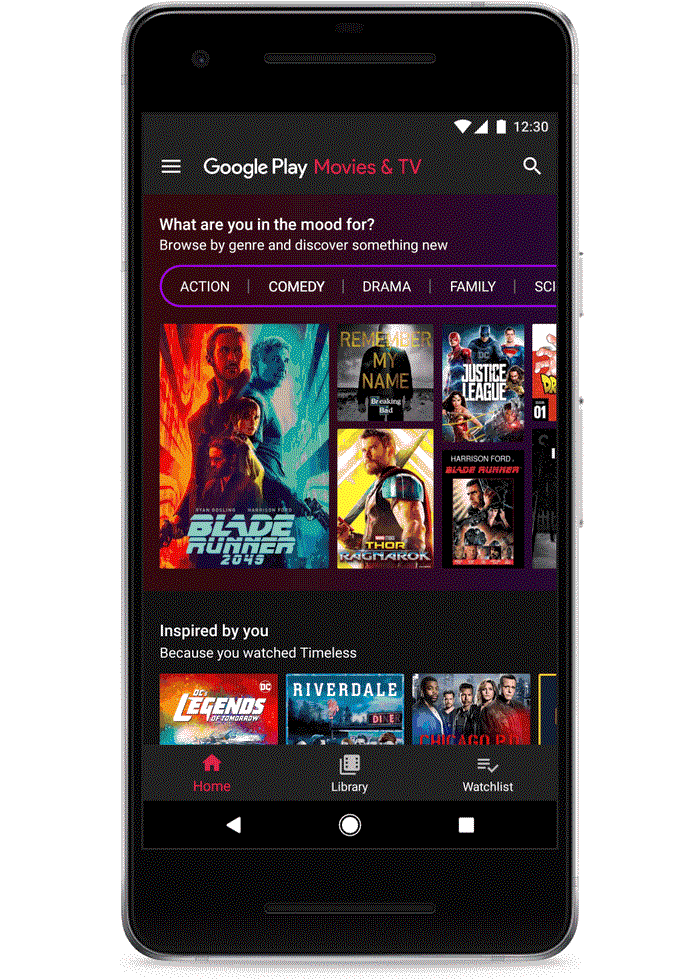 Now you can discover new shows and movies to watch by browsing the app. It adds a new feature to sort content by genre year of release. It makes it easier to find the relevant content which you can play in the app itself or directly go to the streaming service where it is available.
3. Customised List
You can thumbs up or thumbs down a content so that you get more movies and shows you like. By getting to know your likes and dislikes the app will remove the content from the suggestions and add more relevant ones.
With these features, the Google Play Movies & TV might be the best place to find a movie. The third party stream support makes it an efficient streaming app. You can find all content in one place, there is no need to search by going to each streaming site one by one.