How to apply Pan card online in India
Hi Friends, did you know about PAN card and how to apply PAN card online. If you do not have any idea then take a look here i will share with you how to register PAN card online in India. Pan (permanent amount number) is very useful and necessary identity which is issued by Indian income tax department. It is a very unique identity.  Pan card is very important document which is required in such as like when you create new bank account, during passport application, specially high traction's, professionally fees, salary, new landline phone, new mobile SIM card, driving license and bank deposit above 50,000. Even applying online is very easy and simple. You will get within ten days. Here i will give full information about pan card online apply for Indian and  NRI/ Foreign citizen.
Also Check :
How to apply Pan card online Registration in India
Applying pan card is simple and easy. Pan card is very necessary for high value finical transactions, passport for foreign travel and driving license for motor driving.   There are two different applications for pan card. One is application for allotment pan and second one is application for new pan card or changes and corrections in pan card data. You need to pay online by using debit card, credit card or net banking. During this process you have to submit at least two identities which is issued by government like date of birth certificate, voter card id, address proof, marks sheet and  Aadhaar card.
Application for allotment Pan Card
This application form must be used who are never applied for pan card or does not have pan allotted to him or her then only they can apply for New pan card.
Anyone who is India citizen or any foreign citizen or NRI can apply but the thing is there are different application form for Indians and foreign.
For Indians we need to fill form 49A and for foreign form number 49AA.
Simple go to the official website of NSDL   click here

You will find out new Pan for Indian Citizen (Form 49A), click that link.
Now Select the Category Of Application like you can here apply for :

  Apply pan card for individual online
Apply pan card for Patnership Firm online
Apply pan card for Body of individual online
Apply pan card for Hindu Undivided Family (HUF) online
Apply pan card for Associations of Persons online
Apply pan card for Local Authority online
Apply pan card for Company Online
Apply pan card for Trust Online
Apply pan card for Artificial Juridical Person
Apply pan card for Government Agency
Apply pan card for Limited Liablities Partnership
Apply PAN card for DSC User

Now you need to fill the application form.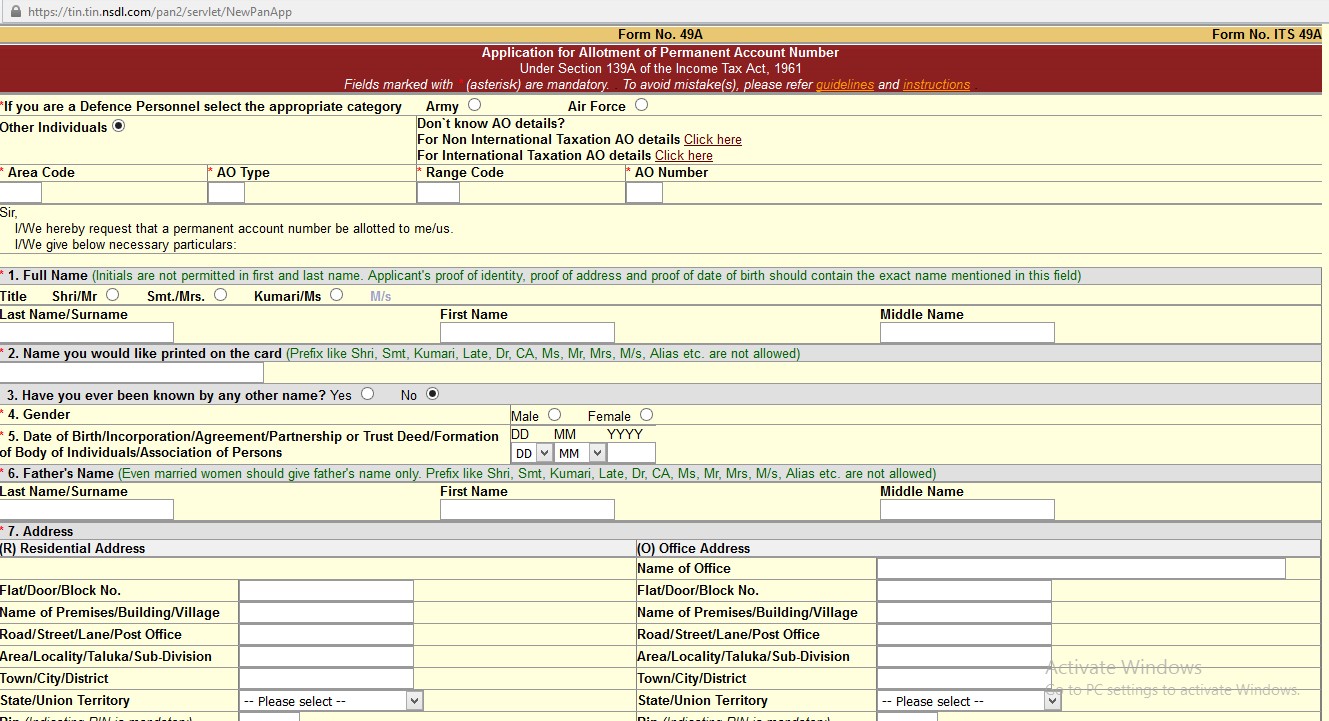 Then Select the Payment Mode you want to pay via Debit card, Net banking , Credit card or Demand Draft.
The fees for a New Pan card for Individual is Rs 106 only.
Now click on Submit pay the fees.
Now you will get an Acknowledgement Form with a 16 Digit Acknowledgement Number. Take a print of this Acknowledgement Form.
Now paste 2 recent clear photograph of applicant on the form in the space provided.
Also draw the sign in the signature box.
Now take an Envelop and put the form in it with all the necessary document mentioned in the form and the DD (if not paid online).
Now make an Heading on the Envelop as Application for PAN – (Your Acknowledgement Number)
Now post this Envelop to NSDL through registered courier os Speed post.
Address of NSDL : Income Tax PAN Services Unit, NSDL e-Governance Infrastructure Limited, 5th floor, Mantri Sterling, Plot No. 341, Survey No. 997/8, Model Colony, Near Deep Bungalow Chowk, Pune – 411016.Telephone Number : 020 – 27218080
Note : Your Envelop should reach the NSDl within 15 days of online application. So post it asap.
You will receive a mail form NSDL after they receive your envelop. That's it you have successfully applied for PAN Online. It's easy and fast.
Apply PAN online as NRI/ Foreign Citizen
This application form should be used who are resident as NRF/Foreign Citizen.
Simple go to the official website of NSDL   click here
Now click on the link for New form for Foreign citizen (Form 49AA)
You have to fill the the application form
After completion of the process click to download the application form.
Apply Online Changes/Correction in PAN card details
If you already have PAN card and you want to change any thing then only this application form is useful otherwise you cannot .
First you need to open official website of NSDl   click here
They you will find out application form of change / correction in PAN card
Now you need to click on it to open PAN Correction form   Here the form
Select your Category
Then just fill the form, pay the fee and click to download the application form.
PAN  Card Bulk Verification
Indian Income Tax department has divided into particular category and organizations such as like
credit card companies/ institutions
Financial institutions like bank
mutual fund
 Government agencies
credit information companies approved by RBI
insurance repository
KYC registration agency
Non banking financial companies approved by RBI
Stock Exchanges/ commodity Exchanges/ clearing cooperation
insurance companies
How  to get your application Status online
Now you can check your PAN card status simple. This process is allow only who are applied online. After finishing of your process you will get unique Acknowledgment Number which is given by Indian income tax department. This number have 16 Digits and when ever you verify your application status you need to enter this number. If you want to check Pan card status then  click here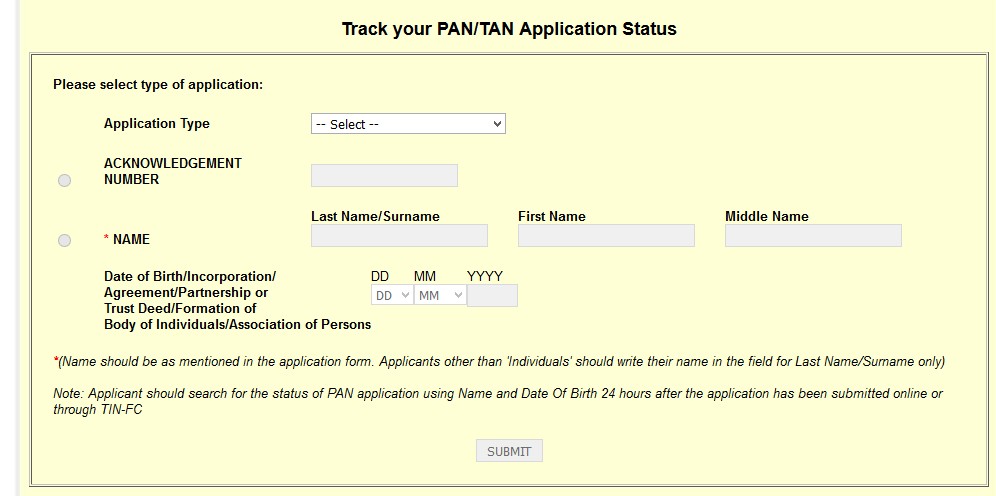 Just enter the Acknowledgement number, Name and DOB to get the status of PAN Card.
I hope you have applied PAN Card Online successful. PAN card is a very important identify everyone must be have this one. PAN card is even very useful and helpful document. Its a very simple process just it takes five minutes of your time. Apply PAN Card online now.