Apple unveiled iOS 11 in WWDC event. The iOS 11 comes with some of the exciting new features. The iOS 11 is now available to download in beta version for the developer. The full iOS 11 will be available later this year. But if you want to install iOS 11 beta version then here is the complete guide to download iOS 11 on iPhone.
At the WWDC 2017, Apple has introduced the updates in both software and hardware related. They have introduced the iOS 11, macOS High Sierra, watchOS 4 and tvOS 11, and new hardware like a new iMac Pro and a Siri-powered speaker HomePod.
The iOS 11 is available in beta for developers right away, with the public beta not too far behind. So, if you want to install the beta version of iOS 11 and not a developer then don't worry here we show you how you can install iOS 11 right now. Before we go any further,  You must backup your iPhone or iPad, before upgrading to iOS 11.
How to Install the iOS 11 On iPhone and iPad devices
Before we discuss on that how to install the best version of the iOS 11 this is important that which device is compatible to that. iOS 11 beta version is available for below listed these devices:
 iOS 11 Compatible Devices
iPhone 7, 7 Plus
iPhone 6s, 6s Plus, 6
iPhone SE
iPhone 5s   
The iOS 11 beta is available for the following iPad devices:
iPad Pro 12.9-inch (first and second gen)
iPad Pro 10.5-inch
iPad Pro 9.7-inch
iPad Air 2
iPad Air
iPad (2017)
iPad mini 4, 3, 2
iPod Touch 6th gen
These devices will surely get the update of the iOS 11. But let's take a look at the devices which will not support on iOS 11 beta version:
iPhone 4S
iPhone 5
iPhone 5c
iPod touch 3rd-gen
iPod touch 4th-gen
iPod touch 5th-gen
iPad 3
iPad 4
Install Developer Version of iOS 11
There is only one way to install the iOS 11 developer beta is, if you're a registered Apple developer. The only developer will get the hand on the iOS 11 beta version. Apple allows the developers to make sure that all the apps run perfectly without any glitches on Apple's new OS.
It looks easy no it's not, now you can't just be a developer to get access to the beta Version To be a developer you need to sign up to the iOS Developer Program, which will costs you $99 per year.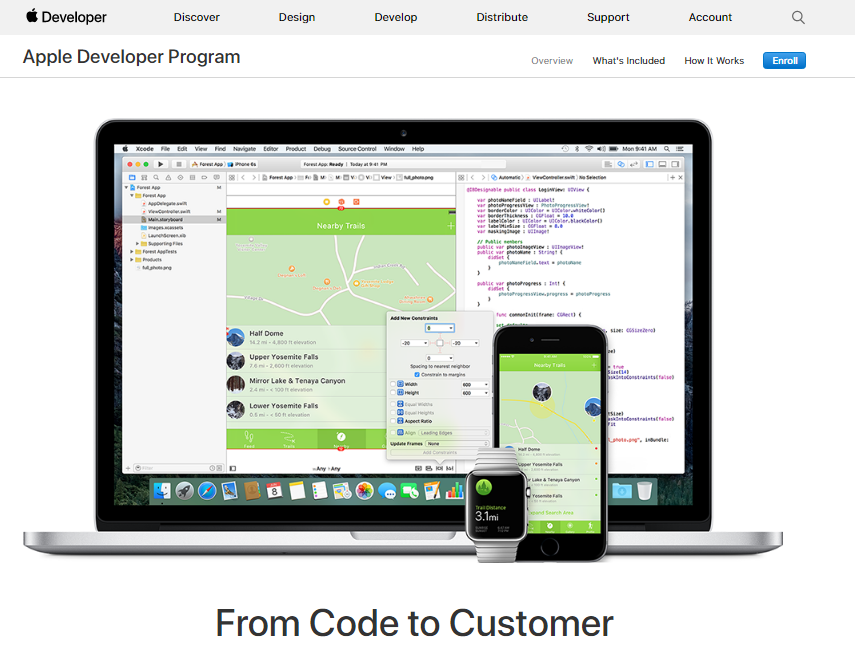 If you are a developer and want to install the developer version then to the iOS Dev Center using and sign in with Apple ID and enrolled to the dev program. Once you logged in, register your iOS device's UDID number. If you didn't know about the UDID of your device then don't worry. To find your UDID you need to connect your device with iTunes and there you can see the UDID. Once your device is registered after that you can download the appropriate version of iOS 11 for your iOS device.
It will be a zip file of the new iOS beta version and unzip that into a new folder. Next thing you have to is, Head towards to the iTunes and connect your iOS device. Now you need to restore the device and browse the ".IPSW" file which will be available in your extract folder. Once the restore process is done the Beta version of the iOS 11 is installed into your device.
Install iOS 11 Public Beta
The above beta version is available for the developer if are not a developer and still want to install the Public Beta version. Well at this time it is not available for any iPhone device. Apple has already announced at WWDC 2017 that the iOS 11 public beta would be made available by the end of June 2017. Those who are interested in the public beta version you can sign up for the public beta version, you'll have check site periodically if the iOS 11 public beta is available or not. 
At the end of June, the public beta version will be available so to update your phone just log in to the Beta Software Program with Apple id and processed to the update your iPhone with the iOS 11.
Why Not Install The iOS 11 Beta Version
As you know the beta version is not a stable update of any software or OS. There are some changes and glitches in the Beta version. So there might be some apps won't work properly because of the compatible issue. So, will suggest you if you have any doubt then don't install the update your iOS. Just wait for the official iOS 11 and you'll get the access to all features without any glitch.