In this tech world, full of Bluetooth Speakers or Wi-Fi Systems, meet Close Contact Audio Technology Speaker, Bento which is something unusual, something strange from rest of the speakers by a company called OAXIS, is a known leader in the consumer electronics space for their innovative products and software platforms. Established in Singapore, OAXIS's focus is to empower users to both make them much easier and make healthier choices, with wellness technology that easily integrates into an active lifestyle.
Close Contact Audio Technology is a next-level technology works on vibrations from the internal speaker of the device is absorbed by the material of the speaker and uses electromagnetic induction sensors to amplify your device's music wirelessly.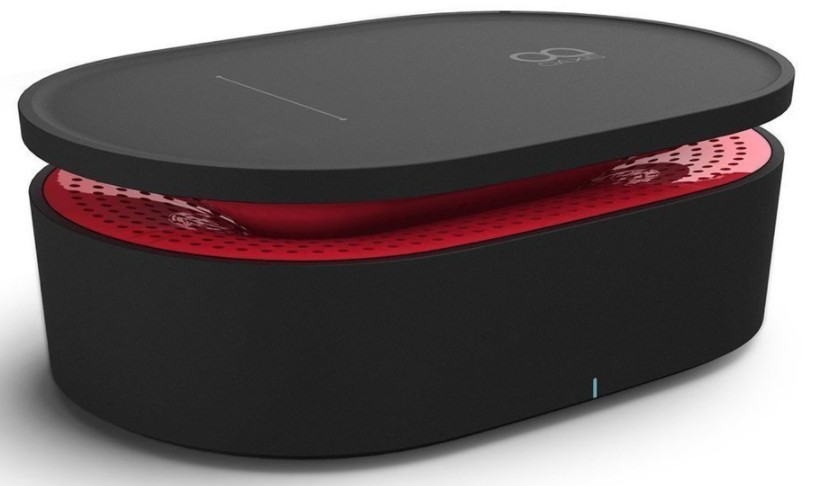 The Oaxis Bento: drop and play wireless speaker; no need of Bluetooth, NFC or Wi-Fi for connection which simplifies the work, just keep the phone on the top of the marked area, and you are ready to go. It can also be operated as a standard speaker with an audio input to the back of the device via 3.5mm AUX-in cable to a music playback device.
1. Design
The Bento is available at $47.99 on Amazon looks unique with the technology as well as the design. The Oaxis Bento also won the iF Design Award in 2014, and we were not surprised why. The speaker looks like it is upright from the future, it has a relatively minimalist barrel-shaped plastic case, with a power LED on the front. On the back, we have a mechanical power button, 3.5mm audio jack and a micro-USB charging port.
Moreover, it is speaker grills are strangely attractive. Recollective of a black hole, the surface curves downward into the body that has two vertical-firing 40mm drivers. Because of the curved surface, it offers 360-degree sound and undoubtedly looks incredible and is available in two colors Black and White, you can opt for the color you want.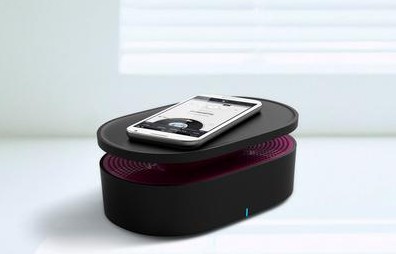 Also, you can use these as a decorative item on the table or anywhere in the room when not in use. The top panel is where the thing gets to work; there is a line printed on to get a rough idea for the placement of your device's speaker. After powering it up, you just need to play music or put a call on speaker mode and place it on the marked area. You need to adjust the best placement to get the best sound and detail.
The playback and volume controls are done from your device itself; which annoys us a bit as you have to use/pick-up your device every time you wish to change track or adjust the volume which is likely to involve moving your device thus can change placement and can create a difference in the Audio Output.
The top panel can hold smartphones or devices up to the screen size of 6.5 inches. It is considerably big and is not as handy as a Bluetooth Speaker making it less portable but you can rather take it in a bag with you.
2. Performance
The Oaxis Bento works on a unique technology off an internal battery that's charged by micro USB. It takes around 3 hours to charge, with the red power LED turning off when charging is complete. While it is in charge, you can not use the Speaker, which is an odd choice. The Bento gives the music playback of around 5-6 hours and up to 10 hours for call conferencing on a full-charge.
It is impressive when you experience the close contact induction in the flesh. Physics is all that makes it work. 360-degree audio delivering is great and generates loud and clear sound, but you hardly feel the bass as compared to when you connect the device via the audio cable and also has distortion.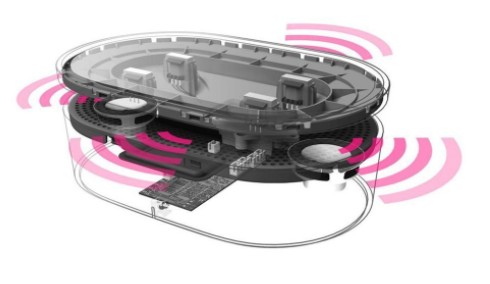 The Dynamic bass, as they claim it to produce isn't that good though. In fact, it sounds even better when you connect your device with the Audio cable and generates a right amount of bass with rich and clear audio output with no distortion at all. I would recommend you to use the speakers via cable.
The Bento works best with any flat surface phone/device(e.g. OnePlus 3, Google Pixel, Galaxy Note 4, iTouch 5th Gen) with audio output via speakers and thus has no compatibility issue. Although, I noticed a difference in the sound output while using a curved surface phone(e.g. OnePlus 1, LG G Flex) making it ideal for cross-platforms sharing.
3. Features
360° Omni-directional Audio.
Wireless Close Contact Induction Audio Technology.
Intuitive User Experience Design.
Suitable for teleconferences and meetings.
Works with any phones or audio source.
Built-in battery lasts up to 6 hours continuous playback.
Best for small group conference call.
Technical Specifications
Audio:

40 mm Speaker Driver (x2)

58 x 32 mm Passive Driver (x2)

Output Channel: Stereo

Amplifier Power (RMS): 2.5 Watts x 2 (@10% THD @ 1kHz)

Frequency Response: 80Hz – 20kHz

Input sensitivity: 600 mV THD 10 %

Distortion: < 0.1 %

Signal to noise ratio: > 75 dB (@ 1 kHz input)

Physical Properties:

Weight

: 500 grams

Length: 186 x 127 x 65 mm

Connectivity:

Close Contact Induction Audio Technology

3.5mm Audio line-in (Stereo input)

Micro USB battery recharging

Smartphones Requirement:

Any smartphones or cellular phones with audio playback and built-in speakers

Batteries & Power:

Playback Time

: up to 6 hours continuous play

Battery type: Built-in Rechargeable Lithium-ion

Capacity: 1000 mAh

Charge time: 3 hours

Charging Power: 5V, 500mA

Charging: Micro USB Port via Micro USB Cable

Mechanical Power ON/OFF Button

Environmental Requirements:

Operating Temperature

: -10°C ~ 40°C

Relative Humidity: 5% to 95%, non-condensing

Storage Temperature: -20°C ~ 50°C

Relative Humidity: 5% to 95%, non-condensing
Final Verdict
The OAXIS Bento works very well; for all the induction speakers I have tried, this is one of the greatest. It stays on consistently, which is great. I have personally used them, and it amplifies my music and calls very well. My only qualm is that it does not have a local volume rocker and about 1/3 to 1/2 volume on the phone is ideal for the induction microphone, but it would have been nice to adjust the volume locally on the speaker.
On the sound note, this is still an induction speaker, and sound quality out of induction speakers is always a little more compromised. This one, however, has a fairly loud and clear sound. The location of the microphone is a little finicky; I ended up marking an outline where my phone should go to compensate. It is a cool concept, and for conference rooms, it works great, but better sound can be had from Bluetooth, they should have given the Bluetooth option. However, if you are lazy and rather just set the phone down it is an adequate solution. Using them at meeting rooms for conference calls or at home for general use would be recommended.