You must have seen drones or might have used one. There are so many different types of drones made to perform different tasks. You can shoot a great video with a drone camera. Drones can fly and you can control it as per your requirements. It can be used for shooting videos, exploring, rescue, product delivery etc. All this is great but what if you need shoot something underwater.
PowerDolphin – Underwater Drone , Fishing, Rescue, Mapping, Video Record
Power Dolphin is a product of a Chinese manufacturer Powervision. It is a product designed exclusively to work underwater. It can be controlled remotely to complete various types of tasks. It was first showcased at CES 2018 where it got a lot of attention and appreciation by the tech community.
This underwater drone is capable of doing many interesting things apart from capturing an underwater video. It can be used for fishing, shooting 4K underwater footage, stream live video footage. It is equipped with many advanced features like SONAR and rotatable camera.
Power Dolphin Specs
Talking about the specification of this device it contains some of the best specs available for an underwater drone. The build quality is superb and feels premium while holding it in hands. The design makes it easy to flow in open water. The Anti water-weed and Anti overturn design prevents it from the accidental damage.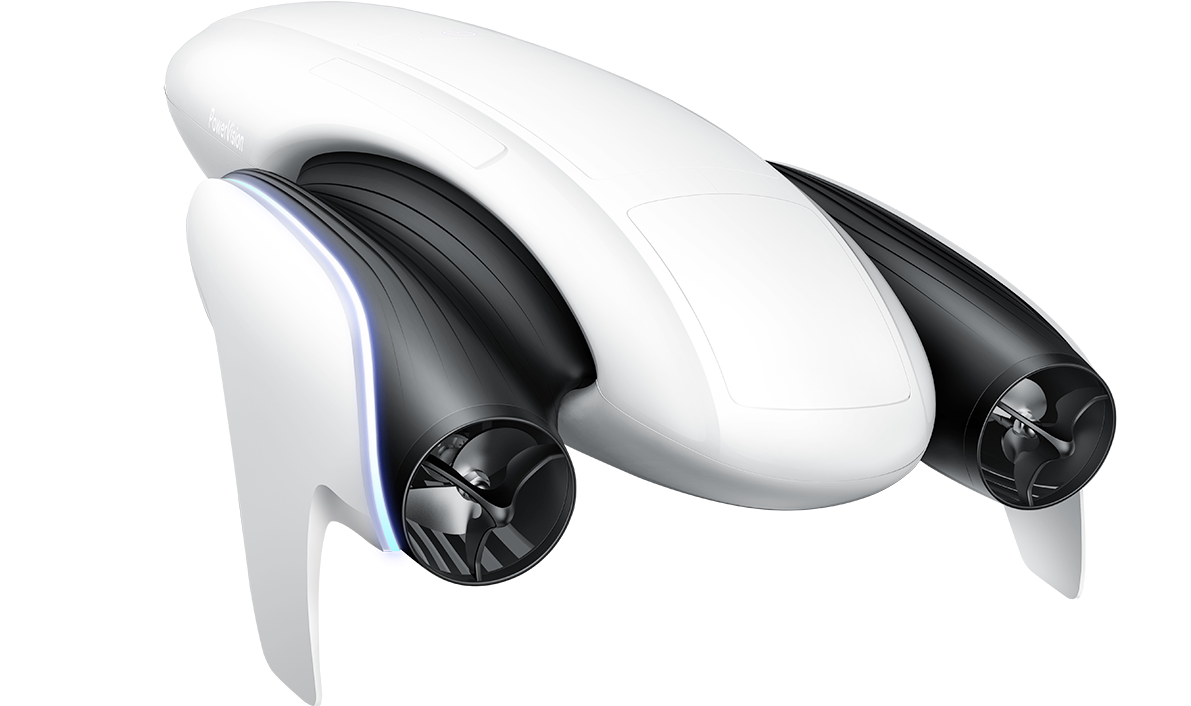 To shoot beautiful underwater videos it is equipped with a 4K camera. You can use it to shoot videos with great quality underwater. It can also be used while surfing. The camera is attached to a 215° dual-joint that makes it able to shoot videos above and underwater with efficiency. It can capture wide-angle videos of up to 135°.
It comes with a controller that is used to control the movement of Power Dolphin. It is connected to the main device with a wire that is long enough to go to a long distance. The built-in battery can power the device continuously for 2 hours.
There are three-speed modes which can be used as per your convenience. At the high-speed mode, it can move at 5m/ s, at medium mode, it moves at 3m/s and at the low-speed mode the device moves at a speed of around 2m/s.
Additional features include SONAR and GPS that can be used to map the ocean floor with accuracy. On the controller, the one button return feature lessens the possibility of losing the device.
Power Dolphin features
Intelligent Fishing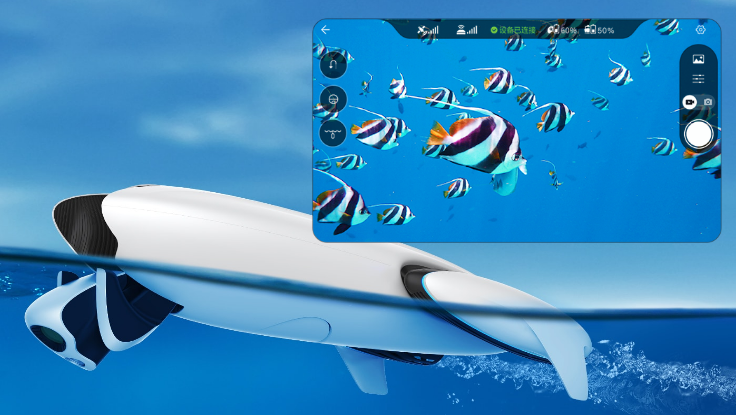 With the help of Power Dolphin, you can make your fishing experience a lot better. A hook and the bait can be attached to it and you can place it in the best place where the chances of finding the fish are highest.
Once the fish is caught you can use the controller to bring the gadget back to you. Use the 4K camera attached to it to find the fishes. You can also attach bait container to it which will help to put bait fast at the desired spot.
Rescue Support
The underwater drone can also be used for rescue operations. It can carry rescue gears with it. Things like life jacket can be carried by this device with the help of the tow line. It provides a safer way in the case where time can be a crucial thing in saving a life.
Real-time Video Transmission
The video from its camera can be directly streamed to your smartphone in 1080 pixels quality at 30 frames per second. This can prove to be a great tool for people who love to explore things underwater.
Underwater Mapping
Large ships and submarines use SONAR technology for underwater navigation and finding other data. The Power Dolphin is equipped with SONAR as well as GPS which enables it to build a perfect ocean floor map. The data can be used for various purpose.
Final Verdict
Power Dolphin underwater drone will be available for the consumers starting from April 2018. To know more products from the company PowerVision, you can visit the official store at the link given above. The product has many features and can be useful in the various situation. If you like to go for fishing, surfing or any other water sport, this gadget can enhance your experience in a whole new way.