From past years, Camera is one of the more popular trends especially for recording videos like the GoPro and other compact cameras. These are small and very portable cameras which can shoot upto 4K in a small design.
Now QooCam wants to be your latest go-to-action camera. Although what makes it different from other action cameras is its capability to shoot both 4K 360° as well as 3D. As you read, QooCam is the world's first camera that combines innovative and extraordinary features of 360° and 3D stereo filming technology.
 Moreover, the most uniques features of QooCam Camera like its three lenses, IMU stabilizer, and depth map tech. Its other features include shake-free shooting capabilities with after-shooting refocus feature and shooting at 120 FPS and time-lapse capabilities. The best part is using it doesn't need exceptional talent, so it doesn't matter if you are a professional or a novice, you can use it freely and edit all of the shots using its dedicated
QooCam's Master Editor App
.
Before we proceed with more information about, let us look at its features and specification as figures help you understand the product in a much better way.
QooCam Camera Specifications:
QooCam Camera Features:
Shoots 3D VR in 180-degree and 2D VR in 360-degree.
Maximum of 4K recording to create high-quality 360-degree videos/photos.
Refocus – A feature to set the focus later after shooting photos.
Shake-Free Shoots with IMU Gyro Stabilizer and Software Algorithm.
Create Slo-mo Videos at 120 FPS.
360-degree or 3D time-lapse.
Three 216-degree Lenses with a f/2.2 aperture.
Tap and direct to quickly edit the footage using its App.
Smart Track – keep track of your focus point.
Tiny Planet Effect – Changes 360-degree images into cool tiny photos.
Compatible with Tripod, Selfie-Stick, Drone, Dolly, Helmet or Skateboard.
This was a sum-up of QooCam's Specification and Features it has. Other than the camera is compatible with Android Nougat and iOS devices to make use of its application for a different level of functionality it offers in its app like Editing, Sharing and more.
With QooCam the company aims to gain versatility using its all-new lenses and a quick-twist of the camera body. Announced on May 2, QooCam is designed by Kandao, the same China-based company known for its 360-degree camera and was also applauded by Facebook last year.
When you flip the section of the camera to the side, the two lenses on the front work together to gather depth data. Using the software in the company's high-end Obsidian Camera, the depth mapping lets you refocus the shot later using its app. This depth mapping effect uses 3D mapping rather than light-field technology on the Lytro.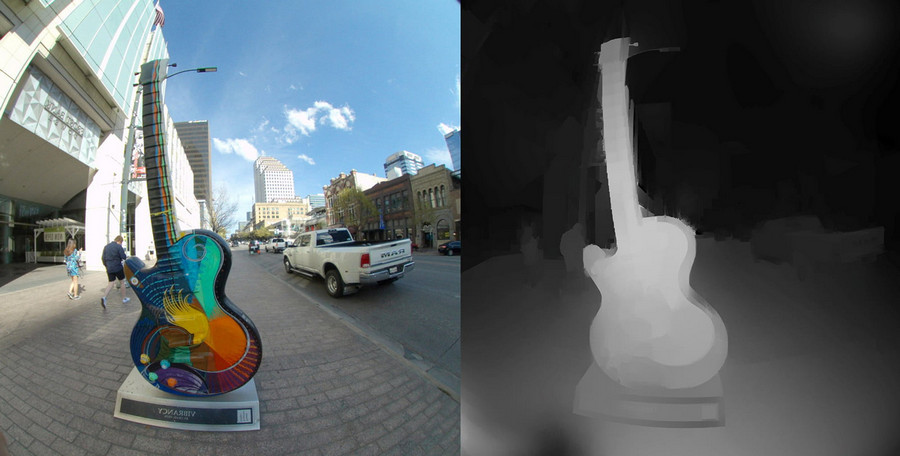 The QooCam Camera is crafted using space-grade aluminum making it weigh 170 grams only. It uses three 216-degree field-of-view (FOV) lenses with f/2.2 aperture. The device has all the primary features like high resolution still photos with built-in Wi-Fi and Bluetooth. The images are stored on a Micro-SD card with the maximum expansion of upto 256 GB.
Kandao also uses software-based real-time stitching which stitches both the 3D and 360-degree content in camera. Moreover, using coordination between the sensors and software, the camera incorporates image stabilization to deliver shake-free shots.
Using its camera app which will be available for both Android and iOS very soon lets you connect to the camera and share photos and videos. The company is also building an editing feature in the app with an option of object tracking while you take 360-degree shots. The company has also confirmed the inclusion of Livestreaming, time-lapses and the Little Planet mode to available soon.
Conclusion
Kandao is already running a crowdfunding campaign on Kickstarter and the campaign goals reached full funding within the launch of three hours. The QooCam camera is expected to ship in August this year and will ship globally with free shipping in Europe, USA, and Japan. There are only 9-days left at the time of writing this article and the interested backers can still back it up for the price of $309, with 23% discount on the retailer price.