Another day, another bliss of technology. Ever Heard of Wejoy Mini Projector? Now enjoy a pocket theatre experience.
Gone were the days when projectors were only large heavy boxes which our teachers used to influence us or watching a movie in open on white curtains. Technology has surely taken us to another level of life experiencing terms. Having such pocket-friendly compact projector itself a perk for watching experience.
You'll see quite a lot of products in the market which will vaunt about there products. No doubt there is quite a good range of mini projectors available but make sure before buying that it is satisfactory for your purpose or not.
About Wejoy Mini Projector
Ever have you wondered that such compact device can be such fabulous? Wejoy Mini projector DLP (Digital Light Processing) is a bundle of features in a compact device. The ultra mini portable one with dashing looks which fits in the pocket easily. A good travel companion if you have presentations to display at different places. It has Wifi, Bluetooth and Mouse operation facilities. Not just this, it allows HDMI, PC, and video input options, integrated speaker to work efficiently and offer the best user experience.
Its Advance DLP  technology offer users to experience razor-sharp and crystal clear images. This is the very same technology which is usually used in Hollywood. The device is built with Android OS 5.1. However, it is yet not clear whether it is upgradable anyway or not but it allows access 800,000 apps which include Facebook, Picasa, Youtube etc. It has Airplay for iPhone users.
Not just this you can enjoy playing a huge variety of games. It has dual-band Wi-Fi (2.4 GHz + 5GHz) which helps in getting better WiFi Signals. The WiFi chip allows WiFi BCM 43569 802.11 b/g/n/ac. In total it has good user interface plus it lets Bluetooth connect easily in both of its version. It is clearly visible in its result, the improvements in reliability and usability. Nevertheless, the most cherishable part of the product is DLP driver which gives images with high contrast and bright viewing experience. I personally felt quite amazing with the presentation quality.
Wejoy Mini Projector Design
Built under the dimensions 75*75*34mm. The mini product gives a classy look as I've mentioned. I true vaunting peace. Whether your friends are haunting at the gathering or you want you to enjoy your gaming on a whole new large display or any business presentation you want to display. The product will surely make your time remarkable. Carry it anywhere. The product is quite rough and tough and does not occupy much of the space.
Wejoy Mini Projector Connectivity
A perfect mini home theatre which gets connected with almost everything you expect it to get connected. The fabulous thing about this standard is that it's fully compatible with your typical phone chargers, and one can even charge from a USB port. Despite all this, the right is where all the magic happens. You've got two options for playing back video. You can load files onto a Micro-SD card, or connect using a tiny HDMI / MHL port. HDMI will surely satisfy you up to your expectations. Though you'll need an adapter to connect to different micro HDMI port. Talking about MHL then it uses a satisfactory MHL which is used by almost Android and iOS phones and tablets and displays exactly what should be shown.
You can easily enjoy your all streams of your watching. There is no fiddling with settings or dragging windows to another display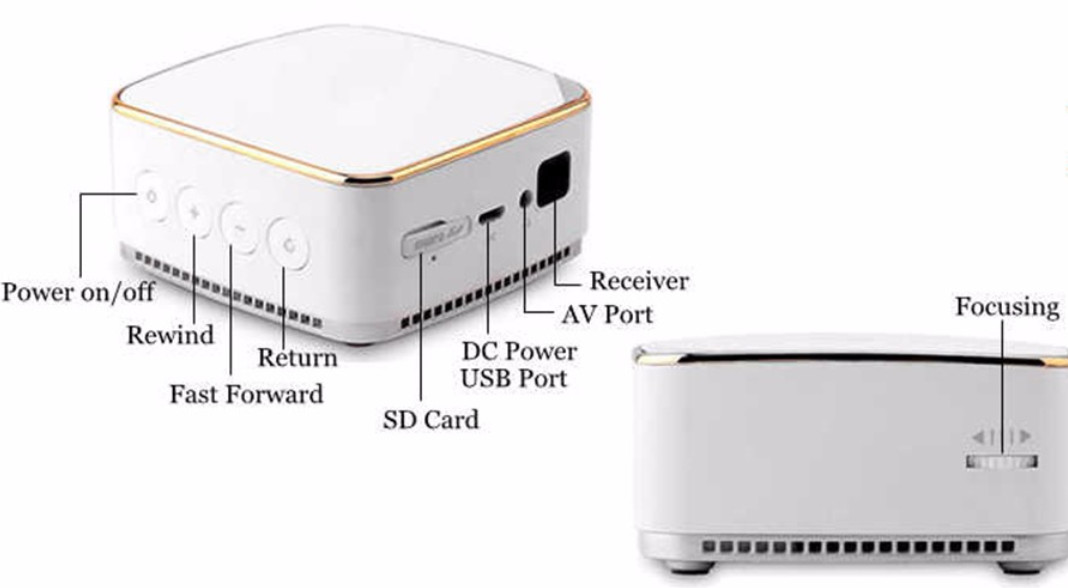 Wejoy Mini Projector Display
Enjoy more lifelike colors than ever before within such a compact device. Go on streaming your favorite show. Choose wherever you want to watch your favorite. The device will amaze you with its brilliant technology. It automatically adjusts its display according to place and displays with just one scroller you'll find on the right side of the product from above.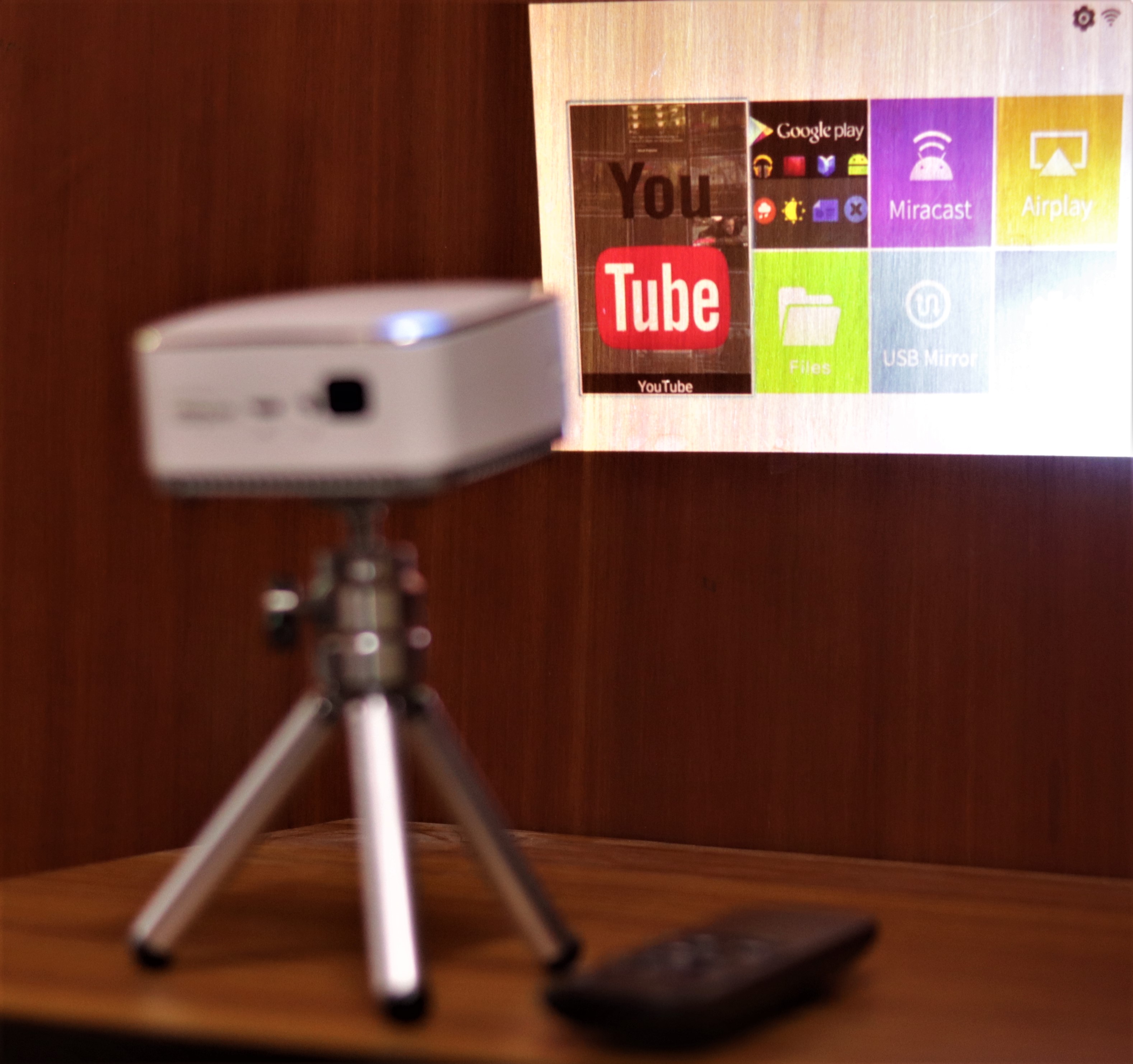 Wejoy Mini Projector Battery Backup
Its display is by 4200mAh lithium battery which can last up to maximum is 3 hours, which is enough to last for a movie. After that, it can easily get charged by casual android phone charger or through USB's it battery can work for 30,000 hours for if we ask for lifespan time of it.
Technical Details
Basic Information
Brand: Wejoy
Dimensions: 75*75*34mm
Weight: 190g
Processor
CPU:  Rockchip 3128 ARM Cortex-A7/Quad Core/1.3GHz CPU
Housing:  ABS+PC
RAM: 8GB EMMC
ROM: 1GB DDR3
Projector technology: DLP 0.3″ EM DMD
Display
Brightness:  50 ANSI Lumens
Focus: Manual
Resolution: FWVGA(854*480)
Displayable Colors: 100% NTSC color gamut
Image Size
  37.8 inch(16:9)@1M;75 inch(16:9)@2M;110 inch(16:9)@3m
Battery
4200mAh,   3 Hours maximum.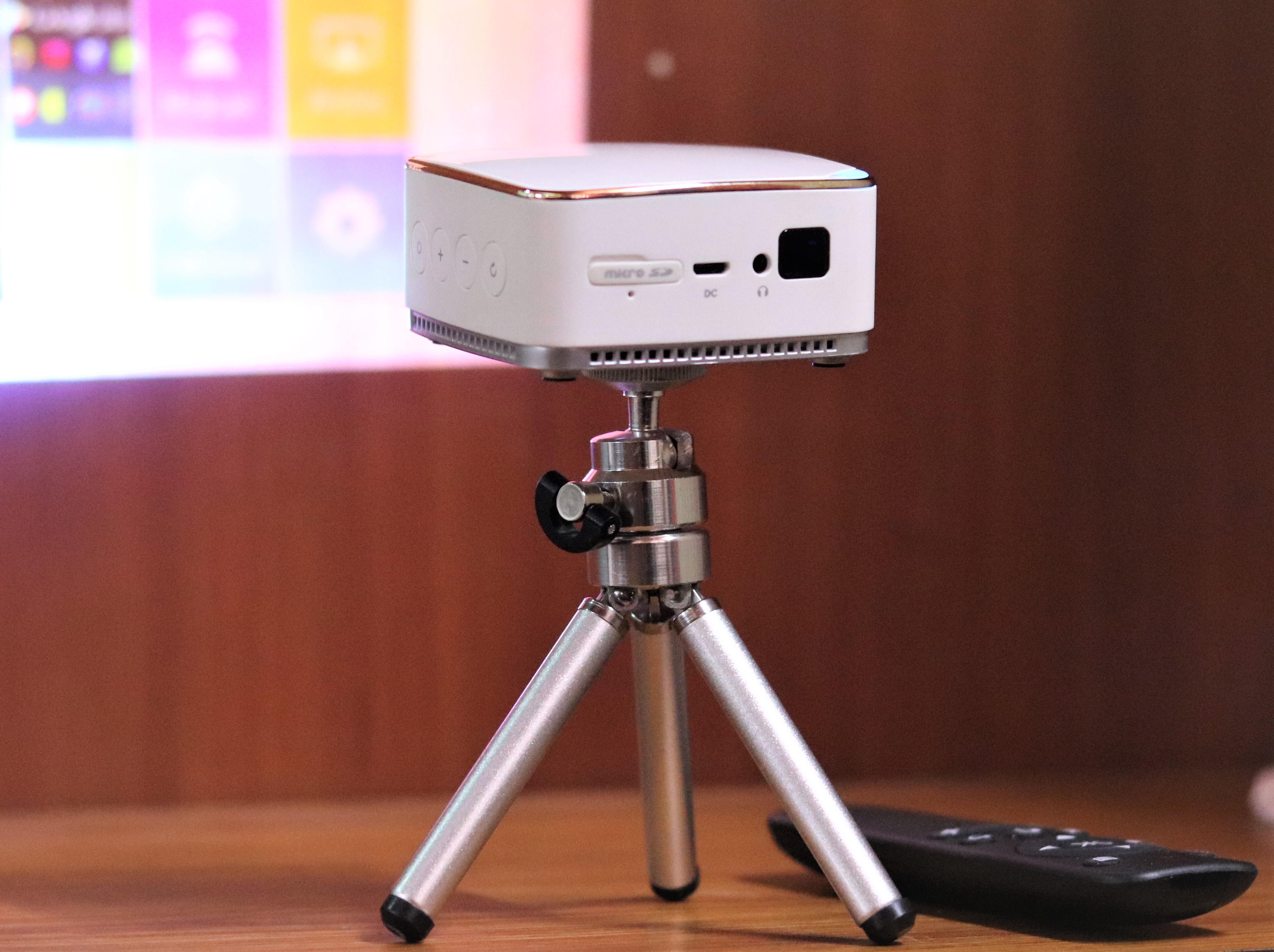 In the package
| | |
| --- | --- |
| Wejoy Mini Projector | 1 |
| ADAPTOR | 1 |
| USB Data cable | 1 |
| Remote Controller | 1 |
| Tripod | 1 |
| Manual | 1 |
Bottom Line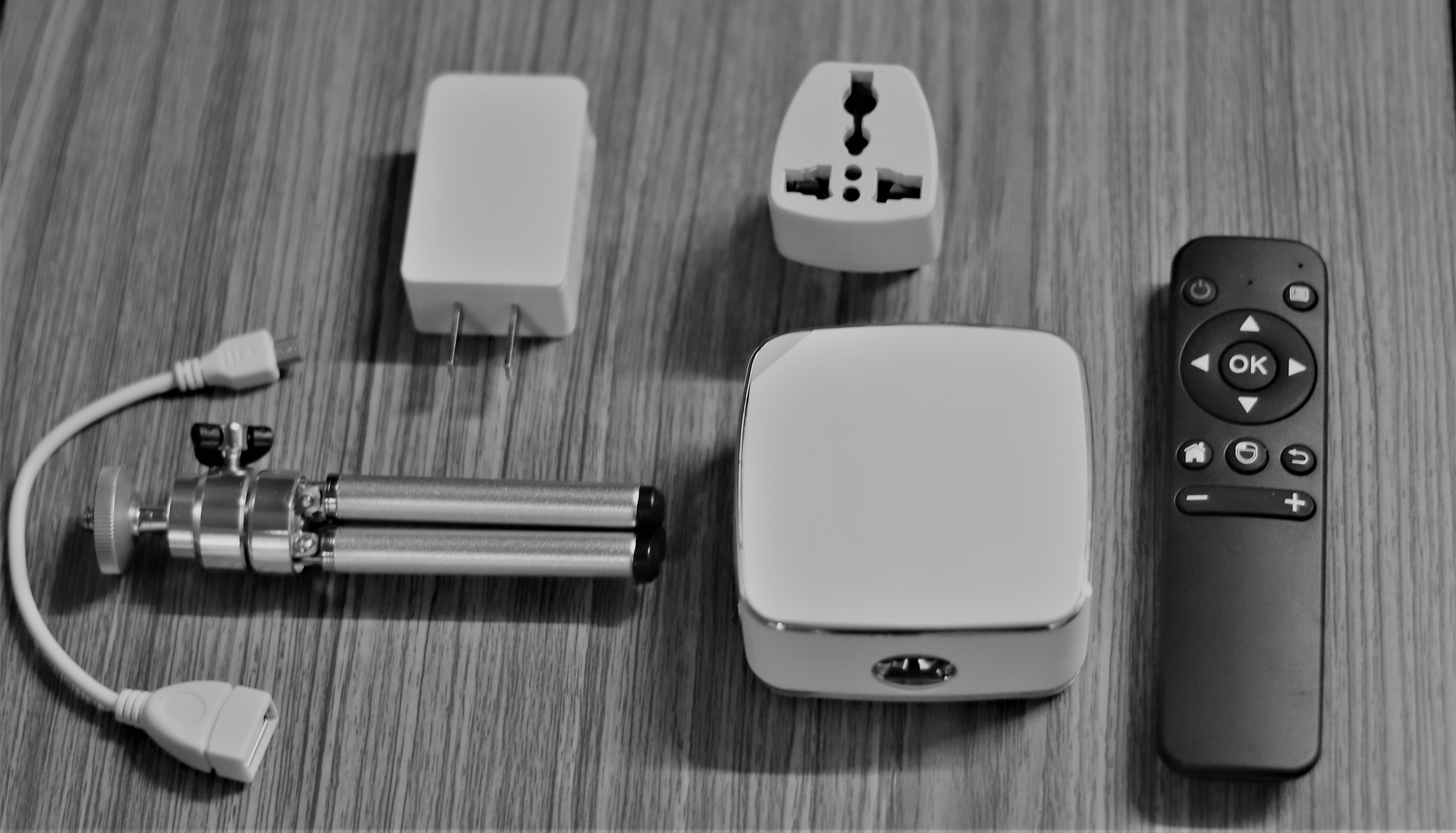 Overall, I will call it a fabulous projector. A mini and compact size one which we can carry anywhere. Amazingly user-friendly, whether it be traveling or displaying business presentations or calling friends to haunt somewhere. This one is the product you would love to vaunt about in your circle. The classy looks with astonishing performance. Nevertheless, it supports almost all the application you would love to play. Whether it be gaming or watching youtube or Netflix. Moreover, it supports mouse also. You can either connect it from laptop or PC or can run your things from Micro SD card or HDMI or USB ports. "Enjoy a mini theatre" I would love to tag. Grab this amazing product now.