Today, Home Theaters has lots to compromise. The Surround speakers are expensive to set up and requires you to sit in a "perfect spot" for a perfect sense of positioning and can't exactly get into your head. Whereas a good headphone can deliver the sound more accurately using binaural recordings but are isolated to a single person and are very rare to find.
A company called Comhear has created a new 3D sound bar, Yarra 3DX to come over all those problems. That is not it; it also comes at a very affordable price of just $329. Also, it does not want you to place it in different positions at home but instead sits at one position to deliver the best 3D surround effect. The Yarra 3DX uses "Beamforming" technique with advanced audio processing to deliver the best out of it.
The advantage of beamforming technology is that you can control the direction of audio travel. This technique in Yarra 3DX lets you choose the location of your "Sweet Spot, " or you can also choose multiple of them when sitting with a group of people. Which means you can direct the audio to single or multiple locations so you will not have to raise the volume to listen to dialogue or any media file. This lets you imitate the sound with the bass notes being felt in the whole of your body, thanks to the binaural audio. It sounds so exceptional.
This product was first released on its Kickstarter campaign with a funding goal of $50000, but with the increases in popularity, it got shifted to its Indigogo Campaign with fundraising of over 1476% till date. You can still back it up to if you like its concept and want to experience the 3D surround sound with the link provided and it is estimated to get delivered to you by Q1 2018.
How 3D audio works?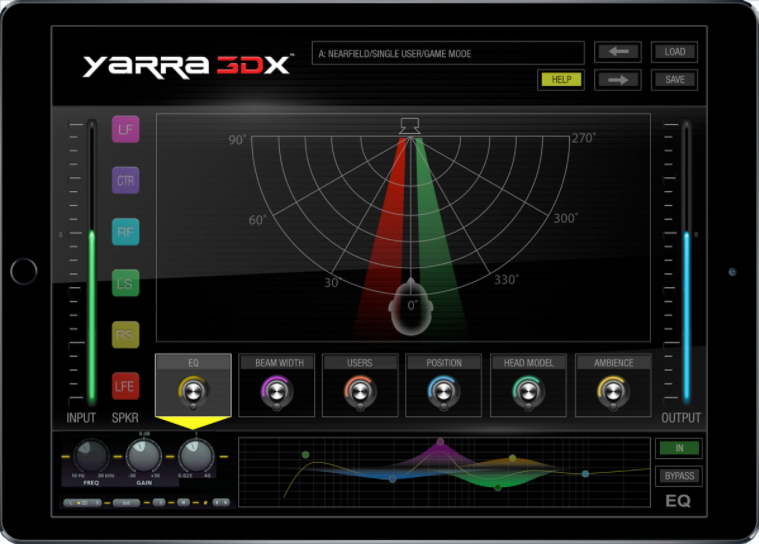 With these speakers, it does not matter if you have a weird room arrangement as it does not rely on reflecting sound off your walls, unlike traditional soundbar-based surround audio. Moreover, the YARRA 3DX come with their app which allows you to customize your favorite spot locations and even modify its features such as HRTF and more to deliver the best sound to you. It also inherits different positional audio techniques including 5.1, 7.1, Dolby Atmos, binaural audio, and more. So you need not compromise anywhere and just sit and enjoy your favorite content.
Features
HRTF Customization: It allows you to select and adjust individual HRTF settings to maximize the fidelity and immersive quality of the reproduced sound.
Position Calibration: YARRA 3DX provides up to 3 users multiple positional settings to find just the right location for the beams.
Near and Far Field Mode: Choose NEAR FIELD for gaming or VR/AR applications and quickly switch to FAR FIELD for home theater and music listening.
Crosstalk Managment: It uses patented beamforming technology to precisely control the angle, intensity, and distance of each discrete channel of audio, which delivers enriched listening for surround as well as stereo programming.
Hi-Res Audio: It runs at a 96kHz/24-bit rate for stereo content, a way higher than the required of 44.1kHz/16-bit rate.
Analog, Digital Input/Output: It supports HDMI, USB and even has a headphone jack for your headphones. Moreover, can also hear the content through their "Binauraliser" App.
Specifications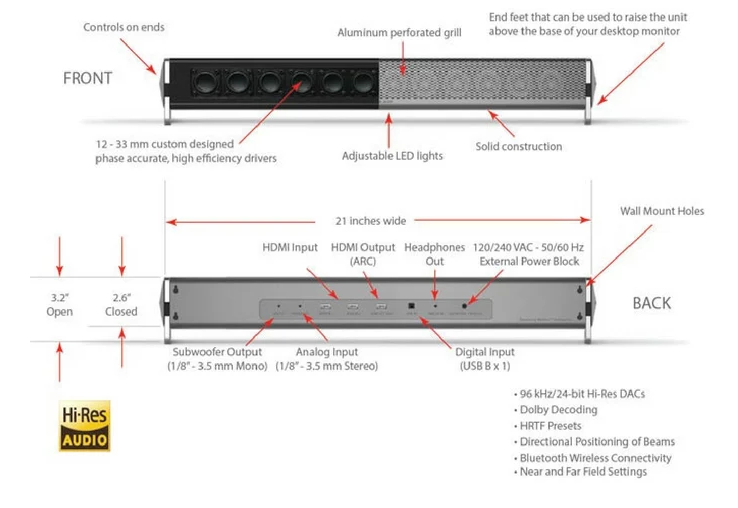 Drivers
Diameter 33 mm
Driver spacing 38 mm
Frequency Response 50 – 20,000 Hz (with supplied subwoofer)
Mean SPL 80 dB ± 3 dB
98.2 dBA broadband steady state @ 1 Meter
99.8 dBA peak…call it 100dBA @ 1 Meter
Max SPL deviation -1 dB Impedance 8 ohms
Nominal input power per driver 2W, 4V
Max input power per driver 3W, 4.9V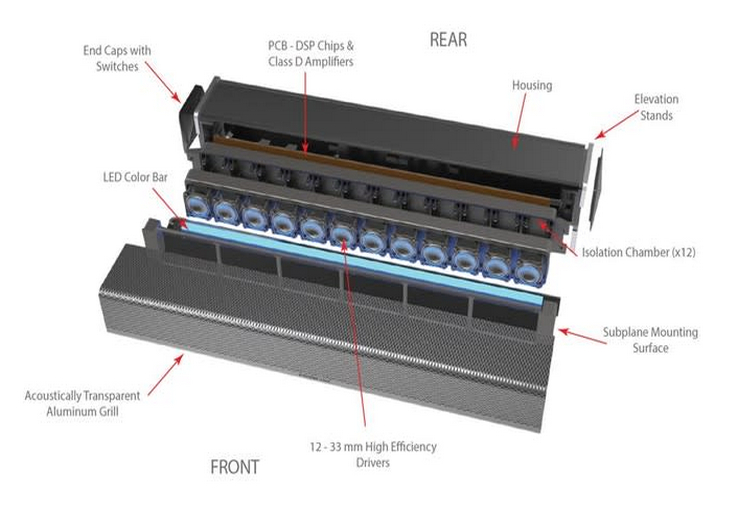 Wrapping it up
YARRA 3DX is a great sounding affordable speaker with no compromises to makes. The only behind creating this was to deliver the best 3D audio with bass notes that sticks in our mind and can be felt throughout our body and at a very affordable price. Though beamforming has been around for a while, compatible systems have mostly been costing more than thousands of dollars. Similar to how image processing has greatly enhanced mobile photography, it is about time for computers to make our speakers a lot better too.
So if you like the concept of Comhear and wishes to back them up, you can still do it with the link provided here.