Zhiyun launched a Gimbal earlier: Smooth-Q for 139 USD. I am looking forward to this very affordable 3-axis Gimbal which is quite versatile in use as it can be used with most of all smartphones and small action cameras.
Use the Zhiyun-Tech Smooth-Q gimbal stabilizer to capture stable handheld footage with your smartphone or an action camera. This gimbal can feature a maximum load capacity of 220g, meaning it can handle heavier smartphones or accessories such as add-on lenses.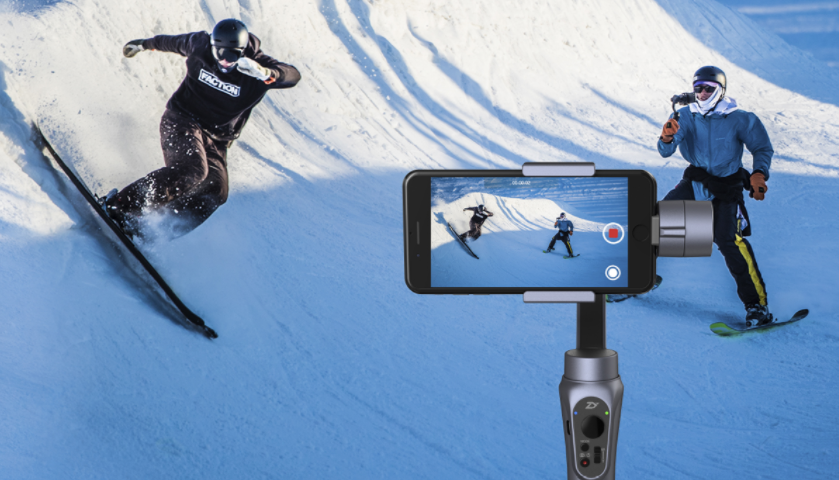 These days where Smartphone Cameras are getting better day by day, which can shoot RAW images and also portray OIS or EIS or both which enhances the picture quality and imaging but for most of the smartphones lacking OIS and EIS have issues of capturing blurry images if you have a shaky hand like me. We have seen many accessories to overcome the poor imaging, and we have this Smooth-Q gimbal which easily does its work and stands out to be different from other gimbals with some unique features.
The Smooth-Q's interface features a 4-way joystick, power and mode buttons, and a zoom control toggle and two LED lights. You also have the choice of using the ZY Play and Zhiyun Assistant App for full control of the gimbal. This accessory holds a massive internal battery of 26650 mAh which provides up to an incredible 12 hours of run time and also can charge up your smartphone or camera using the USB port at the back of gimbal handle. The Smooth-Q also has a 1/4″-20 mounting thread for use on a monopod, tripod, or other support.
First Impression:
As soon as you open the box of Smooth-Q, you will find a nice carrying case holding the gimbal inside of it which I loved as it makes it super convenient to carry gimbal with you along the travel. The white rectangle box also carries a strap to attach to the case and a USB to micro USB cable to charge up the device as well to update the firmware using PC tool.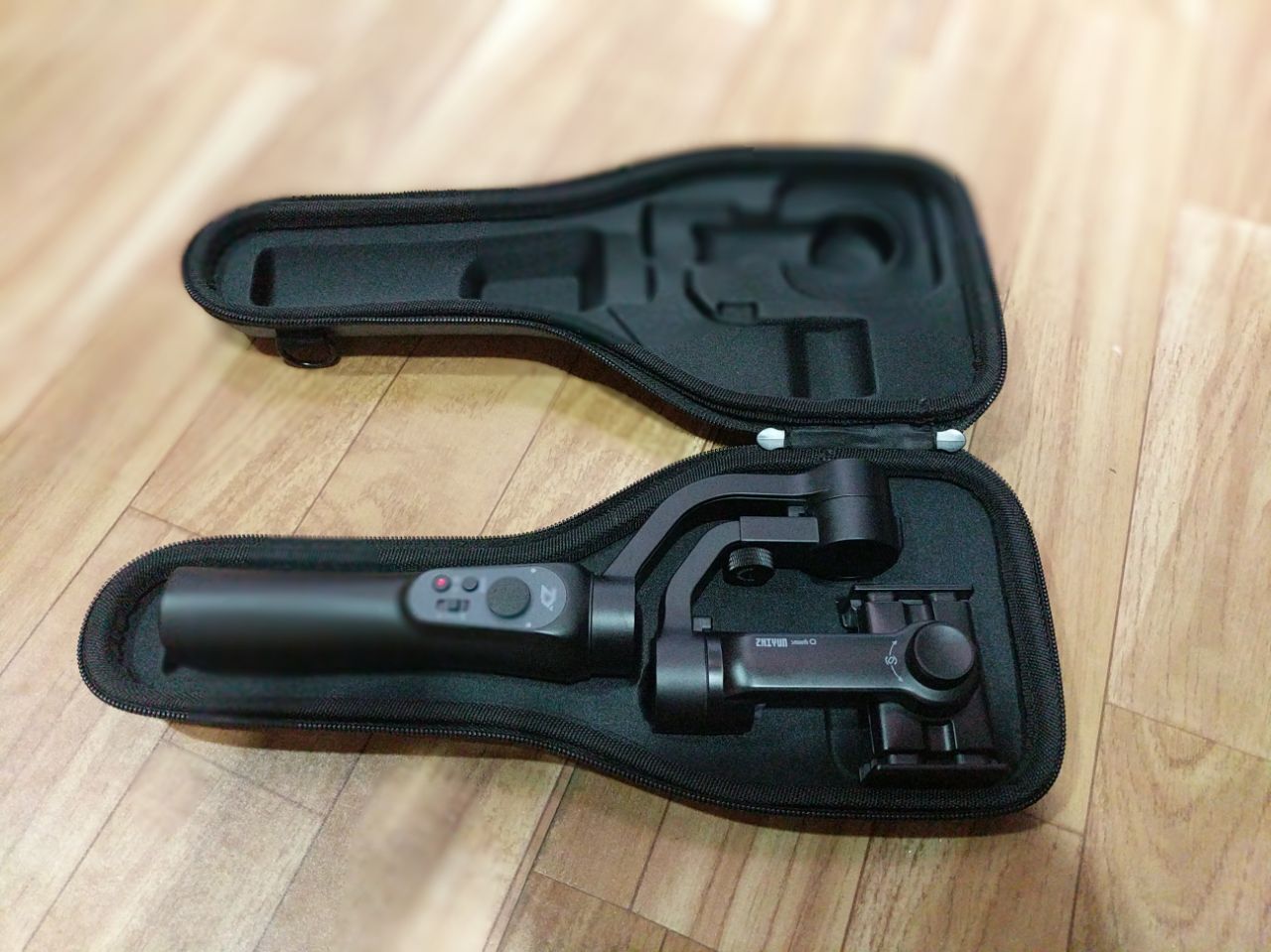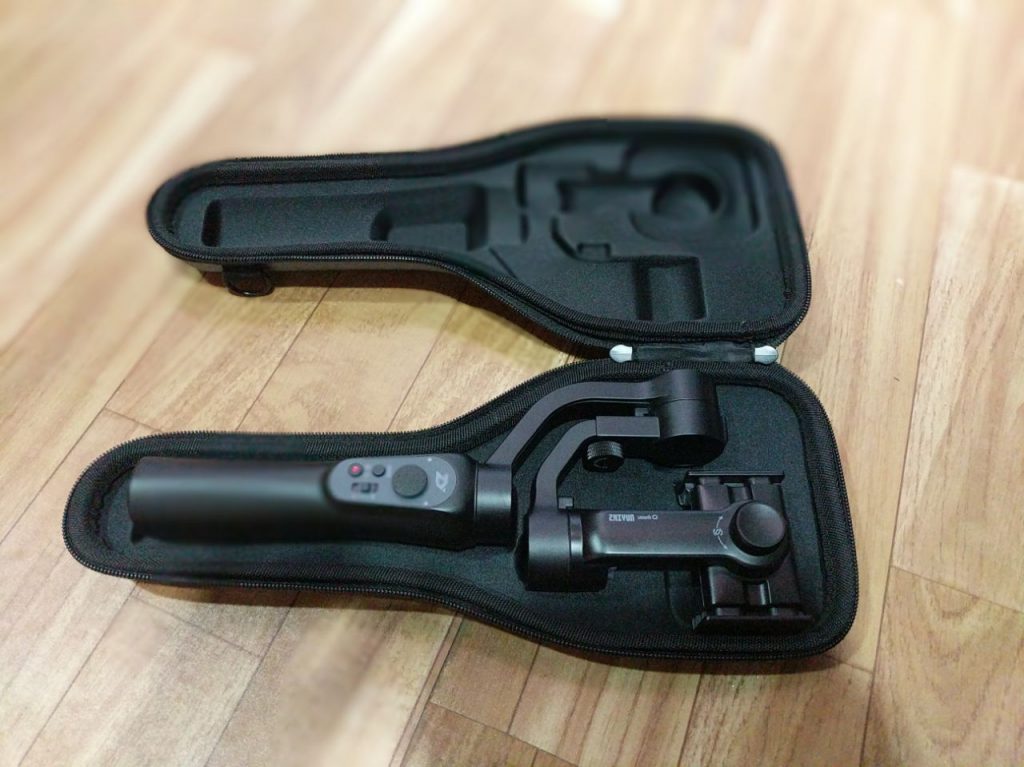 After taking out the gimbal of the case, you get an excellent build quality gimbal of which the handle is made out of plastic and rest of the body is made out of metal and some soft rubber to hold your smartphones or cameras along the metal holder and gives a rich feel.
The only issue I found along the hardware of the device is the spring loaded smartphone holder is tight to stretch single handed. It also has screws to increase or decrease the length of the arm to hold bigger phones like iPhone 7 Plus and only take few seconds to balance.
The 3-axis stabilization is excellent and delivers on point results to keep your smartphone or camera stable.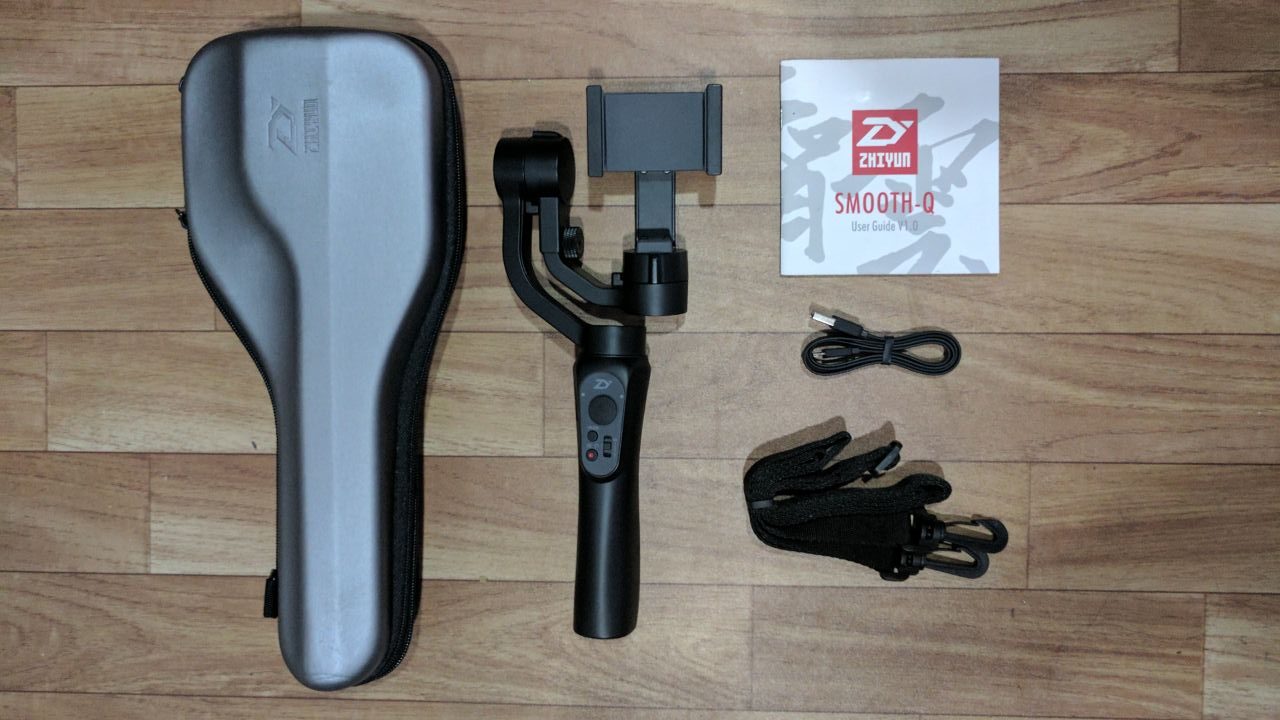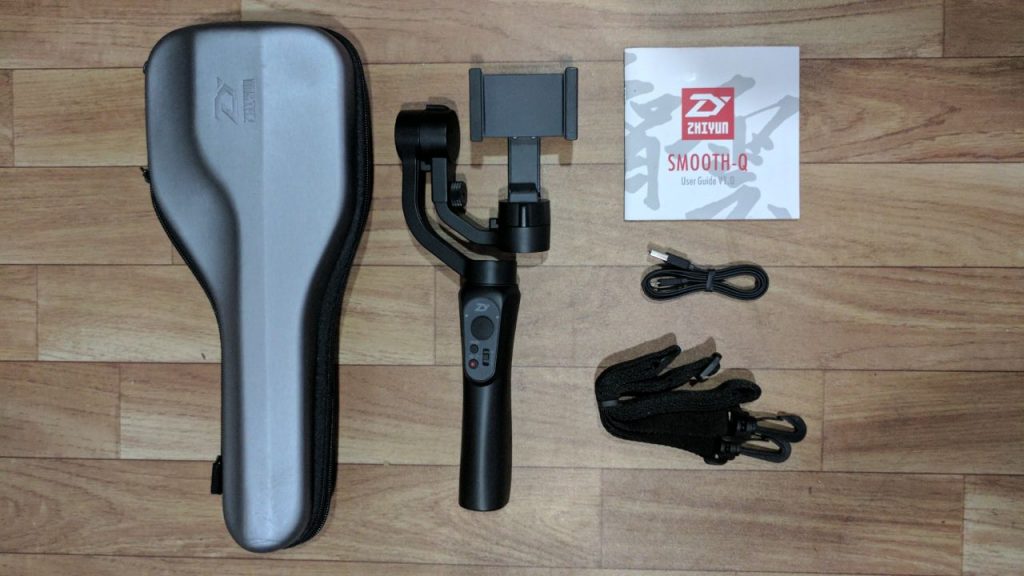 Key Features:
1. Quickly switches to a vertical mode for a portrait-style look.
2. The powerful torque motor reduces the need for counterweights with larger loads such as the iPhone 7 Plus or when using accessories.
3. USB port for charging the smartphone or camera while shooting.
4. Face-tracking, panoramic, and time-lapse modes.
5. Quick auto-focus response.
6. Uses the Zhiyun-Tech ZY Play or Zhiyun Assistant app to control your smartphone and to upgrade the gimbal's firmware.
Specifications:
Battery
Zhiyun Smooth-Q holds a built-in 26650 Li-ion battery which allows 12 hours of working time. A USB port at the bottom of the grip supports 5V/2A power output, so you can charge your phone (or camera) while shooting. However, you could also use it to power a LED panel to light up your surroundings.
Weight & Payload
Smooth-Q itself weighs 450g entirely and can hold a maximum payload of 220g.
Pan / Tilt / Roll – Angle
Pan axis allows 360° unlimited rotation, tilt axis moves -135° to +185° and roll axis allows +/-30° movement.
Durability
Smooth-Q is splash proof and works under extreme temperatures (up to 45℃ and -15℃).
Buttons & Controls
A flat 4-way joystick to control the head, a switch to toggle between photo or video mode and a recording start/stop button along with zoom in/out is provided on the control panel.
Shooting Modes
Smooth-Q is used to stabilize your phone horizontally or vertically. Vertical videography is not common around the world unless you are shooting the video for Snapchat or Facebook Live.
Smooth-Q is automatically balanced electronically, no need to adjust it manually. Just dock your phone into the holder, and you are ready to shoot.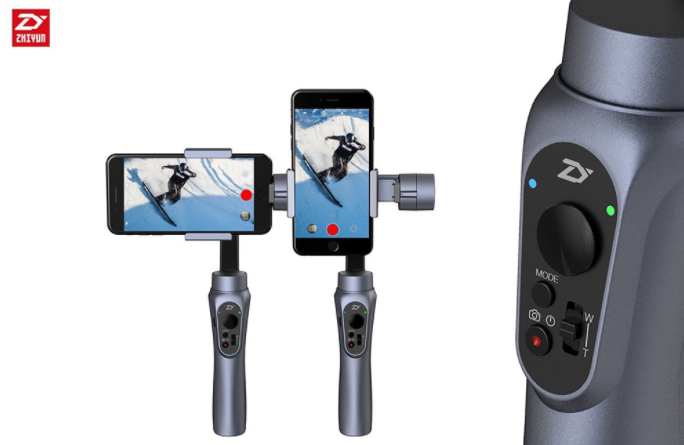 Mounting
You can mount Smooth-Q on a tripod or a monopod as a 1/4″ standard photo thread is integrated at the bottom.
Colors
Zhiyun Smooth-Q is also available in 3 other colors: Gray, Gold, and Rose.

Controls: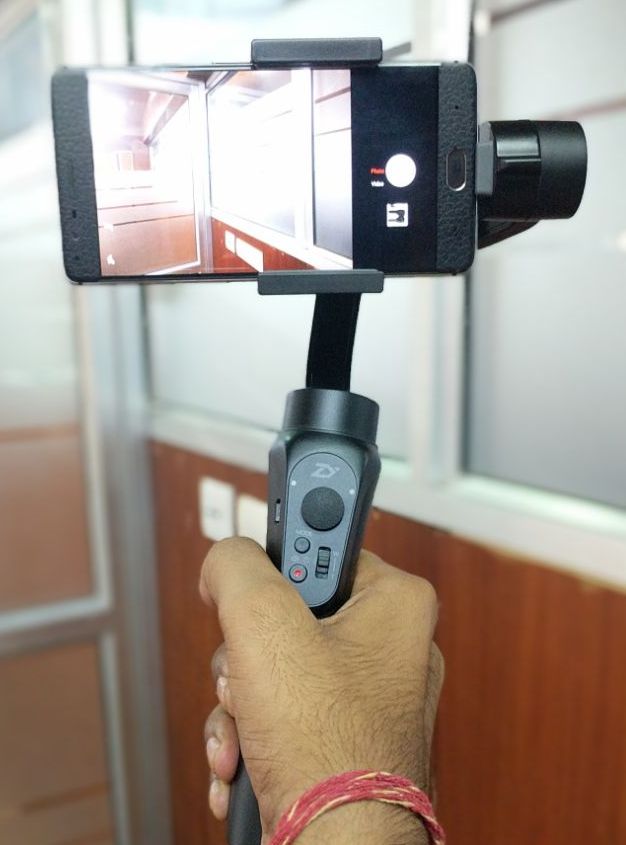 4-Way Joystick
The panning stick on the top right is for adjusting the camera position according to your likings. However, many users have reported that it is quite laggy sometimes and can be quite a hassle especially when you want to take panning shots for a panorama, etc. Otherwise, it performs very nicely and accurately and also has magnitude scrolling, i.e., Scrolling a little will pan slowly and vice versa.
W-T Slider
As you can see from the WT slider, there are two ends, one W another T, which by the way stands for Wide Angle and Telephoto respectively. This provides zooming for your phone when you use the application.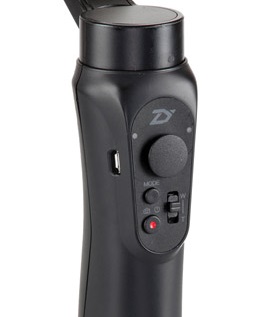 However, one significant downside of this feature in the Smooth-Q is that it zooms in by interval and not gradually and thus seems laggy. Hence I feel that it is not usable unless you are deliberately making that effect.
On-Off, Start-Stop Button
The button with the red dot on the bottom left is for switching on and off the gimbal. It can also start and stop recording for the ZhiYun Camera or ZhiYun Assistant App. Switching on and off is done by pressing and holding whereas start and stop for recording is simply done by pressing.
Smartphone App:
The app is called ZhiYun Assistant App which is available for Android and iOS, and it is done by connecting the phone to the gimbal through Bluetooth.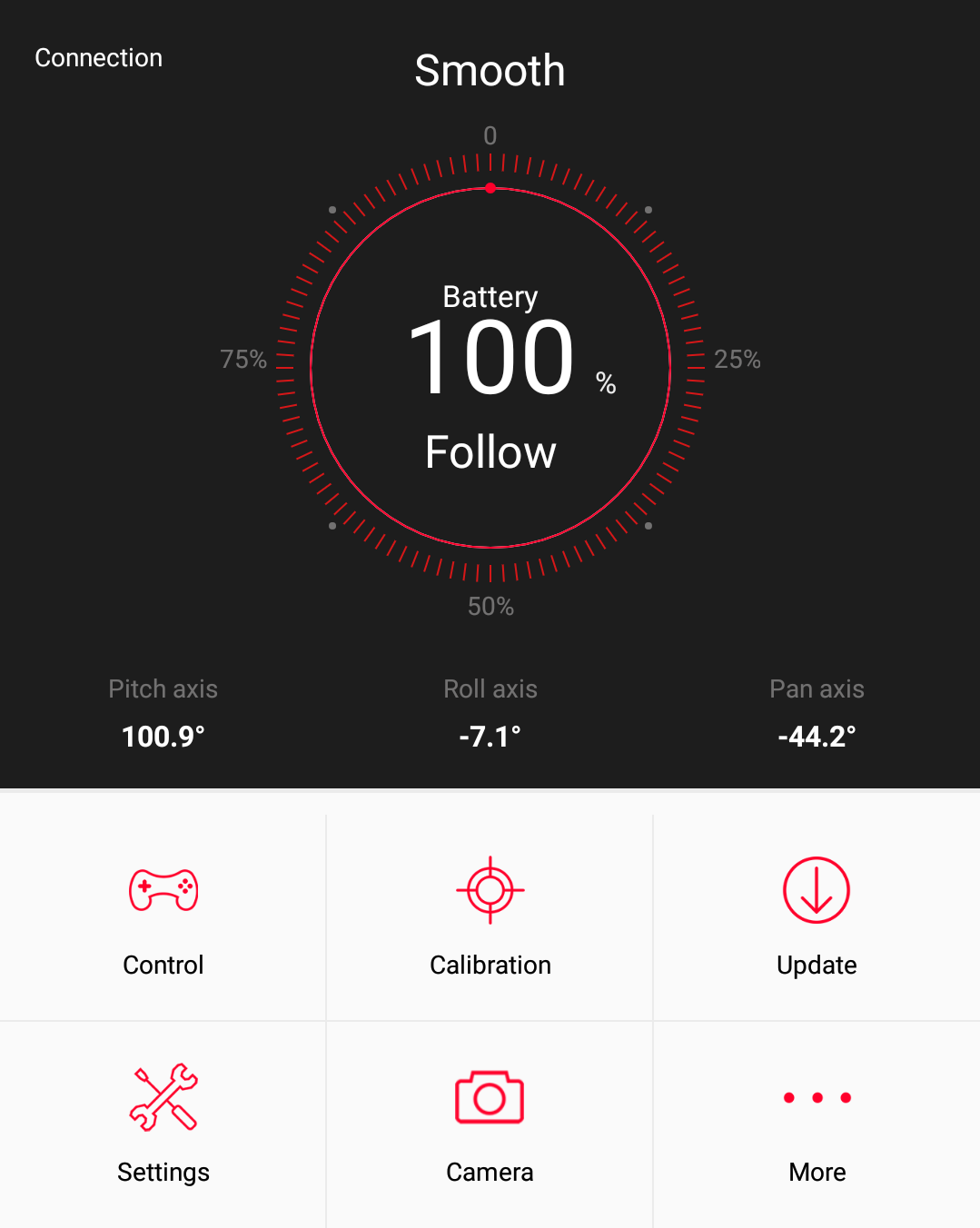 It allows the user to alter several camera functions that most gimbals apps have such as the camera ISO, exposure, and white balance. Also, the app is very user-friendly and easy to use.
Many gimbals that I have encountered with earlier had problems connecting, and thus I expected the same with this, but the connection is very seamless and reliable and most importantly, super easy to connect without a single hitch.
Modes:
Follow
The initial state when you turn the gimbal on – the smartphone will move with your hand left or right, and you can control the up and down or pitch movement with the joystick.
Lock
The smartphone is locked in position it will try and keep the smartphone camera orientation as you move the gimbal. The joystick work in this mode in all directions (pitch and pan).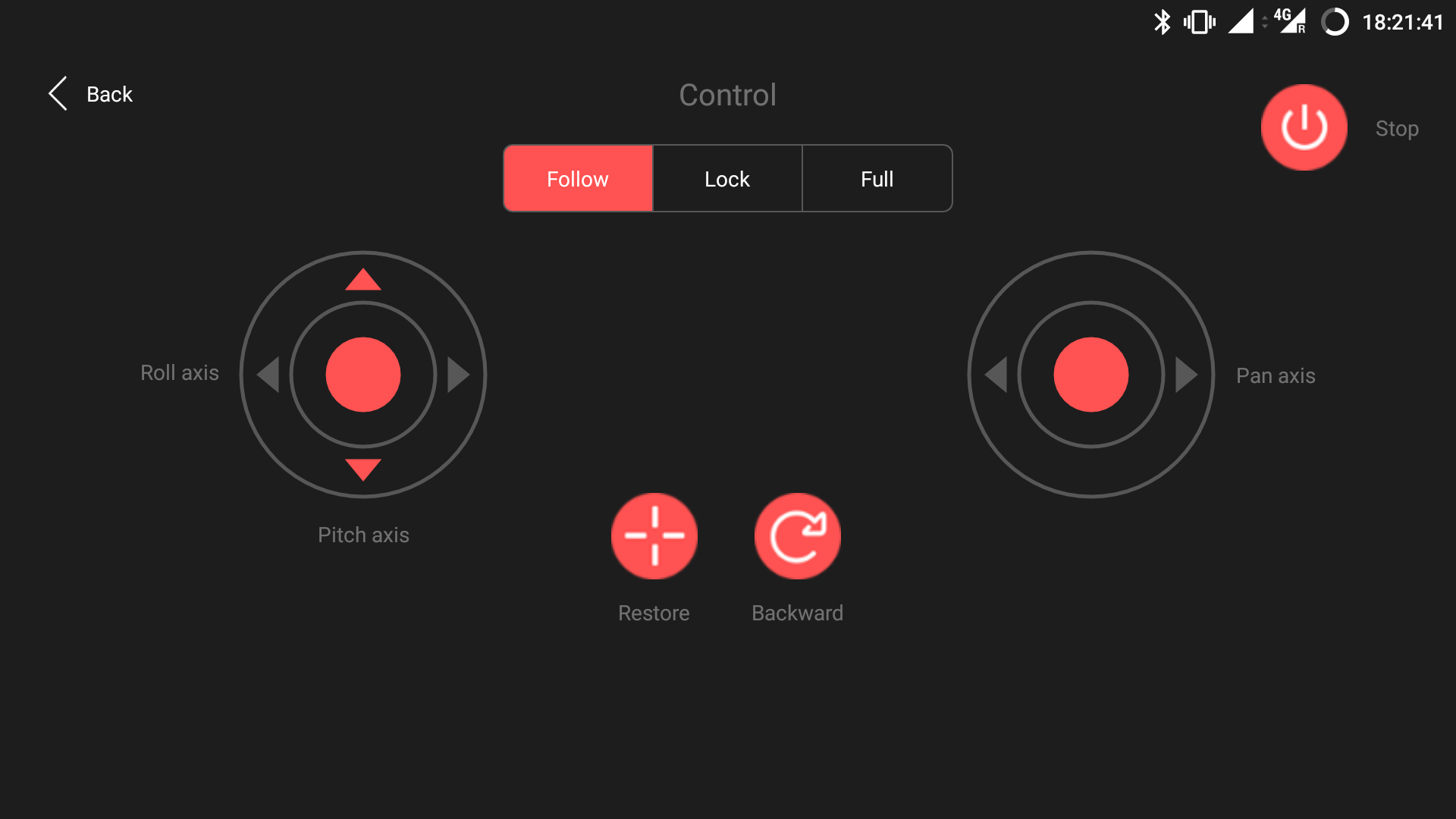 Full
In this mode, you can control the roll or incline of the camera (pitch and pan functions are disabled). This is similar to the following mode in which the smartphone follows your movements.
Selfie 
The smartphone turns backward to shoot the user for a selfie.
Final Verdict:
Zhiyun-tech Gimbal is an awesome product for taking smooth videos with your smartphone or camera. I have been using it for about a month now, and there is one significant thing I wanted to point out to anyone who purchases it; It has to do with the way you place the Smooth-Q into the carrying case. I could not figure out why my battery was always dead when I pulled it out of the case to use it.
However, I finally figured out what was happening! You need to make sure always to place the handle, so the buttons are facing down (NOT up) when you put it in the area of the case. Earlier, I was storing it with the handle facing upwards (buttons visible) and found out that if you move the case (carry it around), the power button hits the inside of the case and powers on! Then, when you use the Smooth-Q (hours later), the battery is drained. After I figured this out and starting placing it into the case with the handle facing down, it has been working flawlessly!
I would definitely recommend it to you as it is affordable, works great, looks premium, has an inbuilt power bank and also has an app to control the gimbal. The Zhiyun app does lag much of times and crashes, and you have to reconnect your device though but is a value for money buy and is worthful.
It does lack many things as compared to other gimbals, but you have to pay the double amount to have one of those thus Smooth-Q is the best beginner gimbal to buy till date and won't disappoint.
Keep Watching this space for more interesting tech news and genuine product reviews.