Electronics is the base of all the gadget we use today. From our mobile phone to self-driving cars, electronics makes it possible to implement the computer program to complete real-world tasks. As technology is growing we can see the electronics items getting smaller and compatible. We are at the edge of hitting nanotechnology that will empower us to accomplish tasks on a minute scale. We can see electronics part everywhere around us. The screen that you are reading this article on is a gift of technological advancement.
Zifnu Pixel LED Flashlight Kit- Customizable LED Light Kit
Most of the device's screen available in the market are two types LCD or LED, some are a combination of both in which an LCD screen is present which is backlit by LEDs. LED are a great piece of hardware that enables us to create some of the most unique and amazing things. You can use your own creativity to do amazing stuff with LEDs with the help of Zifnu Pixel. It is a set of LED lights, board and it is compatible with Arduino programming which you can write your own code to control the behavior of the lights. The lights are not single color but contain full color so that the output becomes even more fantastic.
About Zifnu Pixel Project
It is an open source Hardware and Software kit that means it can be configured as per the requirements of the user. The company Zifnu Electronics is a US-based company that works on producing the electronics modules and DIY Kits for educational purpose. Other products by the company are Rocket Kit that contains parts which can be assembled to produce a Rocket Launchpad Model. WS2812b RGB LED Breakout Board is another product which uses LED and breakout board.
Pixel is a unique item that consists of various modules and LED lights. It supports Arduino programming so you can program it via USB port. You can control the color of LED light, Pattern, ON-Off time, and other things.
Zifnu Pixel LED Kit includes following Modules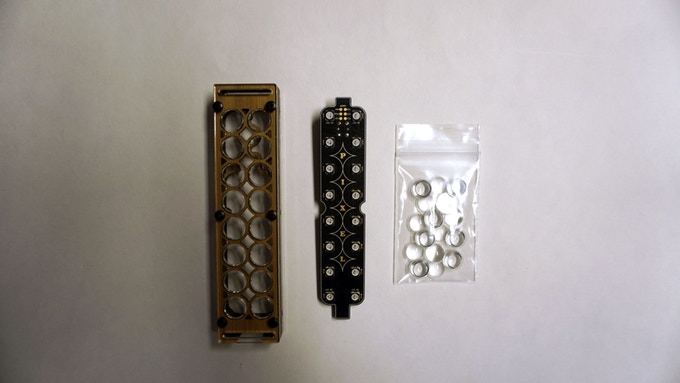 Laser-Cut Case
Sixteen Full-Color LEDs
Sixteen PMMA LED Lenses
Printed Circuit Board
1500mAh Li-Po battery
You can design your own case and get them printed. The Arduino Sketch with Pixel LED Flashlight comes with 13 preset display modes. With the help of Arduino Programming, you can create an uncountable number of display modes.
The Zifnu Pixel Flashlight contains a lot of potentials as it is an open source software and hardware project. It can be customised for personal use for home utility. For business related work, it offers a wide future prospect. It can be programmed for use with musical instruments, as a home utility tool, Dynamic signboard, and many other tasks. Moreover, it is a great learning tool for young pupils to learn the basic principals of electronics. An innovative learning tool like this will be a great step towards expanding the reach of STEM (Science Technology Engineering Mathematics) education.
The Zifnu Pixel is listed on the Kickstarter campaign and is aimed at $10,000. You can support the project by pledging an amount of $10 or more. Pledge more than $35 and you will get Pixel PCB. The product delivery will start from June 2018.