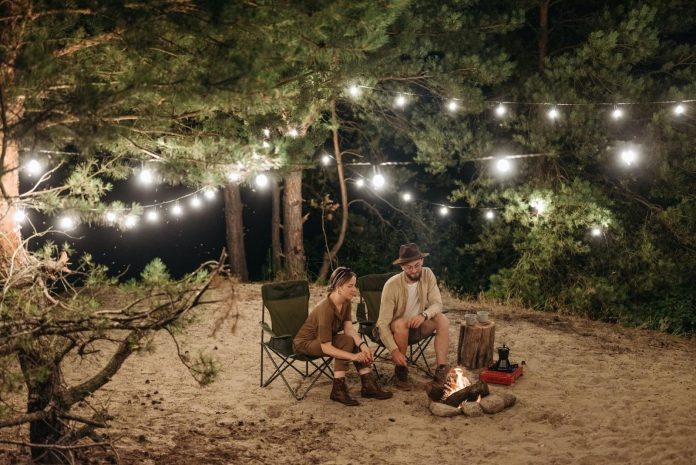 In the old days, camping was quite simple. All you needed was a sleeping bag, compass, a tent, and some basic items, and you were ready to go. 
Today, with advancements in technology, it's difficult to unplug completely. While your camping ought to be adventurous, there's no problem making your outdoor experience a little better with better cooking tools, a camping shower, and other nifty gadgets. 
First, though, let's discuss the importance of having said gadgets.
The Importance of Having the Right Gadgets
Having the right gadgets for your camping trip can significantly impact your overall experience. Camping trips are often an opportunity to escape the hustle and bustle of everyday life and connect with nature. However, being ill-prepared can quickly turn your trip into a nightmare. The right gadgets can help you stay safe, comfortable, and entertained while enjoying the great outdoors.
For instance, a high-quality tent can provide shelter from the elements, while a sleeping bag and sleeping pad can ensure a good night's sleep. A camp stove and cookware set can make meal prep a breeze, and a portable charger can keep your devices charged in case of an emergency.
Moreover, having the right gadgets can also enhance your outdoor activities. A GPS device and two-way radio can keep you on track and communicate with your group, while a portable speaker and outdoor games can provide entertainment and relaxation.
Overall, the right gadgets can make your camping trip safer, more comfortable, and more enjoyable. The following sections will explore five must-have gadgets you should consider bringing on your next camping trip.
1. Portable Power Stations 
Being completely unplugged from technology sounds nice, but it can be a miserable experience in practice. 
Access to electricity lets you enjoy the beauty of the outdoors while enjoying the comfort and convenience of your favorite gadgets. 
A portable power station for camping lets you have readily available electricity, so you can power small appliances and electronic devices, from coffeemakers to smartphones, speakers, video projectors, and more. The options to enhance the comfort of your camping experience are virtually endless! 
We recommend using a solar-powered portable station so that you won't have to worry about the noises or fumes that traditional gas-powered generators make. 
2. Portable Campstove Grill 
A portable camp stove grill is a lightweight and compact outdoor cooking appliance that allows you to cook food over an open flame. Generally, it runs on butane, propane, or other fuel sources. However, if you're looking for an eco-friendly option, we recommend solar camp stove grills. 
They elevate your culinary experience. No more eating canned foods, packaged snacks, or frozen foods. Instead, you can enjoy your favorite foods you make at home. 
Most portable stoves can heat up quickly, so you can easily boil water in minutes. A concentrated flame lets you achieve higher temperatures, and for water, it ensures you're drinking purified water that is safe to drink. You can also make hot beverages like tea or coffee. You can also use boiled water for cleaning camping equipment like utensils and dishes. 
3. Inflatable Solar Lantern 
Solar lanterns illuminate your tent, serving as a light source during your trip. They have various lighting modes; you can adjust the brightness to suit your needs. There are also various charging modes, such as using a car plug-in, USB port, and DC charging. 
The lantern is inflatable so that it can easily compress to a small size for transport and storage. Lanterns also serve as a great safety protocol for camping since you can use one in case of a power outage in your campsite. 
4. Portable Camping Shower 
A portable camping shower is a compact tent-like structure attached to a garden hose. It features a water spigot you can fill, an interior showerhead to wash with, and a foot or battery-powered pump. 
Camping showers ensure you stay fresh and clean to prevent infectious diseases and feel comfortable outdoors. These showers come with screens or privacy curtains to give you a private space to shower. 
5. GPS Device
A GPS (Global Positioning System) device is an essential gadget for any camping trip, especially if you plan on exploring unfamiliar terrain. It uses satellite signals to determine your precise location, which can be extremely helpful for navigating the wilderness. A GPS device can provide accurate information about your location, elevation, direction, and the distance to your destination.
Moreover, many GPS devices come with preloaded maps showing trails, campsites, and other points of interest. Some models also have a feature that allows you to mark waypoints, so you can easily find your way back to your campsite or other important locations. In an emergency, you can use your GPS device to call for help and give rescuers your precise location.
When choosing a GPS device, consider factors such as battery life, durability, and ease of use. Look for a device that is compatible with your smartphone or other devices for added convenience.
Wrapping It Up
You can turn your next camping trip into a stress-free and luxurious experience with the right gadgets. From cooking delicious meals with a camping stove to staying connected with a portable power station, these gadgets are essential.