The top search for a media player for Windows or Mac were undoubtedly the VLC media player or the KM player to name a few. They were on top when the 5K player was launched and which then came on the top within no time. With its free of cost, it does provide some competition in this field of media players. This free media player is an all-in-one bundle. Other than video playing and managing all your media files both videos and audios, there are plenty of features that are available that you can enjoy. Now you do not have to go for different software to get the result.

Before we get on to all the features that this media player has, let us just go through what it actually is, what platform it supports and what is the price it comes with.
What is this 5K Player?
It is tough to describe this 5K player. It is not just only a media player. Instead, it has all the features of a Video Player at HD, 2K, 4K or even as high as 5K quality, music player, Airplay media streamer and online video downloader. It has all the features that are grouped together and implemented in a single application.
Price:
The thing is to be costly, or at least you have to pay to get the features. Well, you are entirely wrong. You get everything for FREE OF COST. There is no hidden payment as such. But to use all the features you need to register at their site when you get a license in your email. Note that registration is free.
Platform:
The 5k player is available in two most used platforms in and around the globe. It is made for both Windows operating system and even the Mac operating system.
Features:
Now that you got to know about the application, where you can use it. Let's now look at what all this app offers you.
Just like any media player, this player also plays any media files. It supports almost all types of available video format: MKV, M2TS, MO4, AVI, FLV, WMV.  It plays any kind of video format resolution from Full HD to as high as 5K without any lagging or frame drop.  It can not only play video from your local drive but can also playback from other online sites like YouTube, Dailymotion and other online sites that are available.
It also plays audio files. It uplifts and enhances your audio files to give it a perfect effect. This all is accomplished by its new TrueTheater Technology. It also supports most of the available audio formats: AAC, MP3, DTS multi-channel sound system, AC3, WMA and FLAC and ALAC lossless audio files. Just like the video, you can also play music from other online sites directly from this media player.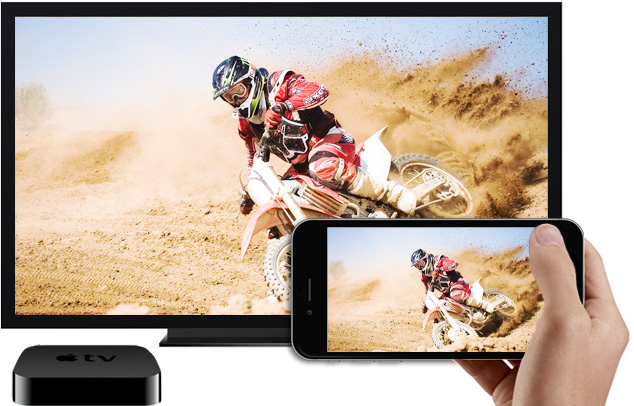 This is first features that 5K player camera out with before all the features were added. If you are new to this, Airplay is basically a feature that is available on Apple smartphones like iPhone, iPad, and others. This feature allows any iPhone, iPad and other Apple device stream any video or audio files on any other airplay devices like Apple TV and other devices. 5K Player uses this feature and allows you to stream any video or audio files from any Apple device to any other devices even Windows devices and vice versa. You can also mirror your entire phone and use it in other devices. The stream can be done with resolution as high as 4K UHD.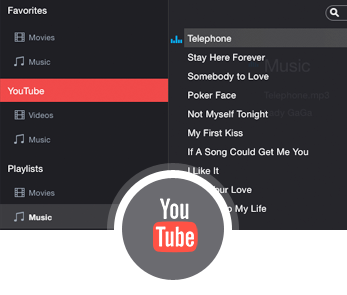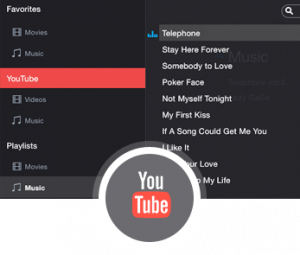 As I said earlier, the 5K player is an all-in-one bundle pack. It allows you to download any video or audio files directly from the site. It does not require any subscription. It is stand alone video downloader and supports over 300+ site. Be it YouTube, Facebook, Twitter or any online site you can think of. It can download videos/songs in any format and any resolution that are available. You can download with are solution of 4K, 5K, UHD or even Full HD.The player also has the option of converting any video to audio files and save it in MP3 format. You can even create ringtones from different audio files.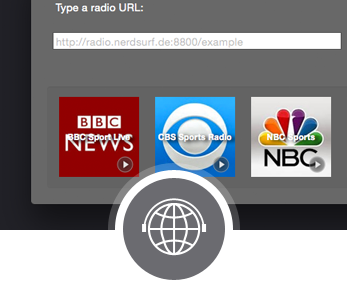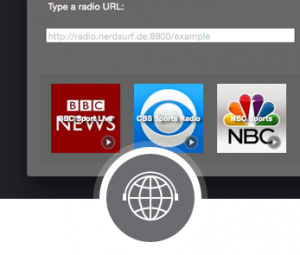 Thought that was all, then you are wrong. You can even play a wide selection of satellite radio channels that are available. There are plenty of options that are arranged with most recommended one to least. Select any one of them, and you can listen to them very quickly.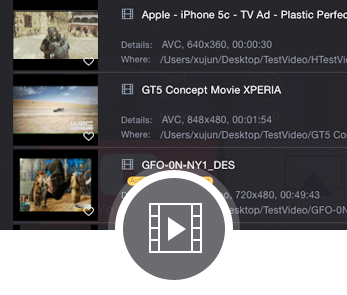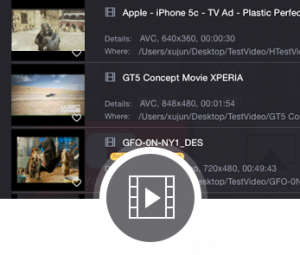 It not only plays videos and music, but it also helps you to manage all your audio and video files. You not only control your own audio and video files but also handle your favorite videos and audio from YouTube and online radio. You can create a playlist and add or delete songs and videos.
How to use 5K Player:
Now that we know where we have to go in this application.Let's go through some of the user manuals as to how to download, install and use the applications.
Installation: Downloading and installing the media player is very easy.
Go to the link and click either of the specified connection for your device.
After the download is complete click on the setup to install it.
After the installation is complete, you can launch it from there or from the desktop.
Start-up and usage: The use and the interface for both the Mac and Windows are same, so we will be discussing both of them together.
Open the application by clicking the icon on your desktop.
On the first Launch, you need to allow the application to use your home network. Click on the Allow button to continue.
You need to register by filling all the details that are Once done you will receive a registration code which you can copy and paste, and you are done.
You will see some option as which media you want to use. You can click on any one of them.
You will be direct to Library. Initially, it will be empty. You can add by clicking on the "+" sign on the top of it. The option is all for both video and Music.
To use the YouTube, you can copy URL and paste it which will then analyze the video and show options of download. Select any file format and resolution and click on the done button.
You can even create your own playlist. Add the videos or music and set new playlist.
If you want more of a shortcut, you can simply right-click on the home page, go to the option of Open File, select the video or audio file and it will start playing.
Using Airplay from Apple device to Computer: Now coming to the last feature of this application is the AirPlay.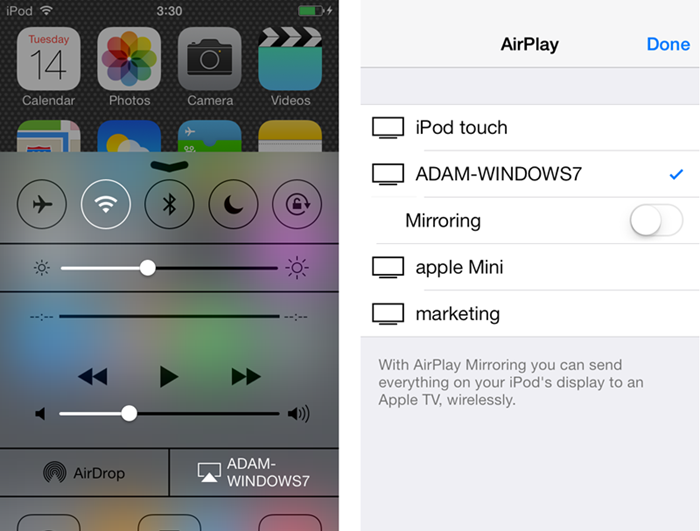 Before we start, you have to make sure your smartphone and your computer is on the same network. After you are connected, follow the following step.
Now run the application on your Mac or Windows. You will be able to see your Airplay enable device here provided they are connected to the same network. [Note: The Airplay must be enabled on your phone].
Now on your phone, click on the AirPlay icon and it will display all the devices. Now select the one you want to connect with (the name of the computer will be shown).
Once connected you can now stream any video or audio on to your computer.
Using Airplay from Computer to Computer or Apple TV:

The method to do the above is almost same as using your Apple
You have to ensure both your device that you want to connect is on the same network.
Once on the same network. Open the application and click on the Airplay option. You will be able to see the other device.
Connect the device, and you can stream it to other.

Mirroring Apple smart devices onto a computer or Apple TV:

Just like connecting a computer, you need to be on the same In the phone open the control center and there click on the "AirPlay Mirroring" option.

The screen of the device will be mirrored on the 5K player on your computer.
Conclusion:
No doubt one of the best and also a unique 4K player that is available. It provides one of the best all in one media player bundle. It is free of cost which makes it attract more people to it. It supports multiplatform which makes it quite easy to use. The Application UI is not at all complex. Just select and click, and your favorite video will start playing. This makes it one of the best free media player. Go now and get a copy for yourself.