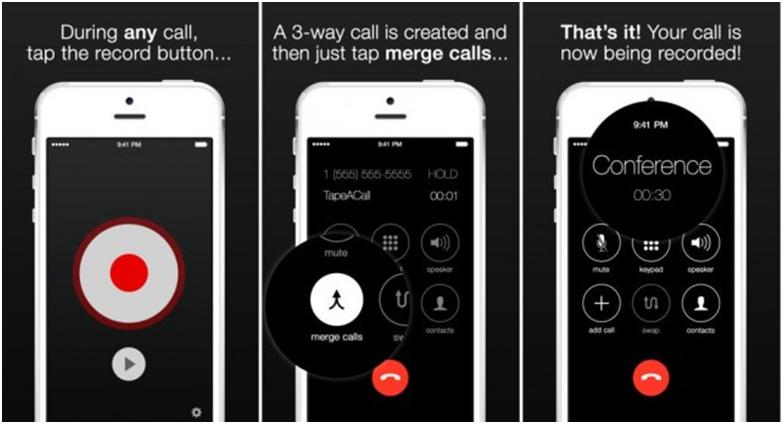 Best Call Recorder for iPhone
As we are pretty much aware of, iOS doesn't has its own native call recorder and therefore for any kind of need to record calls can be met with only with the help of apps. You don't need to record them too often, but many a times you wish to keep that special conversation as a memory or may be a record of the blank calls or bad customer services that you have had to deal with.
There are various ways to record calls and you will just need an app to do the work for you. The entire conversation (of both the sides) can be recorded pretty easily. So before we get on to the list of the apps that allow you to record phone calls on your iPhone, let me tell you how to record a phone call on iPhone in the first place.
How to Record a Phone call on iPhone
Follow the simple steps stated here and you will be good to go:
Visit the app store for your phone and look up for any app which allows you to record call. (you can refer to the list below) Install the app and open it.
You'll be asked to enter your details (depending upon the app you choose to download) and agree to the terms and conditions.
Now, visit the first tab, call/record, and keep a check on your PIN for the phone. There will be an option as phonecast (or likewise any other option), press it.
Now, you will be able to call the other person and you after the PIN (as needed in certain cases), you are good to go with the call!
Now that you know how to proceed with the proceedings for call recording, let us have a look at the list of best call record for iPhone. There are many such apps available for call recording on your iPhone; however, here we have got to you a list of apps which shall make call recording easier and of course simple.

Best Call Recorder App for iPhone
You no longer have to worry about what to do the next time you want to blackmail you friend with the song they sang or just simply keep some memorable conversations handy!
1. TapeACall Pro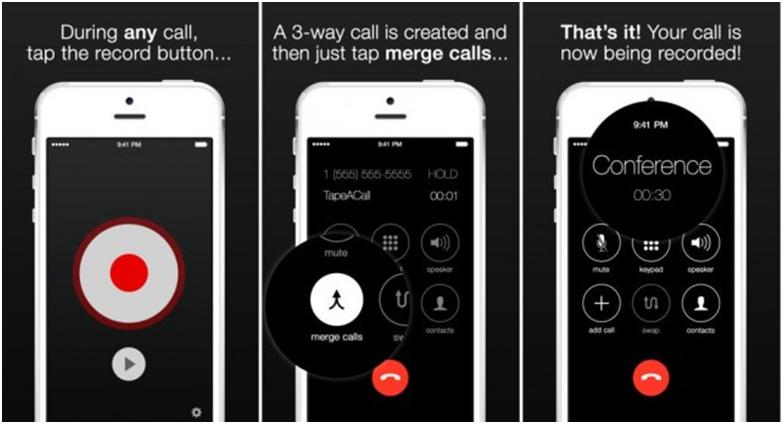 TapeACall Pro is one of the best call recording apps available for your iPhone; it might seem to be pricey to many, but for those who wish to have an efficient and a nicely working call recorder, this is it. There are many free recorder apps available as well, but they might not be half as good as TapeACall pro.
The app has many features available, one of the major one being that it allows you to record instantly and at the same time allow you to share it in various places. The recordings can be shared on Facebook, via text, on Twitter and also on Dropbox, Drive, etc. Also, in case you wish to keep the recording safe and sound, you have an option to mail it to your ownself.
TapeACall Lite will let you record unlimited calls but you will be able to hear only the first 60 seconds of your conversation. That is when TapeACall Pro comes into action and provides you unlimited recording options!
2. Call Recorder FREE
The call recorder FREE as the name suggests is a free call recorder app and is capable of recording both incoming as well as outgoing calls. Whenever you are on an ongoing call, simply go to the app and press the record option; the recording number will be dialed up and you will have to merge both the calls.
Recordings from the app can be shared on Facebook, email, Twitter, etc. You will have the app for free, but in case you need recording credit, you will have to make some in app purchases.
3. ipadio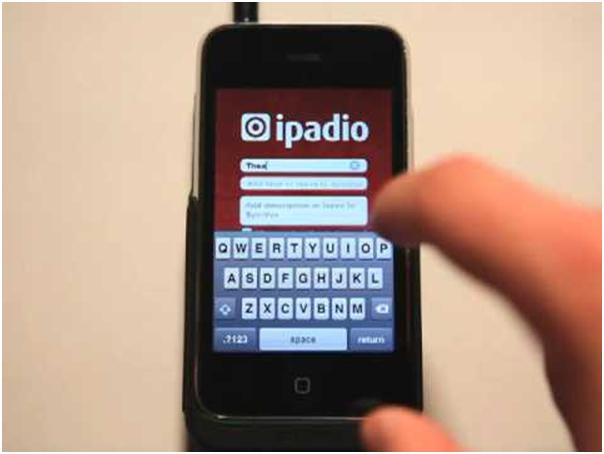 Ipadio is another great app for recording video calls, audio calls and normal calls. After you have downloaded the application, the calls that you record will be directly saved on the ipadio account you have created. Additional options include embed codes, listener stats, download options, etc. You can as well adjust the privacy settings on the account for future call recording purpose.
While you record calls on ipadio, you will have to enter the PIN number and then record. It isn't very straight and intuitive, but once you know the ways, it is a great app to record calls.
4. Google Voice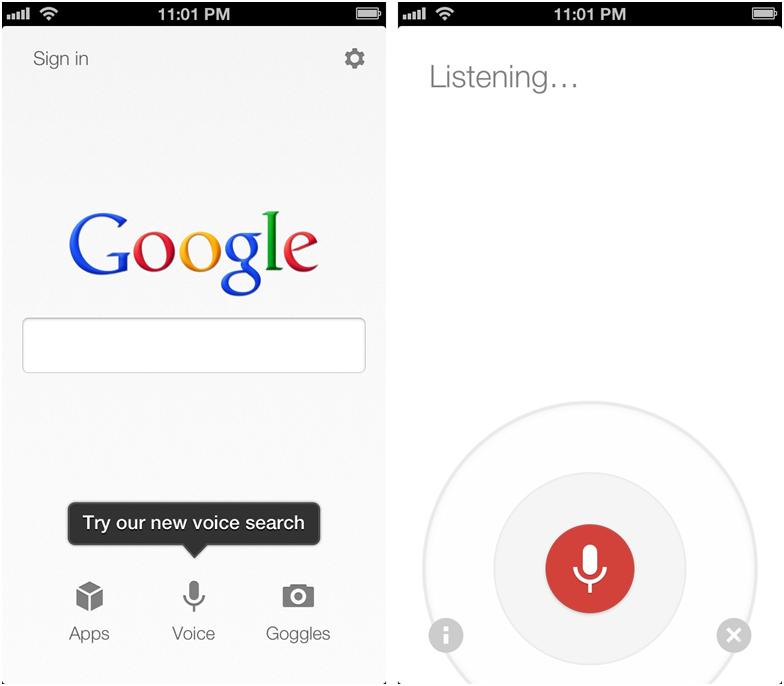 This doesn't really need any introduction as every one quite knows about how well the app functions. Google voice could also record calls, not everyone knew it since always. This can be done by just pressing the number 4 when there is an incoming call. However, the one problem with this is the fact that it allows you to record only while there are incoming calls only. You will not be able to record the call when you are the one who has called. However, with no charges and the score of features, Google Voice can be one of the best choices for call recording on iPhone.
5. Call Recorder Plus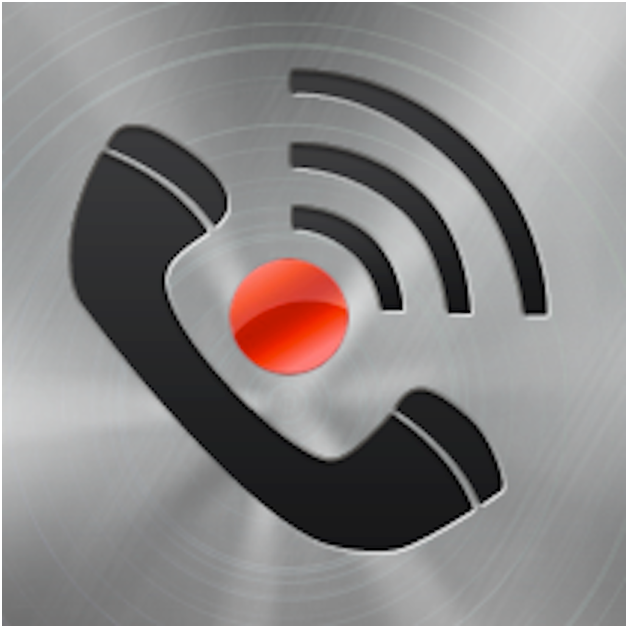 The call recorder plus can be a great call recording app for those who don't want to pay for the entire app in advance but at the same time wish to have an efficient and sound recording system. Also, there is no subscription fee either; all you will have to pay is for credits; where 10 credits is equal to 10 recordings of 60 minutes each. The app allows you to record both incoming as well as outgoing calls and is available for download at $3.99!
And that is about the best call recorder for iPhone, free ones, credit based or simply one time paid apps. No more of cribbing over not being able to record calls on your iPhones; you have the list of iPhone apps to record phone calls. Worry no more and be sure of the fact that you will have no problems with these. (apart from the restrictions on the apps itself)