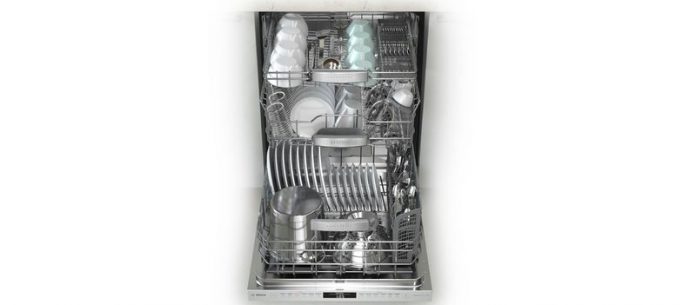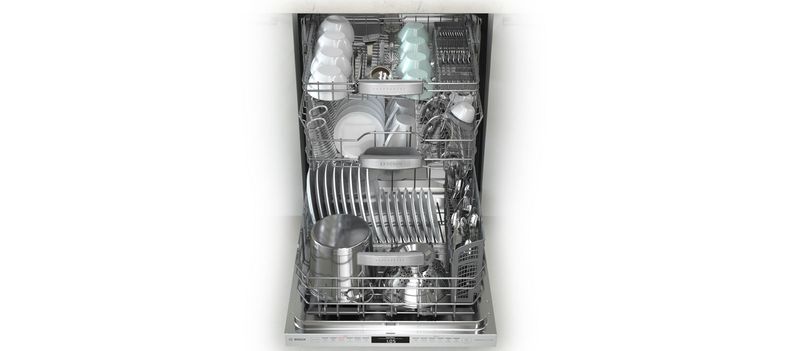 Simply speaking, a dishwasher is a machine that cleans, rinses and dries dirty dishes. You just have to load the dishes or plates, add detergent, set the proper wash settings and turn it on, but the dishwasher carries out a whole set of works by itself. A dishwasher:

Adds the right amount of water

Heats the added water to the required temperature

At the right time automatically opens the detergent dispenser

Shoots the water with some force to get the dishes cleaned

Automatically drains the dirty water

Sprays more water on the dishes and plates to clean further and to rinse them

Again drains itself

Increases the temperature of the air to dry off the dishes(depends on the settings selected by the user.

In addition to all this, the dishwashers monitor the work carried out by them to make sure everything is running according to the settings the user has specified.The length of each cycle is regulated by a timer or a small computer. Sensors are incorporated to detect the air and water ­temperature to prevent the dishwasher from overheating or damaging the dishes or utensils. A different sensor can detect the water level and check if it gets too high and automatically activates the draining function to prevent the dishwasher from overflowing. Some latest model dishwashers even have sensors that can detect how dirty the water coming off the dishes are. The dishwasher knows the dishes are clean when the water is clear enough.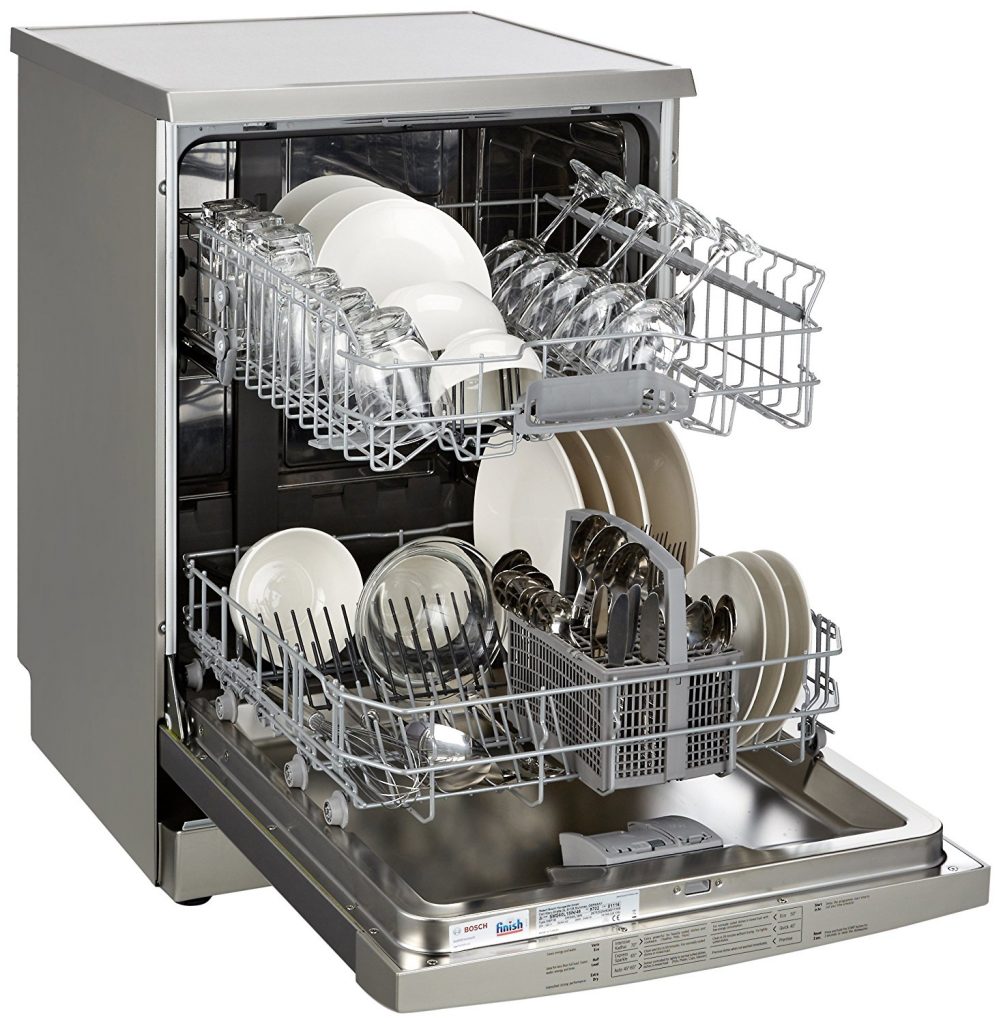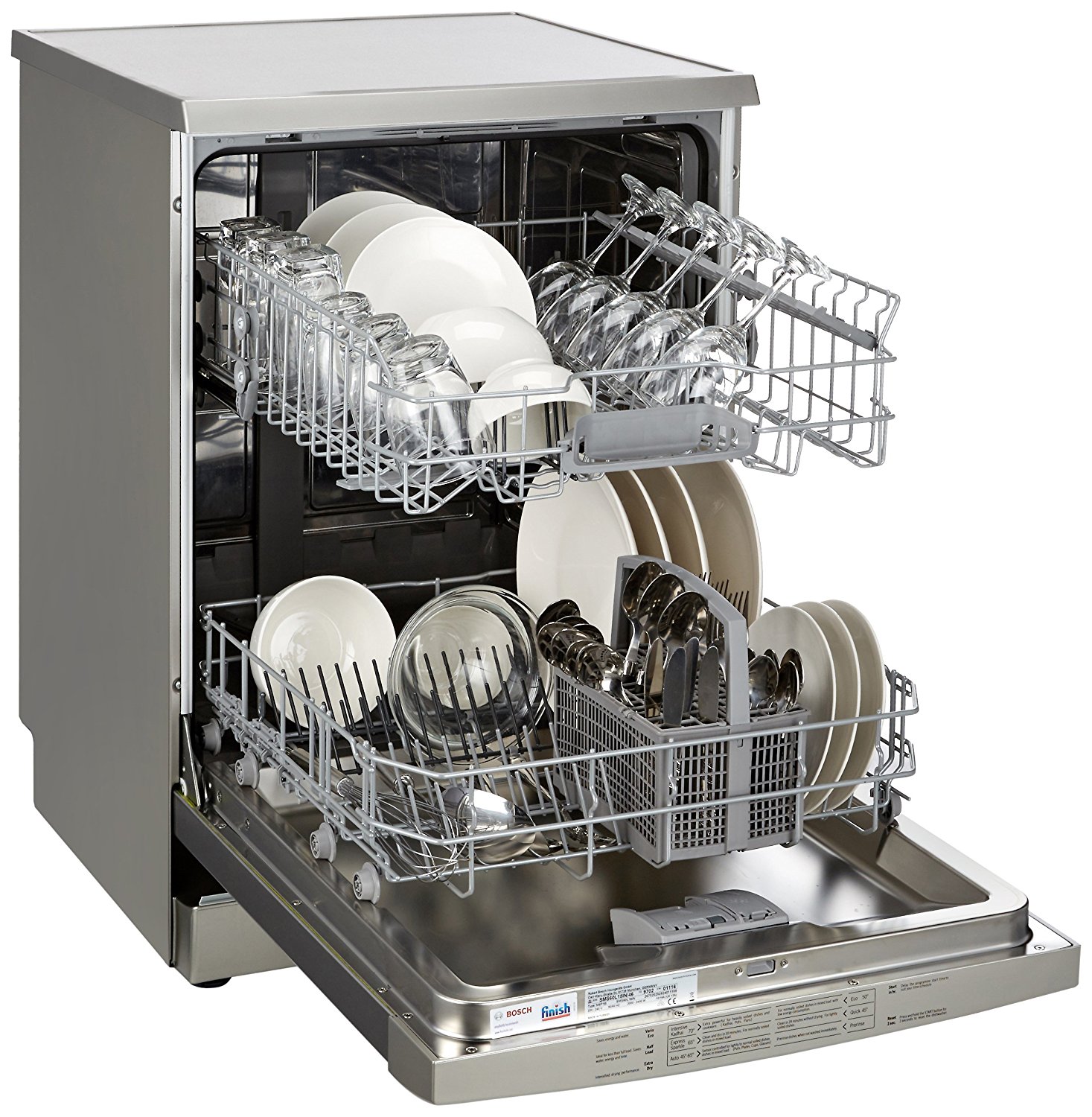 So, What are the main and important things to look into a Dishwasher?

Water Consumption – the consumption of water is the first and foremost thing you need to look into a dishwasher because it affects the most. Only 10-15 liters of water is used by a good and efficient dishwasher in one cycle. So, take care to select a model which consumes less amount of water and hence saves your water and money.
Wash Programme – each kind of dishes need different wash program, e.g., Indian Kadai is a program for removing oily and masala stained. Temperature, rinse time and water consumptions and rinse time vary for each of the wash programs.
Additional Features or functions – It I always preferred to have some advanced functions like delay timer,water softening device to soften hard water, load sensor to sense the burden of dishes & use water according to it.

What are the things to be kept in mind when purchasing a dishwasher?

Make of the Dishwasher

It's a good idea to check the material of the build of the dishwasher. Steel inner baskets are better than the others s they are corrosion resistant and last longer. The dishwashers will have baskets inside them which are better if they are flexible. As in they are height adjustable etc.


What are the cycle options of your dishwasher?

You may want to do a full load of dishes or wash fewer at a time. That is where different cycle options help out. The Cycle options come in various names as per the particular brand of washing machine, but what you need to look for is options like Smartwash or Eco Wash or Half Load Wash. These are all different dishwashing options for different kinds of dishwashing at different loads. So find this out and choose the one that offers you various cycle options.


What kind of Place Settings does the dishwasher have?

The place setting is the capacity of dishes that the dishwasher can hold. It tells you how many items and capacity it can hold – for example, the number of plates, utensils, bowls, etc. The definition is that one place setting is the space and capacity to hold one dinner plate, one desert plate, and spoons, glass, cup, saucer, knife, fork, etc. Usually, dishwashers In India come with standard place settings in which you can accommodate 12-14 place settings. There are also other options for place settings where you may have a compact or drawer model in terms of place settings.


How loud is your dishwasher going to be?

This might be a useful point to note, as some of them make quite a racket when they are operating. Though the latest models are sound insulated, you should keep an eye out for noise level details of the dishwasher. A silent dishwasher may also be a great option.


Are there more sensors or less?

The sensors in your dishwasher do various things like vary performance, save electricity, adjust the heat, intensity, etc. So the more the sensors, the better the performance of the dishwasher.


Does your dishwasher have an anti-flooding feature?

This is essentially a feature that detects leakages in the pipe and prevents water from over flowing, leaking,etc.
Nine reasons to use a Dishwasher:

Save your time and less effort

Save water by only sufficient use

Save energy and money

Ensures better hygiene

Sparkling kitchen and softer skin

Clutter free kitchen

Argument free and peaceful life

Top 10 Best Dishwashers in India

Bosch SMS60L18IN Dishwasher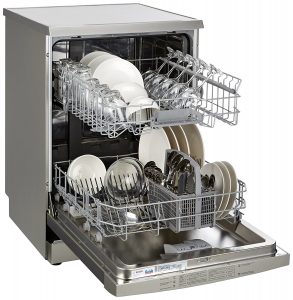 The Bosch SMS60L18IN, a is a premium dishwasher from a premium brand with 12 place settings and which offers multiple wash programs like a dual wash, auto, quick, eco and gentle for efficient washing of dishes.
It has enough space for big ceramics like Kadai etc. and is perfectly designed for Indian kitchen. Maximum space is utilized inside the washer with ease, with its smart rack system. Added to this, it's auto-programmed feature enables a hassle-free use.
The preactivated VarioSpeed reduces the wash cycle time without any difference in the wash results. The express Sparkle cleans and dries the dishes and cutlery clean and dry in under an hour.
The extra dry option further enhances the drying results, which is very beneficial for difficult to dry items, e.g., plastic.
EcoSilence Drive: unique brushless motor – quite, powerful, efficient and durable.
Key features:
12 place settings

Water consumption 10 ltrs

Six wash programs: Auto 45-65 degree Celsius, Intensive kadhai 70-degree Celsius, express sparkle 65-degree Celsius, quick 45 degree Celsius, eco 50-degree Celsius, and pre-rinse

Wash Cycle of 60 Mins

Advanced functions like auto Programme, Electronic Delay Timer, Load Sensor, half load, and Childproof Control Lock

Eco Silence Drive: Top shower, load sensor, unique brushless motor, and aqua-sensor

Inner Tub: polinox or stainless steel, glass care and dosage assist basket system

2-year manufacturer warranty

water usage, rinse time and temperature: adjusted by the Auto program

Extra Dry option: enhances further the drying results
Pros
Cons

√ 

EcoSilence drive feature
⊗ The Customer service doesn't provide support

√ 

Half load option provided

√ 

Saves water as well as electricity
IFB Neptune (VX) Dishwasher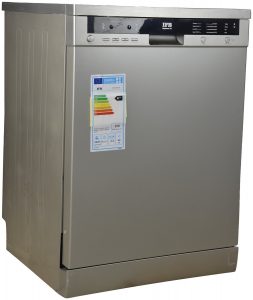 This product, Neptune VX is one of the best dishwashers in India dishwashers. It offers 12 places setting with a metal filter. With the combination of powerful performance, functionality and great sturdy design the dishwasher never fails to provide easily cleaned and spotless dishes.
The interior of the dishwasher is 115 centimeters deep which enable you to wash multiple dishes at a time. The product is offered with color options as silver and black and a best in class 2 years manufacturer warranty.
The body of the dishwasher carries LED Light indicator for the different stage processes and is shockproof.
The space-saving and compact design of the dishwasher blend with your kitchen perfectly.
Key features:
Capacity of 12 place settings
Number of Wash Programs: 9

1.26 kWh energy consumption

A++ Energy Efficiency Rating

Hi-tech Control Panel

Steam Drying System

Water softening Device

22.7 L water consumption

2.2 w

Tub Material: Vinyl Coated Galvanized Iron

Display Type: LED

Control Options: Child Lock

Warranty: 2 Year(s)
Pros
Cons

√ 

1.26 kWh energy consumption
⊗ Burnt stains can'tbe removed

√ 

12 place settings capacity

⊗

 Detergents recommended by IFB is not      easily available in general stores and          only available at their franchise store.

√ 

22.7 L water consumption

√ 

2.2 w
The Bosch SMS40E32EU Dishwasher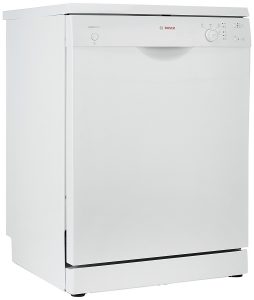 The Bosch SMS40E32EU Dishwashers is your best product with features like
delayed start timer and aqua stop function
, the 600 mm wide dishwashers uses around 14 liters of water for a single washing cycle.
It has 4 wash programs that let you clean even the dirtiest stains. Moreover, it has 12 place setting which sorts out placing your plates or dishes and also has 2 folding plate racks.
Efficient and smooth wash that saves water and electricity and in case of lesser loads, you can choose the Half Load Function and save both water and electricity and most important of all, your time. It uses a brushless motor which means silence s well as power. This machine is very silent, and you can't even recognize whether it is on or not without looking at the LED indicator.
Key features:
Place Settings of 12

Number of Wash Programs: 4

Water consumption of 14 liters

to ensure that tablets are dissolving properly it has dosage assist basket

Active water hydraulic system

Eco-Silence Drive

Load Sensor

Aqua Stop

Glass Protection System
Pros
Cons

√ 

Makes no sound at all
⊗ Absence of garbage grinder. Maybe this    feature was avoided because the motor      of garbage grinder makes noise.

√ 

Got nice stylish looks

√ 

Run time is 2 hours which is normal for       all dishwashers.
Siemens SN26L800IN Dishwasher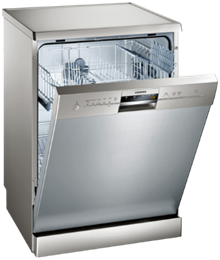 A unique dishwasher of Seimens with variospeed and hygiene plus, eliminating 99.99per cent of the dirt and germs in the shortest duration with a mordern inox look. The SN26L800IN tops the list of best available Dishwashers available in India with the Siemens product tag.
The Siemens Dishwasher has 12 place settings and six program functions for rinsing and drying the dishes and plates. The product is specially designed to optimise the use of water during the washing cycle.
The varioSpeed function gives up to 50% shorter wash cycle, shining clean plates and also dries them as well. The halfLoad function runs the dishwasher on half load which is not available in many dishwashers. Dishes will be cleaned with less usage of water and energy but at full power, and within a short time too.
Key features:
Capacity (Number of Place Settings): 12

Number of Wash Programs: 6

Aqua sensor and load sensor

the time delay of 24 hours

indicator for showing the remaining time

Intensive Plus 70°

Hygiene and variospeed Option

Childproof Control Lock
Pros
Cons

√ 

Two sensors: load sensor and aqua sensor
⊗ Some problems encountered if power goes off unexpectedly

√ 

Designed to save time and water

⊗

 A bit over priced

√ 

Time delay of 24 hrs.

√ 

Useful settings or cycles
LG D1451WF Dishwasher

It is the most popular and advanced dishwasher of LG in India. With 14 place settings (which is necessary if the use is for commercial purpose). LG has incorporated a smart rack system in LG D1451WF, which helps in easy loading/unloading of dishes, plates, and bowls.
A LED display is fitted on the top of the dishwasher which is quite useful in showing the exact information about dishwasher operation. A stainless steel tub is used under the dishwasher, which is long durable and a much better option than a plastic tub.
Child lock, adjustable height rack, and many more features are also available. A full product warranty of two years is provided while for inverter its ten years warranty. Its eco-friendly product uses less water and energy.
Key features:
14 place settings capacity

Wash Programs: Dual wash, gentle, quick, eco, and auto

A time Delay of 1 to 19 hours

Extra hot, extra hot, basic program, auto restart, refill indicator, delay start, Aqua stop, error display, triple filter and Child lock.

Better flexibility and more space

Smart rack system

Energy and smart diagnosis

A warranty of 2 years
Pros
Cons

√ 

Smart Rack System
⊗ Not very good customer service.

√ 

Child Lock

⊗

 No half load option

√ 

Inverter Drive system

√ 

Less Noisy

√ 

Five wash program

√

 14 place setting
This is box title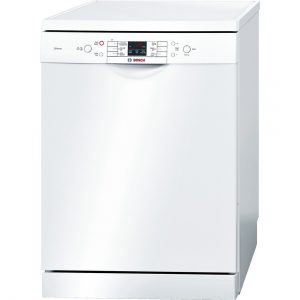 The SMS 60L 02IN Stainless Steel Dishwasher is a premium product of Bosch. This dishwasher has a simple and stylish design that gives thekitchen a modern look to the Indian kitchens. It has12 Place settings capacity.The SMS60L02IN offers various useful features like Glass Protection, Aqua Sensor, Height Adjustable Top Basket,2 Foldable Plate Racks, Button Suspension.

It also has a Variospeed noise level feature, which allows reducing the wash cycle time by 50% with the best cleaning quality. The design, as well as quality of the product, put it into one of the highest positions of all the Dishwashers in the market

Key features:
12 Place Settings

6 Wash Programs

11.8 Liters of Water Consumption

VarioSpeed,AquaStop Option

Tub material: stainless material

Loading sensor, Aqua-sensor, time remaining and time delay indicator at the front.

Height adjustable top basket, LED rinse aid refill indicator, LED salt refill indicator and button suspension

Two foldable plate racks in the bottom basket and childproof control lock
| | |
| --- | --- |
| Pros | Cons |
| √ Dishwasher; 12 place settings | ⊗ Doesn't have half load option |
| √ Six wash programs | ⊗ Plates and bowls need to be soaked in      water for some time to have a perfect        cleaning. |
| √ Loading sensor, loading sensor, 24            hours time remaining and time delay          indicator at the front. | |
| √ LED salt refill and rinse aid refill                 indicator, button suspension, and               height-adjustable top basket. | |
The Siemens SN26L200IN Dishwasher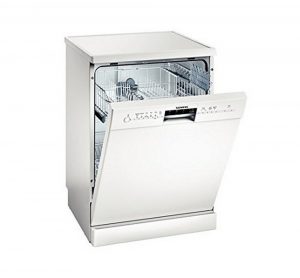 The Siemens SN26L200IN dishwasher is efficient in washing dishes as it requires less energy. The dishwasher has 12 place settings which are used for plates or bowls regardless of their design and shape. Washing utensils will be quick and easy once you bring home this dishwasher.

Thanks to its cool and freestanding design, you can easily place it anywhere in the kitchen, according to your convenience and comfort. It has a capacity of 12 place settings. You can easily place a number of utensils at once and manage washing chore efficiently and quickly.

There are also a variety of settings and programs, which you can comfortably choose among them according to your requirement and convenience.

Key features:
Basket Capacity for 12 Place Setting

6 Wash Program

Water Consumption of 11 liters

52 dB Noise Level

Aqua sensor and load sensor

Time delay of 24 hours

Indicator showing remaining program time
| | |
| --- | --- |
| Pros | Cons |
| √ EcoSilence drive feature | ⊗ The Customer service doesn't provide support |
| √ Half load option provided | |
| √ Good for delicate dishes | |
| √ Saves water as well as electricity | |
IFB Neptune FX Dishwasher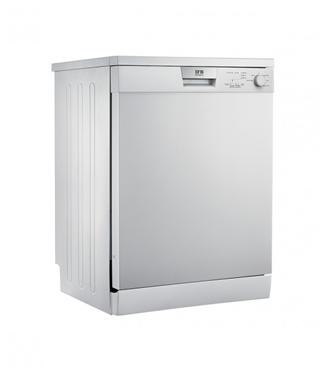 The elegant and stylish white Neptune FX dishwasher, with a12 place settings and a half loading option, gives you the broad dishwasher you need to wash just about any kitchen dishes or utensils. The Extra Heavily Soiled Program washes off of even the toughest stains from your utensils

Key features
Fully automatic

Front loading dishwasher

Place settings: 12

Wash programs: 5

2 years of comprehensive warranty on product

Water softening device

Heavily soiled program

Upper basket which is adjustable when empty

Natural drying system

Tray Material: Vinyl Coated Galvanized Iron

Inside Material: Stainless Steel

Gross Weight : 46kgs
| | |
| --- | --- |
| Pros | Cons |
| √ Loading type: front loaded | ⊗ Customer care service is not that good |
| √ Heavily soiled program feature | ⊗ A bit expensive |
| √ Natural drying system | |
Siemens Dishwasher SN26L201IN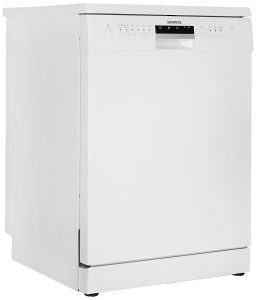 The SN26L201IN, which is a unique looking product of Siemens opens like an oven from the top. It has 12 places setting along with water softening feature. The dishwasher comes with the option of iQ Drive and Vario speed that helps it to manage most of its tasks based on the sensor. The Hygiene Plus feature helps the user to use the Dishwasher with a normal range of 75-degree centigrade for a germ-free dish.

Key features:
Free Standing Dishwasher

12 place settings

Speedier dishwasher that reducesupto 60% of wash cycle

Six washing programs & 3 wash options

Aqua sensor & load sensor

The feature of HalfLoad cleans the dishes without having to load the machine to its full capacityand hence saving water and energy at the same time

iQdrive: The wear-free iQdrive motor is quiet, very efficient and long-lasting.
| | |
| --- | --- |
| Pros | Cons |
| √ Great at drying dishes | ⊗ Makes loud noise |
| √ Simple installation process | ⊗ Process takes time |
| √ Requires less amount of water | |
 

Bosch SMS60L12IN Dishwasher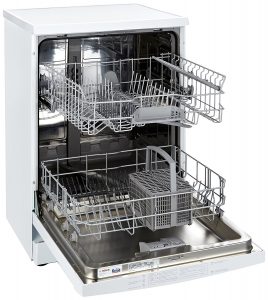 The Bosch SMS60L12IN, making its way in the list is equipped to hold 12 place settings, six washing programs, removable top, different types of racks, Child Safety Devices and uses 240 volts of operating energy. On an average, it uses only 9.5 liters of water per day.

It is among the most advanced dishwashers and has many features than any other dishwashers. The Eco Silence Drive minimizes the noise created while the machine is operating. There are several features available in the dishwasher called as Vario Eco, Extra Dry, and the Half load.

It is fitted with an LED indicator which lets you sense the different stages of the cleaning. The normal range of Intensive cleaning is operated with 70-degree Celsius of rinsing pressure.

It makes very less noise while operating, as it uses eco silence Drive and gives Hygienic Wash every single time. You can set an automatic 60 minutes of wash time, for easy cleaning. It is incorporated with three special options as well, extra dry, half load, and vario Eco mode of cleaning, which helps you to clean it easily.

Key features:
A capacity of 12 place settings

Number of wash programs: 6

A warranty period of 2 years

Ten years warranty against rusting of inside tub

Eco Silence Drive:Aqua sensor, a load sensor, and Top shower.
| | |
| --- | --- |
| Pros | Cons |
| √ Three special wash option | ⊗ Spares parts not available easily in India |
| √ Six wash program | ⊗ Only 12 place settings |
| √ Child lock | |
| √ Attractive design | |
| √ Less noisy | |
| √ Ten years of warranty | |