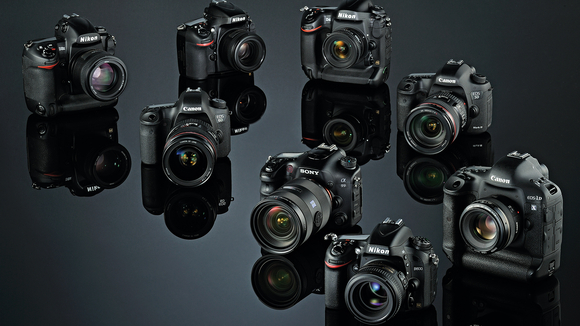 DSLRs are the most preferred choice for photography. It gives the photographer the ability to customize the camera settings according to the required output. The Photographer also has the ability to swap the lens suited to the different scenario. With top end manual controls, you get the unmatched photo quality.
The entry-level DSLRs are best for non-professionals and new photographers who need to learn the basics before getting into deep practical knowledge. If you want to buy DSLR under 20,000 Rs in India, there are not a lot of options available. Buying a budget DSLR does not mean that you will get a lesser photo quality.
Big brands like Canon and Nikon have the products in 20,000 categories. Although, today most top-end smartphones are equipped with a fantastic camera claim to be offering DSLR quality images. But in reality, the image quality that a DSLR camera can produce is nearly impossible to get even from a high-end smartphone. But before you proceed to check the best DSLRs, don't forget to check out the things you must consider before you buy your first DSLR or looking to upgrade.
Best DSLR Camera Under 20000 in India – Review, Latest Addition
Now you don't have to search on shopping sites to buy DSLR and also we are providing you the review of them so, all the information you need here we are providing you.
Also, you will like to check Best DSLR Under 40000
1. Canon EOS 1300D
Best DSLR Under 20,000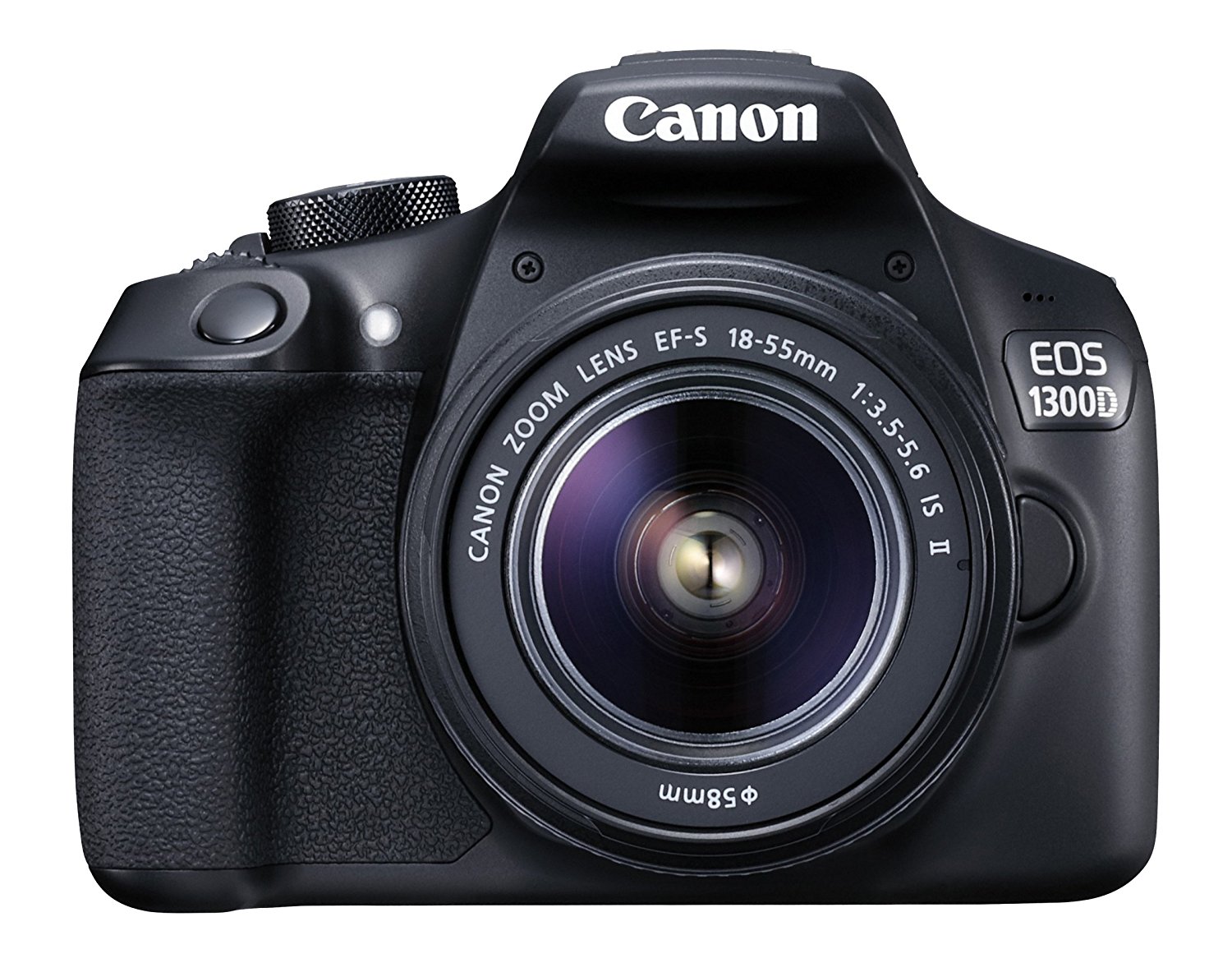 Canon is one of the best company in camera making. Canon EOS 1300D is one of the best options to buy a DSLR camera under 20,000. This camera is your best choice because it offers a top end image qualities with all the features that you need in a DSLR camera.
The 2.7 TFT Color LCD Screen provides good visibility. The 18 Megapixel CMOS Image Sensor is able to produce great shots. Full HD Video Recording is also available.
| | |
| --- | --- |
| Effective Pixels/Resolution |  18 MP |
| ISO |  100 – 6400(expandable to 12800) |
| Video Resolution |  1920 x 1080 |
| Optical Zoom |  35X |
| Connectivity |  Wi-Fi and NFC |
2. Sony H400/B 20.1 MP Digital Camera
Easy to Handle with Superb Image Quality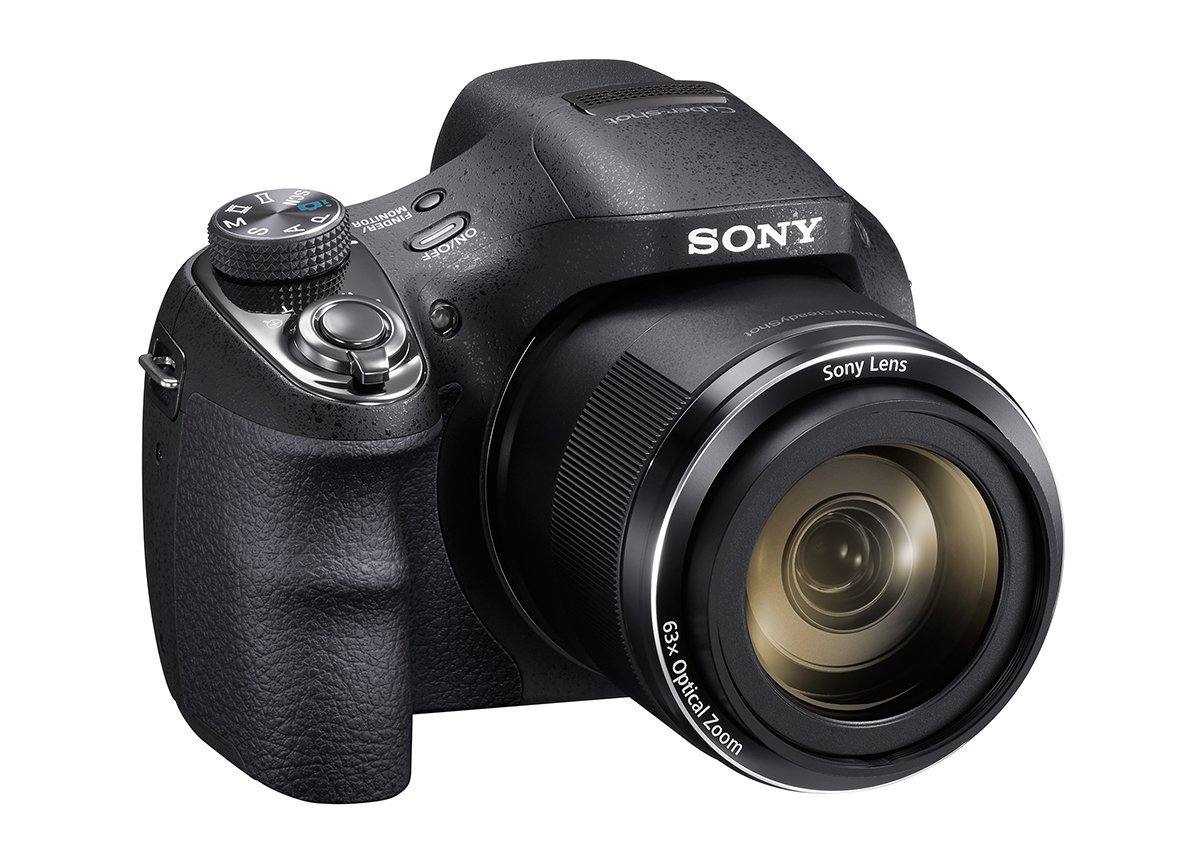 Sony is a respected brand in the electronics department. If you want a camera which you can use in any situation then you should go for Sony H400/B. Although it is not a DSLR camera the picture quality you get is amazing. Even in low lighting conditions, you can manage to take a detailed picture.
As not a DSLR, you do not get a lot of manual options and settings in it. But if you are not a professional photographer and want a camera to use occasionally it is the best option. The 20.1 MP sensor delivers high-resolution pictures. It has 63X optical zoom so that you can capture the subject from far away. It is also equipped with optical image stabilization.
| | |
| --- | --- |
| Effective Pixels/Resolution | 20.1 Megapixels |
| ISO | ISO 80-3200 |
| Video Resolution | 1280×720 |
| Optical Zoom | 63x |
| Connectivity | Wi-Fi, NFC |
3. Canon PowerShot SX540HS
Compact and Effective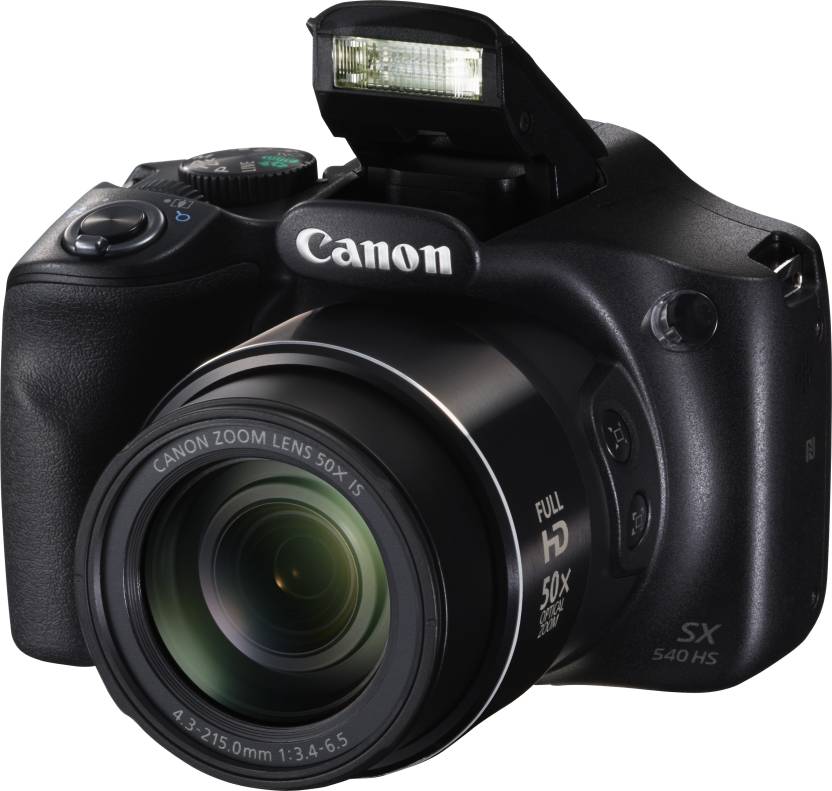 Canon is the market leader when it comes to cameras and photography. When searching for camera quality under 20,000 INR you can find a great number of options. Though finding a DSLR camera in this range can leave you with limited products. But Canon Powershot series offers you the DSLR quality at a much lower price.
It is equipped with a 20.3MP sensor with a size of 1/2.3″. It is not at all bad for any situation. You can capture an image with a max resolution of 5184 x 3888 pixels. The ISO range is decent too with 80 to 3200. Overall if you are not an expert and want to enjoy photography without getting into complex DSLR settings, then this is the best option for you.
| | |
| --- | --- |
| Effective Pixels/Resolution | 20.3 Megapixels |
| ISO | ISO 80-3200 |
| Video Resolution | 1920 x 1080 |
| Optical Zoom | 50x |
| Connectivity | Wi-Fi with NFC |
4. Canon PowerShot SX430B

Best For Travel Photography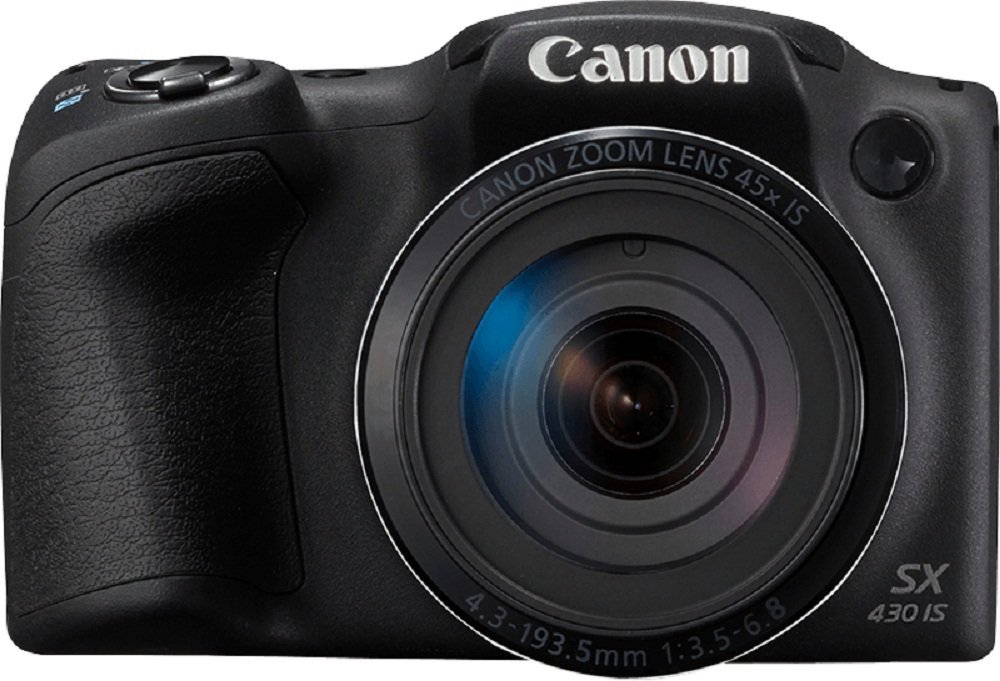 The Canon PowerShot SX430B is a budget camera with great features. It is compact and does not feel bulky. Using it is also very much easy and is suitable for almost all. Handling this camera is easy too. The Canon SX430 IS comes with a 20.5 Megapixel CMOS sensor at a size of 1/2.3-inch.
The great 45x optical zoom lens allows you to capture distant shots with ease. It is well suited for most of the situations including low lighting.
| | |
| --- | --- |
| Effective Pixels/Resolution | 20.5 Megapixel |
| ISO | ISO 80-3200 |
| Video Resolution | 1280 x 720 |
| Optical Zoom | 45x |
| Connectivity | Wi-Fi with NFC |
5. Sony Cyber-shot DSC-H300
Best Suited For All Situations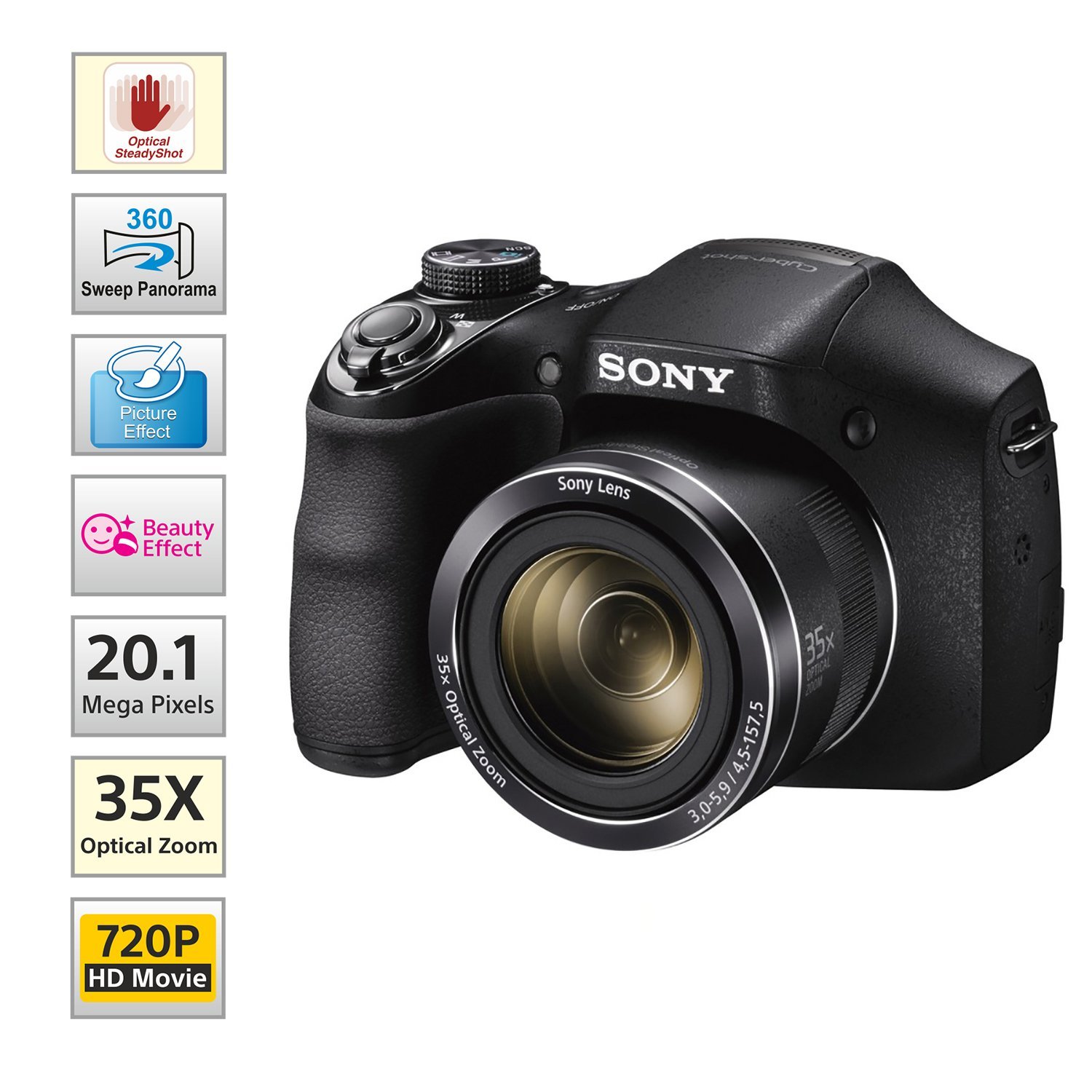 Sony Cybershot DSC H300 is another great alternative that you can get under 20,000 INR. Though not a DSLR the camera looks similar to a DSLR. Functionality wise it offers good manual options to capture a great image in any condition. The design of the camera is compact thus makes it easy to handle and carry around.
It contains a 20MP sensor with the lens that is capable of 35x optical zoom. The 3-inch LCD display offers a clear view of the shot. Other features include Wi-Fi connectivity and 360° panorama shot.
| | |
| --- | --- |
| Effective Pixels/Resolution | 20.1 MP |
| ISO | ISO 80-3200 |
| Video Resolution | 1280 x 720 |
| Optical Zoom | 35x |
| Connectivity |  Wi-Fi |
Final Verdict
These are the best DSLR cameras to buy under 20,000. They all are from trusted and genuine brands and once you buy any of them you won't feel any regret. If you have any other option apart from the above then tell us we will love to add them to our list and update it. Share with your friend and family members so they will also get to know about it.