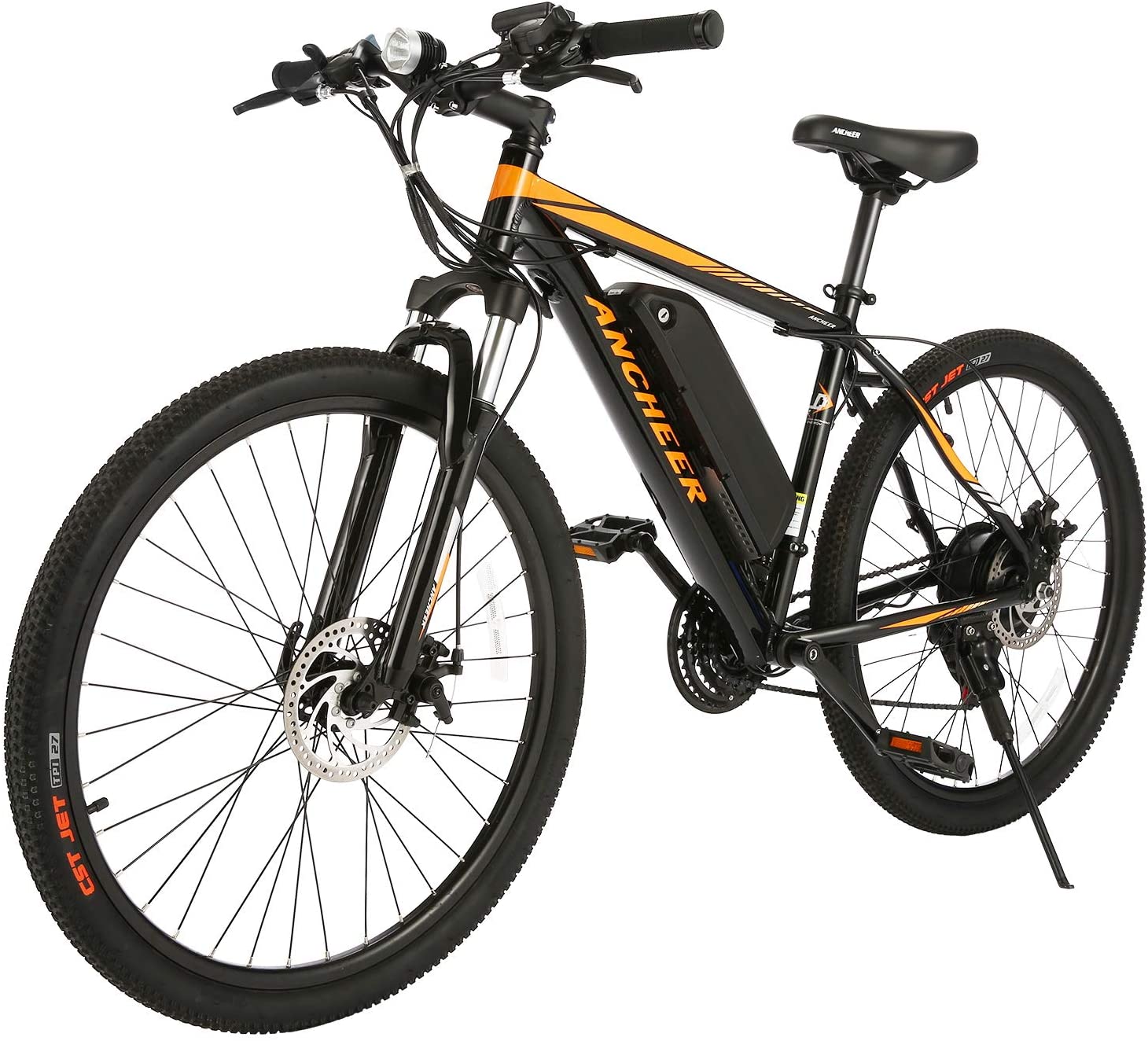 Cycling is the trend to stay healthy. And so are electric vehicles. The Zero carbon emission is environment saver. Combine these two, what do you get? Yes, you are right; an electric cycle. These bikes provide a great way to exercise, and if you get tired, just rest for some time, or not. Just kidding, the electric function comes into play, just sit back, and let the electric bike assist you in riding. Some top rated bikes can achieve very high speeds as well. Yes, you do not need any license to ride an electric cycle. With the wide range of electric bikes by different brands available in the market, it's easy to get confused while selecting the right one. There are a lot many factors that can be considered while purchasing an electric bike, such as the battery backup, i.e., the total distance they can assist in a full charge, the motor speed, i.e., the maximum speed they can achieve, battery flexibility, i.e., removable or non-removable battery, among a number of other factors. Choosing an electric bike while considering all the factors can be a tough task. That's why we decided to help you by presenting the best electric bikes, and the deciding factors or the reasons to choose them. Take a look at the buying guide and decide for yourself if they are good for you.
Buying Guide
Type of Electric Bike:
Yeah you guessed right. Electric bikes have 3 different variants. Not to be confused with style or design, such as mountain bikes, or daily commute bikes. There are 3 different classes of an electric bike which are mentioned below.
Class 1: The motor activates only when the rider is pedaling and is limited to 20mph
Class 2: The motor is limited to 20mph and can provide assistance irrespective of the rider pedaling or not
Class 3: The motor provides pedal assist and is limited to 28mph and the bike must be equipped with a speedometer
Battery Backup:
As said before, the battery determines the mileage that the bicycle will provide. The electric bicycles will assist you while pedaling, and the assistance power ranges anywhere between 25 percent of your pedal power to 200 percent, depending upon the level of assistance you use. On an average, you can expect the electric bike to last about 25 and 75 miles of run time on a full charge. More assistance means more power consumption, thus lesser mileage.
Motor:
Motor determines the maximum speed that your bike can assist you to, which is restricted to 28 mph. However, there is a limitation, no matter which model you choose, or how costly it is, the electric bike will only have a motor that's max powered at 750 watts, that's approximately 1 horsepower. Class 1 and Class 2 bikes can only assist you up to 20 mph, while a class 3 bike can assist you to a maximum speed of 28 mph.
Frame:
This is not just the requirement for an electric bike, but even for any normal bike that you purchase. While looking out for a bike, you should look out for the frame, and by this, we mean the frame design and the material used in making the bike, as it determines the weight of the bike. Lighter bicycles are easier to transport around, and requires less effort. So look out for the frame before purchasing an electric bike.
Price:
Electric bikes are generally costly. However, you can even find some models that are super cheap, but you can guess their quality. As the saying goes, "You get what you pay for", it does not necessarily mean that you need to have a high budget to be able to purchase the best electric bike. Some decent bikes are available at an economic rate too.
Best Electric Bikes in 2020
Based on the above factors, we present you with the list of best electric bikes –
Top Pick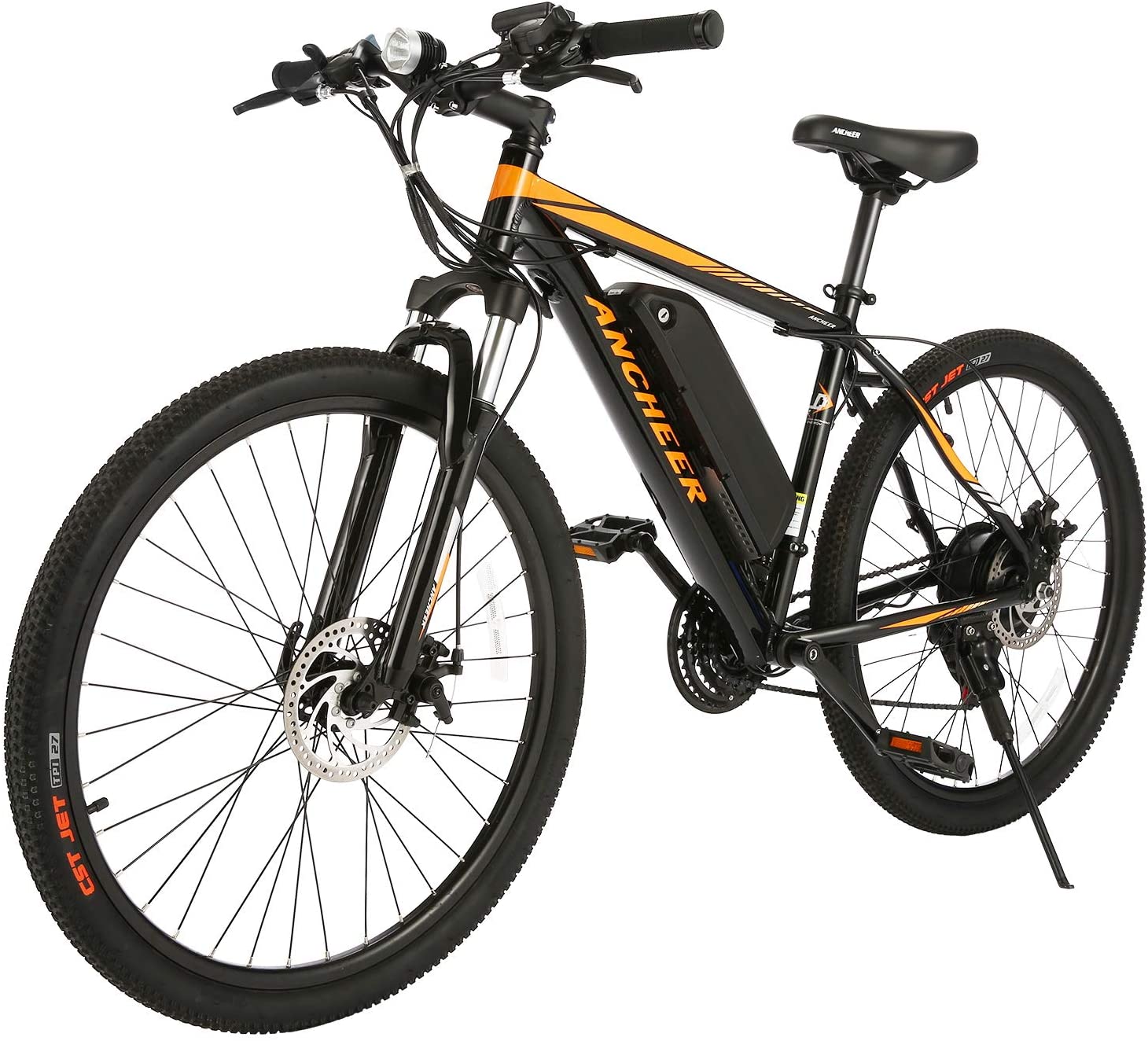 Key Specifications:
Motor: 36V 350W high-speed brushless gear motor
Maximum speed: 32km/h 20mph
Frame: Aluminum alloy 6061
Brake: Front and rear disc brakes
Vehicle weight: About 52 lbs
Load capacity: 300 lbs
Meter: LED 4-speed smart meter button
Lithium-ion Battery: 36V 10.4Ah
Charging time: 6-8hours
Buy on Amazon
Designed for people who love exploring new trails, expand weekly ride paths, and add more fun to it. This electric mountain bicycle has Aviation Grade Aluminum Alloy frame construction. The Aluminum frame is used due to its strong yet lightweight, and incredibly responsive nature. It has both trail performance and high power with 36V 10.4Ah Lithium-Ion battery and 350W stable brush-less motor are essential for a pleasant ride. With all these features in one, you'll have a fun riding experience in it.
Features:
Shock absorption system in the front fork for a comfortable ride.
The 36V 10.4Ah Lithium-Ion battery gives a battery that lasts up to 22-40 miles per charge.
Shimano 21-Speed gear for speed variations.
85% assembled parts that makes self-assembly quite convenient.
light, strong, and designed to last Aluminum alloy for easy to maneuvering.
Dual disc brakes on the front and rear sides and high strength steel suspension fork.
Pros
Strong 350W speeding MOTOR
Aluminum alloy 6061
Removable battery
Easy to put together
Cons
There are no lights present in it.
The battery doesn't last long
The breaks can be frustrating at times.
2.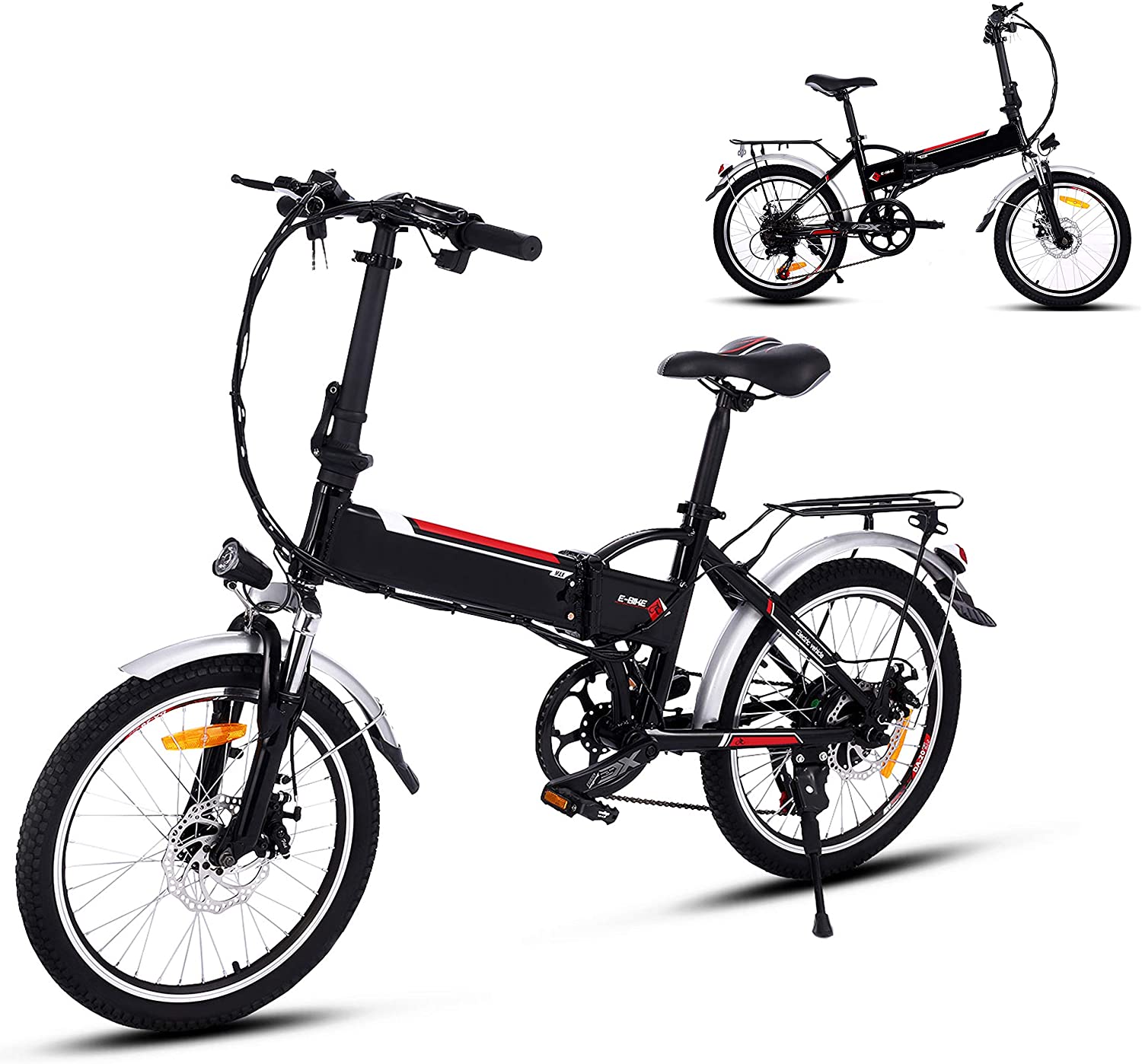 Key Specifications:
Vehicle weight: 50.71 lb
Wheel Diameter: 18.7 inch
Brake system: Front-wheel and rear disc brakes
Charging time: 4-6 hours
Motor: 250W high-speed brush less gear motors
Lithium battery: 36V 8AH
Load capacity: 242.51 lb
Mileage: 21-43 Miles
Buy on Amazon
The Aceshin is a range of mountain bikes to help you ride the steepest of mountains. It has strong brakes, high-strength carbon steel comfort shock absorption, and 7-speed professional transmission for the feel of a premium bike. The motor and battery pack provides great assist. Unlike other bikes it comes with metal pedals rather than rubber ones You can ride not only in daylight but night as well with equipped bright LED headlamp and horn. This bike is a great option for a more stable and comfortable ride.
Features:
This lightweight electrical aluminum alloy bike has a collapsible frame that can be quickly folded and easily stored.
Keeping your safety in mind it has both front and rear disc brakes.
The 250W high-speed brush-less gear motors offer a road speed of assisted by the 7-speed professional transmission system.
It has 3 working modes namely E-bike & Assisted bicycle & a Normal bike.
The light weighted Aluminum alloy bike is fold-able, compact, and easy to carry around for students, city, and urban riding.
Equipped with LED 3-speed smart meter button smart for battery power level and gear indication.
Pros
20-inch Folding Electric Bike with Lithium-Ion Battery
Strong brakes
High-strength carbon steel comfort shock absorption
The 7-speed professional transmission system
Cons
The frame is a little big according to the bike size
Battery needs lots of care to use and store
3.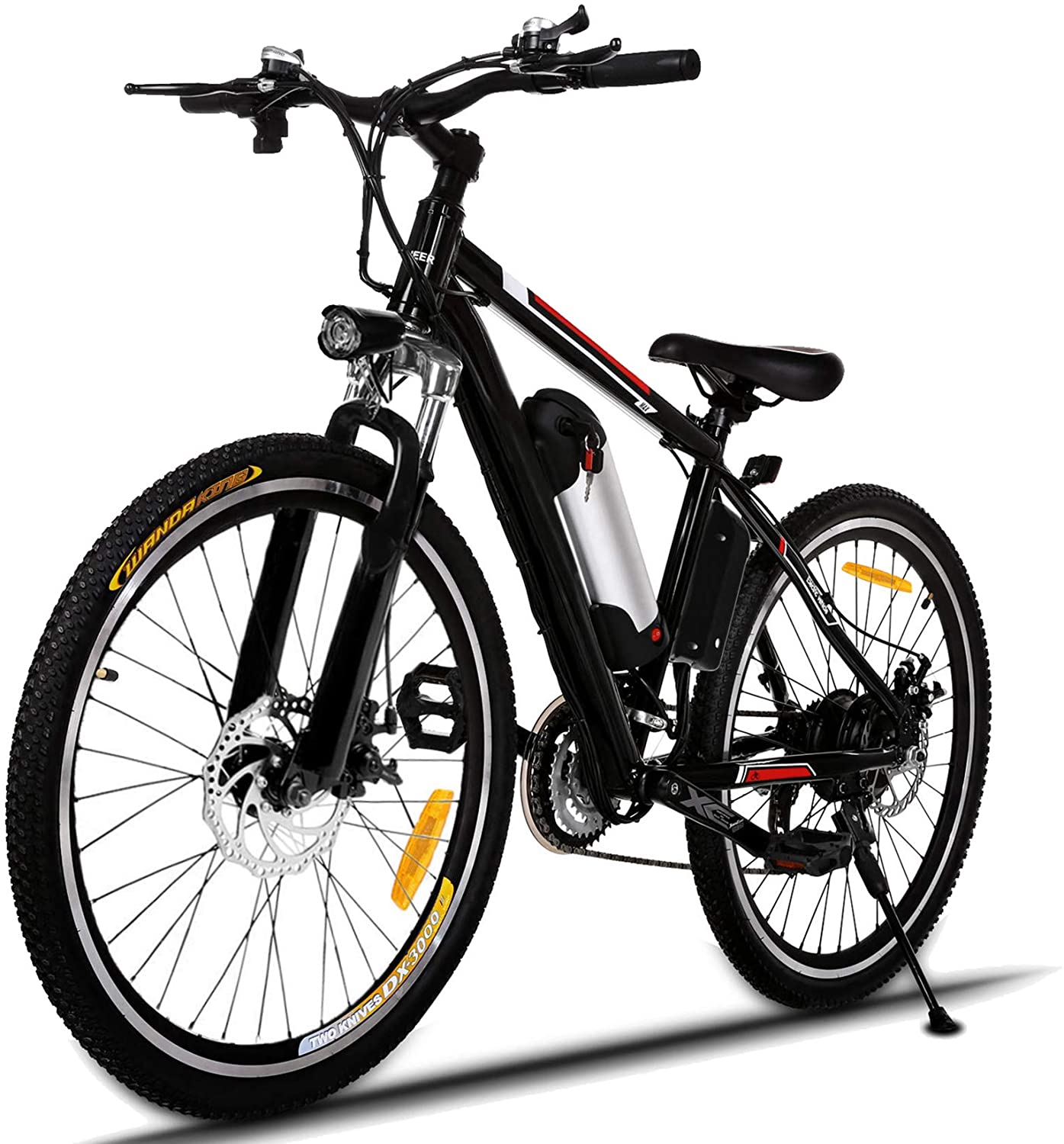 Key Specifications:
Frame Material: Aluminum Alloy
Wheel: 26 inches
Motor: 250W high speed brush-less gear motors
Lithium battery: 36V 8AH
Maximum speed: 22-30km/h
Mileage: 22-28km
Charging time: 4-6 hours
Brake system: Front-wheel and rear disc brakes
Buy on Amazon
Don't wait for the next season to arrive to get your Electric bike as with this bike there's no off-season. It comes with an incredible design and has highly capable and versatile design. The front and rear disk breaks ensure safety. It takes about 4-6 hours to fully charge, once you can travel 22-28km with a maximum speed of 22-30km/hr. Now you can ride the bike regardless of weather conditions.  The impressive pedal assist and the build of the bike makes it suitable to be used for transportation or as a treadmill.
Features:
It has a powerful 36V 250W high-speed brush-less motor for hill-climbing power.
In ideal conditions on a single charge, you can ride up to 22-28km. It has fast charging hence only needs 4-6 hours to charge completely.
It's configured with Classic 21 speed gear and top of the line disc brakes.
This E-bike features a high-quality build with an aluminum alloy frame, double layer aluminum alloy wheel, the front fork with shock absorption made of high-strength carbon steel for premium comfort.
The 26-inch bead spoke wheel is made up of aluminum alloy, and anti-slip wear resistant tires provide superior grip.
Pros
Removable Lithium Battery
21 Speed Gears
Disc brakes ensure smooth shifts and powerful braking
Sturdy light-weighted frame
Cons
Isn't suitable for people big in Size.
4.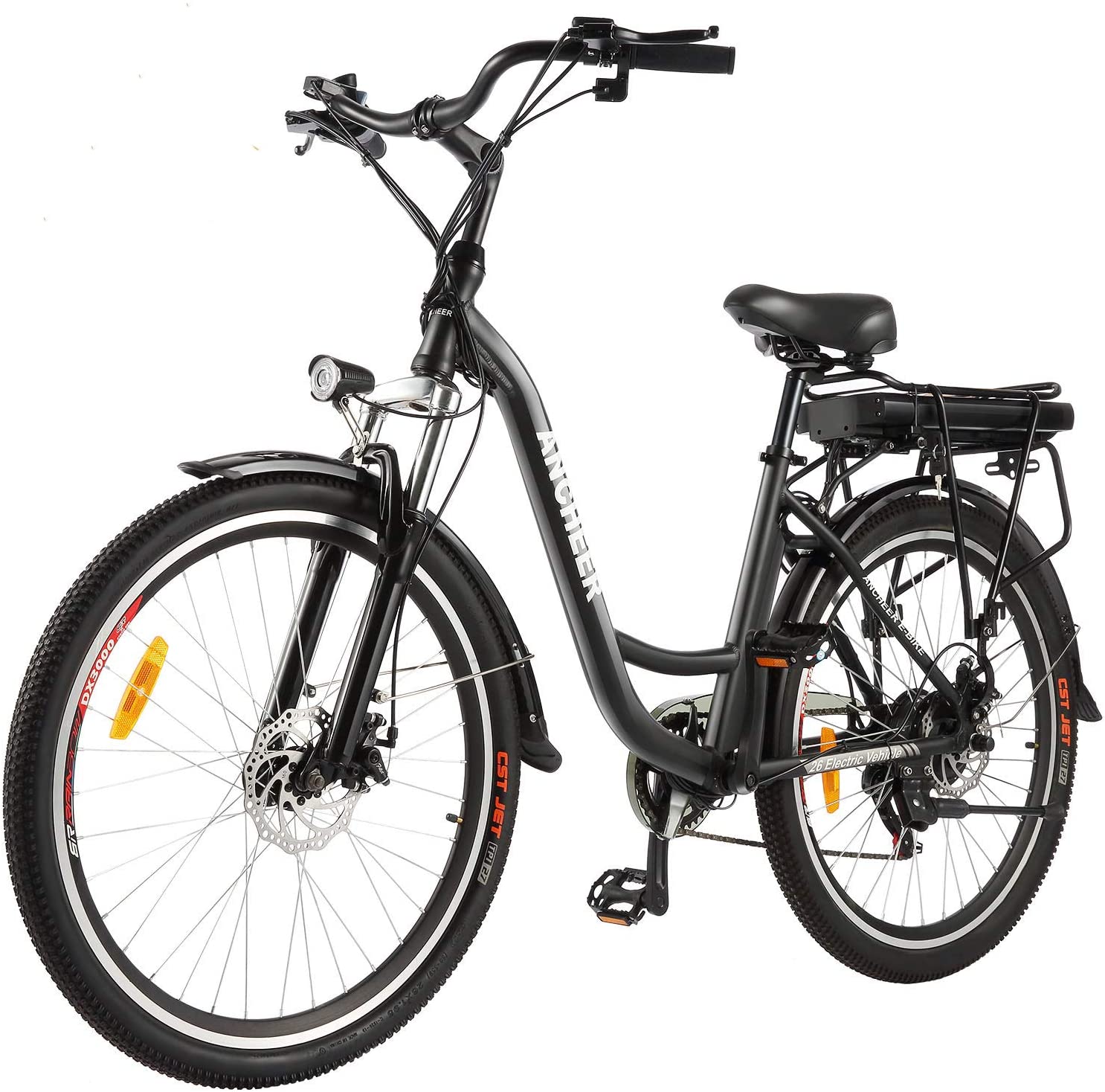 Key Specifications:
Frame: Aluminum alloy
Brake: Front and rear disc brakes
Derailleur: 6 Speed Gears
Wheels: 26''X1.95 Wheels
Vehicle weight: About 50 lbs
Load capacity: 330lbs
Maximum speed: 19mph
Mileage: 35-45miles
Charging time: 6-8 hours
Motor: 36V 250W gear motor
Buy on Amazon
Exceptional performance was shown by the ANCHEER City Electric Bike due to its compatibility towards both urban environments and trails in the country. It's designed by taking inspiration from the spirit of sports and outdoors. With this bike, you can productively utilize your leisure. It's built with an aluminum frame and battery pack integrated with fame, the adjustable 3-way handlebars, the spring-loaded seat, and the front fork suspension make it stand out from other brands in the market. The 26-inch wheels and cruiser tires deliver a smooth ride. You can change on/off the E-bike according to your needs.
Features:
Front and rear mechanical disc brakes and 6-Speed gear power for a high-speed shift system.
Build with a high-quality material aluminum alloy frame for easy maneuvering.
The Aluminum Alloy double-walled rims add durability and faster ride with less drag.
A comfortable ride with high-strength front suspension fork.
Removable 12.5 AH Lithium-ion Battery fast charge works up to 35 miles.
Reduced stress on your body with optimized shoulder, neck, and lower back support.
Three different levels of paddle assist E-bike, assisted bicycle & Normal bike, press the meter to reach your needed level.
Pros
12.5 AH Removable Lithium-ion Battery
26-inch anti-slip wear resistant tire
Easy on Easy off with three riding modes
Cons
The brakes are weak specially rear one
Hard to assemble with the provided instructions
5.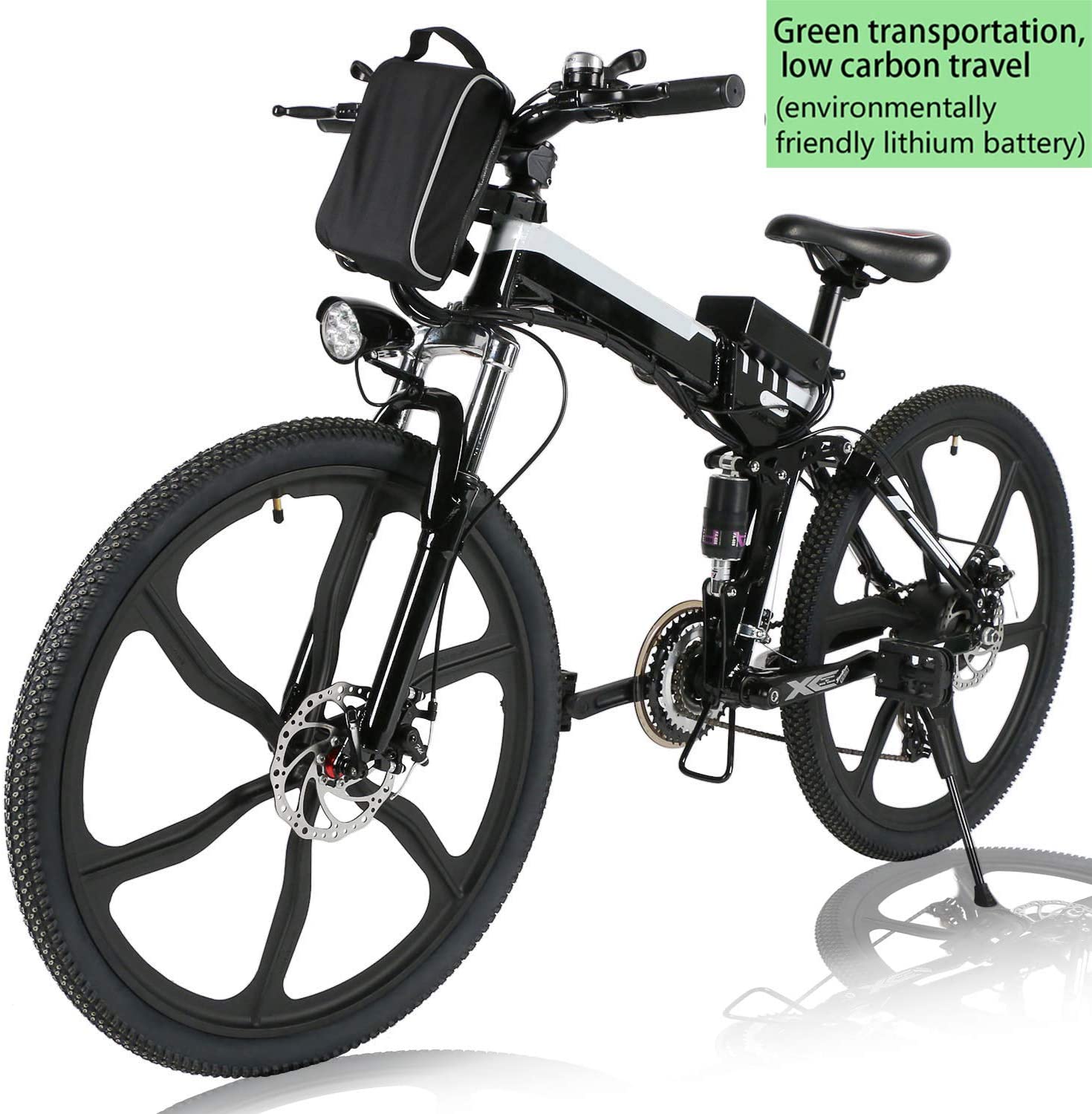 Key Specifications:
Vehicle weight: About 20kg
Battery Capacity: 36V 8AH
Mileage: 35-70km
Charging time: 4-6 hours
Maximum speed: 25-35km/h
Motor: 36V 250W gear motors
Wheel Diameter: 64cm/25 inch
Load capacity: 150kg
Buy on Amazon
It's time to buy a bike instead of a car and walk more conveniently and environmentally. If you are among those people who prefer to go out for buying things and exercise as much as possible, this bike is highly recommended as it's easy to control just like any normal mountain bike. It assembles in no time with some help. The seats and handlebars are comfortable and adjustable. The speed and the longevity of the battery power along with other features like the helpful pedal, riding mode selection, disc brakes, solid-build, and superior design make it an impressive piece to ride on.
Features:
Foldable assisted Mountain E-bike to achieve portability.
The extra power from 36V/8AH li battery that runs 25km/15.5mile to 50km/31mile on a single charge.
 Fast charges with the smart lithium battery charger in 4-6 hrs..
Reliable stopping power from Front and rear mechanism disc for in all weather conditions. Shimano 21-Speed gear increases hill-climbing power, further range variation, and greater terrain adaptability.
Electric, pedal-assist, and manual are the three switchable modes that make it easy to ride in all conditions.
Choose from any of the three riding modes according to your convenience.
Pros
36V 250W high-speed brush-less gear motors
Smart Lithium battery charger
21 Speed professional transmission system
Premium braking system
Fold-able design saves storage space
Cons
Heavy to carry without the use of vehicle
Although the battery is removable still you need to buy a charger that fits the battery cables
Conclusion
Cycling is fun. And so are electric bikes. Ride it like a normal cycle if you want to, and get assistance whenever you desire. Maybe you are tired or carrying some load or are going to cover a long distance, the reasons can be numerous, but the fatigue cannot. Electric bikes become your savior, as you paddle less and travel more and faster. However, it does become difficult to choose the right bike with thousands of models flooded in the market. And with the above list, we are confident that you have selected your favorite bike. We also have our favorite; the Ancheer Electric Mountain Bike. With its stylish looks and amazing features, every ride will be a joyful one. Go the distance with its superior mileage, and break the speed barrier with the Shimano 21-Speed gears. Do give this model a try and tell us about your experience.