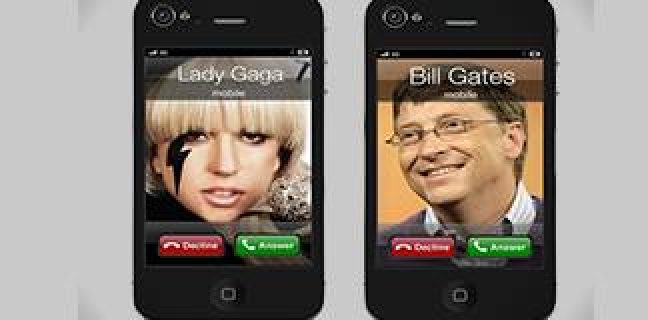 If you are annoyed of getting calls or text messages from telemarketers or any unknown numbers, then you might want to block them. It sometimes becomes irritating when such call comes and you get distracted.There are lots of free call blocker apps available for Android users. You can use them to block all spam or unwanted calls.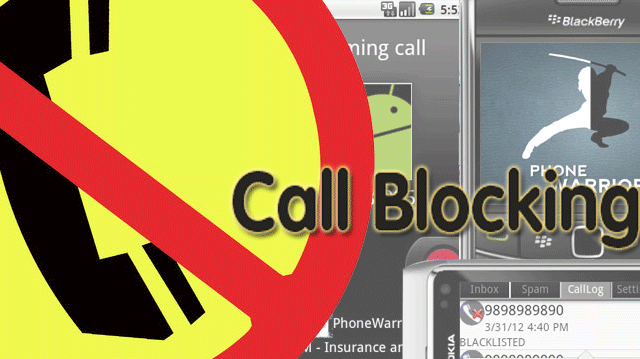 Best Free Call Blocker Application For Android
So there are two ways by which you can block messages and call. Either your device needs to have inbuilt feature through which you can block all the unwanted incoming calls, or you can use third party software as call blocker. You can also download any apk file from a web, but it should be compatible with your device. There will be many free and paid call blocker apps that will be available in your play store not all call blocker apps can be trusted. So we have selected some of the best working call blocker apps.
 1. Calls Blacklist – Call Blocker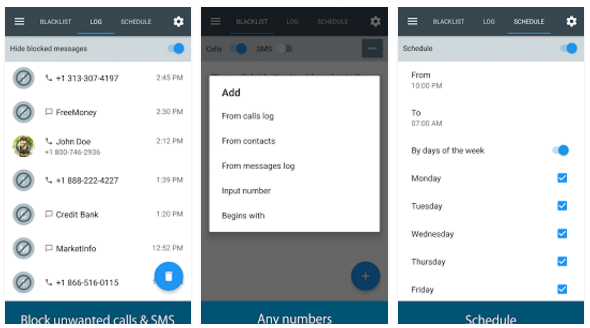 In your busy work hours, meetings or at the time when you are the break, if you get annoyed with unknown calls by anonymous people like telemarketers or robot calls then call blacklist is the best and a very light weight application you can use on your Android device. It works as both Sms filter and call blocker, so you get some extra functionality here.
Features of this call blocking app include a blacklist which contains all the blocked contacts. You can block contacts from the call list, message list and even at the time when you are receiving the call on the mobile phone. The Whitelist can also be maintained for contacts which should never be blocked. It can block calls directly when any unknown or spam calls appears depending upon the settings created. Enable or disable blocking at one click. Creates and saves the log of blocked calls automatically.
Key Features:
Create your white list and black list.
Block calls from contacts, call logs, messages, and numbers beginning with any digits.
Schedule blocking depending on weeks, days, hours, or months.
Separate call logs for blocked calls and messages.
Enable and disable blocking at one tap.
  Download: Android
2. Caller ID, Block Calls & Texts
This app supports Android 4.4 and above. Whenever any call appears from the unknown or anonymous number it searches its contact directory and displays the name of the caller on the screen. Whenever you install this application, it seeks for permission to access you call list, so that is how it creates its contact directory by using all the contacts of people who have installed this app.
Thus it is not only easy to know who is calling but you can also block calls as well as messages together at once. If you want to block calls from spammers for any specific from contacts, then you can do it beforehand. It maintains and manages blocklist in a most efficient way. It is not only lightweight but is also robust app which does not create any crashes.
Key Features:
Get free caller ID
Get information about the caller.
Block calls automatically from unknown and hidden numbers.
Protect blocked calls and messages with a password.
Automatic updates from spam.
Download: Android
3. Safest Call Blocker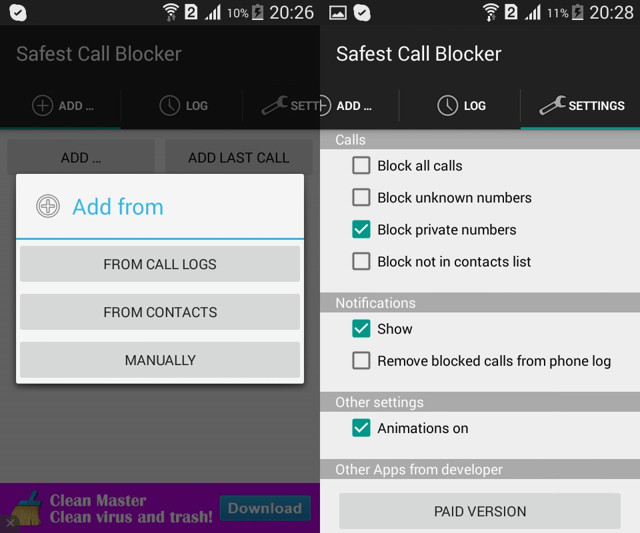 It is available in two versions you can get the free version, but it also has loads of adds. To remove ads, you can opt for a premium version. This application makes tasks straightforward and quick with no extra efforts needed to dig deeply into getting hold off setting for blocking calls and messages.
You can add the contacts or unknown numbers to blacklist directly from contacts, call logs or even manually. If you have missed any calls from unknown number, then you can block it directly by just blocking the last call from the call log. You can create a wildcard blacklist for up to 800 numbers. The phone will not ring for blocked calls, but if you want to know the details, then you can easily access call logs.
Key Features:
Free to use
No subscription required accessing services.
Block calls and numbers
Create your own blacklist.
Create wild cards for more than 800 numbers.
  Download: Android
4. Mr. Number – Block Calls & Spams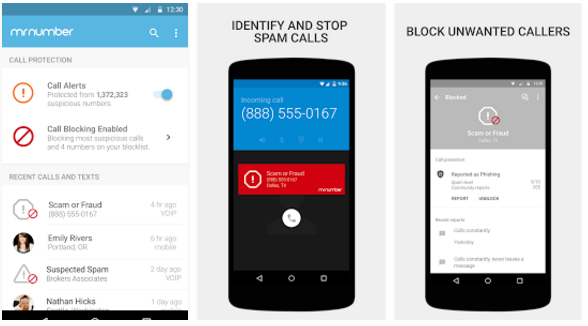 After loads of security changes, Mr. Number ranks well in the list of best call blockers for Android. It works similar to other call blockers for Android, but it has some great features compared to other call blockers.
It can block calls not only based on unknown numbers but, you can also enter area codes or some other manual information of figures belonging to some category to be blocked. You can also block international calls. Add any number to suspected spam folder, and it will block the number. You can also search for numbers from its contact directory. If you don't want to keep the call log, just add it to trash, and this can save your phone memory.
Key Features:
Lightweight application.
Automatic lookup for numbers from call history to block calls.
Recognize numbers from spammers, telemarketers or robot calls.
Report spam messages and texts to others in your contact list.
  Download: Android
5. Blacklist Plus – Call Blocker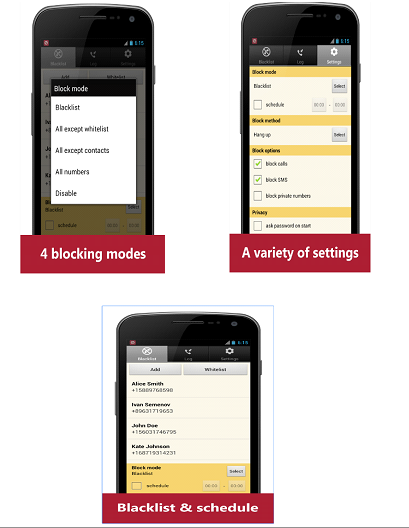 If you need a perfect call blocker which can do more than just blocking unknown numbers, then blacklist plus is a suitable choice. It is completely free to use and have greater features and available option for settings compared to other call blocking apps. You can add numbers to blacklist from contacts as well as call log; even you can add starting numbers or any starting digits to be blocked.
It has four blocking modes using which you can block numbers by either selecting to block all numbers or leaving the whitelist contacts and many other options are there to explore. You can even schedule the time at which you need to get your calls blocked. Like if you want to get the calls from unknown numbers to be blocked while you are working then you can set that too. You can block calls either by hanging up or by muting them, so there are two options here too.
Key Features:
Easy and stable.
User-Friendly interface to explore the application.
Provides a variety of settings.
Use pro version to set up passwords.
Create a journal for blocked calls and messages.
Select blocking methods "Mute or Hand up."
  Download: Android
We have covered a list of best call blocking the application for Android based on the size of applications and functionality provided. If you need very simple call blocker then calls blacklist is the best option. But, if you require much more functionality from a call blocker then we have listed some of them above you can read the features and choose accordingly. Call blocking apps are in very much of requirement with increasing spammers, telemarketers, and robot calls. Using a light weight call blocker will be of no harm and can be quite useful in saving time spammers.