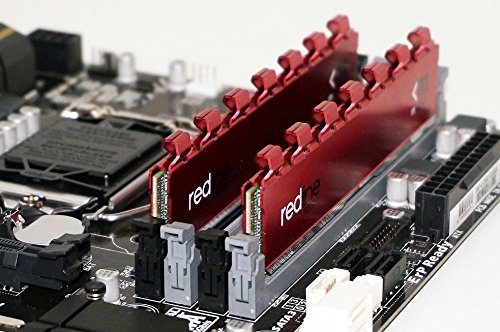 Gaming has become a big deal since the last decade or so and is not only for young boys and teens spending their time on the console. This has led to an explosion of a variety of gaming products, right from the PlayStationSeries by Sony to Xbox by Microsoft, while some desktop computer makers made computers that are specifically designed only for gaming. This has created a whole niche market where people talk, eat and sleep gaming. The multi-million dollar industry has become a lifestyle for many across the world, and some even choose to make a career out of gaming.
If you too are a gaming junkie and have passion only for games that excite you, amaze and mesmerize you, it is quite obvious that your gaming module/console should have only the best RAM. We know it is too much of work to look for a good gaming RAM when there are so many, and it is straightforward to get frustrated because of the overabundance of the details.
This is why we have brought you a list of six best gaming RAMs of 2017, and we hope you will be able to find your right gaming RAM. Also, you should definitely go through this exhaustive list so that you don't have to spend hours shuffling and filtering information.
By any means, we don't want you to think that this information is absolute and final. You can compare it with other sources that have a list of such gaming RAMs released this year. However, we would also state that once you go through this list, you will get some idea about what makes up for a good gaming RAM. That is not to say that you are unaware of the specs, but that what some other considerations you should be looking for are.
Here You Go: Best Gaming RAMs of 2018
We have created this exhaustive list of gaming RAMs from a variety of sources and hence is unbiased and reliable for the most part. The list encompasses of gaming RAMs that come from the well-known and season component manufacturers, as well those that have not been heard of for years but are emerging rapidly and hence could make their way here.
1) Ballistix Sports LT 16GB: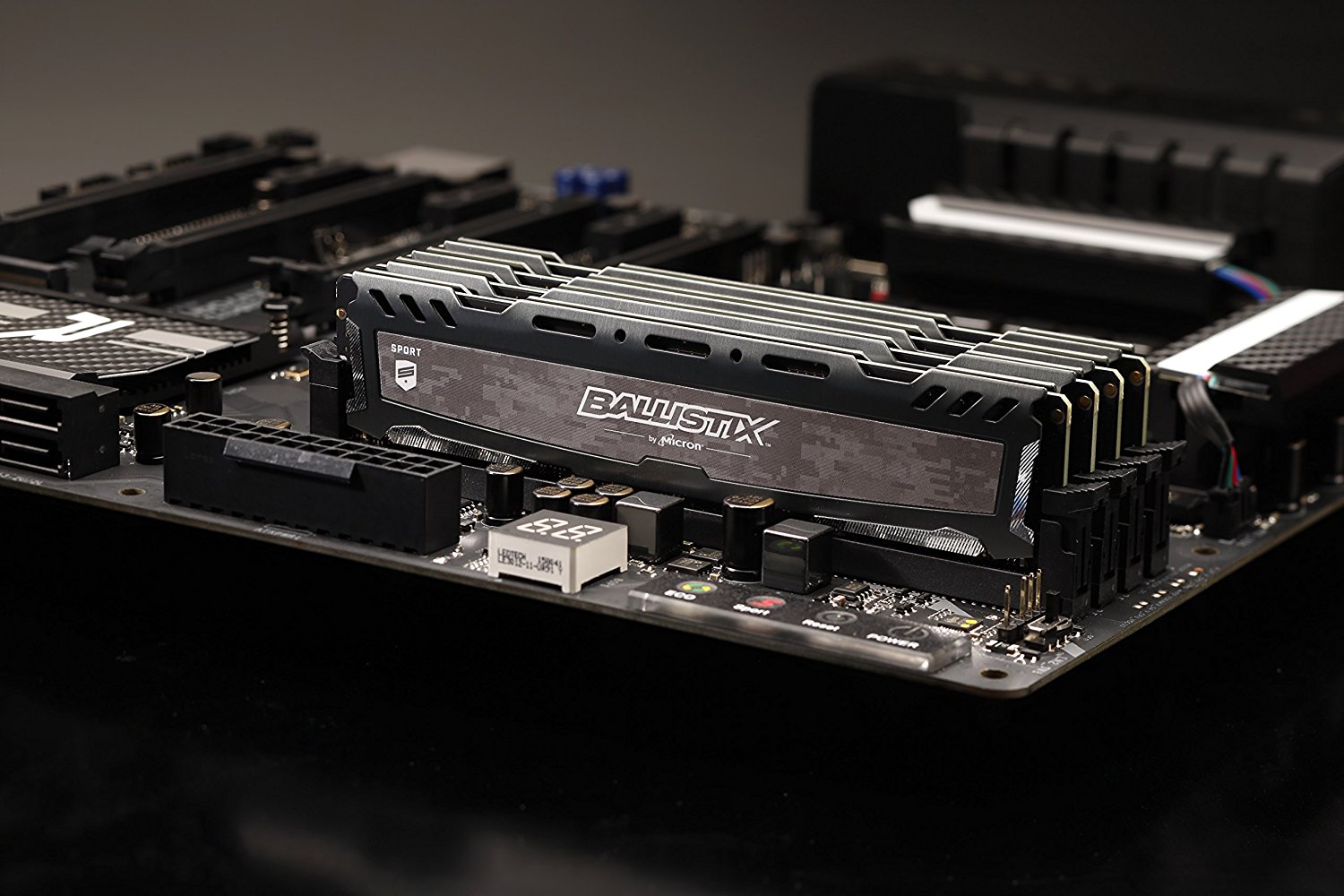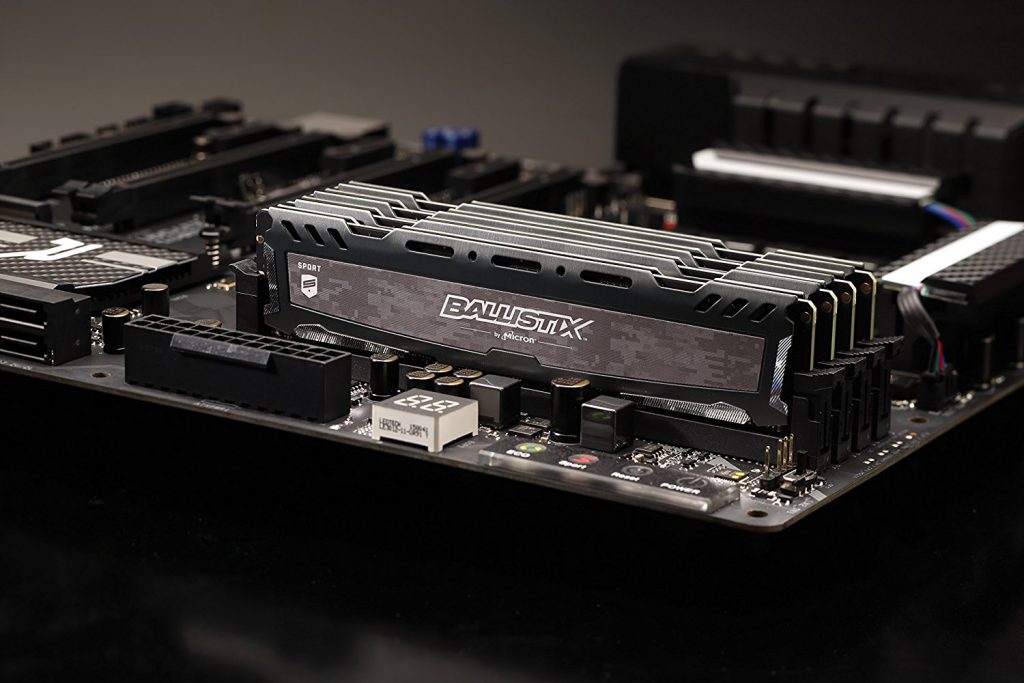 If you have been looking for a good gaming RAM that falls in a mid-category and is not low-ball but also is not as high as the Corsair Vengeance, this is the one that you have been looking for. However, the RAM, despite being a mid-level one, comes jam-packed with features that make it standout from most of other RAMs released this year.
You can say that this RAM is a near high-quality RAM. The first and foremost plus that this RAM provides you with is the rapid speed and responsiveness as compared to the ones provided by ordinary DDR4 gaming RAMs.
Besides, if you are into memory performance of computing devices, this make-up of this RAM is completely favorable for your hobby.
Now we don't want to get very pedantic, but this is something very technical and stated by the manufacturer, so we thought it would make sense to say that this RAM has a memory architecture with four channels that maximize data rates.
Also, they have taken care of the heating issue with a camo heat spreader. Now we already had one gaming RAM in this list with a heat efficient aluminum casing. We are not sure what material it is made from, but it does come with a heat spreading mechanism/material/casing that enables to use the RAM for a longer time.
2) Corsair Vengeance RGB LED 32GB: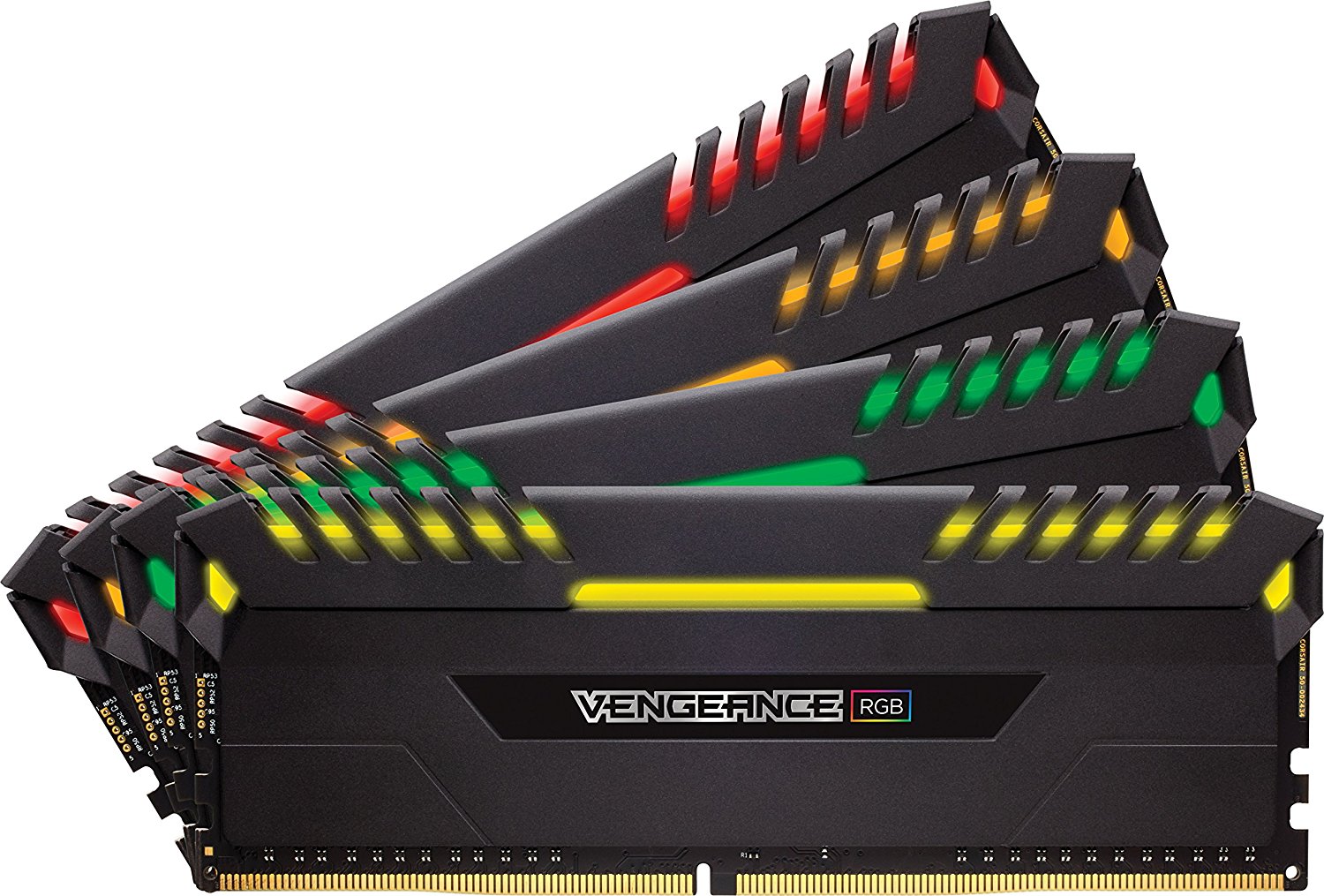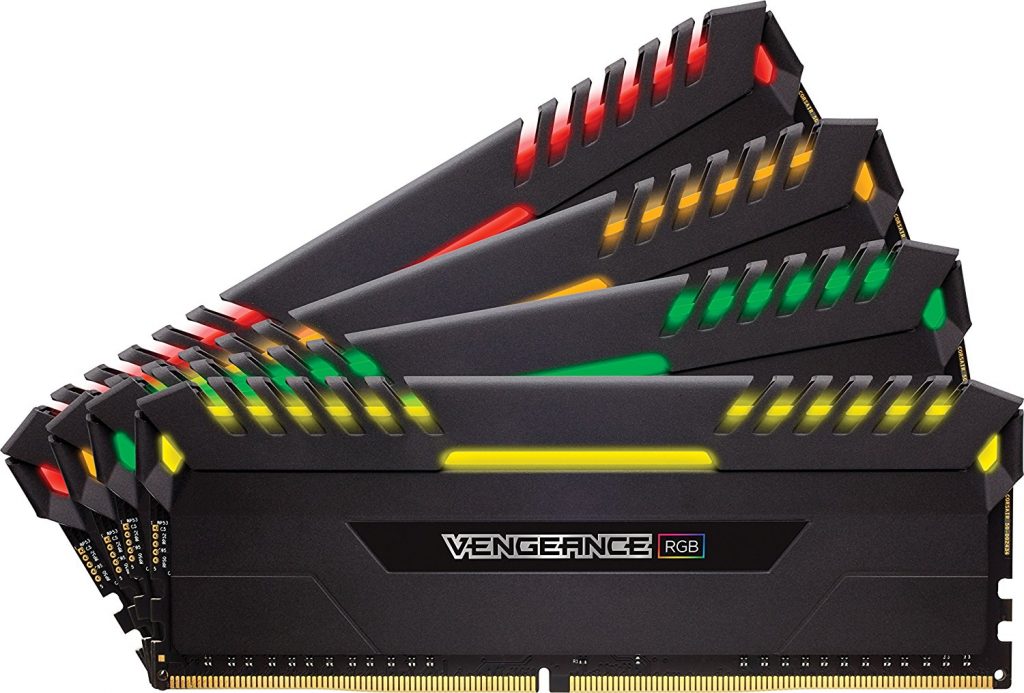 Talking of RAM aesthetics, if gamers want to consider this a thing of its own, the Corsair Vengeance RGB LED, as it says in its name, takes them to a totally new level. It comes equipped with fully programmable lighting effects. So when you setup your gaming station in your 'gaming den,' you can choose what kind of lighting effects your gaming console and platform should have and program them as per their looks, size, and shape.
What's even better is that this RAM enables memory monitoring so that you can check the memory consumption from time to time. Yet, this is not the best it comes with. The RAM can now be integrated with other products from Corsair. So if you have bought a desktop, you can perhaps use it with the desktop and get a better performance out of it compared to what you can get from a normal RAM.
However, RAMs never work standalone, and usually, their functionality is measured in tandem with capabilities of the processors and motherboards they are working with. The Corsair Vengeance works awesome with the latest 100 as well as 200 Series motherboards from Intel.
The RAM can be considered as a prototype for RAMs we will have in the next decade as it is intelligently preprogrammed to select the most reliable and also the maximum overclocking settings so that you can extract the best performance out of them. It is also crafted in a way that it improves the thermal conductivity which actively helps in preventing overheating of the RAM.
With so much to offer with 32 GB capacity, we are sure you must have made a rough guess about the price of this RAM. It costs a whopping $429.99, given that it packs so much punch inside it.
3) G.SKILL Ripjaws Series 8GB:
The gaming RAM literally lives up to its name. No! Don't worry it does not bite or chew, but it certainly does come with the kind of aesthetics that make you look like a total badass gamer. Although this point cannot be packed with a lot of non-existent specs, it is enough to mention that this RAM's aesthetics are really awesome with jaw-like protrusions on the opposite side of the part that you insert in the slots. And therefore it gets such a name from its design.
However, this RAM is not one of those high-spec gaming RAMs that you have read about till now on this list. The RAM is made explicitly for low-end gamers with low-end choices in gaming hardware. Don't get us wrong with this. We don't mean to say that this RAM is for those 'low-ball' gamers who are complete newbies and are in their stages of initiation because they don't know any better.
There are plenty of gamers, passionate, well-seasoned, veterans, who are not into those high-graphic, high-processing required games that also required high-cost and high-maintenance hardware. They are usually looking for gaming hardware that is modest and decent quality but is not so bad that they need to change it from time to time and spend a lot of money on it.
This RAM is kind of made for these types of requirements. Please bear with this, this RAM may sound low-ball, but is still a good product for those who needs are very limited.
Coming to specifications, we will get directly to the technical specs of this product.
Tech Specs:
1) It comes with a low capacity of a mere 4 GB, meant for low tier gaming.
2) Works on a 1.5V of voltage
4) HyperX Predator Black 16GB:
The one biggest specification that defines that RAM is its aluminum body. For those of you who have no idea why should that matter so much to you as a gamer, it has got something to do with performance in the long run and hence sustaining the product for years to come.
So what is it about aluminum that makes it so special that they chose to build a gaming RAM with it? It is nothing but the heat-related properties of aluminum that make it such a worthy and reliable base material to build electronic components and casing.
Aluminum is capable of spreading the heat more evenly as compared to other materials from which they make RAMs (and other computer components). It has generally been found that high heat hastens the damage of electronic components and especially when their casing is not made from a heat -efficient material. The studies were contrasted with cases where they used aluminum casings. The aluminum casings were much more capable of spreading the generated heat evenly.
Your HyperX Predator Black is covered with an aluminum casing which enables a more efficient spread of heat and hence stands a far lower chance of getting deteriorated over the same amount of time. Therefore, if you are someone who is looking for a RAM that they can use for a longer time, we suggest you go for the HyperX Predator.
Tech Specs:
1) 16 GB capacity gives you full-power performance for most of the latest games on most of the latest platforms.
2) Also, it comes with profiles that are inbuilt for Intel XMP and hence optimized for latest chips by Intel.
3) Comes with a 2666MHz clock speed
What is even better about this gaming RAM is that it comes with a lifetime warranty. So even if you face any trouble with the RAM at all, you can still get it replaced or repaired, of course, under certain preconditions.
5) Mushkin REDLINE Series – DDR4 DRAM – 16GB (2x8GB):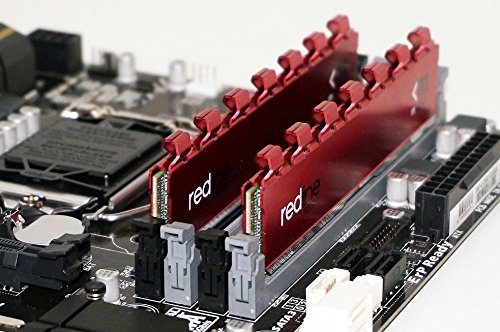 One of the main complaints avid gamers have against gaming RAMs is that they are not versatile and cannot be used across platforms even when they all support the same RAM type (DDR4s or DDR3s). We bring you the Mushkin REDLINE series DDR4 DRAM with two 8 GB slots and works in all the DDR4-2666 supporting platforms. This is the ultimate 'one size fits all' gaming RAM you have been looking for so many years. What's more exciting is that this gaming platform is totally compatible with AMD's Ryzen including DDR4-2666 platforms, as mentioned earlier.
However, the most significant spec of this gaming RAM is that it is specially made for high-performance gaming that requires a lot of processing power and gamers play for longer hours. Also, this RAM is specially made for gamers who are into overclocking their RAMs.
Technical Specs:
It is a 288 pin RAM and consumes a low 1.2 V of voltage
Timings: 16-17-17-36
The RAM comes with a guaranteed lifetime warranty and free technical support from the team.
Many gamers usually complain that whenever their RAMs fail (or any other component fails for that matter), they don't receive much support from the technical team of the makers. Now, as accurate as this belief is, it is frustrating when you have to shell out so much money over a gaming RAM and then you are left out in the cold.
Fortunately, with a lifetime warranty and support, the tech team behind this RAM assures you that any technical issue you might face while operating the RAM within the logical boundaries will be immediately solved.
If you are more concerned about the post-sales support from the manufacturer, we suggest you go for the Mushkin REDLINE series DDR4 DRAM.
6) Viper Elite Series DDR4 16GB (2 x 8GB):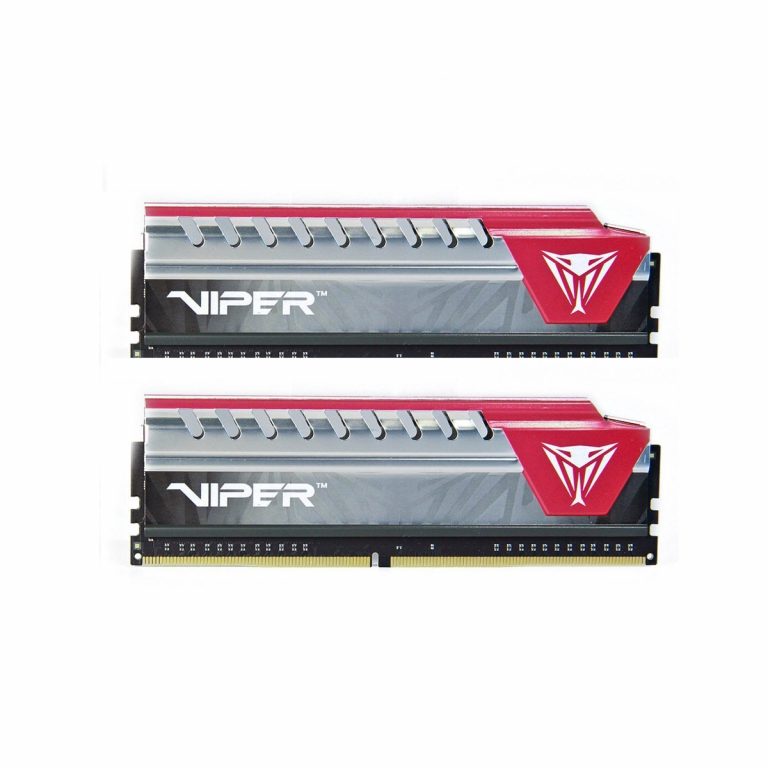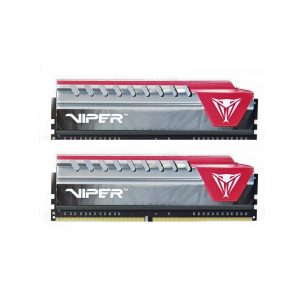 This gaming RAM is an ultimate aesthetic eye-candy if you are one of those gamers who want to feel that feeling of being a hardcore player who has been into gaming and has moved a long way from pawning the 'n00bs' as they say in gaming parlance.
There is absolutely nothing wrong with selecting a RAM for its aesthetics since they also make a part of the gaming experience and give it a wholesome feel that you are living the gaming life to its full potential. And this RAM, for that matter, suits that type of preference with its black sides and a red top that make it look like a total bad ass.
However, the aesthetics of the RAM should also match its performance. Only then, it would make sense to have a cool looking gaming RAM.
The Viper Elite Series DDR4 is one of the hot properties in gaming for the year 2017 and comes with two 8 GB slots that give it a combined 16 GB power.
Tech Specs: It comes with 288 pins and with a clock speed of 3000 MHz which is quite decent for a gaming RAM.
The only downside that comes with this RAM is that you do not get any kind of warranty or post-sales support for an indefinite amount of time like you have for the one above. Therefore, if you are one of those gamers who think in the long run, rather than 'living in the now' (or 'gaming' to be more appropriate), we would suggest you can exclude this RAM from your own personal list if you have any.
You get all this for a price of $147.99 which is not that bad considering you get no warranties on this product.
Concluding Words:
These were the six best gaming RAMs for 2017. Well, it is up to you to decide whether these really are the best or not. A good gaming RAM is a combination of cost-effectiveness and lifespan of its functioning. This list contains mostly the high-end gaming RAMs, but also contains one that is a low-end one.
Choosing a gaming RAM completely depends upon your needs and how you prioritize your gaming. Those of you who can afford expensive gaming RAMS, should certainly look into the higher brackets and then check the specifications of the individual RAMs.
What matters the most is that a gaming RAM should have heat efficient material covering its surface so that the dispensation of heat is even and efficient. Such RAMs are usually a bit expensivebut nonetheless, come with a longer lifespan than most of the other gaming RAMs.
Also, ensure that you go for cross-platform and inter-compatible RAMs that would work across platforms and would always deliver the desired performance as it is expected. Most importantly, this includes compatibility with the processors as well as the motherboards.
No matter whatever RAM you go for always making sure that you get a spec sheet with it online which can help you compare the prices and specs so that you are able to make the near right choice before you are going to shell those $$.
Also, talking about warranties, it is not an absolute rule that your gaming RAMs should always come with lifetime warranties. However, you can never say what might cause your RAM to get damaged. Even a small power fluctuation can damage any component of your gaming setup. Therefore, you should always check if the RAM and any other gaming component for that matter come with a lifetime warranty so that you don't have shell a ton of cash to buy another one.
We hope you liked our list and that it helps you choose your gaming RAM. Happy gaming.