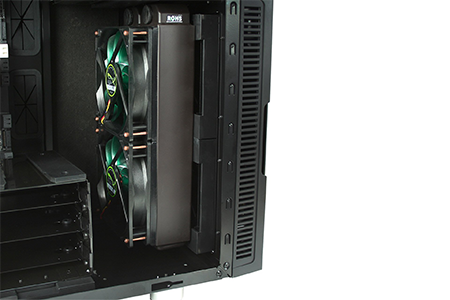 Most people while buying a computer does not pay attention to the computer's cabinet. It's the last important thing to buy while shopping for a new computer unless you are a serious computer geek. Most people while visiting a dealer see whether the case of equipment meets his/her requirements and buys it.
However, there are plenty of things here, which can go wrong. There are a lot of stuff that you should consider before the purchase of a proper computer case. For instance, size and space of drive bays. How spacious is the cabinet? And much more. Below we give you small buying tips that you must see to buy a spacious case for your CPU, at the same time keeping the future installation in mind.

The Best Mid-tower Case for PC:
Each Case has its feature and its own pros and cons. You as a buyer should decide what your requirements are and how much are you willing to spend. Mid-Tower cases range from as little as $50 to as high as $800, but most of the $100 cases fulfill most of the feature and requirement.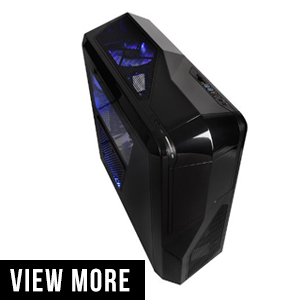 First in our list is NZXT Phantom. It is a mid-size case. It comes in different colors like red, white, black, gray and much more. It also has LED backed fan which looks beautiful without drawing much attention to it.
Price: $95.99 (Black color variant)
Features:
Removable HDD rails to make more space for your graphics card.
If you want to install water cooling system, it has space made for that at the top of the case with 240 mm clearance and dual fan system of 120/140 mm for good air flow
On the front, there is 2 USB 2.0, and 2 USB 3.0 with one audio and one microphone jack for you work purpose.
It has 5.25 inches, and 2.5 inches drive bay for you DVD, hard drives and SSD with screw-less that secures them without the need of screw, making it tool free. There are in total 3 external and 6 internal drive bays available.
You can connect up to 8 fans. Two 120mm fans and one 140mm fan with LED light is provided with the case.
Single 120/140 mm side fan with acrylic window for interior viewing
30-watt 3 step fan control speed
It supports all motherboard size, ATX, micro-ATX as well as mini-ATX.
Pros
Scree-less and removable drive bays
Fan control speed with noise suppression
Three convertible external bays for DVD or Blu-ray
Better cooling and ventilation system
Cons
No radiator in the front panel
Internal fan brackets reduce top space
Verdict:
As an award winner of 2012 as best performance and quality case, you know there is anything much to say. There are six variants of colors available which you can choose from depending on your choice. It is the best on the list and is a perfect product you can go for.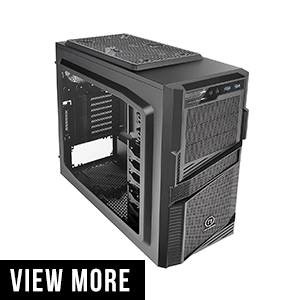 This is a budget gaming mid tower case you can get hold of. It has ample amount of space and also space dedicated for cooling system hardware both internal as well as internal. It has a LED built in fan system and a wide open left panel case for viewing interior components.
Features:
Full black outside body structure and perforated panel design to bring in more space.

It supports all motherboard size, ATX, micro-ATX as well as mini-ATX.

Tool free design drive bay. It comes with three 5.25 inches external drive bays and six 3.5/2.5 hybrid internal drive bays for hard disk and SSD

This case has 8 + 1 PCI-E expansion slot for the graphics card which supports both 4-way ATI CrossFireXTM and NvidiaSLITM.

If you are thinking of adding Cooling system hardware, the G42 has a clearance of 38mm for the cooling system. It can support up to 240mm water cooling system radiator.

G42 comes with 2 fans, one at the front and other at the rear. You can add three more fans if you want to. All of which are 120mm

In the front, you have two USB 3.0 ports and one audio and one microphone jack.
Pros
Ample space even for a mid-tower case

Built in LED rear fan and acrylic left panel for interior viewing


Tool-free and easy handling of drive bay tray.
Cons
Cooling system inflow and outflow hose might not match with inbuilt ones

Default fans do not have speed control hardware
Verdict:

Built for the gamers with a budget cut. It has vast space, and removable drive bay tray for graphics card makes it the most ideal. If you do not like the LED, it is removable which makes it ideal for both quite as well as stylish looking users.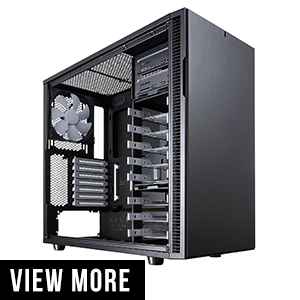 Fractal design to define R5 is conceived as silent and compact case, with expansive air and liquid cooling support. Made with material with sound absorbing quality. A perfect for silent gamer
Features:
Design for reducing noise. The chassis is made from noise-reducing materials which can absorb sound.

Optimally built to make sure there is no compromise in the ventilation system and there is enough air flow with excellent fan system.

It comes with two 140mm fans; one is on the rear and other on the side.

Dedicated space for cooling system, which house radiator up to 420 mm in the top and 360 mm in the front

Total of eight 3.5 or 2.5 inches driver bay which you can use to house both Hard drive and SSD.


It has two USB 3.0 and two USB 2.0 with one audio and microphone jack at the front.
Pros
Thick sheet metal

Heavy insulated with Asphalt damped panels

Dust proof design

Excellent cooling system with low noise ratio

Spacious
Verdict:
A very well design and large case. It has noise reduction materials but at the same time proper ventilation for the better cooling system. If you a gamer who wants a silent PC case then this is the one for you. Though is a bit bulky, its nothing to what it offers.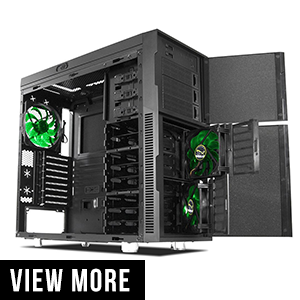 Another mid tower PC case which is made to reduce noise but has a good ventilation system for air flow and dust removal filters. A simple yet a high-grade case with a competitive price with other mid tower cases.
Features:
Almost noiseless with 0.7 mm thick noise absorbing materials. It also has special coated bitumen and foam coated to reduce both airflow and structural noise.
Good ventilation system with tool free dust filter access to clean the dust filters.
This case can support upto six fans. It comes with two 120mm fans at the front and one 140 mm fan at the read. It also comes with fan controller for all the six fans
It supports all the three size of the motherboard, that is, ATX, micro-ATX, and mini-ATX.
It supports liquid cooler with 240mm in the front and 140mm to 240 mm on the top.
It comes with three 5.25 inches drive bay externals with one optional 3.5 inches driver bay. Eight 2.5/3.25 inches internal drive bay. All this drive is tool free, and all of them except the external drive bay can be uncoupled and detached to create more space
The case Comes with eight expansion slots and four water hose at the rear of the case for the cooling system.
Pros
Noise dampening material

Good ventilation system for airflow

Detachable drive bay

Fan controller with dust filter to make dust proof case

Spacious and good wire management
Cons
Mounting GPU might cause problem due to alignment of the expansion slot with driver bay tray

Heavy
Verdict:

One of the best case in the deep silence series, a simplistic yet a unique case. It has won many awards over the year with its specially coated materials for noise-damping and well-tuned fan system. The case can be modified according to your need and is one the best mid-size case you can go for.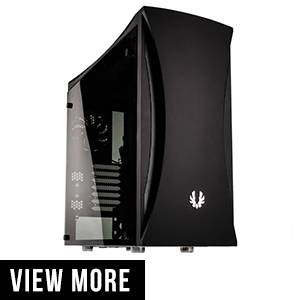 Aurora chassis comes in two variant midnight black and arctic white. It is simple yet elegant with water cooling system with elegant theme curved line and glass window with RGB chroma control for elegant and mesmerizing look.
Features:
Very high quality tempered glass. The entire left panel is made out of it

RGB chroma control and SSD RGB LED lights which are not foundin this price range

Supports all mother board size, that is ATX, mini-ATX, and micro-ATX

Front panel host two USB 3.0 and two USB 2.0 with one audio and microphone jack.

Fans are included for Cool air flow

Rear has seven extra expansion storages and two water hose inlet and outlet.

It has 2 internal slots for HDD and 2 slots for SDD. It does not have external drive bay hence you cannot add DVD or any external driver.
Pros
One of the cheap case with tempered glass

Four USB port

Integrated RGB light controller

Supports dual radiator
Cons
Front dust filter cannot be cleaned without using compressed air

No external drive bay, no DVD or Blu-ray player supported
Verdict:

The case has an inferior dust management system. It does not include enough include fans and no drive bay for DVD or any external drive. Overall,it is spacious and durable. If you can do not need any such features mentioned before, then you can go for it.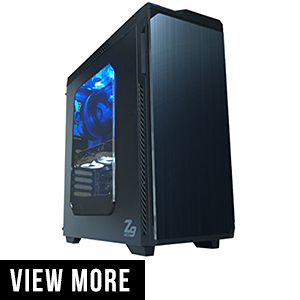 One of the budget mid tower case. It has some noise dampening case and large space to assemble any company of your like. It has a good ventilation system for good air flow. The front panel which can be open to access the optical drive like DVD or Blu-ray drive acts as a noise suppressor from both the air noise and structural noise. It is one case that you might love which has a meager budget.
Features:
Supports dual radiator one at the top and one in the front for maximum cool air

The Case comes with five pre-installed fans of which two 140mm in the front and two 120 mm LED fans at the top and one 120mm fan at the rear for maximum cooling of Heat generated by the hardware

It supports all size of the motherboard, that is, ATX, micro-ATX, and mini-ATX.

On the front, you have two USB 3.0, two USB 2.0 and one audio and microphone jack

It supports 2 external 5.25 / 3.25 / 2.5drive bay for DVD or Blu-ray drive, HDD or even SDD. Two internal 2.5 SSD bay and two internal 3.25 HDD bay.

At the rear, there are7 expansion slots and different hardware like GPU.
Pros
Budget gaming case

Supports dual fan radiator

The case comes with 5 fans

Excellent noise dampening
Cons
ATA style power fan power
Verdict:

A good noise damping with a good ventilation system for maximum cooling effect. Z9 with its excellent price point and unique feature making it the proper value for money product that you should go for.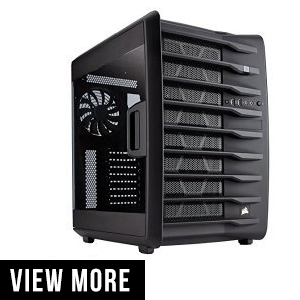 This variant comes with a fan; you also have the option to buy only the case or the case with PSU. It up to you which you decide. The case is the mid tower case with a stunning mesh finished topped with a grilled look. The left panel is made out of plastic and shows the mesmerizing look of the inside of the case. The enormous space allows you to add any number of hardware you want. The SSD and HDD drive bays are separated out in the different compartment to maximize the space.
Features:
Dual chamber design to maximize air flow to cool all the hardware present inside the case

It offers massive internal space. You can move the SSD and HDD to different compartments to maximize the space

Comes with customized Air series AF140L fans which provide the best inflow and outflow of air. It is the best award-winning fan system.

You can add upto three radiators for keeping your hardware chilled down or eight fans of 120mm or 140mm.
Pros
Powerful cooling system

Can support up to three large radiators

Can support motherboard up to E-ATX (biggerthan ATX).
Cons
Noisy

Quite expensive comparing with other mid-tower cases.

No air filter for the two bottom fan.
Verdict:

As a buyer who wants to mount three radiators for keeping the hardware chill, this is the one for you. If you do not want such space, then you should look and decide whether you want or not.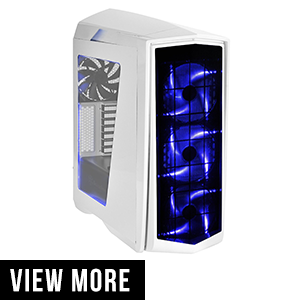 One of the incredible, stunning looking case which grabs our eye instantly. It also comes with another variant which is called tempered glass option. Its left panel is made of tempered glass and is black.
This case has a stunning finish with an oversize mesh finish in the front of LED fans behind it. It gives the feeling of the luxurious case. The interior is spacious to support all the hardware requirement that you want to put in.
Features:
It comes with three stunning looking LED fans at the front side for a mesmerizing look. If you do not want the LED, you can disable it too.

It supports up to 360 mm All in one cooler for your hardware.

It comes with 4-segment LED controller to control the LED brightness and modes

The case also has fan management hub for controlling all the 10 fans that you can install in the case

On the top, you get two USB 3.0 and two USB 2.0 and one audio and microphone jack

It has 7 expansion port which can add hardware like GPU.

Spacious case means you could add radiators for better cooling of the hardware components.
Pros
Excellent cooling feature

Good noise damping feature

LED show off to make it look stunning

Budget case but with a premium finish
Cons
Drive cage is riveted hence cannot be removed

LED light factory installed, not even RGB LED, with a singlecolor
Verdict:

The recommended mid tower case. It is one of the stunning looking with incredible features, one of the top performance case that you should go for.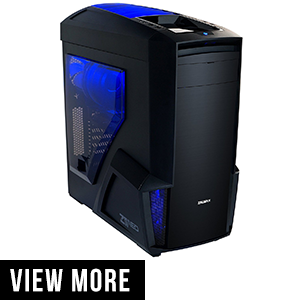 Zalman Z11 Neo offers a dynamic look and feels with brushed aluminum style front door to SFX designed top air vents. The air vents are designed to maximize heat removal with two air intake fans and three outlet fans. This mid tower case aims to eliminate much of the noise generated by the fans and hardware. Enormous space is provided to add any hardware like up to 8 HDD to dual radiator AIO cooler system.
Features:
It supports ATX and micro-ATX sized motherboard

This case has PCI – E / AGP card compatibility with supported size up to 400 mm

The case has stunning like SFX design which helps in better air flow. It has different outlet for air inlet and outlet

On the top Z11, Neo has two USB 3.0, two USB 2.0 and one audio and one microphone jack.

The case has three external 5.25 drive bay for DVD and Blu-ray drive and six internal 3.25 and 2.5 drive bay for Hard drive and SSD. These drive bay are not tool free, and you need screws and screw driver to tighten them together.

It has seven expansion slots for adding additional hardware like GPU with the motherboard with size up to 420 mm.

It also supports dual radiator with AIO (All in one) cooler

It comes with five 120 mm fan ventilation system for better air flow and to remove the heat generated; the case has two front intake fans for cooling air inflow and three fans for an outlet the hot air; two are placed at the two and one in the rear.

The front has a dust filter where the two-intake fan is present, for dust proof case.

Pros
Front panel ports

Made from the best quality material that provides rigidity

Materials are designed and structured in such as way

One of the best ventilation system available with stunning two ways for air inlet and outlet
Cons
Break away slots are covered
Verdict:

Z11 Neo offers one of the best quality features at a reasonable price range. From brush aluminum style, frontal door to SFX style top air vents gives a premium and dynamic look. However, the breakaway slots covers do not do the justice this case required. However, overall, it is one of the premium looking mid tower case that you will find on this budget.
PC Case Buyer's Guide:

PC cases are not just a box of metal. Since you are planning to buy just one for an extended period, this cover will not change it, as long as you use your CPU. So it is mandatory to buy a good case in order to make your PC look good and be productive at the same time.So, let us go through these few buying guides which buzz around a PC chassis buyer, which will help you buy the best mid tower case for your PC.
Size does matters: The first thing to look is the size that you need for your PC case. Bigger means more room for air flow, more space to add drives and easier to add a graphics card. Generally, the size of PC cases comes in the form of "Full Tower" "Mid Tower" and "mini-tower." As the name suggests, full-tower being the biggest and mini-tower being the smallest. Motherboard size: While buying you need to note what is the size of the motherboard you are hosting. Each case has space for different motherboard size. Motherboard size is classified in order as:
ATX which is the most common motherboard with size 12×9.6 inches
Micro-ATX, with size up to 9.6×9.6 inches and can be smaller than that
Mini-ITX with 6.7×6.7 inches
Check the board, if you buy a small case then after putting the board, there will be little or no space left to fill other components. So, it's better to check the specs before buying.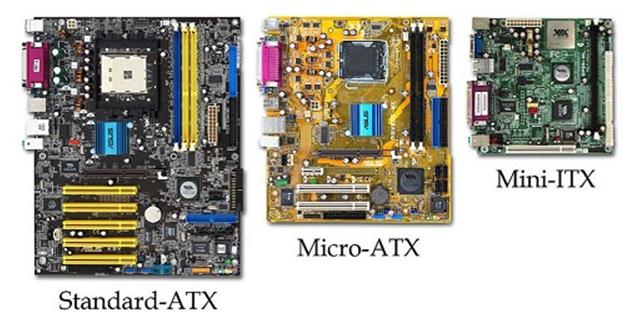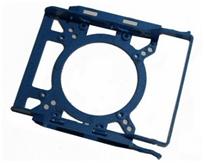 Drive Bays: Larger the case, more driver bays are present. You generally use driver bays to allocate DVD or Blu-ray drive, hard drive and SSD. The more drive bays are present the more you can allocate. Of course, you cannot allocate everything to the same drive. Each component has different dimensions to get allocated.
5.25 inches drive bay. This is the wide one which is used to attach DVD or Blu-ray drive. You can also connect Fan to it if you want.
 3.5 inches for an external card reader or to attach your hard disk.
Some individual cases come with 2.5 inches dive bay for SSD but become very common now a day.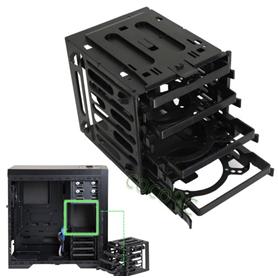 Most of the mid tower cases come with three to four 5.25 inches drive bays, and two to three 3.5 inches drive bays for the hard disk. 2.5 inches Drive bay are rare but are found in many. Though 3.5 inches drive bay, do have the facility to attach SSD, but some case does come with 2.5 drive bay dedicated only to SSD.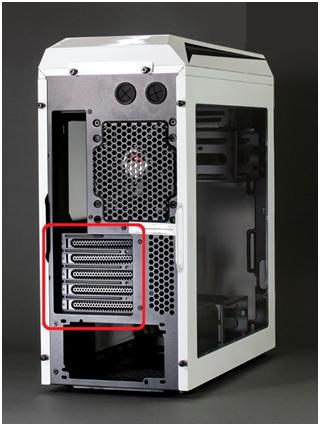 Expansion slots: Most full tower and mid tower cases come with 10 Expansion slots. These are important if you are planning to add multiple graphics card. Also, if you add any additional hardware, then these expansion slots come very usefully. Check your requirement with the Case spec before buying.
Front panel ports: Numerous jacks and ports come in the front of the case. Be sure to check that you have them all. Other than open hatch to insert DVD's, there are numerous ports like two to three USB 2.0 and USB 3.0. Audio and microphone jacks should also be present. Current day cases also come with card reader port.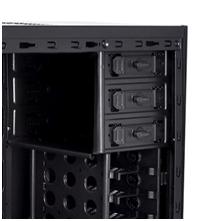 Tools free: Gone are the days where you need to have a screwdriver while assembling your computer. These days most of the Cases come with hand screw nuts and bolt which do not need a screwdriver (expect motherboard). The drive bay also comes with clamps and lever which can mount these drives without the need of screw.
PSU Mount: PSU or the power supply unit, which provides power to your entire CPU. They are usually mounted on the top or at the bottom. Though it directly does not affect chassis as most cases do support the average size of the power unit. There are units which might require small PSU. Do check the specification of your PSU and your case.
Fan Mount: Some case comes with the fan mounted. While others have fan mount space, where you can attach the fan to make better ventilation system. There is a variation of fan available starting with 80mm, 92mm, 120mm, 140mm, and 200mm. Most cases support 120mm and 140mm but, be sure to check before buying. Some screws come with the case to screw the fan in the pre-drilled socket. Also, check how many fan mounts do you want in the case. Every case has a different number of available fan mount.
Additional Features: Other than the above basic buying requirement, you might opt for some fancy requirement as LED RGB colors, whether you want a plastic case to view its content, illuminated fan mount. If you are planning on using the liquid cooling system, see whether you have space to install the cooling hardware inside or outside, which depends on the case, if it is outside you will be having water-cooling inflow and outflow hose to pass the liquid.
Now that you know what to look for before buying your mid tower case for your computer, here we are listing the top 10 best mid-tower case you can think of buying.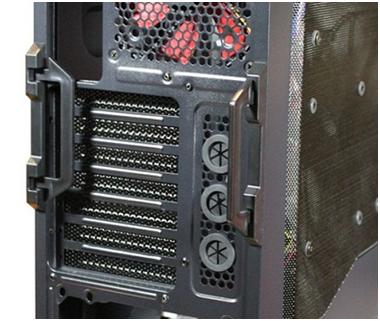 Conclusion:

As said earlier, each case has its own sets of pros and cons. While most of them might look the same, each of them is different in functionality and are made for multiple uses.So, it is up to you to choose your best pick, based on the buying guide and what type of hardware you need, you can choose your favorite mid tower case.
If you liked this article and it helped you in deciding the mid tower case you want, please do share it with others so they could also get the required help from it.