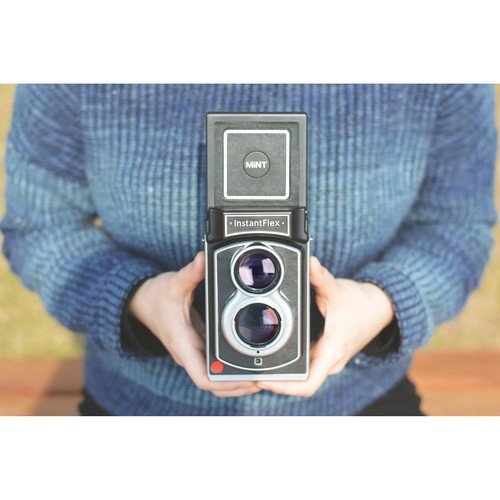 Polaroid- the word came from Polarize + Old = Polaroid. Which just means a camera that captures still and provide an instant hard copy, now it is also known as Instant Camera. Earlier, it was invented in 1923 first and then commercial one in 1943 in New York. In that period instant cameras were very famous in the name of Polaroids, used for business purpose mostly including fashion section. Back then before digital photography, they were known to be best modern devices. Later, digital cameras have taken over them. These are tiny gadgets in the world of photography. In past 30 years, digital photography boomed in the market.
Currently, these products again came in the market showing a sign of fun, retro cameras. They have appeared with better technology considering the demand of the public, with better shutter speed, ISO, and quality persuading instant result, like what crowd seeks. Covering the age from a little kid to old people, Polaroid kept itself up.
Despite the world with amazing technology people still, prefer hard copy as the token of love and what more we can expect if camera provides instant pictures.
Polaroid Camera BUYING GUIDE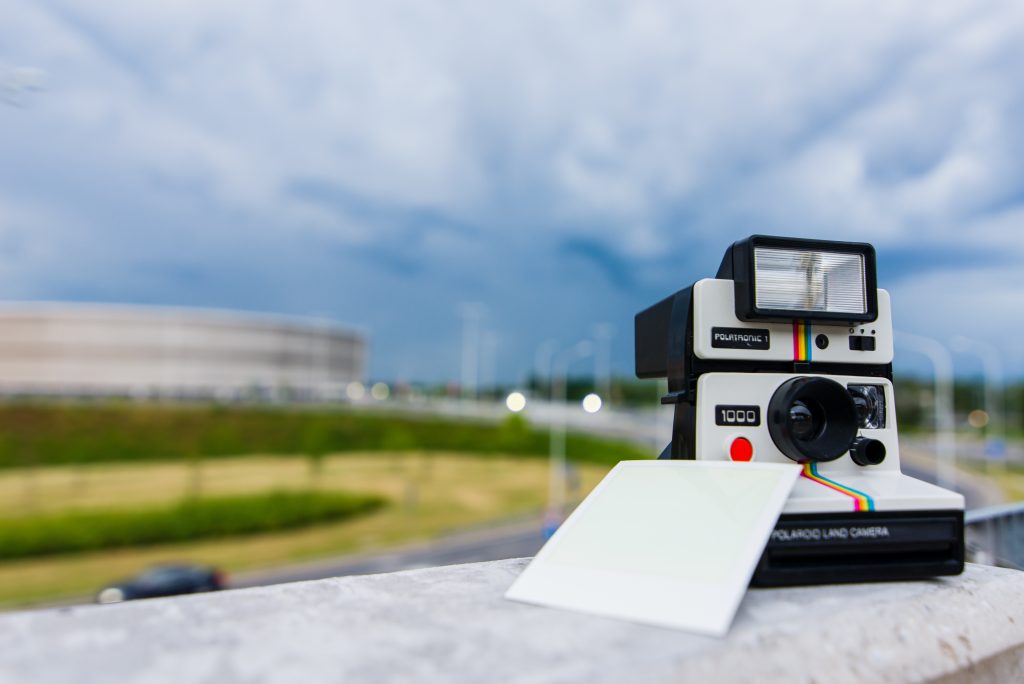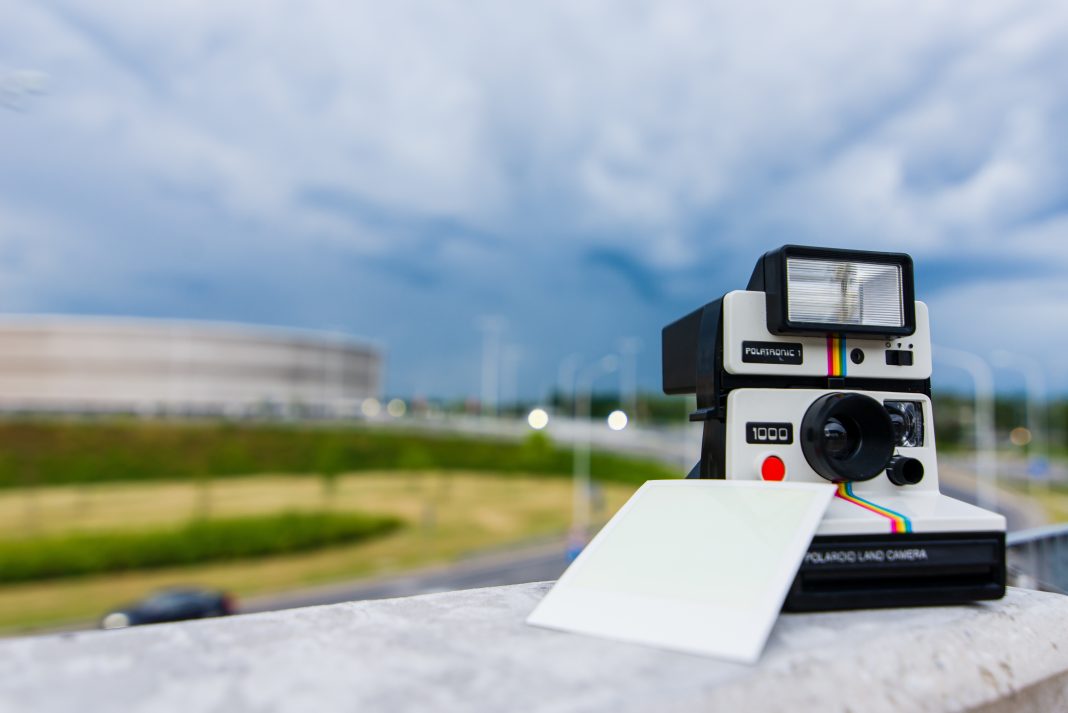 PURPOSE BEHIND GUIDE
As charm of Polaroid cameras is slightly less than digital cameras, so it is hard to find the best instant camera for people who love it as there are many varieties available. Many factors need to get noticed while buying instant cameras. Buying guide will help you with features and specifications.
FEATURES to Look While Buying POLAROIDS
Nowadays Polaroid cameras are full featured cameras like digital ones. They offer the option to shoot, review and print them according to one's choice.
DISPLAY: They have got colored TFT LCD to review the recorded image/video and even have the option in the menu setting to rotate upto 90 degrees in left or right. However, the video does not have this option in these cameras
MULTIPLE IMAGE LAYOUT:  They even provide the option to combine three images into one, and we can make album according to our requirements.
SATURATION AND SHARPNESS:  There is always an option available to manage sharpness and saturation before printing it.
WHITE BALANCE: White balance of the images are easy to adjust the picture setting. 
DYNAMIC LIGHTING: It allows you to change under exposed and over exposed area.
BLUR EFFECTS: Blur effects could get well managed according to the desires of the image in the setting.
ISO: The base of the picture lies here in with maintaining iso in light and dark mode. According to lights pattern, we can manage Iso in the setting. Polaroids have ISO100, ISO200, ISO400
RED EYE EFFECT: Red eye correction option is available in some polaroids while pictures with flash or other lights create red eye errors. The camera got this feature to cure this error as these gadgets meant to release instant hard copy
EV COMPENSATION:  Exposure can be managed of each image in settings or automatically in auto mode.
VIDEO MODE: The device allows you to capture video of 1280 x 720-pixel resolution. It is also up with a feature of voice memo recording upto 30 seconds in an image.
SELF TIME: A necessary option which takes the shot automatically with the set time
STORAGE: We Can store it in internal storage as well as SDHC card and sd cards
Above are given the features of an instant camera, now what foremost we need to see is which is best according to our need, if you just have started with the photography then you should seek for regular budget and user-friendly camera.
If you are too much into photography and find for the best quality films instant, then you should watch out for budget and get a good quality film releasing one. Whose films battery packs are easily available and small issues does not hinder your work.
List of Best Instant Cameras or Polaroid Camera
Out of all the technology of photography world, some hipsters look after cool gadgets. If you are the one, who is just tired of transferring data here and there, and look for an instant hard copy of the memory you created then you should know, the particular product got love and appreciation by almost all.
Nonetheless, it is the most suggested instant camera. The cute toy looks, weights 460g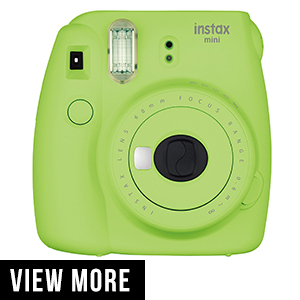 and slimmer than other Instax models.
The model is designed in such a unique way that it gives a modern look with retro techniques. The best part of the camera is it automatically determines the brightness level required. Due to user-friendly features, the camera itself guide you well about corresponding with lights and focus. It is delineated in such a way that a small child can get friendly with it.
Specifications
PICTURE SIZE: 62 X 46MM
SHUTTER SPEED: 1/60 SEC
EXPOSURE CONTROL: manual switching system (exposure meter is with LED indicator)
ISO: 800
FLASH: constant firing flash
DIMENSIONS: 116mm x 118.3mm x 68.2mm
FILE FORMAT: 2.1 x 3.4″
BATTERY: 2 AA 1.5v alkaline batteries
Some of the key features are:
You can take high key photos
The product got Instagram-filters
Automatic exposer measurement setting
Improved clarity
Affordable in price
Available in many attractive colors
Cons
Slow in printing sometimes
The film is not easily available
Picture quality is not that much satisfactory
Mini 90 Neo classic is up with new technology with the double exposure setting. The particular device got incredible retro performance with many creative tools. It is developed under the NEO CLASSIC concept.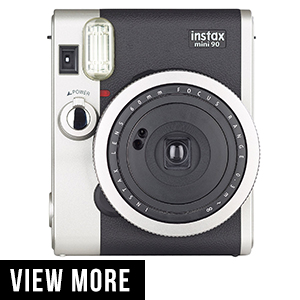 The device is fierce competition to Polaroids. It holds multiple features with stunning picture quality, and it is effortless and convenient to use. The device is pocket sized, so it is comfortable to carry while traveling. For those who have great craze of instant pictures with high quality and didn't feel like spending much then this is cool option to go for.
The gadget has breathtaking new features which include the Macro mode, kids mode, double exposure mode, party mode, high-performance flash, brightness control, landscape mode, bulb exposure mode, double exposure mode and a tripod socket also, which can be a help in passport pictures, portraits and still photos.
Specifications
PICTURE SIZE: 62 X 42MM
SHUTTER SPEED: 1/400 SEC
EXPOSURE CONTROL: automatic
ISO: 800
FLASH: built in
DIMENSIONS: 113.4mm x 91.9mm x 57.2mm
FILE SIZE: 86mm x 54mm
BATTERY: last about 10 films, rechargeable battery
WEIGHT: 296g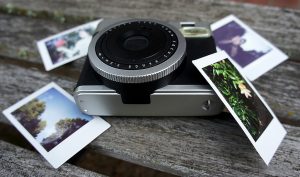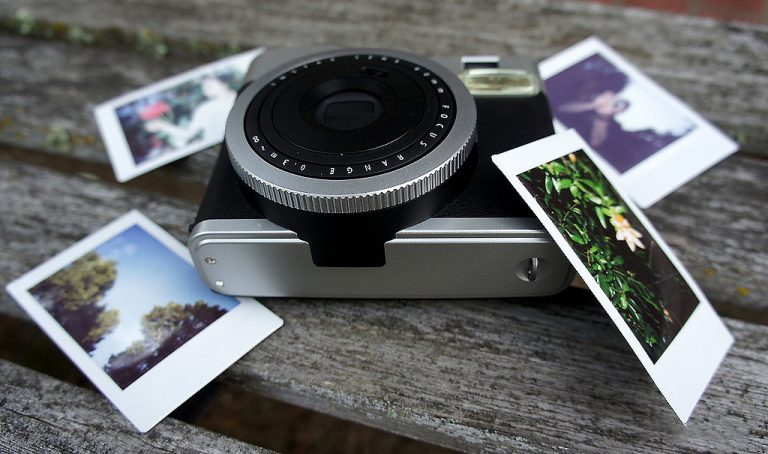 Some of the key features are:
Automatically detects and adjust the brightness
Balances the amount of flash and shutter speed to optimize picture quality
Double exposure mode which can press on 2 images and a single one by pressing shutter twice.
Due to bulb mode feature, it is easy to click light trails
The portable camera easily fits in the pocket
Displays colorful and sharp images
Cons
The zoom lens is not available, so for the far objects, you need  to go closer
The black and white film is not available
3. POLAROID PIC-300 ($64.99 Mordanized classic Camera)
Another amazing device, if you are a huge fan of Polaroids, you should give this device a try. The team has developed and modernized this old classic camera with added on amazing features.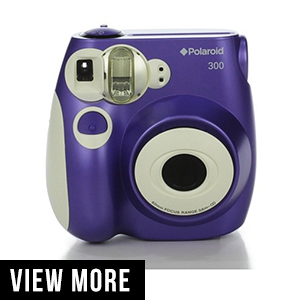 Furthermore, this is an analog camera which is available in 4 different colors and up with providing high-quality instant pictures within a minute and that too particular retro form one. The gadget has 4 scene mode, and you can opt your mode according to the place where you will click.
Built in with automatic flash which allows getting the proper click in little lights. Also, even the people who want their business card photo print, this camera is an excellent option as it is very light weight and easy to carry anywhere.
Adding on to it battery life is pretty amazing as it draws out the battery from film cartridge. Although, not effective as compare to Fujifilm 90. However, Overall a good product to buy.
Specifications
PICTURE SIZE: 61 X 45MM
SHUTTER SPEED: 1/60 SEC
EXPOSURE CONTROL: auto focus
ISO: 800
FLASH: built in
DIMENSIONS: 119.4mm x 121.5mm x 70.5mm
FILE FORMAT: 2.1 x 3.4″
WEIGHT: 314 grams
Some of the key features are:
Takes instant business card size pictures
Manual exposure compensation
Four scene helps you in capturing any light image dark, bright, etc.
Auto flash in low lights with electronic shutter speed 1/60 sec
Breathtaking picture quality with retro reflection
Easy to use the camera and develops the image within a minute.
Small and compact size which is to carry anywhere
Best for portraits
Cons
Motions pictures are blurry
Useful in landscape mode
Snap touch is designed considering the demands of current time. The camera does not take out films, but as it is a digital camera, it prints instant pictures by the zero ink (ZINK) technology, which is cheaper than film packs.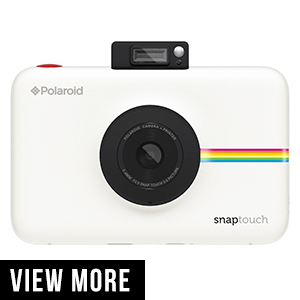 Adding on, it has many different and unusual features than to any other instant camera. Quality is fantastic within the price.The only demerit which can lower this Polaroid is the flash problem. You cannot click pictures in dark otherwise perfect instant camera for any light resistant area.
The product is a medley of amazing features which includes having slot of micro sd card, and that creates a way to transfer it to PC, and you do not even need smartphones to do sharing stuff on Instagram or Social Media. The camera got many good options including Bluetooth facility too. The camera is too much fun to use for instant picture lover.
Gadget got very sleek and compact design, which is attractive and trendy if you want to show off some real photographic device.
Specifications
PICTURE SIZE: 2 x 3.'
SHUTTER SPEED: 1/60 sec
LENS: 60MM
ISO: 800
FLASH: NO FLASH
DIMENSIONS: 14.6 x 4.7 x 2.7″
FILE FORMAT: 2.1 x 3.4″
WEIGHT: 307 grams
 Some of the key features are:
Built in printer
Sleek and fabulous looks
Touchscreen display
ZINK technology
3 color modes black n white, colored and vintage sepia
13 megapixel CMOS
Bluetooth compatibility
Selfie timer/selfie mirror
Full HD recording video capabilities
Easy navigation
Cons
The camera does not have the flash option, so useless in dark lights
The battery is chargeable not user replaceable.
For crazy instant photo lovers, you have got something versatile, the camera is so perfect and developed with amazing simple shooting modes. Adding on, it has extra lenses for different clicks. The magnificent and sleek look benefits it to the extreme, the box shaped device got a lot in it. It is in best companion list if we talk about instant cameras.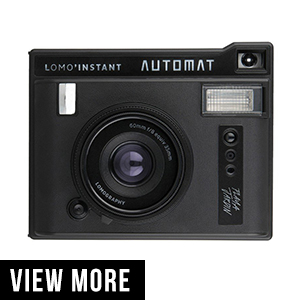 Whether it is low light, dim light or bright, it automatically adjusts the exposure and helps you in getting good clicks.
Moreover, the unique thing about it is the flash setting. The device got the flash of green yellow and white light, that again helps you in clicking perfect one. We can play it with remote also for selfies. Known to be the toy camera but this fully automatic device is something different in the photography world.
Specifications
EXPOSURE AREA: 62MM x 46MM
SHUTTER SPEED: 8S-1/250 (AUTO SHOOTING MODE)
DIMENSIONS: 4.8 x 3.9 x 2.9″
TYPE: ANALOG
VIEW FINDER: OPTICAL
APERTURE: f/8, f/22
BUILT IN FLASH: flash on and off mode, automatic flash
REMOTE CONTROL: 2 Censors, transmission by infrared
WEIGHT: 360 grams
 Some of the key features are:
2 shooting modes
Fully automatic
Super straight forward zone focusing
Unlimited multiple exposures
Lens Cap doubles as shutter speed
Interchangeable color gels
Automatic electronic flash
Exposure compensation control
Tripod mount
Digital exposure counter
Wide angle/fisheye/splitzer compatible
best for landscape and travel
Cons
It is hard to frame image as viewfinder remains off
CR2 battery pack. (hard to find)
this one is for the people who are at advanced stage of photography and want instant pictures. This one is probably best. Including the features, it allows clicking more artistic images with shifting aperture and shutter speed. Bulb mode is available for shooting upto 10 seconds.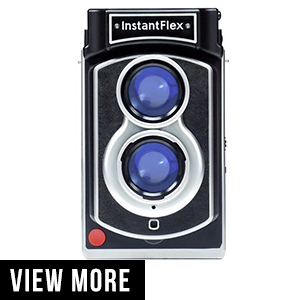 The particular camera is yet again a great masterpiece in itself developed and enhanced under experts and proved to the best as what this camera can present. No, other instant cameras can do that. From the quality of images to quality of print, everything is pretty amazing. Every picture is beautifully detailed.
This camera is the biggest upgrade in instant camera line. The viewfinder is entirely different from others which use bright, anti-glare coated glass that capitulates the images world. Overall, the product is breathtaking one.
Specifications
EXPOSURE CONTROL: EV +/-1
SHUTTER SPEED: 1- 1/500 sec
DIMENSIONS: 141MM x 102MM x 80.2MM
VIEW FINDER: Fresnel Super Viewfinder
APERTURE: f/5.6, f/16, f/8, f/22
BUILT IN FLASH: automatic light emission control, electronic flash
WEIGHT: 525 grams
WARRANTY: 2 years from company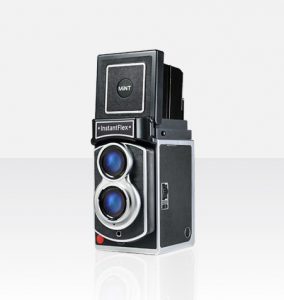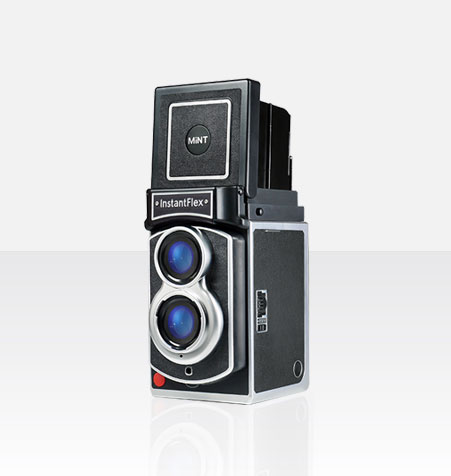 Some of the key features are:
High build quality
Bright viewfinder
Easy and instructive controls
Versatile aperture, f/5.6 with largest one in the instant camera
Only camera with focusing screen
Integrated light meter
Twin lens reflex Design
Developed magnifier and exposure control
Built in flash
Cons
Metering could be little crooked at times
Magnifier could be little loose to work with
If you are crazy about the instant camera, this is the Polaroid you would want to get your hands on.
From beginner to Advance, I can bet, there would be no one who will not appreciate it. It has got the two new auto modes and a manual mode. The base of the camera is from almost 40 years old Polaroid SX-70. The team is completely replacing the motherboard so that it won't show any issues, to give it the taste of vintage yet modernized.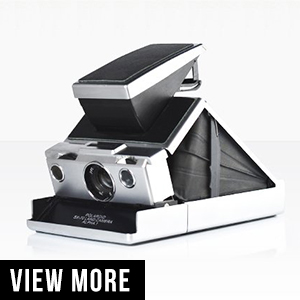 The 2 new auto modes are A100 and A600 which are sketched out for low and high ISO films to create out auto exposure thingy accurate. this lets the image be beautiful and detailed.
Again, it is so true that the price is the real high of the device, but the product is worthy if you go out for purchasing it as it is latest and most developed and technoid up till date.
Specifications
PICTURE SIZE: 78.74 x 78.74mm
EXPOSURE CONTROL: Manual, long exposure, and automatic modes
ISO: ISO100 AND ISO600
SHUTTER SPEED: 1 to 1/2000 sec
VIEW FINDER: SLR viewfinder with split image circle focusing
APERTURE: f/8 fixed on manual, f/8 to f/22 on auto mode
BUILT IN FLASH: automatic light emission control, electronic flash
WEIGHT: 600 grams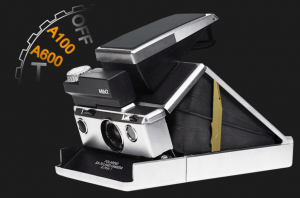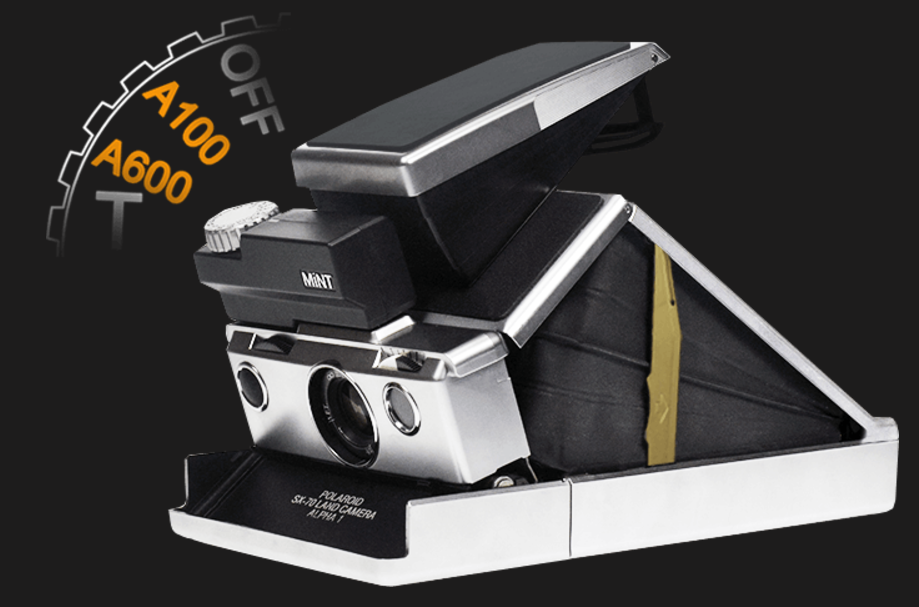 Some of the key features are:
Accepts impossible SX70 and 600 films
SLR viewfinder
Split image circle focusing
manual control
2 auto modes
very portable
Stylish and classic in design
Built in time machine module
Cons
No double exposure mode
No timer
Expensive
No integrated flash
8. LEICA SOFORT (Over $229, Photos Celebrating life)
The Leica Sofort is all suitable time camera, and this box shaped product is Leica's cheapest and only instant camera product, but way too costly in Polaroids. But, it provides astonishing retro look and durability.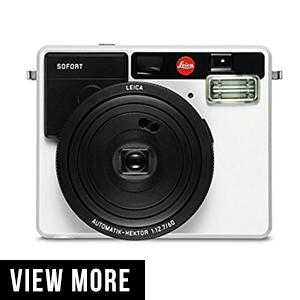 The camera is built with very creative and expressive features. The people who love photography and are conscious about looks, this one is for them, the product is available in 3 new colors mint, orange, and white.
With the variety of manual control in settings, Leica's this product is crazily intuitive, but what we need to take care of is the focusing distance, exposure compensation, and flash. Other settings and modes which are available are:
macro
bulb
automatic
selfie timer
party
sports
action, etc..
Specifications
PICTURE FORMAT: 62 x 46mm
SHUTTER SPEED:  1/8 – 1/400 second (mechanical shutter)
LENS: focal length/ aperture 60mm f/12.7
EXPOSURE CONTROL: Exposure mode time automatic
ISO: 800
FLASH: built in electronic flash
DIMENSIONS: 124 x 94 x 58
WEIGHT: 309 grams (without battery)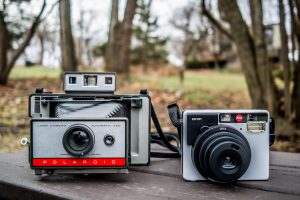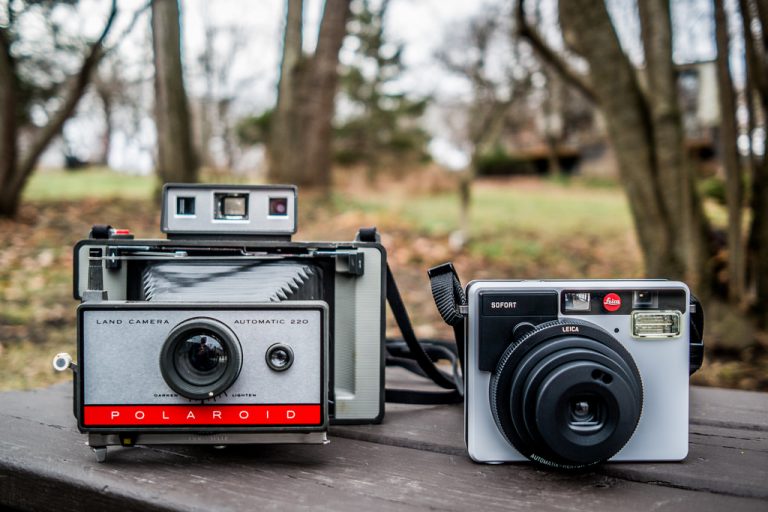 Some of the key features are:
Small and Compact
Attractive in looks
Fully Retro modernized pattern
Favorably used in the landscape style
It has sufficient amount of control
Durable battery
Sharp and fresh look images
Cons
0 manual controls
Image balancing issues rarely
CONCLUSION
Basically, all cameras have something spicy in them. It is we, who need to figure out what to go and purchase. Just look after the resources near you and budget that camera comes under your budget and accessories are easily available near to you or not. If your needs are still not meeting here, just don't worry. There are plenty of cameras available in the market.
May'be if they can sound best to you. Moreover, if you're just crazy over printing instant, you can get mobile printer as well. So, have a happy instant camera shopping. Choose well. 🙂