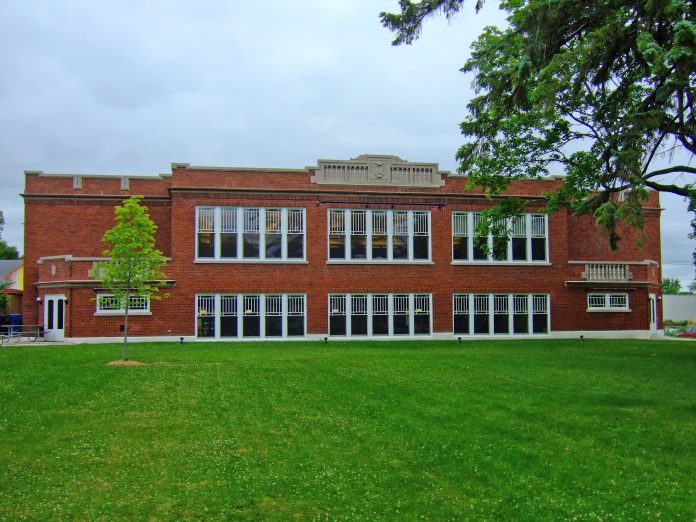 Days are gone where you have to manage tons of papers as a School Head management. As the internet is flourishing at its best, so is the mind-set of people in making their work more compact and easy to handle. The Internet has made work very easy, more manageable to handle large work very easily, and most important of it is that the information store saves and secure. If you are looking to handle your school management more economically and safely you have come to the right place. Here we will discuss all the software that you can use for your School management.
What is School Management Software?

School management software is an application or a program that helps to handle all related administration work of the school without the need for paper and pen. It brings in the functionality of all departments like Library, Accounts, staff, and others to work together in accord without affecting others. Each department has its own access which will prevent it from accessing other functions which are not meant for them.
What is expected from School Management Software?

As said above, school management software is the overall management work at one place. It handles everything from different records, accounts, to the staff and it is working. Here we list some of the features that are expected in all school management software.
Student Management: This system keeps track of all the details of the student information, their registration, and their background information

Staff management:  Just like student management this holds the record of all the working staff from teachers to accounts their names, what work they do. If there is any level of promotion like Professor and others are all recorded and managed here.

Academic management:  This holds the performance record of all the students that are present in the school. Records could be hold class wise or by year wise. It keeps tracks how the student is performing and its progress. It can also have a module attached to it to generate reports of each student on his performing for a particular year.


Fees and Account Management:  All money transaction is recorded here. This includes the fee paid by each student to the monthly salary to be paid to the staff and teacher.


Inventory Management:  This controls all the stationery needed and keeps them up to the required stock. These include papers for examination. Books and copies for the students if the school supplies them.


Library management:  This manages all aspect of the library. It holds the records of what books are present in the library. Which books have been borrowed by which person and the duration of it.


Attendance management:  This module has two parts, one the attendance of the staff and other is the attendance of the students. Each of student attendance is divided among their class he or she is in and per year wise.
There are other features like online fee payment where you can pay any students to feel sitting at home, time table of each year stating all the important dates of events and their notification alerts to name a few.
Now that we know what to look for let's get into some of the best software that is present for you to use them.
Best School Management Software:

Each school management software has its own advantage and disadvantage. Some software you get with few specialized modules while others which cover more general. It all comes down to how you are willing to use, how much money you want to invest into these software and how significant data will it handle.
Below we will list some of the software that is available for free and some which you need to pay for to use all its features.
Best Free School Management Software

First, we will talk about free available school management software that you can avail. Note that as it is free, it may not be that good as it has some features that you can access. The rest are locked which you can access if you pay for it. However, it's nice to go and try out the free version and familiar it before investing any money.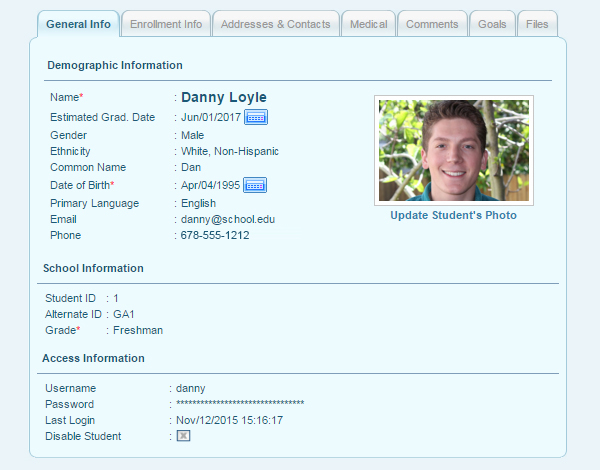 OpenSIS has both free and paid version. The free version is called OpenSIS CE, the community version, which can be used for small or medium sized school or institute. This version was made for those school which faced difficulty in handling student's administrative software and data analytics.
Features:
You can create a student customized demographic information and keep track of all its records
Manage attendance of the students per period or per day and get a detail report on the student attendance
Create goals and see the progress made by the students
Upload unlimited documents for student study reference, assessment, and homework
Internal messaging and emailing among the users of the software that is all student and teachers that are enrolled
Create a time table and schedule of what to do throughout the day
Manage the marks and progress made by the students and generate an academic report based on that.
It also has a parental portal which the parents can login to view their children demographic information, attendance, their academic performance, their discipline and much more.
Control who can view which information by making user permission.
Can view and make a year performance of the school and view them. No need for any third-party software, this software generated it based on that year performance and data
Pros
Free version has substantial features to support any small or medium educational Institute
Have parent portal for the parents to keep track of their children
It has integrated Moodle LMS which you can add to it by paying a small amount, which helps in managing information about student, teacher, and staff quite easily.
Cons
The free version does not come with financial management. You need the paid version for that
Some feature like class portal is missing from free version
To manage free version, you need IT professional to maintain it.
– – – – – – – – – – – – – – – – – – – – – – – – – – – – – – – – – – – – – – – – – – – – – –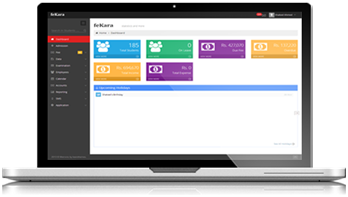 Fekara is a school management software which provides all the management as well as academic work for any school or any educational institute. It gets inspiration from the University of Al-Karauine in Fes, Morocco, which has been spreading knowledge for more than two century. Its main motto is spread learning every without differentiating based on gender, class or the condition from where the students are from.
Features:
It is web based application, so can be accessed from anywhere and from any device provided it has an active Internet connection
It has internal messaging system, which can be sent to the users who are using the system
It has only admin and teacher login page for the Basic version.
It has modules to manage incomes and expenditure. Fee management is not provided for the free version.
Student related information like student admission, attendance and his performance throughout the period is all recorded and tracked.
All information is divided based on coursed and batch. The student's information comes from the course and batch they are admitted to.
The free version has a basic time table which holds all the important dates of the event.
Pros
Free pro version for non-profit institutes
Free initial installation
Takes a minimum of 5 minutes to start using.
Very simple to use and operate
Cons
Free is available for those institute with almost 50 students and 5teachers
You get 1GB of cloud storage space
10 GB of Bandwidth per month to use the software
You get a basic version only; some features are not available.
– – – – – – – – – – – – – – – – – – – – – – – – – – – – – – – – – – – – – – – – – – – – – –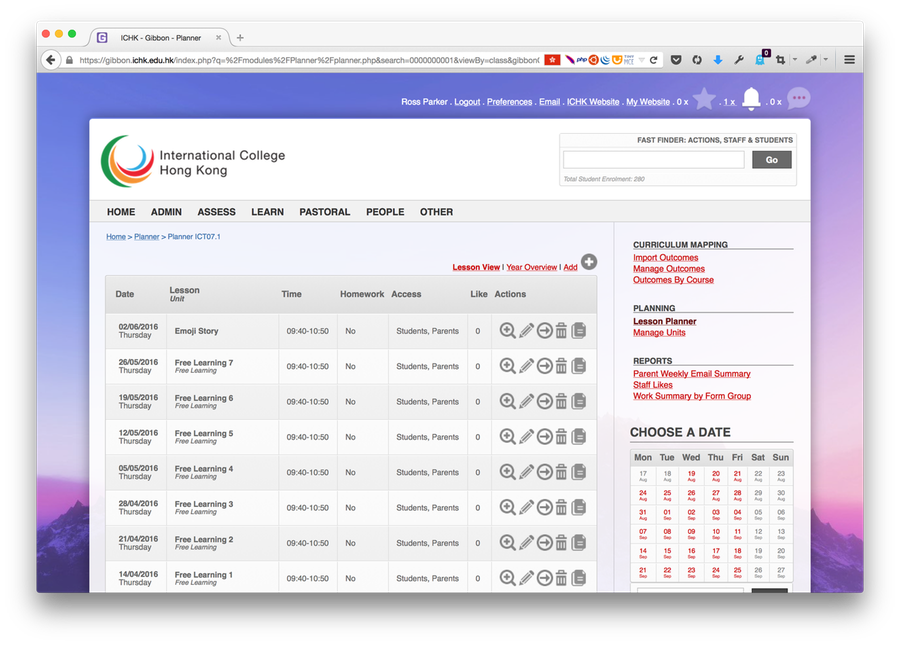 Gibbon is completely free, open source school management system. It is created by different people and teacher who has offered for free of cost. It not only deals with school management system but also provides services and tools for teacher and students.
Features:
Create a planner with a topic to discuss, create homework and assessment and share it with students and parents online.
Create yourown timetable and link it with the school time table to see where you need to be and what is happing in the school
Create individual study plan for specific students who need special care for on a particular topic.
Access details based on the details so that related people could view and share the information
Library management, control the inventory which lists all the book available, who has borrowed it and the date of borrow.
Track the assessment and performance of each student individually, their performance, and the attendance
Detail information about every student, teachers, and staffs.
Create groups to chat, message and share study materials
Manage financial conditions by tracking all the income and expenditure. Track all the fees made by students
Different admin to look and control the software like system admin, school admin to name a few.
Pros
Clean user interface
It is flexible, extensible and flexible
Covers all the features of school management system from academic to the management
Provides for teaching tools and assessment for teacher, students, and parents.
Cons
There is no support system.
You need to have your own server to store and maintain it.
– – – – – – – – – – – – – – – – – – – – – – – – – – – – – – – – – – – – – – – – – – – – – –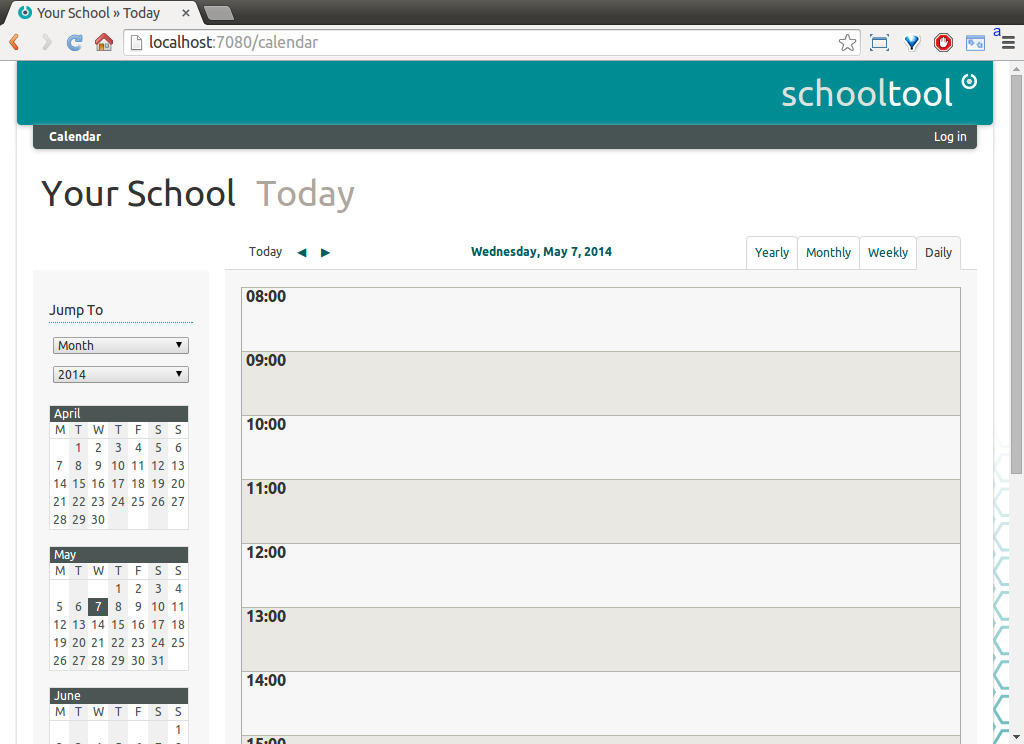 Another cloud based open source school management system that you can use. It has strong support for translation, localization and automated development and updates via Ubuntu Linux installer and package management system.
Features:
You can customize the fields of demographics and other data for student, teachers and other management staffs.
Store information about student, teacher and other staffs
Create excel style sheet for every class and departments having information about students' performance, their attendance. You can download them and also use them to track the performance of each student
Have tools to help teacher make assessment, plans to teach on the topics and make graphical reports based on student performance
Create time table for teachers and student. You can also create personal calendars which are kept private to the individual only.
Create goals and track the progress of every student based on that goals.
Pros
Completely free and open source
Tools to help teachers deliver their topic better
Track students' performance
Generate graphical reports on student performance and attendance.
Cons
You need to have hardware or virtual server to handle Ubuntu
It's more of a tool made to help student and teacher. There is no provision to Human resource and financial management which you have to depend on another source to use it
They have limited or no support system.
– – – – – – – – – – – – – – – – – – – – – – – – – – – – – – – – – – – – – – – – – – – – – –
The Best Paid School Management Software

Now that we looked at some of the free software, let's look at some of the best paid School Management Softwares. Since you are paying for the so be sure to check all the alternatives and choose the best which suits your need. Also, use the demo or the trial version before paying for the software.
It has both free and paid version. The free version is called OpenSIS CE, the community version, which can be used for small or medium sized school or institute. This version was made for those school which faced difficulty in handling student's administrative software and data analytics.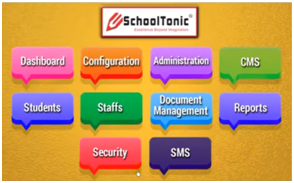 This is a web based school management software, thus making it software independent. It also has a mobile app for both IOS and Android to make it accessible. It is perfect for small start-up schools which have very few students and staff. It is made based on the idea of entire paperless administration all are managed online where data are stored in cloud server and can be accessed from everywhere provided you have the right credentials to access it.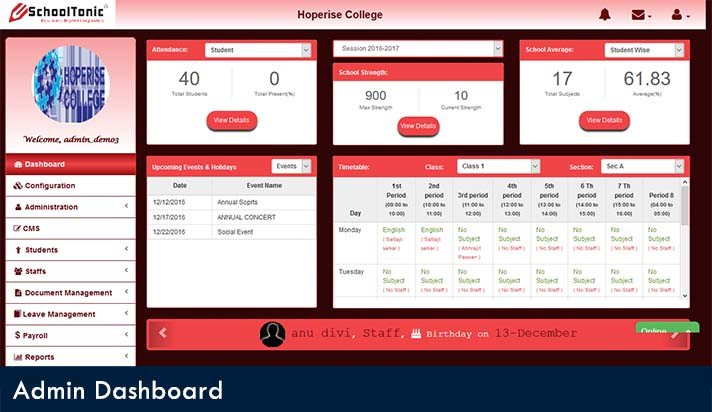 Features:
It has an SMS alert, which can send a notification to students, teachers, and staffs. You can send SMS to any individual or multiple people. You can use provided template or custom template of the SMS to be sent.
It has admin facility where you can access any information about anyone. You can update, delete or modify any of those data provided you have admin privileges.
For regular users like students, teachers, and staffs you will be able to access only those portion which you have access to.
It has daily attendance by which attendance of the students and teachers could be taken. Later it is converted into tables depicting attendants per month.
Fee Allocation and collection can also be done through this software. You can pay either through the web or use their mobile app. It supports payment as SAAS and can use online wallet depending on the customization.
Other academic features like storing students' performance and generating report cards based on it.
Pros
Provides all the features for free of cost
No Hardware dependent as it is web application
Mobile support for both iOS and Android

Suitable for Start-up or small institution
Cons
Free support is provided for 30 students and 5 staff, cannot be used for large Institute
Does not provide any storage, you have to take care of it.
For the free version, you are not provided with any customization.
– – – – – – – – – – – – – – – – – – – – – – – – – – – – – – – – – – – – – – – – – – – – – –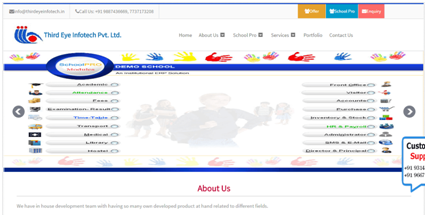 The all in one paid software. It comes to an application which you can download it on your machine and use it. You can store it on your own server and use it on Desktop and also as a mobile app. You just have to pay one time per year. It services over 10 schools throughout India.  Price: ₹ 15,000
Features:
It supports effective communication between teacher and parents using the application itself
It optimizes the resources so that the application could run effectively
As it is installed application, the information gets stored on the site from where you can access it making use of central information
If you are using in India it comes with all the central rules and regulations.
It supports Windows and Android platform so that you could use it both on the computer as well as mobile devices.
It gives pre-and after sales support with regular interval updates for better utilization
Pros
Complete automation
One-time installation
One-time payment
Easy and user-friendly
Cons
On site installation and use, prevents any cloud storage
Supports only Windows OS and Android Platform
– – – – – – – – – – – – – – – – – – – – – – – – – – – – – – – – – – – – – – – – – – – – – –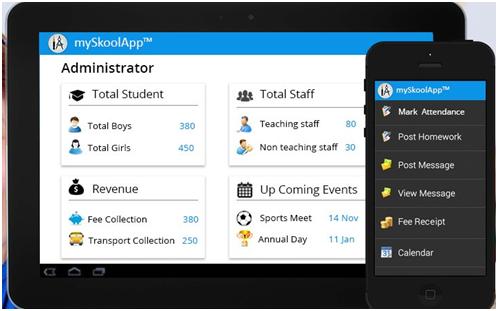 MySkoolApp is a futuristic software and mobile application with progressive tools for student, parents, and teachers with a real-time update of activities happing in the classroom and school campus. It provides all the information and data you need in managingyour everyday school work.
Price: Based on your customization required.
Features:
It is a web based application which can be accessed anywhere provided you have the right credentials
Parents or the caretaker get to know what their children are doing with real time update on what is happeningon the school campus
With this application, teacher can take attendance, give homework and check its progress of the students and also communicate with the student parents about their performance
It gives most preference with the student tracking their attendance, fees, performance in an academic year. Students can log in to view their assignment, grades, and other data
It manages administrativerole like list of all their staff and teachers, their payroll and their attendance
It has fleet management where it keeps track of the transportation used to ferry the students
It has other features like Library management, exam management, and account management.
Pros
Real time update
Direct communication between teachers, principal, and parents
It's both web based and supports iOS and Android

Cloud based service to access it anywhere and from any device
Cons
Sometimes problems with the servers are faced.
– – – – – – – – – – – – – – – – – – – – – – – – – – – – – – – – – – – – – – – – – – – – – –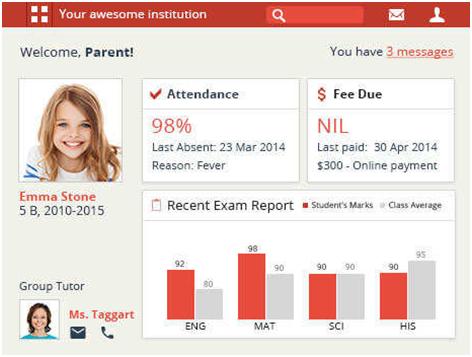 Fedena is all in one school management software which has over 40,000 trusted schools and colleges. It is simple and user-friendly. It has featured in Nasscom Emerge 10, Deloitte Technology Fast 50 to name a few.
Price: ₹ 36,000 (pro), ₹60,000 (Pro plus
Features:
User-friendly dashboard where teachers, student, parents and other staff can log in.
It's web based application, so you don't need to install anything use it from any device and anywhere
Helps for more parent and teacher interaction through the application.
Itstores all the information of every student starting from the admission, how the students perform in the class, the attendance of the student.
Generate academic reports or graphical reports to show the performance of the students
Parent portal displays all the information about the performance, attendance of the student. The parents can also communicate with the teacher.
It supports multi-school where a group of institutesis linked together.

Offers customization as to what you want to use.
Pros
Simple and user-friendly
Cloud bases so need any additional hardware or software
Multi-school or college suppor
Provide all the feature that you need
Cons
Not so good customer service
Does not generate a complete student report
Does not have dedicated mobile app, (you need to access through browser)
– – – – – – – – – – – – – – – – – – – – – – – – – – – – – – – – – – – – – – – – – – – – – –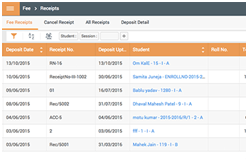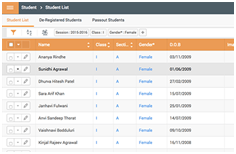 Applane help school and other Institute increase efficiency and performance to deliver high-quality education facility by automating all administrative work in the most efficient way possible. It has seamless modules which are user-friendly and easy to use. It uses Google Cloud to access it anywhere and with any devices.
Price: Based on the customization applied for.
Features:
Manage all the administrative work seamless starting from administrative procedure, maintaining all the details of student, staffs, and teachers
It keeps student's information, their attendance and also the performance
You can generate academic as well the overall performance of each student
It comes with lesson planning module which helps the teacher to prepare for the course in details
Other feature like Financial and library management to take care
It also has alumni management to plan and organize events for the pass out batch and improve the brand of the school
Pros
Software is fast
Easy to use and operate
No hardware dependent as it is cloud based application
Cons
Cloud based so you need to have the active internet to access it all time.
– – – – – – – – – – – – – – – – – – – – – – – – – – – – – – – – – – – – – – – – – – – – – –
This School Management system integrates cross-functional enterprise system driven by an integratedsuite of modules that support the basic internal business process of the Institute. It provides real time view of all the operation that is going on in that Institute.
Price: Based on the customization applied for.
Features:
It is web based application where the details are stored on cloud server
Fee administration simplified with online payment, tracking all the fees made and the payroll of the teachers and staffs, who all are defaulter and managing total income and expenditure
Centralized database with secure and encrypted data to protect them
It removes any redundancy of data and make the management system more efficient
SMS facility with customization layout to send notification to anyone student, teachers or staff
Student portal where the students can see all his information, attendance and performance.
Other features like Library management, examination management, inventory management to name a few
Pros
Real time view
Access from anywhere and at anytime
Bring down administrative cost
Onetime payment
More secure database to protect the data.
Cons
No dedicated mobile platform support. You have to use a browser to use it.
You need active internet connection to use it all the time.
– – – – – – – – – – – – – – – – – – – – – – – – – – – – – – – – – – – – – – – – – – – – – –
Conclusion:
There you go, these are some of the free and paid school management software that you could use. It's recommended that you use the trial version and then buy it if it meets your requirement.If you like this article and was helpful to you, please do share it with others who are interested in using any School management system.