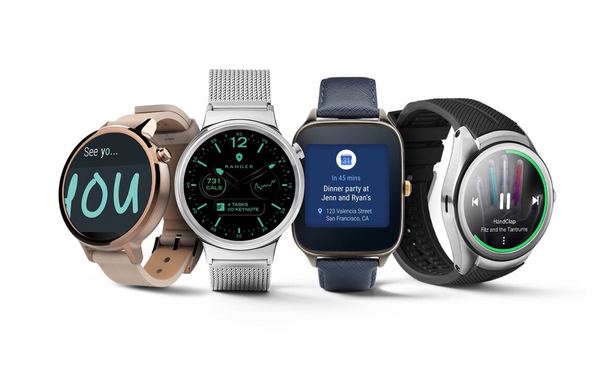 Today, the Indian market is flooding with latest technological innovations and day by day it is gaining more. Everyone loves wearing watches and when it comes to smartwatches who says no. Everyone wants to own the best smartwatch, but today there are hundreds of smart watches are available in the market.
The key benefit it holds is you can attend calls on watches, see emails, social media notifications, and many other activities. We are here on the list of top 10 smart watches to buy as we believe your wrist deserves the best companion.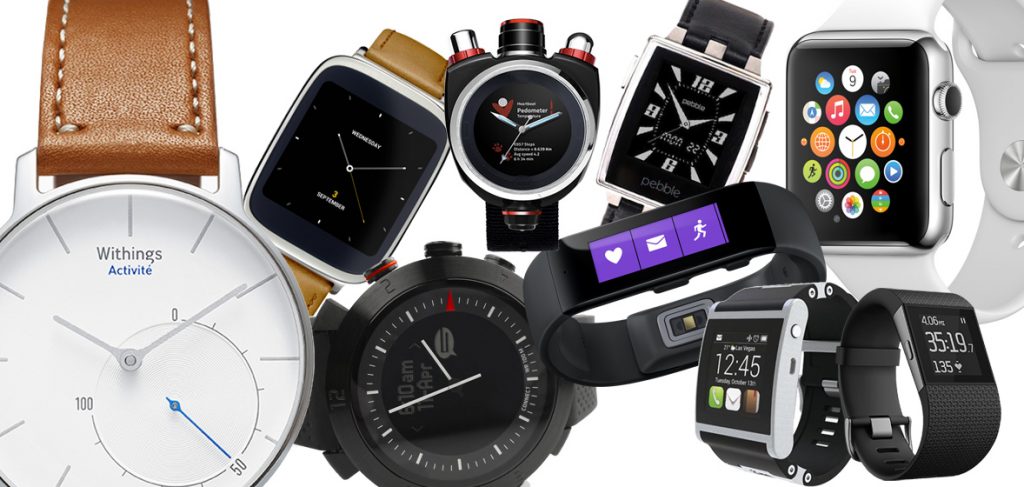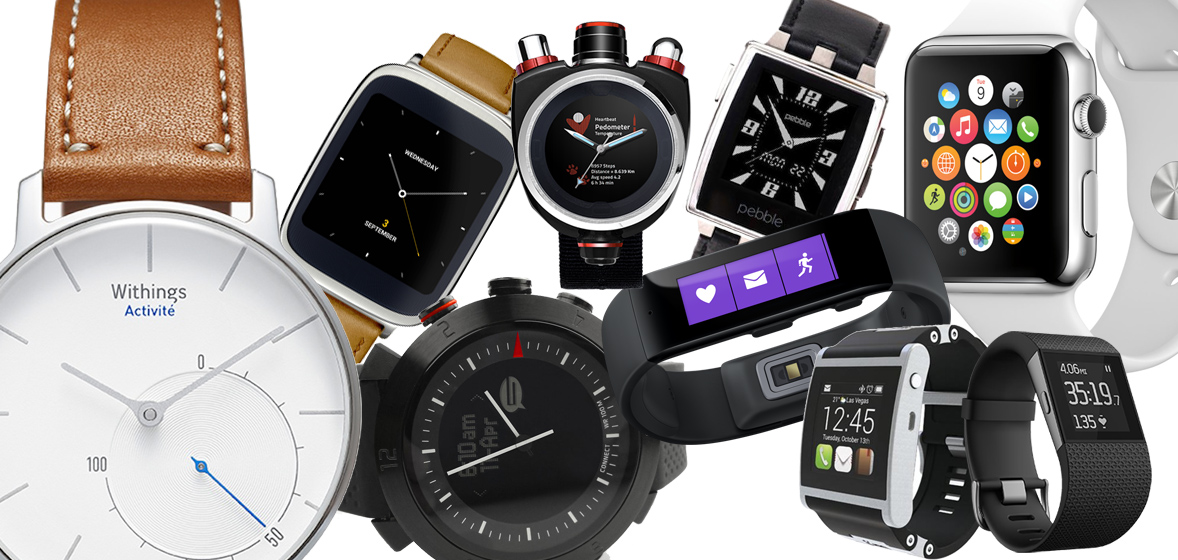 Best Smartwatch in India 2018
| S.No. | Product Name | Compatibality | Price |
| --- | --- | --- | --- |
| 1. | Apple Watch Series 2 | iPhone | |
| 2. | Samsung Gear 3 | Android/iOS | |
| 3. | Fossil Q Marshall | Android/iOS | |
| 4. | Fitbit Blaze | Android/iOS | |
| 5. | Motorola 360 2nd Gen | Android/iOS | |
| 6. | Pebble Time Smartwatch | Android/iOS | |
| 7. | Asus ZenWatch 3 | Android/iOS | |
| 8. | Huawei Watch 2 | Android/iOS | |
| 9. | Samsung Gear S2 | Android/iOS | |
| 10. | ZTE Quartz | Android/iOS | |
Water resistance and Waterproof is not the same thing. There is a huge difference as, if a device is water-resistant then it can resist the penetration of water to some degree but not entirely. If waterproof then not allowing water or any fluid to pass through.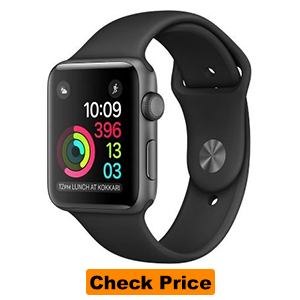 After the great success of the Apple's first Smartwatch Series 1. Apple launched its all-new Apple watch Series 2 in many segments which vary in different sizes and interchangeable bands. The Apple has loaded the watch with some of the most advanced features and functions. Moreover, you can also customize the way you want with different colors and designs.
Now let us take a look at some features of this watch which makes it more attractive. The watch portrays a 1.5-inch display to access the iPhone. The watch can seamlessly run your iPhone apps on the watch, so you can do more even while your phone is in your pocket. Apple Watch connects to your iPhone via Bluetooth 4.0. It can also connect directly to the Internet thanks to 802.11b/g/n Wi-Fi. The internal battery lasts for up to 18 hours of regular use and is chargeable with an included inductive magnetic charger.
The Built-in GPS lets you navigate and get accurate workout data — no phone required. It connects quickly to GPS satellites and records distance, speed, and pace for your workout as well as the route you traveled and whether you are walking, running, or cycling. This Water Resistant Watch Series 2 is designed to withstand the pressure equivalent of being 164-meters underwater (5 ATM), which gives you the freedom to use it with ease even in rain, showers, pools, and oceans at shallow depths. Its internal speaker uses its vibrations to force water out once it is evident of the waves.
The battery gives the backup of 72 hrs (Power Reserve), 48 hrs (Time Piece), 6.5 hrs (Audio Playback), 6.5 hrs (Workout). Apple also offers many sensors like Heart Rate Sensor, Accelerator, and Gyroscope, Ambient light sensor. You can connect your phone via Bluetooth which enables Call Features, Transfer Call, Call Function, Messaging Support, GPS, Email Support all you can do with your watch. All in all this watch gives you all you need in a smartwatch and thus is most popular among them all. The only Drawback it carries is that it only supports iOS platform and is expensive.
Pros
Cons

√ 

Waterproof

⊗ 

Expensive

√ 

Fast Performance

⊗ 

Still Supports iOS only

√ 

Available in wide variety

√ 

Lots of 3rd Party Apps

√ 

Can play Pokemon Go
The Samsung Gear 3 is conceived and designed like a premium Swiss watch and crafted in premium grade steel. The Gear S3 exudes the aura of an elegant piece of art. A lot more features and functions make it more appealing.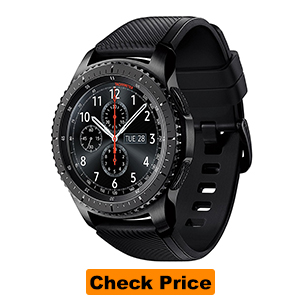 The 1.3-inch Super AMOLED display imitates a look of an actual watch. You can also opt for always on display. The customizable watch UI/dial and the standard 22mm watch straps, the Gear S3 can match to suit any occasion and attire. Samsung Gear 3 compatible with both Android, iOS. Gear S3 is rated vIP68, so it can withstand dust and dirt and expose to 1.5 meters or for up to 30 minutes underwater. However, please be careful is "not suitable for swimming or diving." Gear 3 holds upto 4GB of internal space so you can take your music with you, without carrying the weight of your phone.
The built-in GPS and Sensor will help you to keep track of the daily exercise, and other apps will let you know how to stay fit. Like Apple, Gear S3 does not need any the charging cord thanks to the wireless charging; just set it down on its wireless charging dock, and you are ready to go as it charges fast as well.
Pros
Cons

√ 

Full of Features

⊗ 

Still runs on Tizen

√ 

Recieve calls directly from watch

⊗ 

Less support on 3rd Party Apps

√ 

Use Samsung Pay

⊗ 

Battery can be improved

√ 

Best UI

⊗ 

Buggy iOS connection

√ 

OLED Display
Fossil is well known into the watch market. Now fossil is here with its new flagship smartwatch. The watch has all the features like other Smartwatches but what sets it apart from watches is its "Simplicity." The watch has a beautiful, straightforward design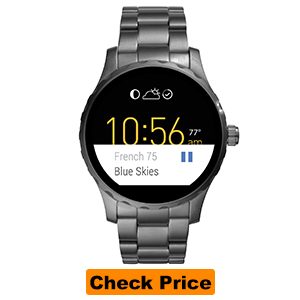 which attracts everyone.
The watch has an excellent display quality; one can easily access its smartphone through this beautifully crafted show. The watch also offers the customizable faces and straps. Once the watch connects to your smartphone, it notifies you of incoming calls, texts, emails, and app updates. By using the built-in microphone and speaker, you can carry with a variety of tasks on your Android smartwatch using just your voice. The watch is compatible with the Android and iOS. It stays charged for up to 1 day (based on usage) with the wireless conductive magnetic charger it is easy to load.
Pros
Cons

√ 

Classic watch-like Design

⊗ 

Poor Display

√ 

Good Battery Life

⊗ 

Performance lags

√ 

Great Built Quality

⊗ 

Expensive

√ 

Android Wear v2.0 Support

⊗ 

No Heart Rate Sensor
Fitbit is the best Smartband company all over the Globe. According to a survey, they have sold the max number of the smart band. Well, without quality and exceptional features it would not be possible. In the series of that Blaze is one of the best Smartwatch you can get from Fitbit. You can easily get fit in style with Fitbit blaze, a smart fitness watch that helps you maximize every workout and every day.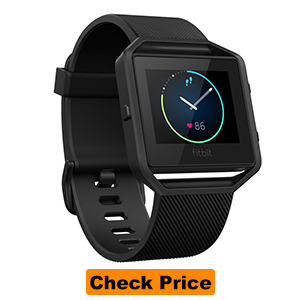 With advanced technology in a versatile design, this revolutionary device is built to track your workouts, monitor your performance stats, and gauge your progress. Pure pulse constant heart rate and multi-sports modes enhance every exercise, while next generation features like connected GPS and fit on your wrist helps you take your fitness to the next level. All day activity and sleep tracking and call, text and calendar notifications help you track your day with ease, and interchangeable band and frames and customization clock face on the hires color touchscreen let you personalize your style for every occasion.
With all this and more, Fitbit blaze has everything you need to reach your goals, packed into one sleek timepiece and is truly for a watch workout and exercise enthusiast. The watch comes in two variant Small and Large there is not much of difference just the Dial Size.
Pros
Cons

√ 

Value for Money

⊗ 

No Built-in GPS

√ 

Great Battery Life
⊗ 

Not Water Resistant

√ 

Heart Rate Monitor
⊗ 

No App Notification Support

 

√ 

Activity Tracking

⊗ 

Laggy Data

√ 

Sleep Tracking

⊗ 

Not at-all good looking
In the smartphone market, where Moto is busy in manufacturing budget smartphones. In the meanwhile, Moto is also doing great in smartwatch market with the upgraded version of the Moto 360 Smartwatch. After the great success of the Moto 360, they have upgraded it and come up with Moto 360(2 Gen) better than the previous one in everything.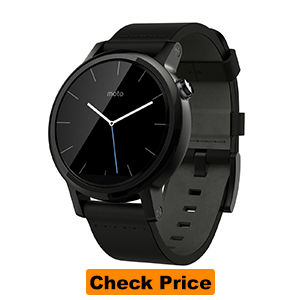 The watch is compatible with Apple iOS v8.2+ smartphones and Android Phones with Android 4.3 or later. You will receive the notification of the messages, news, weather and much more without checking your phone through a backlit LCD with 263 PPI (360 x 325) resolution provides a sharp view, even in dim lighting. The display has a simple interface and clear visuals also.
Moto Body fitness tracker Monitors your steps, calories and heart rate so that you can meet your goals. The display is protected by the Corning Gorilla Glass and also scratch-resistant which creates a durable design. The round design with edge-to-edge glass and a thin bezel offers a stylish look. IP67 water-resistant design Safeguards against moisture. The Bluetooth 4.0 simplifies the device pairing. You can download the app from the App Store it has the 4GB internal storage + 512MB RAM along with the Wi-Fi which helps you to connect to the internet. 
The 300mAh of battery keeps the watch running up to 1.5 days of mixed use. Ambient mode Extends the battery life so that you can enjoy lasting use. You have the option to choose between the 300mAh or 400mAh battery size; it will not be an issue. Voice-activated feature Lets you control the smartwatch simply by speaking.
Pros
Cons

√ 

Beautiful Design
⊗ Disappointing Battery Life

√ 

Comfortable on Wrist
⊗ Support of Android Wear still on Work

√

 Lot of Customizations
⊗ A bit of Expensive

√

 Faster Performance than 1st Gen
⊗ On Dial Sensor Bar looks odd
√ Sharp Display
√ Moto Maker Designs
The Pebble time steel watch is the best smartwatch in the budget. The smartwatch is popular because of the simple design, and its color e-paper display. The color E-paper display enhances the better performance up to 10 days. This smartwatch prepared with the Kickstarter which helps Pebble to made the smartwatch.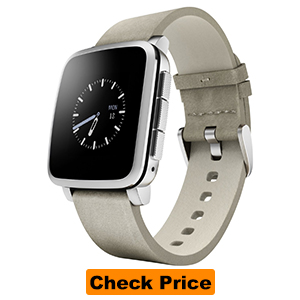 The durable glass lens, and thin, curved ergonomic design you will love wearing Pebble Time anywhere and everywhere. It has a comfortable small curved design for your comfort while wearing. There are thousands of watch face and watch apps to customization and set the one suit your lifestyle. Pebble Time works with both Android and iPhone smartphones. You will get all the notifications on the color e-paper display like calendar events, weather, sports scores, breaking news, missed calls, app alerts. The watch is water resistant upto 30m. Pebble is the best option for the user who is looking for the budget smartwatch.
Pros
Cons

√ 

Display Easily Visible Outdoor
⊗ Screen Lacks Interaction

√ 

Water Resistant
⊗ Limited iOS Functionality

√ 

Impressive Battery life
⊗ Lacks Accuracy in Fitness Apps

√ 

Solid Built
⊗ Lacks Design
Asus also one of the most trusted brands in the market and keeping that in mind Asus launched its latest smartwatch, ZenWatch 3. It is the upgraded version of the Asus Zenwatch 2 which is also compatible with both iPhone and Android. You can get all the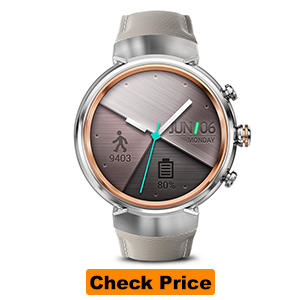 notifications on the 1.39 inch AMOLED Display. It is protected by the Corning Gorilla Glass thus is Scratch Resistant. The screen quality is pretty much attractive even in the daylight content is visible to you.
Asus Smartwatch powered by the Qualcomm Snapdragon Wear 2100 processor. It has the 512 MB RAM, 4 GB ROM. You can install the apps or music and enjoy it anywhere even while you are not connected to the phone. The watch supports the fast charging. Also, it can charge upto 60% with in 15 min. The battery backup is also good with the regular use it can last long for the two days. Asus does not have the heart rate sensor or built-in GPS, but still, it is a beautiful watch to buy.
Pros
Cons

√ 

Smart Design
⊗ No HR Sensor

√ 

Comfortable to wear
⊗ No Built-in GPS

√ 

Fast Charging
⊗ Expensive

√ 

Sharp AMOLED Display
8. Huawei Watch – Best Looking (Our Pick)
Huawei has always been a trusted brand, this company does not only make the smartphones, and has also launched its range of smart watches. Huawei has launched Watch. It is made of scratch-resistant sapphire crystal, cold-forged stainless steel cases, and beautiful leather and stainless steel bands, the Huawei Watch's style is just as advanced as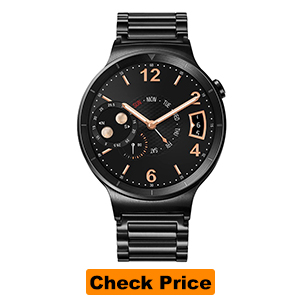 its functional features. It features 1.4-inches entirely circular AMOLED display, 400×400 screen resolution, 286 PPI.
The bracelet is available in different materials and also in several color and style. Battery 300mAh battery and it gives you minimum 30 hours of backup, based on typical usage.
The watch runs on 1.2 GHz Qualcomm Snapdragon 400 processor and 512GB RAM and 4GB ROM. For connectivity, it has Bluetooth BLE 4.1 and WLAN 2.4 GHz. It preloads gyroscope, accelerometer, vibration motor, and heart rate sensor. The watch is compatible with both Android 4.3+ and iOS 8.2+. You can charge it with USB cable and wall plug.
Pros
Cons

√ 

High-end Design
⊗ Really Expensive

√ 

Easily Replaceable Straps
⊗ No Ambient Light Sensor

√ 

Best of all Display
⊗ InAccurate Fitness Sensing

√ 

Out of Box Customizable Faces
√ Great Battery Life
Samsung is a well-reputed and highest gadget manufacturing company in the smartphone industry. Moreover, their last year's smart watch S2 is still very rated and trending among the smart watches. It features a rechargeable battery which can also be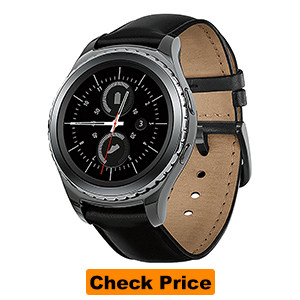 wirelessly charged and has a Super AMOLED Display with 360×360 pixel of resolution.
The watch looks attractive and works on Tizen OS which is designed by Samsung itself. It has 512 MB RAM and 4GB ROM also. You can connect your phone through Bluetooth and NFC. It also has Ultra Power Saving mode to keep your watch charged for some more days. Features like S Health, Running maintains a record of your body data.
Once you connect your phone then you can use Messages, Settings, Music Player, Email, Find My Phone, Voice Memo, and many other essential activities directly from the watch.
Pros
Cons

√ 

Sleek and minimal look
⊗ Limited App Selection

√ 

Great Display
⊗ S-Voice isn't that Impressive

√ 

Water and Dust Resistant
⊗ Connectivity Bugs

√ 

Good Quality Built
⊗ Minor Interface Bugs
√ Intuitive Interface
ZTE being new to the smartwatch market has launched its first watch Quartz; the ZTE Quartz wears a circular display to resemble a traditional timepiece.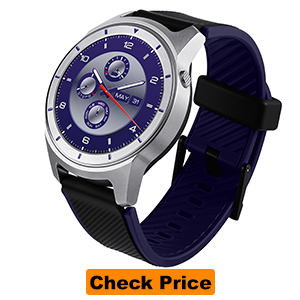 ZTE claims to offer a high tech watch at an affordable price unlike other smart watches in its segment.
With interchangeable wrist bands and customizable watch faces, you can easily change the style according to your look and style. This watch runs on Snapdragon Wear 2100. For connectivity, it has Bluetooth v4.1 and 2.4GHz WiFi to never out of touch with the world.
Some of its specifications are: It sports 1.4-inches AMOLED display, along with Gorilla Glass 3, delivers a vivid viewing experience. It is also IP67 certified which protects from Water and Dust thus provides extra durability. It holds a 500mAh to provide an extended battery life with 768MB of RAM and 4GB of ROM. This latest addition to the list surely gives a tough competition to other watches brands.
This watch is still not available in India but soon will. You can buy from the link given from the US.
Pros
Cons

√ 

Affordable
⊗ Sluggy Performance

√ 

Long-Lasting Battery
⊗ No HR Sensor

√ 

Calls and Texts support
⊗ Bland aesthetic

√ 

Water Resistant
⊗ Heavy
√ Swappable Bands
Conclusion
We have mentioned all the 10 Best Smartwatch in India which can define your personality better. With the eye catching face dials and customizable strap bands these watches can set your look apart from others.
Let us know in the comment section that which smartwatch defines you best. If you have any suggestions another smartwatch or this article, then feel free to share it with us.
Do appreciate our effort by sharing it with your friends and family. Shop Well.