We all know water is the primary source life. No water, no life, every drop of water counts. For every creature, it is the necessity to survive on this earth. Water used for various purposes. The growing scarcity of water and the level of water pollution has made it mandatory to have water purifiers today, to get rid of all kinds of waiter ailments. The technology thus came up with water purifier for purifying polluted water, promising to give safest drinking water free from all sorts of harmful impurities.
Water purifiers are machines that clean and filtrate all kinds of contaminants from water and make it suitable for safe, harmless drinking water. It has inbuilt technology that removes biological contaminants, unwanted chemicals, gasses and suspended solids from contaminated water. The ultimate motto of a water purifier is to produce water that suits for specific purposes.
Water Purifier Buying Guide
There are lots of variety of Water purifier from different brand available in the market. They vary from the price range of Rs 1500 to 30000, but for a user, it is very difficult to select the product that suits his/her requirement and of course value for their money. So we have set some parameters that you should check before buying a water purifier.
Source Of Water:
It is very important to know the source of your water supply, as this will help you to know the type of impurities your water contains or the amount of dissolved salt in your supply. TDS (Total Dissolved Salt) level vary with your supply type and your Filter selection depends upon your TDS level. The major component of TDS are Calcium, Phosphate, Nitrate etc and heavy metals like lead, mercury, Arsenic etc which badly affect your health as our body is not made to digest such substances.
These substances also made the water hard, which is very unfit for drinking, purifiers like RO can easily convert your hard water into soft by removing these hard water components from your water supply.
| | | |
| --- | --- | --- |
| Source | TDS Level | Filter |
| Municipal Water Supply | 1 to 200 PPM | UV and UF |
| Ground Water Supply | 200 to 2000 PPM | UV+UF+RO |
| Multiple Sources | 1 to 2000 PPM | UV+UF+RO+TDS Regulator |
Based upon your TDS level or supply, we can easily determine the filter technology required. Or if you have difficulty in identifying your supply type, you can use TDS meter or apply for the Home demo of Water Purifier, they will tell you your TDS level and type of filter suitable for you. Other contaminants like Cysts, Bacteria, Virus etc which are the main reason of various water-borne diseases like typhoid, cholera etc. You need to select the filter that can kill these viruses and prevent you from the diseases.
Available Filter Technologies
Various filter technologies like Ultraviolet(UV), Ultra Filtration(UF), Reverse Osmosis(RO) and Electro Adsorption Technology (EAT) are currently running in the Indian market. Some of these technologies require electricity and some do not in their operation.
| | | | | | |
| --- | --- | --- | --- | --- | --- |
| Technology | Impurities | Electric(Yes/No) | Pro | Cons | Suitable For |
| UF (UltraFiltration) | Cysts, Bacteria, Salts, Dust, Sand, Chlorine and Chemicals, | No | Only Purifier that can remove Cysts | Do not Remove Dissolved Impurities | Low TDS |
| UV (UltraViolet) | Germs, Bacteria, Virus, Protozoa, Chemicals, Chlorine | Yes | Fast Disinfection and Do not produce Waste Water | Sterlized Germs, Bacteria but do not remove it | |
| RO (Reverse Osmosis) | Germs, Bacteria, Virus, Protozoa, Metal, Salts | Yes | Reduce Hardness, Fluoride, Heavy Metals | Produce lots of Waste Water | Medium and High TDS |
| Electro Adsorption Technology | Germs, Bacteria, Virus, Sand, Chlorine, Heavy Metals | Both | Multiple Stages of Water Filtration, Enhance Water Taste |  Not Suitable for High TDS | Less than 500 TDS |
UF (UltraFiltration)
As described in above table, some Water purifier with UF technology does not require electricity or power for their operation. So such water purifier are suitable for areas, where there is no power. These are also called Gravity based water purifier as water from higher chamber passes from filtration and comes to the lower chamber. But these purifiers are not suitable for hard water, can not remove dissolved salts, it can remove germs, virus, Bacteria. And the best part they are the cheapest water purifiers comes in the range of Rs 1000 to Rs 5000 only.
RO Water Purifier
It is suitable for hard water treatment, suitable for both home and official uses where TDS level is higher. RO Water Purifier will remove all heavy metals, dissolved salts and bacteria also make the water soft. It can reduce TDS level from 1000 to 20-30.
Capacity
Now next thing that one have to look is How much storage you required Like some Water purifier comes with No storage and other with 7L or lower, 7L to 14L and 14L+. Now the selection of capacity depends upon family members and your consumption. Like for a family of 4 Members, Purifiers with up to 7L is enough. For the family of 5-10 Members, I will suggest upto 14 L. And if you large requirement then you can go for 14L+.
Now you know about your Water Source and TDS level and also the technology available in the market, the storage required. Now you can decide which type of Water Purification system you require. But there is another problem, Brands and Models, Which brand to go for and which model is best. So for that we have listed top 10 Water purifiers for home use. You can choose from the list. If you Buy online, you will also get replacement warranty of 10-15 days. In case you don't like you can take the refund.
There are many Water Purifiers brands in the market, but not all are up to the mark for having safe drinking water. You may get confused to select which water purifier would be the best to buy. This content will help you sort your issue of having the best water purifier.
A good water purifier brand must focus on the purification process that provides maximum filtration for viruses, bacteria, and other impurities. It should keep a check on UV standards and TDS (Total Dissolved Solids) level.
Different brands come with various features and techniques of water purification. But to be on the safe side and give your family and yourself the best water purifier with ensured safe drinking water, one must not compromise quality. It takes quite a lot research to select the best water purifiers that are available in the market. Don't worry after much intricate research this content has provided you with some of the best-rated water purifiers from buyers.
List of Top 10 Best Water Purifier In India
Here are some best water purifiers of various brands compiled for you. The details for each are given for you to understand well. If you are likely to buy the water purifier, go through all of them so that you can decide for yourself.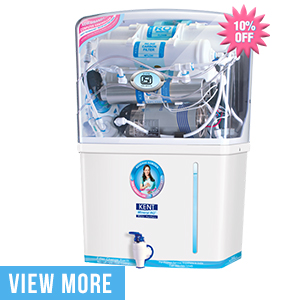 Kent Mineral RO purifier is one of the most natural purifiers in the market. It is also considered to be leading in the brands of water purifiers. Its water purification technology is a patented ROTM Mineral Technology. It assures safest drinking water with double purification system (RO + UV & UF).
It preserves vital minerals as it has the technology with "TDS controller." The water tank can store up to 8 liters of water. It can clean and filter raw water. It has a "fail safe" system, which means it has an alarm that will give you alert for replacement of the filter. If you don't change it, then within next sixty hours the purification process will stop working further. The UV bulb also stops working if it is not changed. It has a see through design body cover.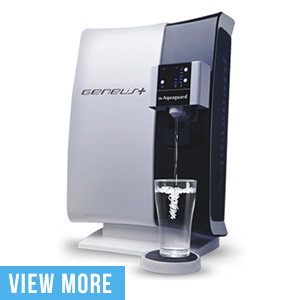 Dr. Aquaguard Geneus+ is the improved version of Aquaguard Geneus. It is a global water purifier and is accoutred with UV+RO+UF technology. This technology is considered to be the best in the market.
It has a powerful auto recognition technique equipped in it, which automatically detects whether the source of water is municipal or bore well water. Then it chooses the purification method accordingly, giving you water quality free from all kinds of chemical and physical impurities as well balances the right TDS (Total Dissolved Solids). It also has a unique system called "Auto Mineral Modulator" that allows you to choose and set the taste of water the way you like.
This purifier assures you the best form of purified water, as water passes through 8 purification stages. Per hour it can purify 15 liters of water. It also has LED display and advanced mineral cartridges.
Also Check: 5 Best Aquaguard RO Water Purifiers of 2017 with Best OFFERS
A quality product from Hindustan Unilever is a newcomer into the market of water purifier. Earlier Pureit was limited only into a simple purification system without electricity, more like standard domestic filters. Lately, in order to compete and earn a good share in the market of water purifiers, it has invested a lot of advanced technology.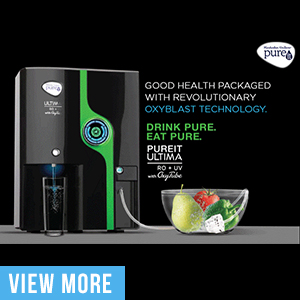 It has "Reverse Osmosis (RO)" + "Ultra Violet (UV)" technology inbuilt in it. It ensures 100% of water purification through 6 stages that include; pre- RO carbon filter, Ro membrane, pre-sediment filter, post-carbon sediment filter, post carbon filter & UV reactor. This 6 stage purification technology ensures bacteria and virus free pure drinking water.
The water flow rate per hour is 9-12 liters according to the temperature, pressure, and TDS. It has an elegant design, and the capacity of the tank is 10 liters. Many people may worry about the blue water color; it is only because it has a blue lit LED lighting built inside that gives the color effect. It is one of the best RO water purifiers.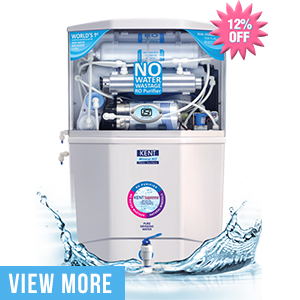 This water purifier has a patented KENT technology water purification that ensures to purify even the dissolved impure particles in the water, giving you a fresh, pure drinking water with RO followed by UF/UV filtration technique equipped with it as well.
Kent Water Purifier has ample water storage of 18 liters, where it stores 9 liters of rejected water (that can be used for another household purpose apart from drinking) and 9 liters of filtered water. Its body with designed with ABS plastic and dimension is about 430L x 270W + 630H.
It can purify 13 liters of water per hour and the maximum of 75 liters of water per day. This water purifier from Kent is quite big in size and weighs approx 10.8kg. It is considered to have the best water purification technology that purifies even the finest dust particle and harmful bacteria, chemical impurities, and viruses.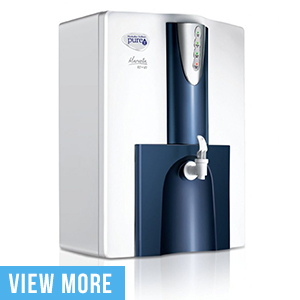 Built on the modern technology, Pureit Marvella by Hindustan Unilever is one of the largest selling water purifier brands, currently spanning 9 countries.
Pureit Marvella has RO+UV purification technology. It has six-stage water purification processes, ensuring filtration of all viruses, bacteria, and harmful chemical items.
The rate of purified water flow is 9-12 liters per hour depending on TDS level, temperature and water pressure. His great tank is capable of holding 10 liters of water. It is designed with two purification gem kits; germkit-1 gives 4000 liters of water and germkit-2 gives 8000 liters of water in an average.
The body is made with non-toxic plastics of engineering grade, which is BPA free & food safe. This prevents bad odor in the drinking water. It has a neatly designed body with an aluminum strip in the center and black colored front cover.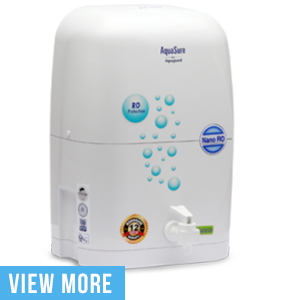 This 4 liters AquaSure Nano is one of the best-selling water purifiers from Eureka Forbes. It weighs about 7.1 kg and is rated as one of the best RO water purifiers. It can be placed either on the kitchen counter or hanged on the wall. The water flow rate is 2 liters per minute and the filtration capacity per hour is 12 liters.
This water purifier can turn salt water into sweet drinking water and can work with TDS levels of water up to 2000 ppm. Its multistage RO filtration process removes excess bacteria, TDS level, cysts, protozoa, viruses, chlorine and other chemical particles.
It also has an inbuilt voltage stabilizer. It has an auto power on-off mode for energy saving and manual flush system. This water purifier has a sleek body design and is suitable for medium sized family.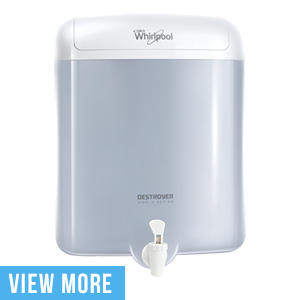 This is a non-electric water purifier. Whirlpool is well known for its largest manufacturer in home gadgets. This time they came up with a water purifier that is induced with unique "Electro Adsorption Technology (EAT)", for water purification.
Its water storage capacity is 6 liters and can also work with hard water of approx 500 ppm of TDS water level. Whirlpool ensures that the EAT technology retains all natural minerals of water. The maintenance of this water purifier is easy, and the life span of EAT filter is 2200 liters. It is best suited for municipal and tap water.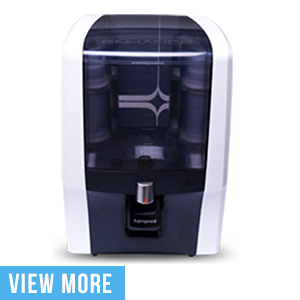 This is another universal water purifier with the benefits of both UV and RO technology included in it. It has advanced technology or TDS levels purification and also can adjust cleaning for the different source of water.
It is built with a unique multistage water purification process of RO that removes excess TDS, other impurities, and impure chemical particles. It's distinctive "e-boiling+ technology" eliminates harmful protozoa, viruses, and disease-causing bacteria.
Water storage capacity is 7 liters, and other features include smart auto-fill of water, enhanced protection & taste with six different stage purification. It ensures every drop of water is pure and healthy for safest tasty drinking water.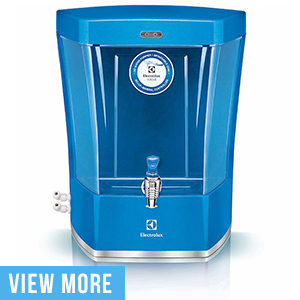 Electrolux is another favorite brand for water purification. This water purifier is equipped with dual stage water purification process such as; mineral controller and UF process.
After RO & UF purification process, it has secondary purification process that ensures enhanced water quality throughout it service cycle. It has a transparent and detachable tank, for the onsite easy regular cleaning purpose. With mineral controller system, it retains essential natural water minerals.
It has a water storage capacity of 7 liters. This has fully automatic water purification system along with off/on switch. It is capable of purifying from all sources of water. For leak proof, it has the push-fit component in it.
To operate voltage fluctuation, it has built-in SMPS. It has LED notification display for purification process and power. Its power intake is 60 watts and 100 volts operating voltage.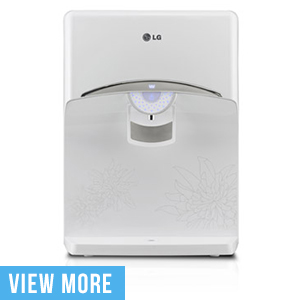 In India's market share of water purifiers, LG Water purifier has made its space pretty quickly. LG has developed over seven kinds of water purifiers at the varying price range.
This model from LG purifies water with advanced technical processes such as; UV methods + RO filtration + Ultrafiltration (UF). It is capable of the digital sterilizing water-purifying system, where the water path pipes, the water tank & faucet are cleaned in the most hygienic way, which is not involved in manual cleaning.
LG WAW73JW2RP has a water tank made up of stainless steel and is built with ABS high-quality plastic body. It has five different filtration processes. The filters have a maximum life span of 6000 liters.
Our Recommendation
After observing and testing performance of Water purifiers in India. We found that some top brands like Kent, Aquaguard, PureIt and recently launched Livpure have very good products with low maintenance and higher durability. If you have high budget then you can go for Kent Grand Plus, Which is most popular water purifier and is also good in terms of performance, but its a 3 year old model, so if you wish you can go for its successor Kent Supreme.
There are other options also in high budget like Dr AquaGuard Geneus+, Pureit Ultima and they are really good with low maintenance.
And if you are looking for best water purifier under 10000 range then I strongly recommend Livpure LIV-PEP-PRO-PLUS.
All these water purifiers that are mentioned above are amongst the top and best-selling water purifiers in the market. They all are brand verified and trusted water purifiers for safe drinking. You can choose from any of these as per your preference.