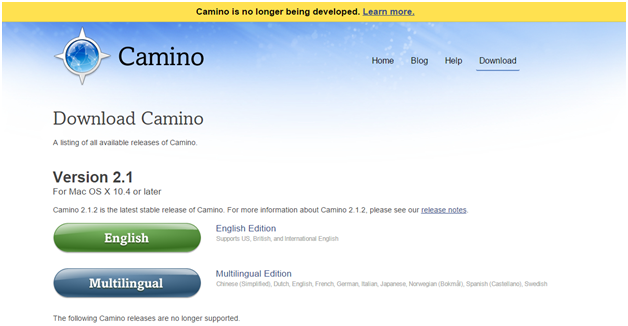 In today's world it is utmost important to be updated about what is happening around and also be connected to the world. The internet serves that purpose. To access the net browser is a key element which lets us browse through the internet world. Now the internet performance depends on various factors like the internet connection speed or the browser you are using.

10 Best Web Browser for Mac
Here below we have listed the top ten browsers for  a Mac user.

Camino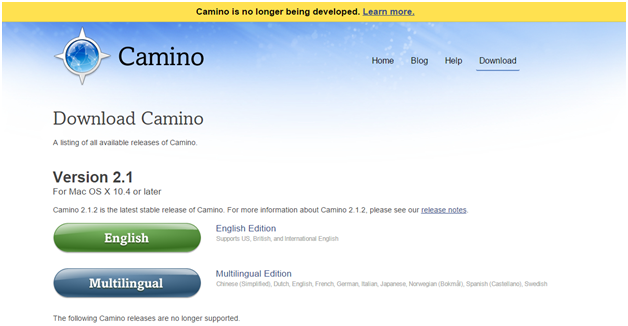 Camino was started in 2005 to serve as a browser specially designed for the Mac users making it perfect for Mac. Camino with its unique design and great performance has the best user interface and provides the smooth experience.
Features that make users fall in love with it are scrollable tab bars, annoyance blocker capable to block both popups and flash ads.
After about a decade, Camino's development came to an end and so it is advisable to upgrade to a more modern browser. With no further development it has become incompetent in keeping pace with the increasing changes in the world of web and in addition to it, Camino is not receiving security updates making it increasingly unsafe to use.
Apple Safari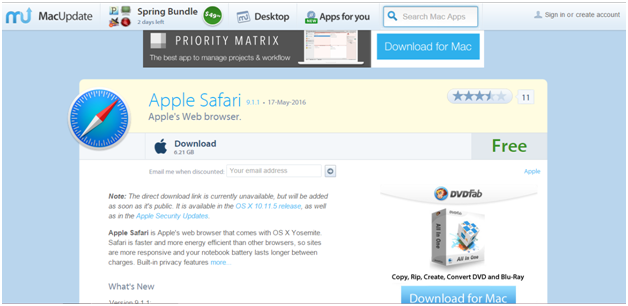 First released in the year 2003. It is the top best browser for Mac. It is the default web browser, comes pre-installed in every iMac or MacBook. It is recommended if you are looking for a browser that will not eat up your MacBook's battery.
It may be laggy sometimes but it's completely worth with respect to its battery backup which is unbeatable in this mac browser. It has RSS integration. It allows easy access to the most viewed web pages by providing speed dial and bookmark. It has a stylish interface and many powerful features like easy social sharing, speed dial, iCloud integration to push web pages to other devices. Official Link.
Omni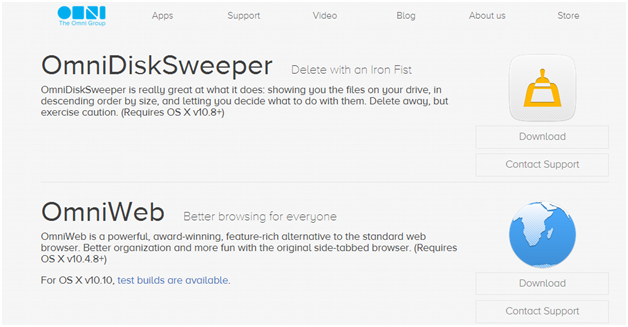 Omniweb browser is available as a free download. It is a proprietary web browser developed and marketed by The Omni Group. First released in the year 1995. It has lots of amazing features like side-tabbed browser, powerful security and lots of plugins. Webpages are automatically rendered in background to provide fastest web browsing. It lets you change the appearance of your website as per your desire. You can change elements like the font size and color. It provides Ad Blocker as a built-in feature. You can further customize what they see by hiding ads.
But however, it's a bit slow and comparatively high amount of RAM is consumed. For the same reason, its startup time is comparatively high and may also face lag at the time of switching between different tabs and some random crashes too.
Rocketmelt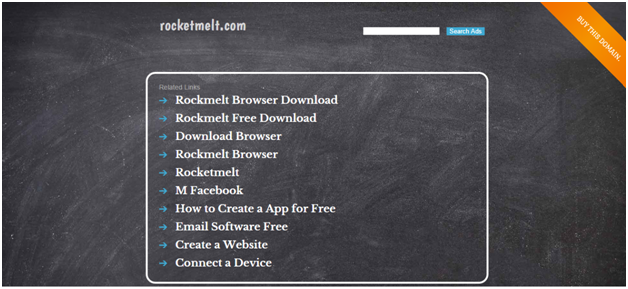 It is popular for its powerful Facebook integration for internet users. You need to have Facebook account if you want to enjoy full features of RocketMelt.
Install RocketMelt – > Connect FB account – > approve permission
Follow the above steps to be able to control almost every feature of Facebook . There are additional features like social sidebar, torrent support and more.
Maxthon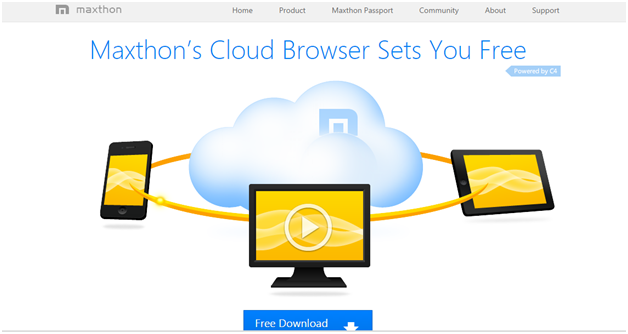 It provides every feature that you can expect from a full-featured web browser. It is a cross-platform browser letting you browse smooth across all devices, be it Android, iPhone, iPad, Windows PC or Mac/Linux etc. It has a unique drag & drop and gesture support with which you can select a word or phrase and drag it to the URL bar to initiate a quick search in your default search engine.
Gesture allows you to quickly perform actions like refresh, previous tab, next tab etc using mouse or trackpad. It also provides lots of space for websites by having minimal and uncluttered interface. It avails you with a full screen option for you to have even better web browsing experience at your MAC.
Maxthon lets you push browsed website to online cloud account, or a specific device or to a friend with the help of an additional, innovative Cloud Push feature which is also the most loved tool of it.
Torch


First released in the year 2012, it wasone of the best browser for Mac OS X being fast, simple and safe. It is a commercial freeware. Its popularity increased all of a sudden, the reason being, its unique design and awesome features.
It provides a wide range of themes. It is quite similar to Google Chrome with some add ons. It supports each and every extension available in the Google Chrome Web Store. You can also download the torrents without any torrent chain. It also has a social bar to get all your social updates notification instantly. Official Link.
Google Chrome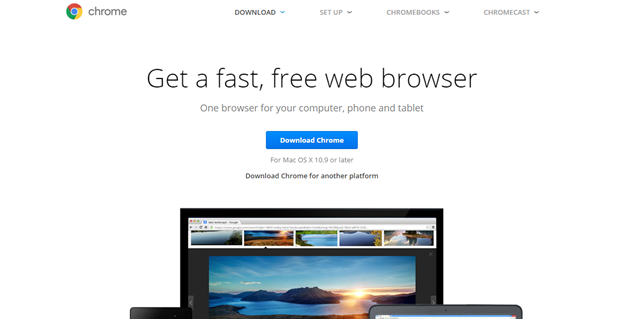 It is the top notch web browser for Mac. Chrome has thousands of useful extensions which attracts users to install it. It has a minimalistic design approach. It has a smooth rendered web page and clutter free environment. You can have experience of personalized browsing and ample troubleshooting.
Although for those who don't like seeing getting their phone's battery each drop to be used, it may be a little unsatisfying factor. Its battery backup is reported to be bad.
Mozilla Firefox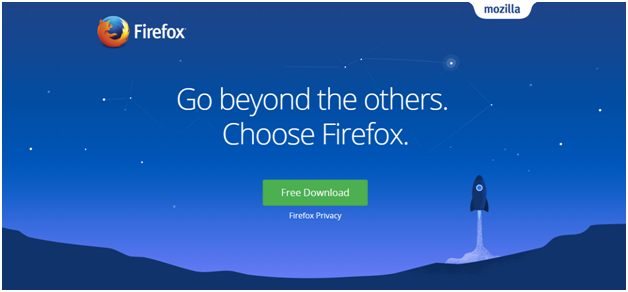 Mozilla Firefox is another browser for Mac which is open source. It is although old but yet worth to be mentioned in this list. It has many advantages built in it. A wide variety of Add-ons is made available to increase your productivity. Fluid user experience is provided with smooth rendering technology.
It has got improved Tab Browsing. It is even packed with spell checker to improve language quality. It is easy and quick to restore. Features like live Bookmark and Live titles are included.
It keeps you organized and keeps malware and spyware away. It is a good option for people who are privacy-minded as it prompts the user to choose the information that they can share. It updates on a regular basis and you can also restrict annoying ads by ad-blocker.
Opera for Mac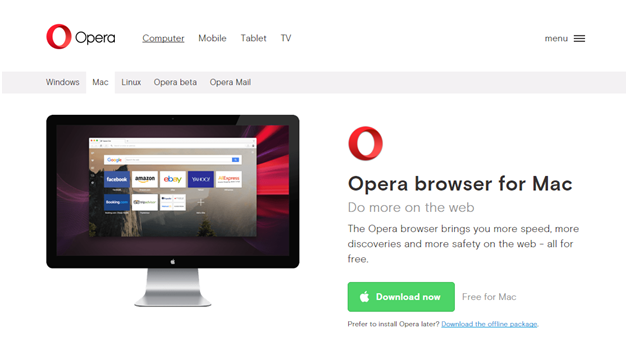 If you have a slow internet connection then Opera is advisable as turbo mode of this browser is simply amazing. It can help in increasing loading speed of pages by multiple folds. It provides smooth browsing experience as well as easy navigation.
It has in built browser option to download torrents easily. It is packed with RSS reader with the email client. Opera Email is inbuilt to manage your emails in one client.
Flock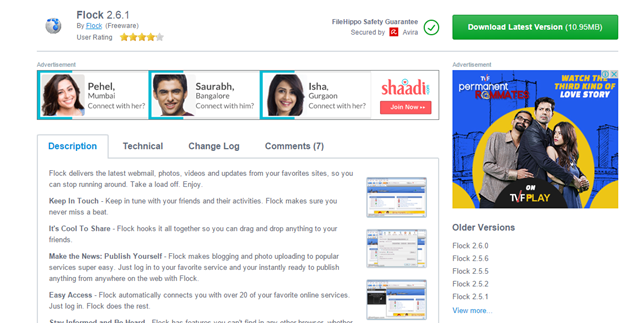 Flock is built on FireFox 3 technology. It has interface similar to Mozilla FireFox and not limited to a normal web browser. For Mac, it is designed such that it streamlines and emphasizes how you interact with social networking sites, RSS and media feeds, and blogs. You can quickly share webpage, links with your friends on Facebook, tweet them and share photos. It is capable of supporting more than 20 social networking sites.
It is a discontinued browser now, but one can download Flock Web Browser from third party links.
With this list you have got the best options hopefully. Do research on your own part too. It is advisable if you install any of the two browsers, one for personal work and the other for professional work. Happy Browsing.