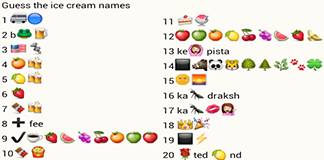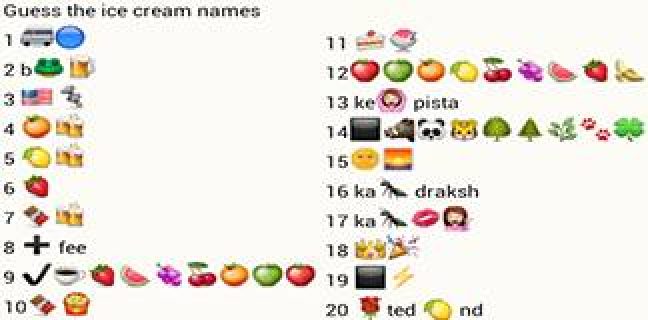 Best WhatsApp Group Games
Hi, friends how have you been, I hope everything fine. When I think about games it's always remembering my childhood memories. There were the days where I enjoyed a lot with friends, sisters, brothers and cousins. I never forget those days in my whole life. When ever there is a get to gather party it's like having fun with friends or start playing different games. We do not have any idea about any game. If anyone pick up one game and remaing them start yelling and screaming all together. Otherwise, they start singing with new Bollywood songs. Every one gone mad. But now there is no time for anyone. Time has been changed. When internet enter into humans life everything has changed. Everyone busy with their life's no one has free time to meet up at least one day. It's a very difficult task to them. That's why every one start playing group games on WhatsApp. Just simple creating group and start playing games on mobile. How things has changed since and then. It's called internet fatuity. Here i am giving best
games to play on whatsapp group.

Best WhatsApp Group Games
1.Movie Lines
Every one like movies. I think every has best knowledge about movies better than General Knowledge. This game is best for movie lovers. Any one in the group just say one dialog from any one movie and reaming members in the group need to have find out which movie has this dialog. Just simple try it and find out how much you have good memory.
2.Aanthakshari
Aanthakshari is ever green game. Every one love's to play this game. I think we can find out good singers in the group. Any one in the group start signing a song at end of song which letter is end with song next song start with this letter any member of the group. It's like continuation of end letter of song. While playing this game we can have great fun.
3.Marry, Kiss, Kill
It's like rapid fire round every one has three options like Mary, Kiss, Kill. We want to choose any one option for single person. It's up to you who's like to marry, Kiss, Kill. This game most played on Bollywood parties. It's a very interesting to know about others opinion about you. You will get to know what's their in the mind. Do not waste time just feel it and say it.
4.Puzzles
Guess The Actors And Actress Names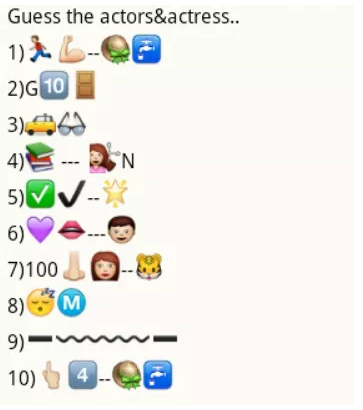 Guess The Famous Cricketers Names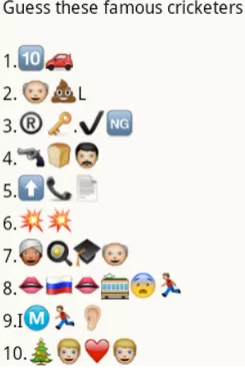 Guess The Phone Brands Names

Guess The Names Of These Clothing And Accessories Brands

Guess The Hindi Movie Names

 Guess The Bank Name
 Guess the answers 
5.Quiz Games
A Shoe Co. &
Underground Train = ________
Watch Brand & Resident of Country = ________ Mineral Water Co. & Mountain Range = ________ Name of Bird & Beer Brand = ________ Name of Fuel / Clothing Company = ________ Tree / Toothpaste = ________ Famous Monument / Tea brand = _________ Pencil Brand & Lord of Dance = ________ Birth Sign in English & Type of Disease = ________ Name of Soap & A Musical Instrument = ________ A Car Brand & Lord Ramas Devotee = __________ Name of Fruit & Name of Shoe Polish = ________ Mobile Brand & Fruit Name = ________ Name of Bulb Co. & Source of Energy = Here I am Giving 15 things which we correct the spelling Every time. I am Challenging you.
Egbindinatl=
 Evtlesnioi=
 Miet=
 Boilme=
 Ishtr=
 Agdrne=
 Solhoc=
 sjdmai=
 Tsere=
 Yclecs=
 Neplci=
 Odosretp=
 Thgli=
 Sglas =
Owilpl=
Whatsapp Dare Game
Dare 1:
Select an Alphabet letter from the list, I will send you some dares.
A– Tell one good thing you find in me.
B
– Send me your best picture.
C
– Write my name in your Whatsapp story.
D
– Give me a gift.
E
– Tell me your crush name.
F
– Send me your Crush Picture.
G
– Give me a party.
H-
Changes do you want in me.
I
– What you think about me.
J
– Ask me a question you want.
K
– Give me a promise.
L
– What is your age?
M
– Tell me one of your secrets.
N
– Give me your personal number.
O
– Send me a Cute complement.
P
– Tell me your enemy name.
Q
– What is Your wild fantasy.
R
– Tell your relationship status.
S
– Call me now and say "I Love You".
T
– Send me your childhood image.
U
– Send me your profile pic.
V
– Post a Whatsapp story of me.
W
– Call one of your enemies.
X
– What you feel about me?
Y
– Do you love me?
Z
– Upload my profile pic on your DP for one day.
Dare 2:
Choose a number from 1 to 10 and I will send you a dare.
Your relationship status. ?

Add my name to your Whatsapp story for one day. ?
Rate my behavior from 1 to 10.?
Call me Now.?
Who is your crush??
Tell me your Boy/Girlfriend's name.?
Sing a song for me and send me the recording.?
Tell me about your Birth date. ?
Talk with me for 30 minutes. ?
Recharge my number with one plan.?
Dare 3:
Send these Abbreviations to your friends and tell them to expand these short forms.
2 G in a G.
206 B in a HB.
11 P in a CT
7 W of the W
6 B in an O
52 C in a D
7 D of the W
5 F on an H
64 S on CB
12 S of the Z
ANSWERS:
206 Bones in the human body
24 Hours in a Day
11 players in a cricket team
7 Wonders of the World
6 Balls in an Over
52 Cards in Deck
7 Days of the Week
5 Fingers of Hand
64 Squares of Chess Board
12 Signs of Zodiac
Movie Songs Names
Choclate, lime juice, ice cream tofiyan, ab mujhe lagti hai sari paheliya
 Rang de basanti
 Satyam shivam sundaram
  Main nagin tu sapera
 Gore rang pe na itna gumaan kar, gora rang do din me dhal jayega, by deepka jain
 Tan tana tan tan tan tara
Om Santi Om Santi Om
Jumma Chumma De De
Main to motor se ja raha tha, unhe cycle se aa rahi thi, kiya tamtam ka ishara
 UP wala thumka lagau ke hero jaise nach ke dikhau.
Honth rasiley tere honth rasiley
These are the one of the best Whatsapp group games. You can have full fun during these games. One of the best thing about this game is best time pass and one type of refreshment. You can make good memories with friends, Cousins, And Family members. Start enjoying yourself and let's find out what's you like.