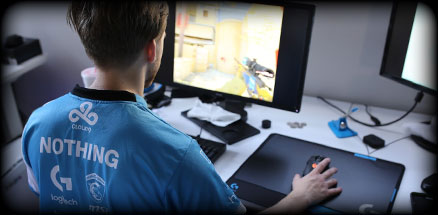 Every gamer owns a mouse to play his favorite games. And gaming mouse helps you customize and fine-tune your gaming experience for performing fast movements and achieving higher sensitivity, which a regular standard mouse cannot offer. But, you need to choose your gaming mouse sensibly. The most important factor to consider is how much money you will invest, to get your gaming mouse. So, if you have troubles making that decision then do not look any further; because in this article, we will be telling you about the Best Wireless Gaming Mouse, which is available online along with their features and overall performance.
But, first, let's learn on what basis do we buy a Gaming Mouse?
The answer is simple, the reason for which you are going to use it should be your primary requirement. If you are using it for both gaming and regular use, you should invest in an all-purpose gaming mouse. If you are going to use it only for gaming, then you should go for more premium game oriented mouse that is made especially for playing games. Lastly, you have to decide what game you want to play with this device. Some premium mouse is specifically designed for some particular genre of game. Now that we have decided the buying guide let go and list the best mouse that you can pick from your new gaming console.
Best Wireless Mouse for Gaming:
Now that you have seen our list, we will go through this mouse and review about, how we felt when we used it, and provide you with our buying verdict.
Logitech G900 Chaos Spectrum:
It is available with both Wired and Wireless features.
You can perform upto30 minutes of Wireless use.
It weighs less than 110 grams.
It is highly Adjustable from 200 to 12000 DPI.
It is available in different RGB colors to match your style.
It flawlessly Works with windows 7 and above versions of operating system.
Performance: The Logitech G900 Chaos is an ultra-fast wireless mouse with seaming less performance. You can switch between wirelesses and wired in-between games without any problem. Advance customization of buttons as well as accessories to button covers for left or right-hand setup. Delivers consistency target accuracy and responsive at any range of 200 to 12000 DPI.
Verdict: An excellent and premium mouse with wired as well as the wireless setting. Priced at $111, if you are a professional gamer and you can afford this mouse, you should go for it without wasting much time.
Logitech G502Proteus Spectrum: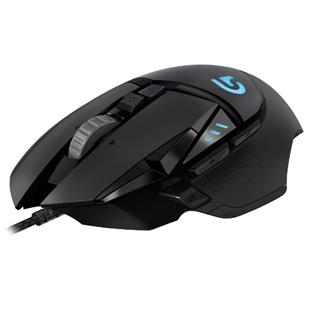 Adjustable up to 3.6 grams for superior feel and fit
RGB customization to match your gaming mood
Good grip with textured buttons for comfortable gaming sessions
Adjustable mouse wheel speed to deliver fast maneuvers.
11 programming buttons to suit your need while gaming
5 DPI setting from 200 to 12000 DPI to suit your need
Support with Windows 7 and above version of Operating System
Performance: The Logitech G502 Proteus Spectrum is a fully customizable mouse with turntable weight. Customizable RGB color and it can also be synchronized with other Logitech products. It has Rubberized buttons for better grip. The G502 boasts the best Optical sensor in its price range for accuracy movement and target with DPI range of 200 to 12000 DPI to meet your requirements.
Verdict: With premium features and a price tag of $51, this mouse is far cheaper,along with features like adjustable Weight, RGB customization, programmable button, this one is definitely to go for. You can also use it for all purpose usage without any problem.
Razer Death Adder Chroma: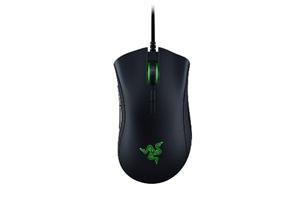 Ideally designed shape for comfortable gaming sessions
It can track Z-axis as little as 1 mm
DPI up to 10000
Chrome light for your gaming mood
5programmable independent buttons for your gaming need
Performance: The Razer Death Adder Chroma offers right handed design to gamers. And comes with rubberized buttons and a grip for good gaming sessions. You can also change your DPI up to 10000 as per your gaming needs. You also get 3chroma lights available like electric blue, pastel pink or Razer green to meet your gaming mood. This mouse is capable of moving with a speed of 200 inches per second and 50g acceleration to meet your gaming speed.
Verdict: The Razer Death offers more elegant and top rated design to gamers. Along with Razers mechanical buttons, high accuracy optical sensor it makes it very responsive and easy to programming. It is priced at $62and is an excellent mouse console to go for.
Corsair Gaming M65: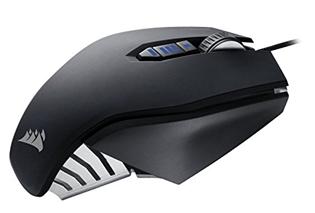 Dedicated sniper button which instantly lowers you DPI.
Instant DPI change dedicated button to change DPI while playing games.
Offers up to 8200 DPI customization
Adjustable turning zones to customize weight
Performance: The Corsair M65 is specially designed for FPS games with dedicated sniper button to control its DPI settings. It is Ultra-responsive with maximum precision for long hours of gaming. High precision tracking and cursor placement even when the mouse is lifted up from the surface. It also has Customizable buttons for your gaming needs. The in hand feel of this mouse is like of a Solid metal, and its rubberized grip makes it easier to grip and offers a rich precision selection of targets.
Verdict: The design and built is primarily focused on FPS games, but you can remap and program the buttons as you like. The handling of mouse and no customization of RGB color was a disappointment, but priced at $50 it is one of the most beautiful and correct mice for FPS gamers
Utech Smart Venus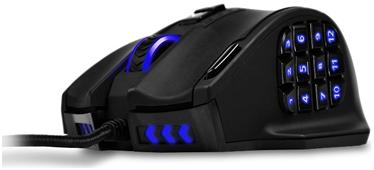 19 programmable buttons for your gaming need
5saveable profile for different game setting
RGB customizable according to you
Change up to 16400 DPI settings
Customizable weight system up to 2.4 grams
Performance: This Utech Venus is anMMO gaming mouse with 5 customizable DPI setting up to 16400 DPI. 19 customizable buttons to meet your need. 5 different RGB customizable colors, which can be made to change with every DPI change. Durable and smooth TEFLON pads for good grip and gaming experiences.
Verdict: It is a highly customized mouse and is priced at only $39, which is a good combination. It's12 customizable buttons and 7 others, makes it a real stand out and good gaming mouse you can choose from.
Razer DeathAdder Elite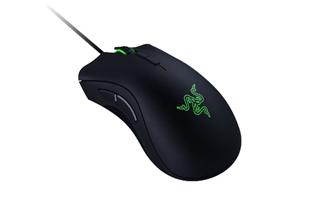 Up to 16000 DPI setting
3 different chrome lights to meet your gaming mood
Customizable buttons for your gaming needs
Performance: The mouse is designed perfectly for a comfortable grip and gaming experience. With movement speed up to 450 inches per second. The mouse has rubberized buttons and also a scroll for good gaming sessions. It has a dedicated DPI change buttons. It also features the Razer customizable lights like electric blue, pastel pink or Razer green to meet your gaming mood.
Verdict: It is priced at $61.99, anergonomic factor of this mouse stands apart. Almost same as its brother Chroma, it has great DPI settings and handling which helps in playing games for longer durations.
Razer Lancehead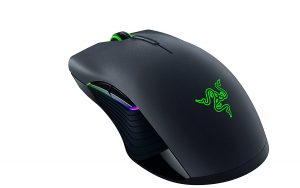 5G laser sensor technology
Up to 16000 DPI settings
On board cloud memory
9 programmable, independent buttons
24 hours of wireless performance
Razer Chroma customizable color to match your mood
Performance: This Razer wireless mouse comes with a 5G laser technology which gives up to 16000 DPI. It also has dedicated DPI setting buttons. It has mouse precision of 210 inches per second with 50g accelerations. You can change any settings while playing with buttons. Customizable colors to match gaming mood.
Verdict: Priced at $138 this mouse is a bit expensive, but it offers some excellent features that a gaming mouse needs. With on board memory, sturdy mechanical button, customizable LED, and wireless connection make a one right combination to go for.
Mad Catz R.A.T.9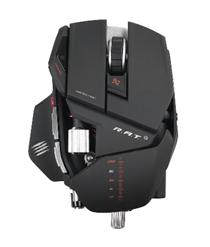 6 programmable buttons for your gaming needs
4 DPI setting from 25 to 6400 DPI
Supported with windows XP or a later version of windows operating system and with Mac OS X 10.6.6 version or later (requires Intel processor for Mac).
Twin-eye sensor to read each axis separately
Adjustable length and width for comfortable grip
Adjustable weights
Precision Aim dedicated button
Performance: RAT 9 is a next generation wireless mouse. That comes with theadjustable mouse of 5×6 grams of weight. It also comes with separate palm and pinkie rest which you can connect or remove according to your need. Adjust the mouse length and breadth with build in the screw for a comfortable grip. With its software, you can customize the buttons. It comes with dedicated mode selection for different profiles to select for various games.
Verdict: Priced at $160, it is quite expensive. It's exquisite but has a lot of problems associated with it especially with its functionality and software problems. Placement of some buttons makes it difficult to use. If you are up for a lot of customization, then you can give it a try.
E-Blue Mazer II: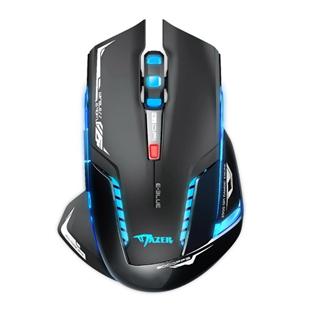 4 adjustable DPI setting from 500 to 2500 DPI
Wireless range up to 30 feet
Precision tracking about 3000 frames per second
Customizable buttons
Performance: This wireless mouse comes with customizable LEDcolors to match your mood. Designed for right handed using Air wing concept. With 2.4 GHz wireless frequency for uninterrupted connections. On full recharge, last more than a day. It has 5 dedicated DPI buttons with 5 programmable buttons. Works both in windows and Mac operating system.
Verdict: Priced at $21.99 is the best budget mouse you will get. With features like wireless, up to 2500 DPI setting, sturdy and styling are looking. Customizable LED, and buttons will surely make you go for the mouse.
Redragon M601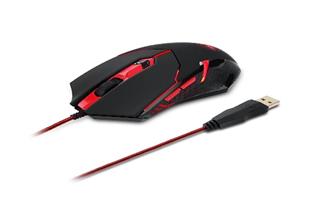 Four level of DPI adjustable
Supports Windows XP or a later version of operating system
5 programming buttons to match your gaming needs
15g acceleration speed

Adjustable weight
Performance: A backlit gaming mouse comes with 4 DPI setting from 800 to 3200 with dedicated DPI buttons. All buttons are rubberized for good grip. The mouse is TEFLON plated for smooth movement. It comes with 8 pieces of 2.4 grams of weight for weight adjustments.
Verdict: Priced at $13 this is one of the cheapest gaming mice you will get for your money. Elegant, stylish, customizable buttons, LED lights and adjustable weight makes it great value for money and a gaming mouse definitely to go for.
Logitech G303 Daedalus Apex Performance Edition: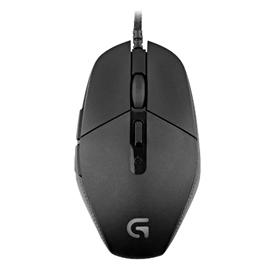 Precision movement
RGB customizable lights
5 DPI adjustable settings
Performance: A simple gaming mouse with a polished finish for good grip and movement. A precision target which translates hand movement on-screen. RGB customizable light to match your gaming moods. Comes with 5 DPI setting from 200 DPI to 12000 DPI.
Verdict: At aprice of $35, this is sturdy and simplistic design Logitech mouse. It lacks customization which you can find on many mice at this price range. It is mainly good to play games like DOTA and others where you don't need amuch-customized mouse. If you are in you simple, not so much customization, then you can go for it.
Turtle Beach Grip 300: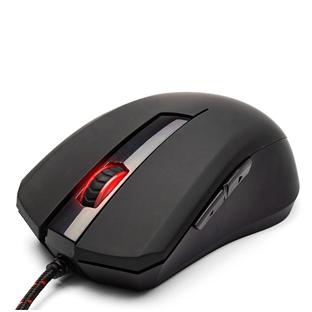 Dedicated DPI adjustable and polling rate control button
Plug and play
LED light for mouse scroll
Supports both Windows and Mac operating system
Performance: Turtle Beach is an affordable mouse, just plug and play without any need for software installation. Dedicated buttons to adjust DPI from 500 to 1750 DPI and another button to adjust polling from 125 to 1000 Hz to match your gaming needs.
Verdict:
 Priced at $22 witha straightforward and stylish look, because of which you don't have to look any further. It might seem like nothing but features like customizable buttons, LED light and no driver or software required is great features to go for.  
Conclusion:
So, these were the best Wireless gaming mouse available in the market. We tested it and had given our verdict on each of them. If you found this article helpful and liked it, please do share it with others. And you can easily buy them through the links provided by us at the best rates available.