If you being college or school, got some free time and thinking to access Facebook. But when you tried to open Facebook, it does not as your college or School administrative has blocked Facebook in school. This is very common in School and colleges, they blocks social media sites like Facebook, Twitter and other. But don't worry there are many ways to unblock Facebook in school. There are lots of Facebook unblock proxy sites, you can use them to run Facebook in school, offices.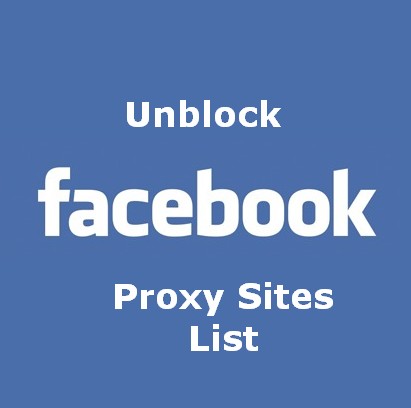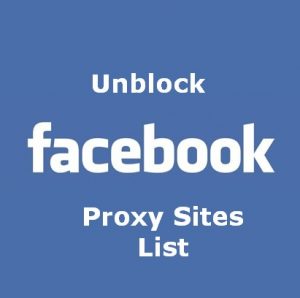 Also Check :
To prevent Students and employes from time waste on social networking sites. Colleges, Schools and offices generally blocks social media site in School network. So if you are also facing the same problem and looking for some solution to access Facebook or twitter in office, schools. Then you can try these Facebook proxy sites. But some School and Office administrative are more smarter then you, they also block these Facebook proxy servers.
But as there are unlimited proxy sites for Facebook, they can not block all of them. So you can check this list of Unblock Facebook proxy sites list 2015. You can try all of these free Facebook proxy sites and can get access to Facebook. You can now enjoy any social media sites through them.
Free Facebook Unblock Proxy Site List
So you want to do some Facebook in school or office. But unable to access Facebook . Have you tried these Facebook proxies ? If not then you must check this list of Working Facebook unblock proxy sites 2015. Just try out few of these proxies to unblock Facebook, i am sure you will be able to access Facebook in school colleges. But before you try any proxy, let me first know more about proxies.
What is Facebook Proxy ?
Basically proxy sites are intermediate sites between you and the site you are visiting. So your college server get fool that you are accessing this proxy site but in proxy site you are actually visiting some other web. So intermediate sites that allows you to access Facebook are Facebook proxy sites.
Generally Proxies are made to access all sites but some proxies are malicious, so they are also block by Facebook itself. So here we refereed to Facebook Unblock proxy sites.
How to use Proxy Sites to Unblock Facebook ?
Its very simple to use proxy site to unblock any site. Just open any proxy site from the below list. Now in proxy site you will get a coloumb where you can enter URL that you want to visit. Like here we want to visit Facebook.com. So just enter facebook.com in that coulomb and hit enter.

Now it will open Facebook.com inside your proxy site. Now you can login into Facebook through proxy. It's that simple to use facebook login proxy.
List Of Working Facebook Proxy Site
http://proxied.net
http://mywebtunnel.com
https://www.4everproxy.com
http://collegeonline3020.info
newipnow.com
WebProxy.net
http://proxydb.org/
http://www.hidingnow.us
http://freeeasyproxysite.g
http://stardollproxy.co.uk
http://imnotaproxy.com
http://www.alinoorw.com
http://proxy-spider.com
http://proxay.co.uk
http://unblock-youtube.pk
http://bitcoin-proxy.com
ttp://streamingvideoproxy.com
http://yrproxy.co.vu
http://bypassproxyfree.com
http://proxiessites.pw
http://www.bypassrestrictions.com
http://ukwebproxy.eu
http://www.clickshow.org
http://www.youfreeproxytube.com
http://www.unblockersurf.com
http://www.securebrowsing.co.uk
http://torrent-proxy.net
http://lookhiden.co.vu
http://ashiden.co.vu/
proxy.ninja
proxify.cc
http://javascriptproxy.com
http://proxy-my.com
http://collegeonline3030.info
http://proxy.ninja/
http://misterbrowser.com/
http://collegeonline3008.info
http://proxy.ninja/
http://nzproxy.com
http://pr0xy.com
http://proxyandvpn68.info
http://unblockwebsites.help
http://youtubeproxy.xyz
http://arabytec.com
http://fastproxyforfree.gq
http://www.jtdec.com
http://fastandfreeproxy.com
https://www.4everproxy.com
http://proxied.net
https://www.bypasstunnel.com/
http://proxyandvpn58.info
http://www.proxypirates.com
http://www.undercovertroll.com
http://safenetbrowser.com
http://hidemyip.today
http://www.maddw.com
http://getaccess.world
http://pearproxy.com
Hope you would be apple to unblock Facebook using these proxy sites.
There are other methods also to access Facebook in your schools, like using https instead of http. Or using Facebook ip address, instead of facebook.com url. Some old server only blocks URl but you can access site though their IP. So you can try any of these methods also if you don't want to use proxy sites.
If still you are unable to open facebook, just try more of these Facebook unblock proxy sites. If any of them does not work , then comment below so we can help you. If it works just make book mark to this Facebook proxy site list page, so you can use these at you schools and office. And also share this list of Facebook proxy sites with your friends.