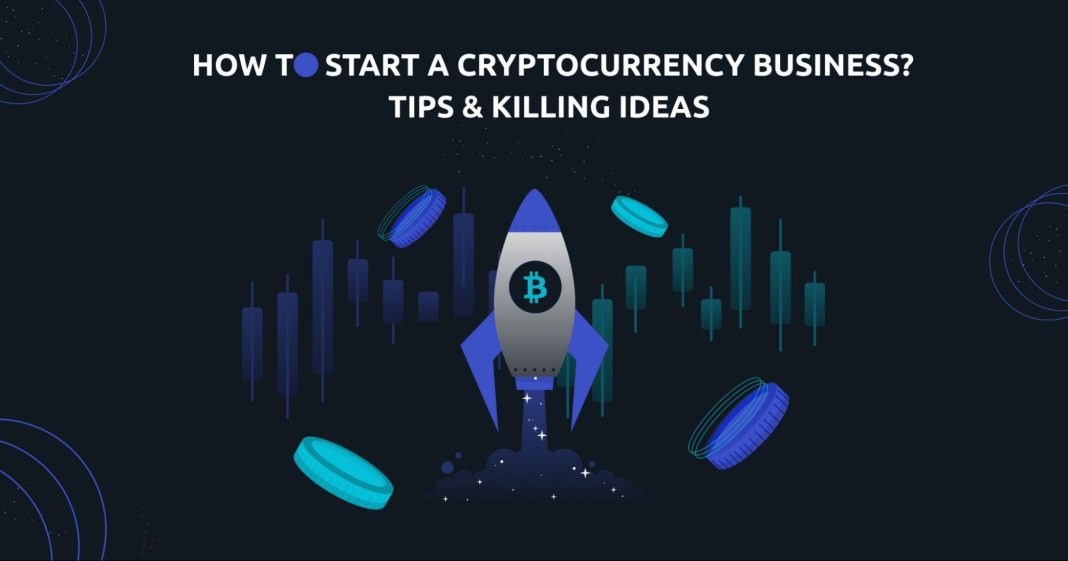 Over the past few years, the crypto industry has significantly expanded with thousands of new crypto projects. Despite its complexity and fierce competition, the crypto industry is still growing, attracting crypto enthusiasts to make breakthrough projects. So there is a crucial question: how to start a cryptocurrency business? This article will help true crypto adopters who believe in the flourishing of blockchain technology and web3 to explore cryptocurrency business opportunities. So let's begin!
How to Find
Crypto Business Ideas?
So, where to begin searching for crypto ideas? There are plenty of options, so you might have a head rush. To make this process much easier and to help you understand how to start a cryptocurrency business, we've outlined six steps you can follow to get started:
Research the crypto market: desirable niches, potential competitors, and trends. What ideas exactly are you going to implement in life? For example, will you

create a crypto exchange,

wallet services, and payment processors, launch your ICO, or provide crypto ATMs? The crypto industry evolves rapidly, so there is a chance to develop something innovative and game-changing.

Then, after sorting it out and defining the preferred field, think about business goals, project highlights, strategy, and needed budget. 

Gather a professional team because crypto projects require a high level of expertise and relevant experience in the field to cope with challenging tasks and ensure that the product is secure.

Develop the platform. This one is easy on the words, but much hard work lies ahead. Verify that there is no rush and maintain consistency to create a solid product with excellent user experience, scalability opportunities, and strict security.

Sort out legal aspects and get essential licenses to meet legal and regulatory requirements. If this step is missing, boy,

you will

regret it!

Launch the project. This step includes plenty of marketing and PR activities because it doesn't matter if your product is perfect and revolutionary if nobody knows about it. Hire a professional agency to spread the word while you can focus on business development. 
If, after long consideration, your choice fell to creating a crypto exchange, congrats! It's a good choice since an excellent crypto exchange is always in demand. But a bumpy ride is yet to come, and it's better to be prepared and know all the pitfalls on the way. Therefore, we've prepared a unique guideline to help you navigate the process of starting a cryptocurrency exchange pleasantly and stress-freely.  
Tips on
How to Start a Cryptocurrency Exchange
So, let's take a look at the input which will help you create a cryptocurrency exchange: 
A business plan or a whitepaper help to set clear goals, determine necessary steps, and allocate resources. The research done at this stage will pay off by providing a clear picture of business objectives and ways to reach them.
A clearly defined brand helps distinguish your project from competitors, develops customer trust, and increases business value.
Select a software provider 
Decide whether to build the platform from scratch or use turnkey or white-label exchange solutions. Of course, all these options have pros and cons, so the decision will depend on your business needs and goals.
Registering for a crypto exchange license is essential in ensuring your business operates. However, it's important to note that the specific licenses and permits required may vary depending on the country and region in which you operate. 
Partner with a crypto market maker 
A high level of liquidity is essential for a cryptocurrency exchange as it enables traders to easily buy and sell assets at any time and at a fair market price. This is where market makers come in to maintain high liquidity and ensure your cryptocurrency exchange is successful.
A well-crafted marketing strategy is essential for any cryptocurrency exchange to stand out and attract new users. It should be adapted to the ever-changing crypto market and be focused on maximizing the exchange's reach, attracting engagement, and creating a loyal user base.
Need High Liquidity for a Crypto Exchange? BitQuant Capital Makes it Possible!
Launching and running a successful cryptocurrency exchange requires a comprehensive approach, from planning and development to liquidity management and marketing.

BitQuant Capital is a leading crypto market maker with years of experience and a skilled team that understands the challenges and complexities of starting and growing a crypto exchange. As a primary market maker and liquidity provider, it offers a complete package of solutions for centralized and decentralized exchanges and 24/7 trading activity support before and after projects' launch. 
So are you ready to kickstart your project? Get a consultation today for a personalized market-making strategy!