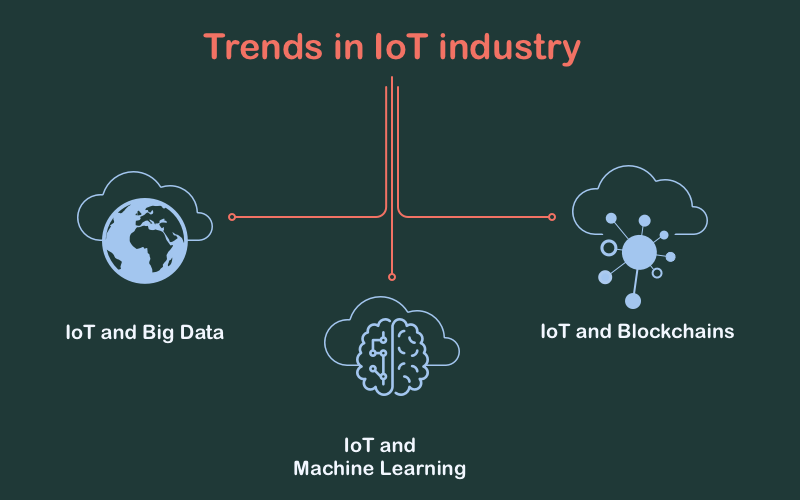 We live in a digital world where modern technologies simplify our life and make it more comfortable. Powerful computers, high-quality mobile apps, and so on. And a new technology called IoT also gains momentum. IoT or Internet of Things is a tech when devices are connected with each other, and they help people automate many daily routines. Let's find out IoT impact in business and what trends prevail in 2019.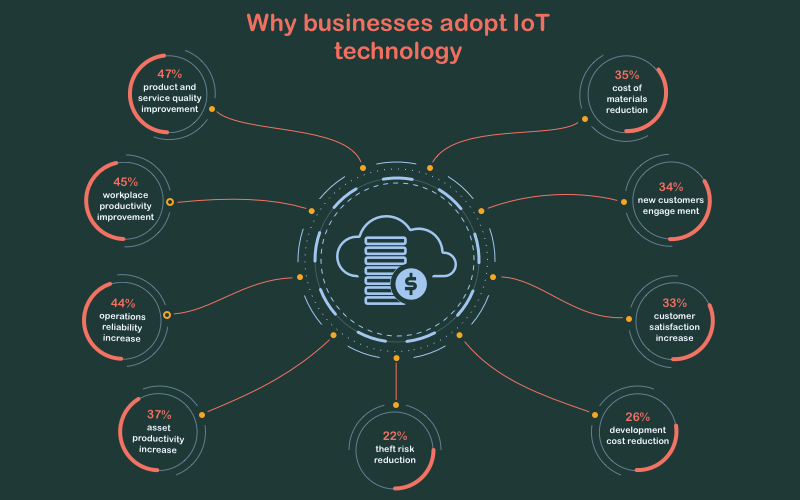 IoT Impact on businesses
First, let's check out the statistics of how IoT can improve different types of business. The picture below will spell everything out. 
Are you impressed? But that's not all. According to Brain & Company, a leading world consulting firm, IoT revenue from the sale of connected devices will grow up to $450 billion by 2020. About 10 billion devices were connected to the Internet in 2015, whereas this number is expected to grow up to 35 billion next year. Almost all business owners that participated in the survey are planning to integrate IoT tech into their business. 
You can now even calculate approximately how your profit will grow if you also make a decision to start integrating IoT.  
Trends of IoT you shouldn't ignore
Now, when you saw all the perspectives and potential of IoT, let's review the capabilities of the Internet of Things in detail and find out what trends really amaze today, and why you need to pay attention to them.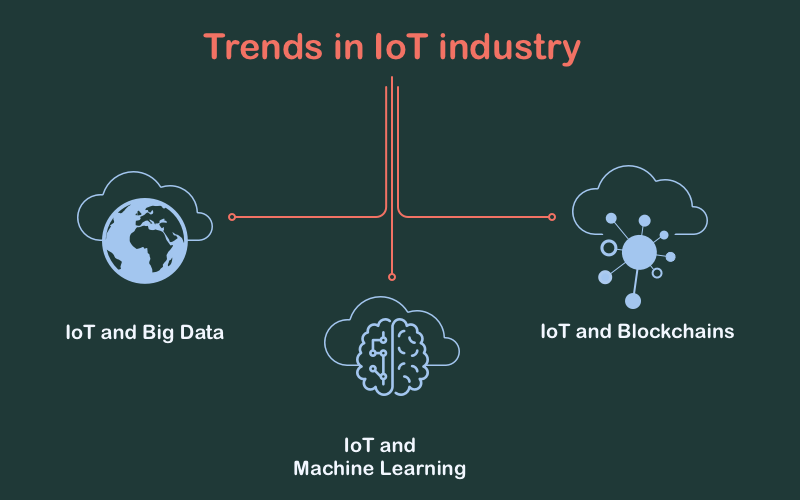 Big Data and IoT
The main task of IoT is to collect and process data. IoT devices help track daily activity of users, and the Internet of Things can be applied in area whether it be personal home use, or healthcare, or transportation, etc. Big Data makes it possible to process and analyze huge volumes of data and provide your customer with a really reliable service and perfect experience. 
Big Data can work with a large massif of data quickly and properly, so the combination of IoT and Big Data plays an important role in business promotion. 
AI and IoT
IoT devices connect to each other to transfer information and process it, so data constantly moves from one device to another. Then it will be a good option if the system could improve itself automatically. It is possible with the help of machine learning that helps analyze a current situation and make specific predictions. It is especially important in a field like medicine. Machine learning algorithms always improve, and they make all connected devices smarter.
This particularity is a great benefit for all businesses since all IoT devices can detect if something goes wrong much faster than a human could do it. If companies don't want to lose money, the IoT system will help them predict the condition of equipment or economic situation to be prepared for any changes. 
Blockchain and IoT
As we already mentioned, data collection is one of the main tasks of the IoT system. But we shouldn't forget about data protection since if it is hacked, it may lead to very serious problems. 
it is rather difficult to manage all data since different policies may become a boundary. Modern problems require modern solutions. That is where Blockchain comes to rescue. This technology is rather efficient and reliable to protect all chains of data.
Blockchain is distributed into many blocks which contain information, and all input information cannot be changed. All blocks are stored in the cloud, it is decentralized and secure enough. So IoT and blockchain is a combination that will help you protect all data. 
How various types of businesses may benefit from IoT
In fact, there are really hundreds of IoT use cases in business, but we cannot list them all. So we will single out the most perspective ways how IoT can be used in various business sectors. Let's go!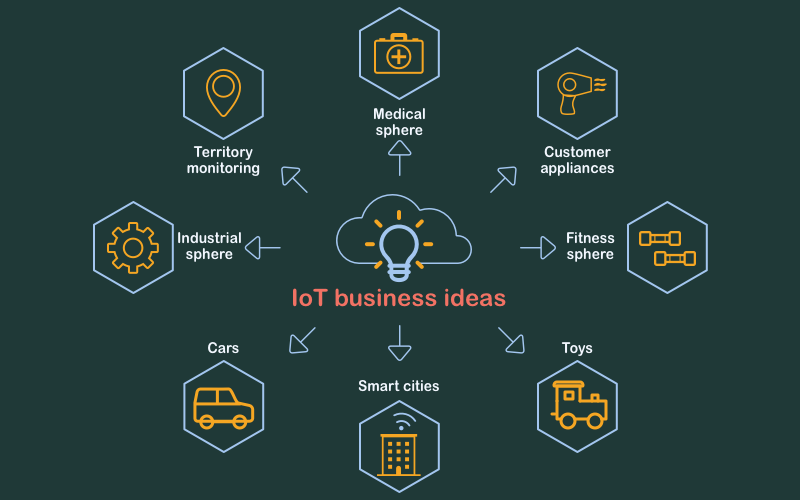 Healthcare and fitness
Fitness wristbands are already not something new and unusual for us, many people wear them to calculate the number of calories burnt, steps taken, and so on and then information is synced to a smartphone. But IoT helps extend capabilities of fitness wristband. For example, all data can be sent directly to a family doctor or information about low heartbeat can trigger a call to an ambulance. 
But is just a beginning. Just imagine – a wristband sends data about your exercise to a smartphone which calculates how many calories you have lost, and then this info is sent to a smart fridge at your home. Fridge then sends you back detailed info with a list of available products that will help you eat a proper number of fats, proteins, and carbohydrates. Moreover, machine learning algorithms will be able to create a menu depending on the intensity of your exercise.
Also, the healthcare sector benefits from IoT due to medical improvement, prediction concerning health condition, remote health monitoring, maintaining vital equipment, and so on. But mind that you also need relevant custom mHealth app that will function properly with all devices. 
Industrial IoT
Industries that include factories and other large industrial complexes have a lot of equipment that should function uninterruptedly. To avoid any breakdown which may cost millions of dollars, the IoT system helps maintain all equipment, monitor its condition and warn specialists if something is under a threat. Thus, everybody wins. 
Smart city
Here IoT can really become useful in many fields since smart city presumes that the connection of many devices will be available. Let's check out a few examples:
Solar roads. Solar panels may notify drivers about dangerous situations on a road, accidents, animals on road on a certain district. Led lights are highly visible and they improve the driving experience, control traffic and so on. 
Traffic controllers. Special controllers installed on both sides of a road inform drivers about traffic jams and controllers may recommend drivers change the road and use an alternative route with a not busy road. 
Smart bus stops. These stops may show the information about traffics, schedule of buses, turn on the light, air conditioning, but if the bus stop is empty – it turns off everything to save the energy. 
Of course, a smart city offers much more opportunities than we have listed above. Everything depends on the budget and requirements of city government. 
IoT and toys
Yes, it is not a mistake. Toys can also be used for IoT integration. Grown-ups can use toys to communicate with their even if they are far away. For example, toys which are built with speakers, and special app makes it possible to interact with children through the toy. Also, toys with a display allow parents to send text messages. Also, medical equipment built in the form of toys is a great way to make a kid measure a temperature, for example. 
Cars
Smart self-driving cars are already on our roads, so it is not science fiction. But apart from self-driving capabilities, integrated IoT system can help drivers monitor the condition of a car, its safety. Also, a driver can connect its smart home, domestic appliances, that is very convenient. 
Also, IoT in smart cars can commit to memory all parameters of a driver like a length and weight, and if a driver doesn't match these parameters, a car will be locked and it will be impossible to start it. 
Not to mention weather forecast, road condition, and other info that will be displayed on a dashboard of a smart car with IoT. 
IoT in farming
IoT in farming is also used successfully, and there is a large number of use cases. For example, it can be used for soil monitoring and AI-based algorithms may predict the process of plants cultivation, time to harvest them, and so on. Also, it will make it possible for farmers to estimate a possible profit from a harvest. 
Also, IoT can be used for cattle breeding. Monitoring cattle health condition via sensors installed on each head and their location allows farmers to reduce expenses and make a better planning. 
Smart home
And, of course, smart devices installed around your house will help you control everything remotely. For example, heating or air conditioning will be turned on beforehand you come back home for comfortable conditions. 
A smart fridge that may track the number of products inside, show you what it has inside, notify about the expiration date of some products, and so on. 
Bluetooth trackers help users find lost things like watches, smartphones, keys, and so on. 
In fact, everything depends on your personal requirements and particularities of your business. You can keep up with trends we have listed to enhance your business and improve customer experience. Just be clever and follow the right way!