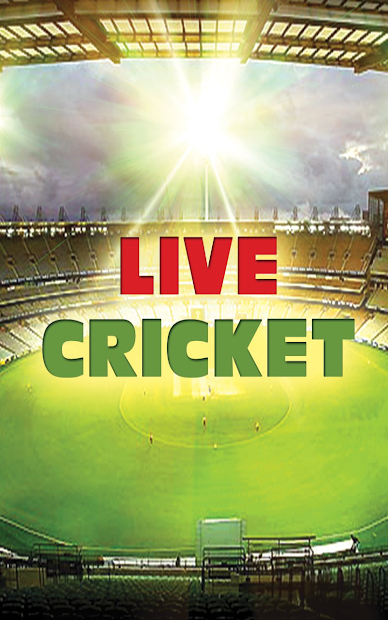 If you wanna know what is Cricket, ask any Indian and you'll know Cricket is much more than a game. It is an emotion, a feeling, a religion, a cult. No Indian can live without watching cricket. And that is why Cricket live streaming sites are gaining popularity continuously as no one can have a TV with them all the time. So, here are 10 best Live Cricket Streaming Websites that you should try.
This is a remarkable way of expanding the reach of sports to everyone. Now, you no longer have to sit before a TV to watch Cricket, just open the phone, go to the site, and you're done.
10 Live Cricket Streaming Sites 
So all the cricket freaks out there, here's your treasure, best cricket live streaming sites-
1. Hotstar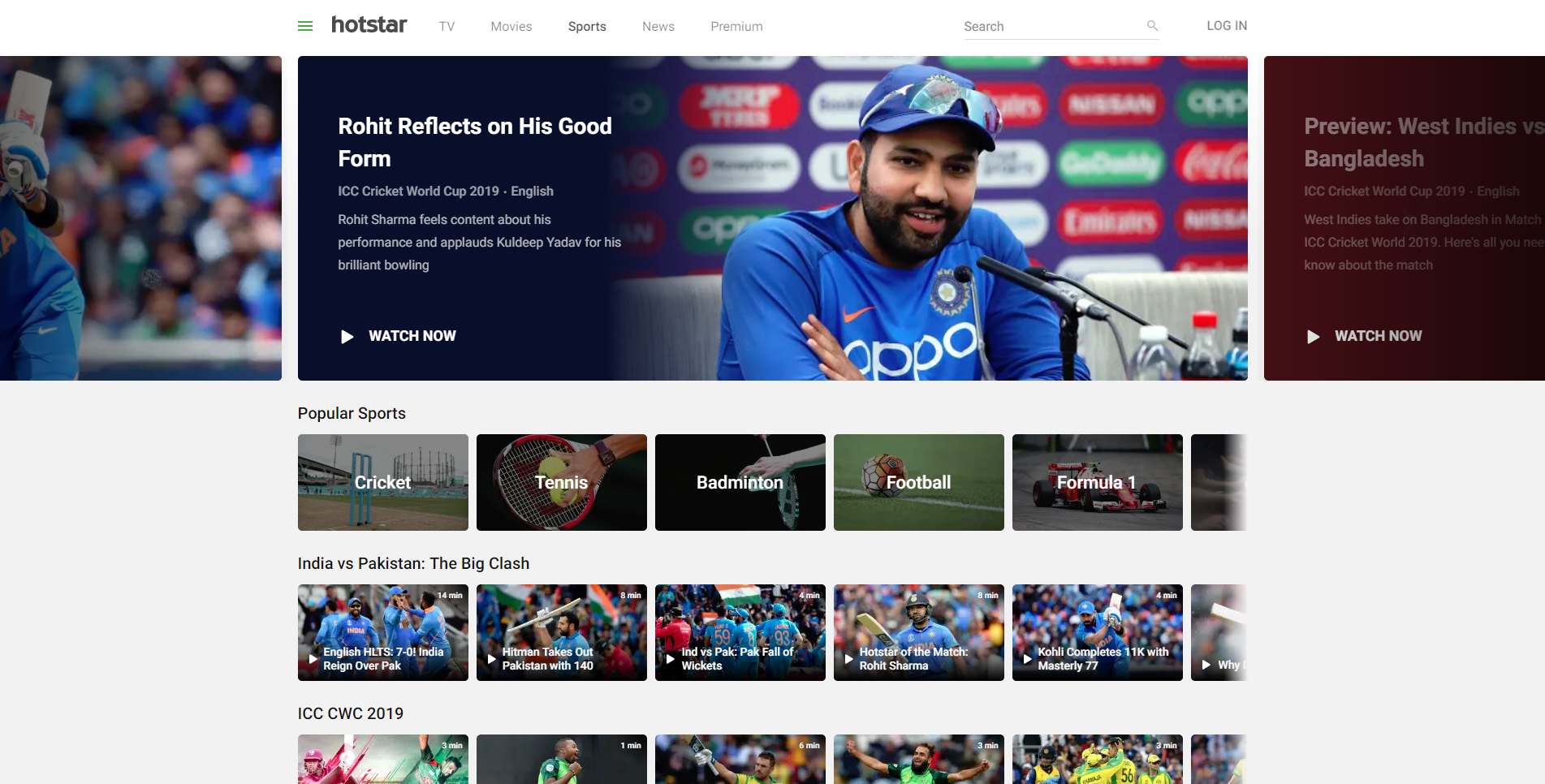 Talk about Cricket streaming and there's no one as paramount as Hotstar. This site is best when it comes to sports streaming as well as watching other online content.
There are absolutely zero problems with cricket streaming and you'll find it extremely easy to use. It even has a mobile app for both- Android and iOS
Website – Click Here
Android app – Download Now 
iOS app – Download Now 
2. Sky Sports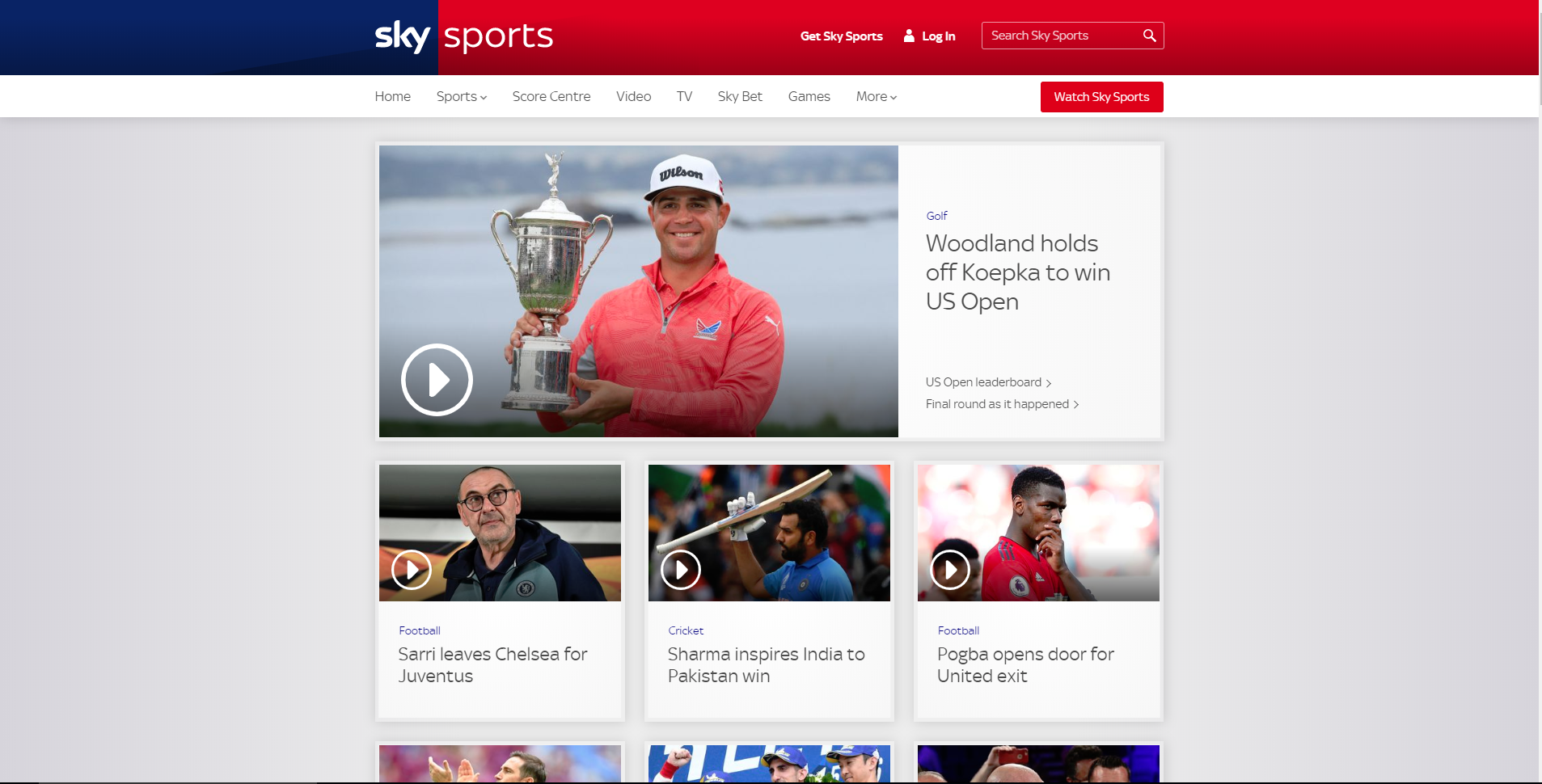 Sky-Sports is a one-stop destination for all your sports dosage. It has access to all the sports whether you need Cricket, Football, Golf, Tennis, etc. Moreover, the site interface is easy and you won't have any difficulty in searching for what you want to see.
There are a number of mobile apps as well which you might find handy.
Visit Website – Click Here 
Download Apps – Here
3. Willow TV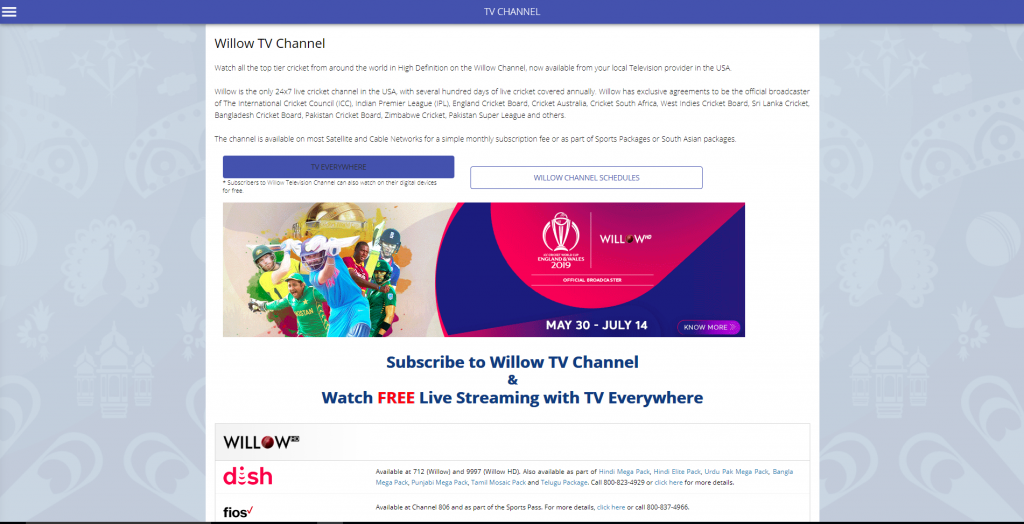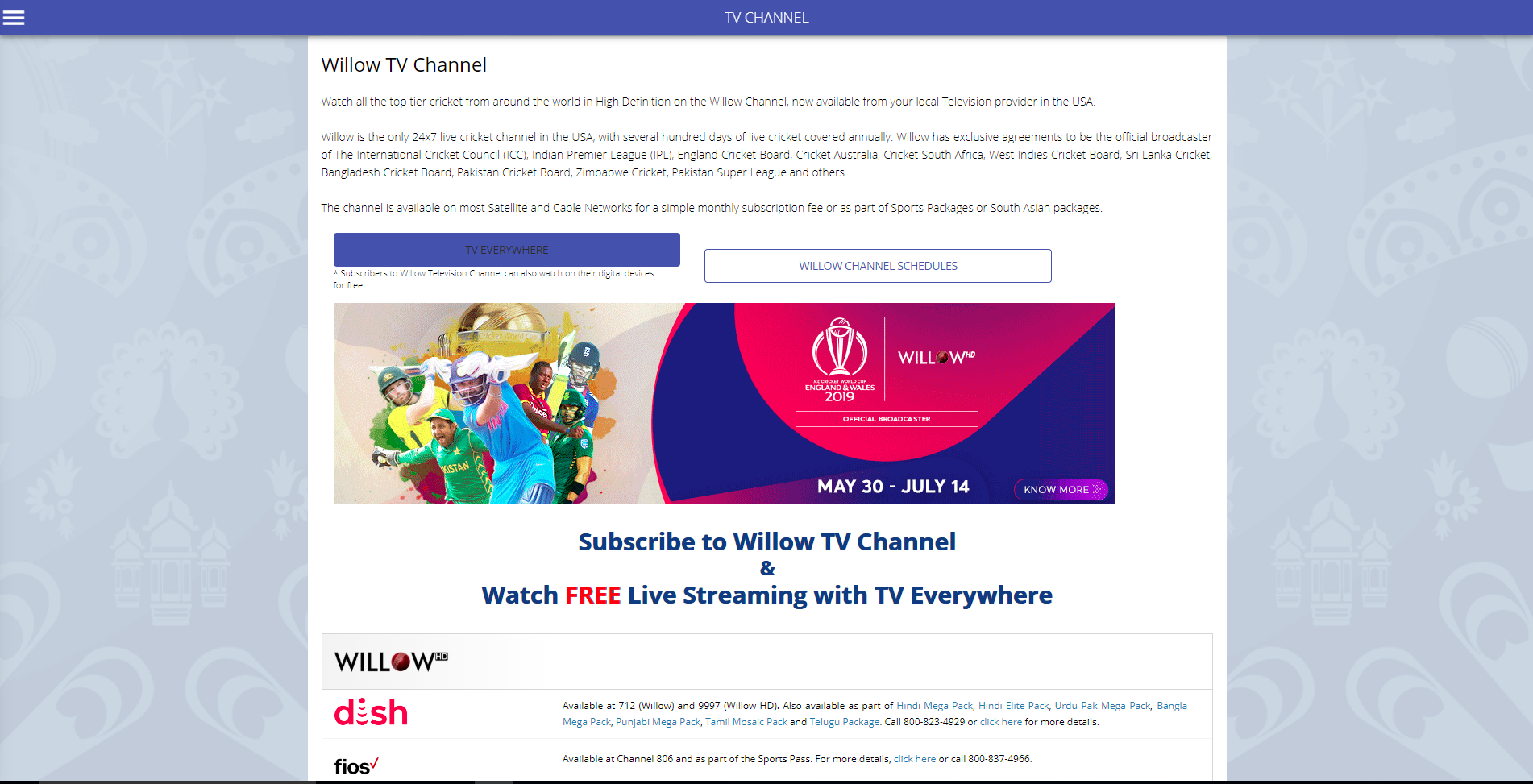 Willow TV will surely take your fancy if you love cricket. It covers all the cricketing action gives you superior quality content to watch. You can watch ICC matches, as well as the Domestic matches of each country.
It is also a TV Channel and you can find it on different TV networks. Get the list here.
Official Website – Visit Here 
4. ESPN Cricinfo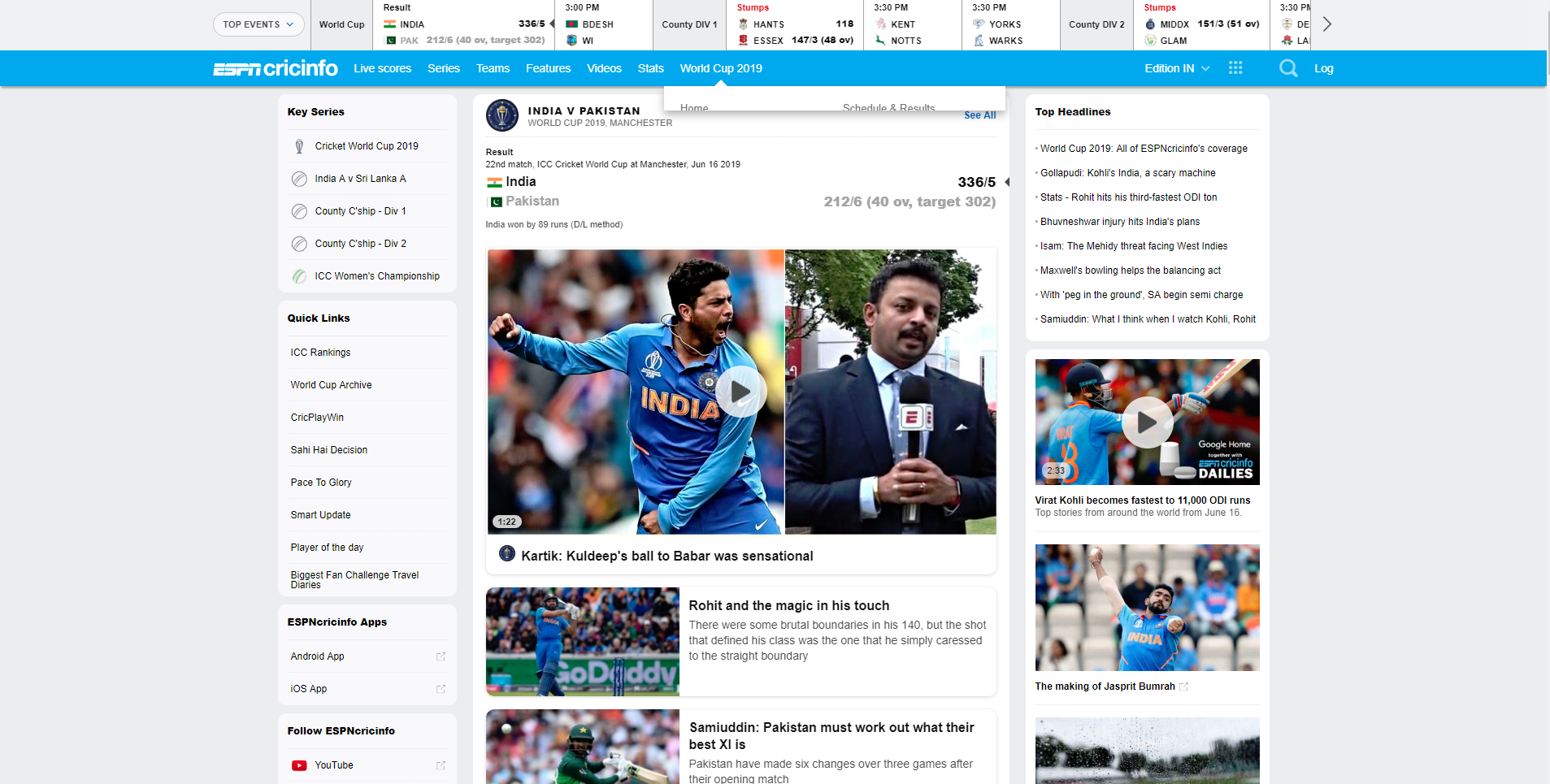 ESPN Cricinfo has gained a lot of popularity due to its services in the recent past. Fast update of scores, quick team info.  and a lot of other important information is provided.
Cricinfo has mobile apps for both- Android and iOS. The website will allow you to see the scores and updates, but open the app for live streaming.
Official Website – Click here 
Android App – Download Now 
iOS App – Download Now 
5. Sony Six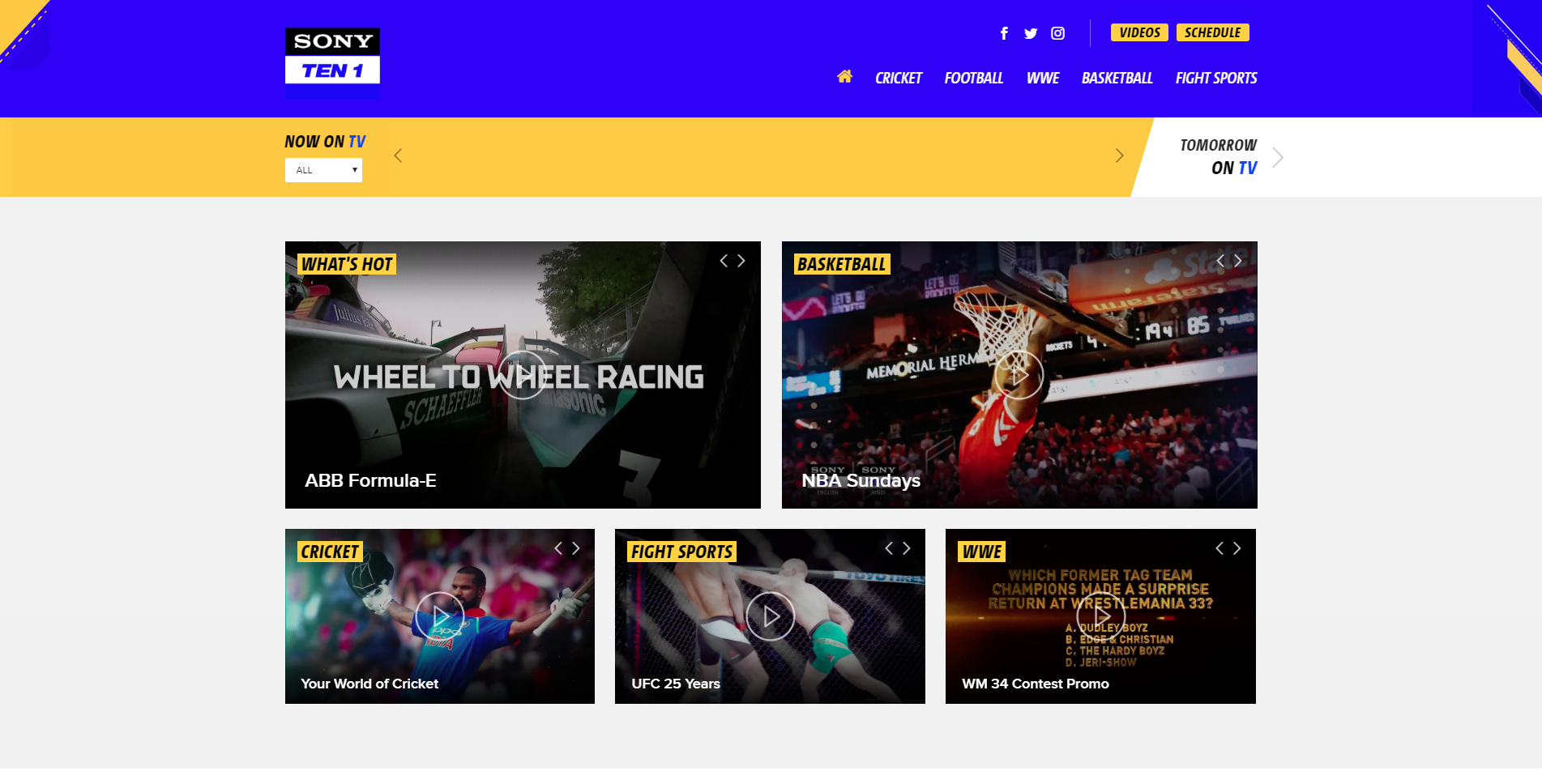 You must have seen the Sony Sports network on TV, haven't you? Sony has been a leading player in sports networking and has been very good at that. Sony has a free online streaming service where you can watch free all kinds of sports like Cricket, Football, Rugby, Baseball, wrestling, etc.
Official Website – Click Here 
Android mobile app – Here 
iOS app – Here 
6. WebCric.be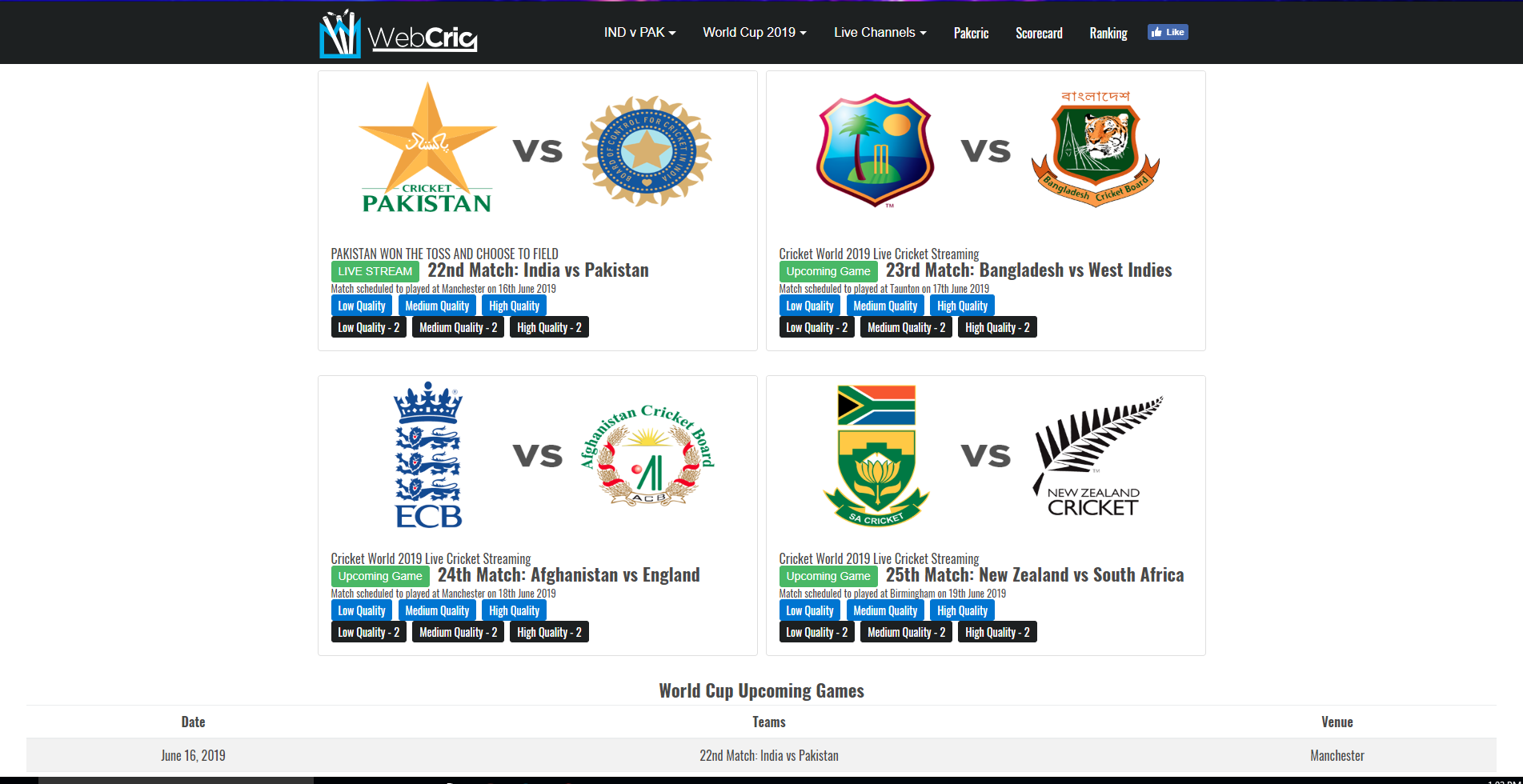 This specially dedicated website towards Cricket is free and really easy to use. You can see all the upcoming scheduled matches and all the live matches going on with customizable options like video quality, live stream, etc.
official Website – Click Here  
7. WatchESPN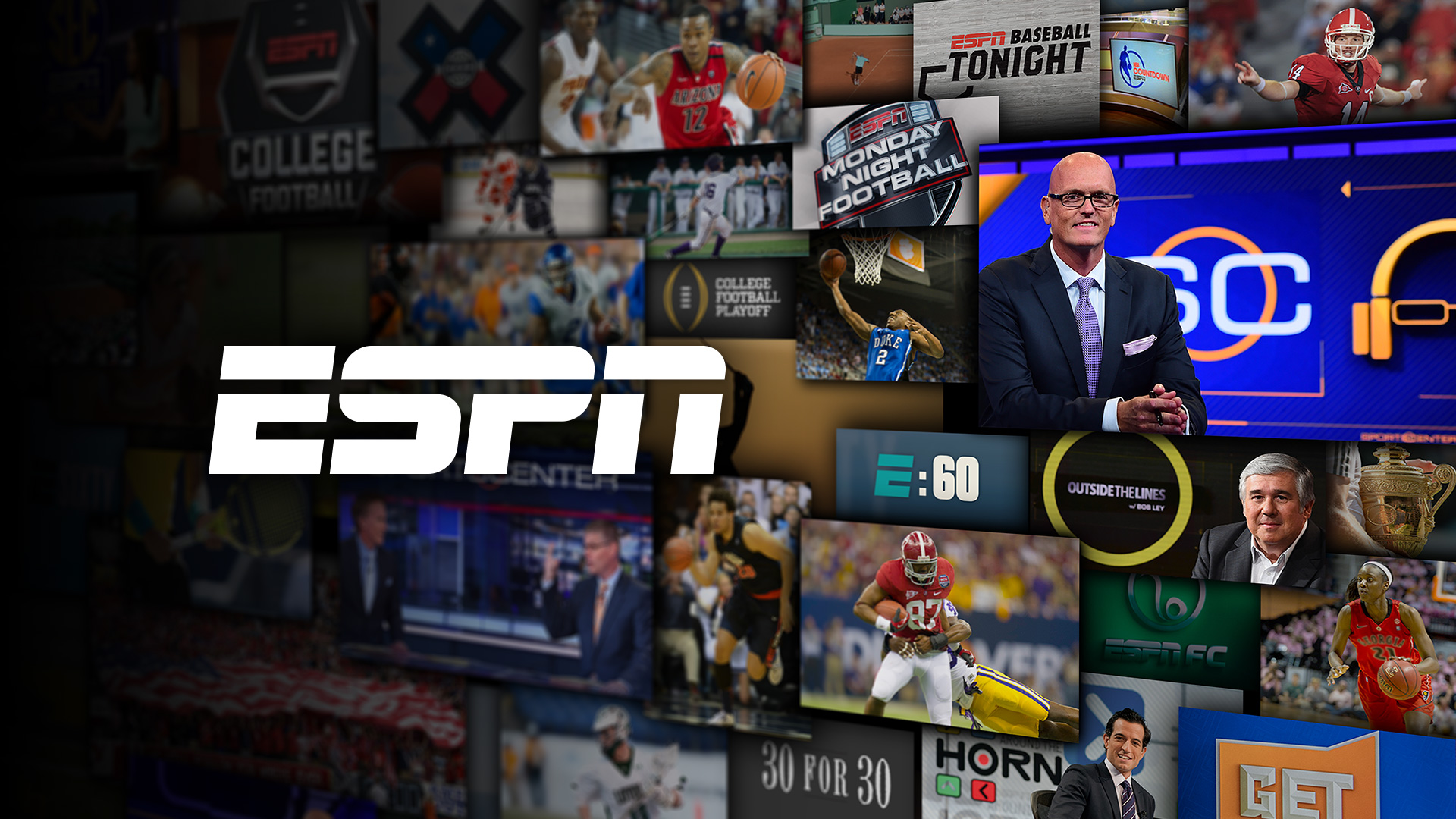 Get access to all kinds of sports, all around the Globe at this wonderful website. You need Football, visit WatchESPN, need Golf, visit here, need Cricket, visit here. You get an entire ocean of sports world at one touch.
There's a free app version for Windows, Android, and iOS as well. So, if you are OK with it, just download the service and enjoy.
Official Website – Click Here 
Windows Version – Here 
Android Version- Here 
iOS version – Here 
8. Live Cricket Matches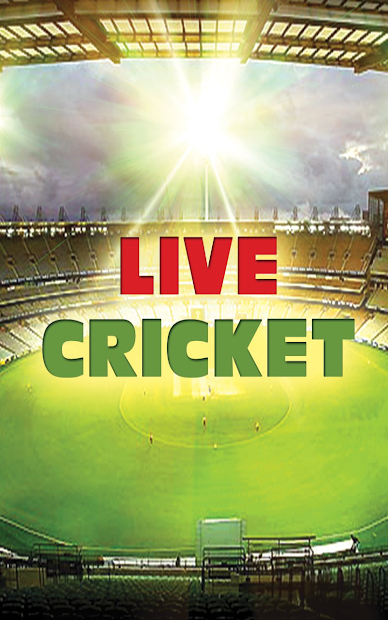 Live Cricket Matches is an app which is absolutely free, developed by PACE Private Limited for Android devices. This is an excellent platform where you can watch live matches, get live scores and get full updates related to all the cricket matches.
The only drawback is that it is available for Android devices only, so iOS users, you gotta wait a little buddy!
Android app – Download Here 
9. Jio TV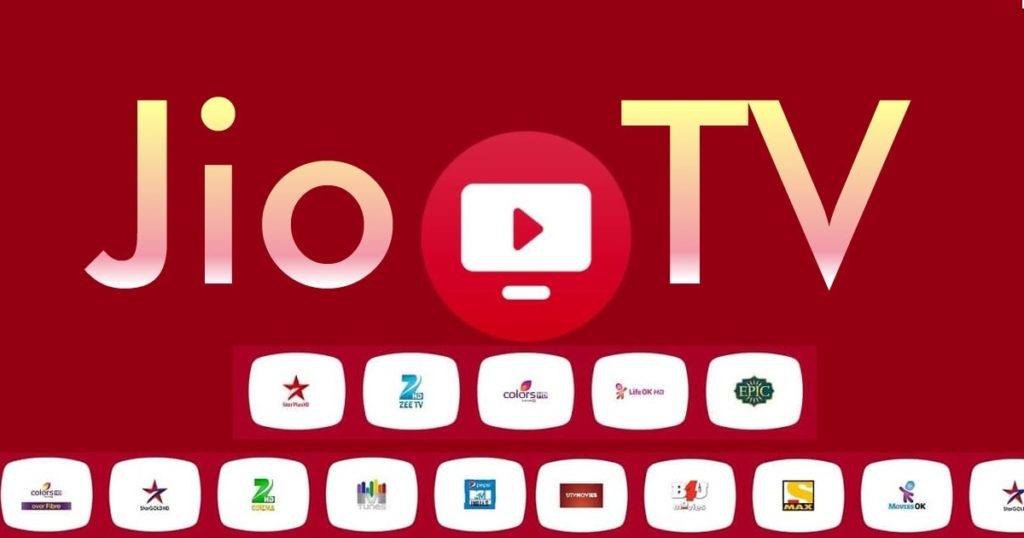 Jio TV is a new member of this league and frankly, it has taken all the other apps by storm. This app developed by Reliance Industries provides you with free access to all the Sports channels available on TV.
You can watch any channel you want and see all the cricket you want. And you know the best part? You can pause live TV also. Yes, you read that right, you can 'Pause Live TV' and resume it later. Whoaa!! How cool is that?
Android App – Download Now 
iOS App – Download Now
10. TATA Sky Mobile App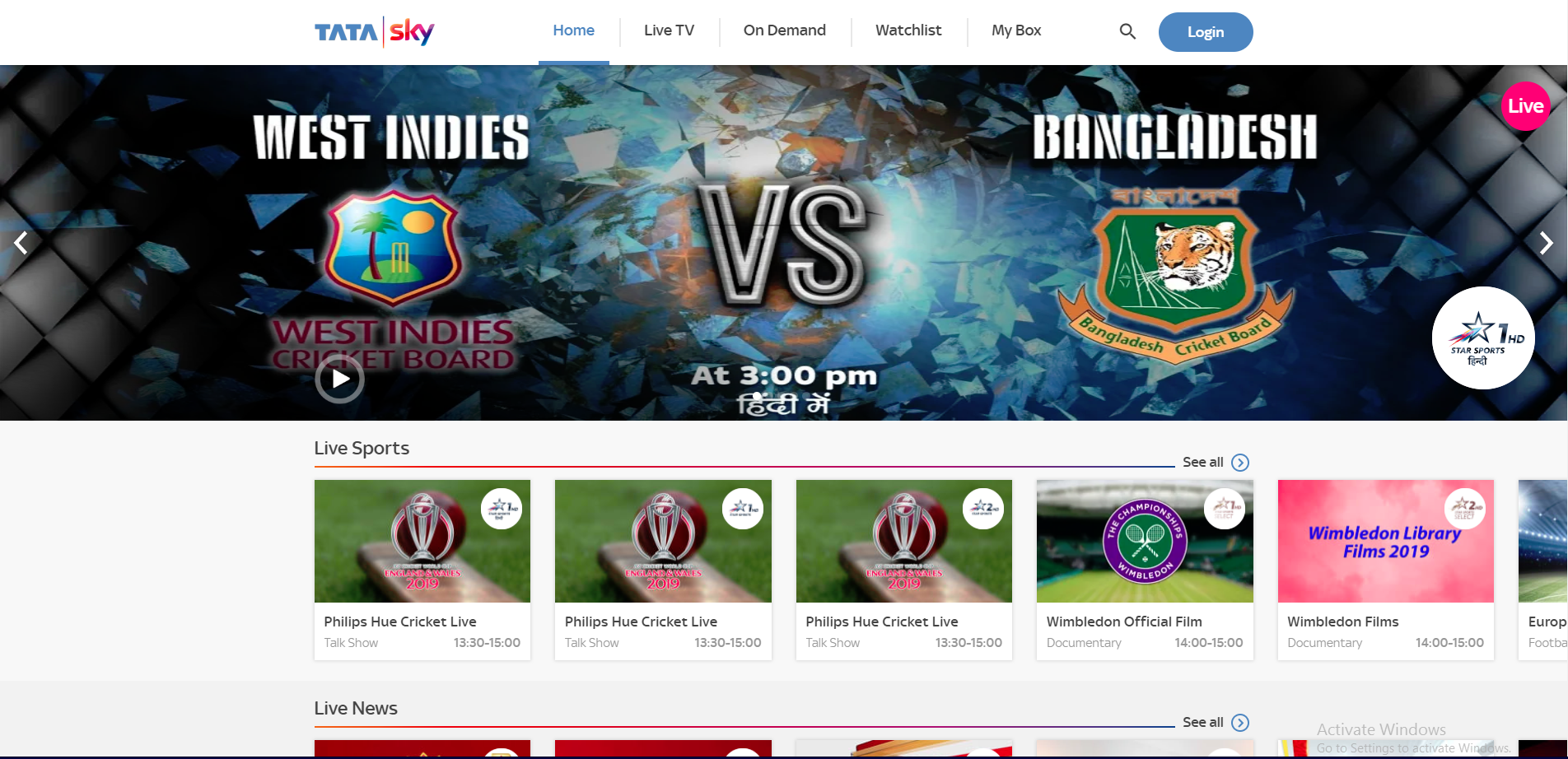 As you might know, Tata Sky is one of the best D2H providers in India. It entered the world of live streaming in 2013. It is now among the easiest platforms to watch live sports including Cricket and other content.
Just connect your ID with the app and start using this amazing app.
Official Website – Click Here 
Android App –  Download here 
iOS app – Download here 
---
You can also check these sports streaming sites to watch live stream of other sports like Football, Basketball.
Advantages 
So, do all these streaming platforms serve any advantages? Well, of course, they do.
These are some of the advantages offered by these platforms –
Convenience – You can watch sports anywhere, anytime, without any TeleVision
Free – Well, this is what you were looking for right? yeah, I know. Let me tell you, major platforms are free, just a few like WatchESPN have a subscription fee, otherwise, almost all of these are free.
Accessible by all – These apps are accessible by everyone. You don't need to do something special, you know what I mean, to get these apps on your mobile.
Easy to Use – You don't require any special configurations to run or use these apps/websites. You can use them on your phone or on your PC as well.