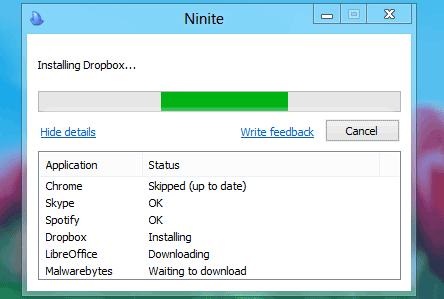 Bought a new PC and want to install or update all or multiple apps at once without doing it one by one. Well, no issues. In this article, we are going to discuss the best Ninite alternatives that can be used for batch installation, update, or managing the installed or to be installed software on your PC. Even if one uses a PC for home use, multiple software needs to be installed before you can fully utilize your PC. Installing all of them one by one takes up a lot of time, binding you to PC until the installation completes. Large software needs a longer time to install, and it can be boring to sit ideally in front of your PC waiting to install.
What is Ninite?
Ninite is free to use a package management system that enables users to install popular applications for their Windows operating system. All you need to do is to select your favourite software and Ninite will bundle the selection into a single installer package.
Best software like Ninite for Batch Installation
1. Chocolatey

Chocolatey is a Windows exclusive software management automation software which works like Ninite, it allows you to handle all aspects of package management and works well with the Windows software management. It is not a standalone app requires and requires further use of Powershell and .NET framework for improved performance and GUI. You get it absolutely free of cost; you can even modify its source code to suit your needs. With this powerful tool, you can leave your computer unattended while it installs all your favourite application.
Highlights of Chocolatey
Click here to visit official website
2. Patch My PC

Patch My PC is a great option for you as it's a portable and reliable application designed to install and update third-party applications and Windows updates; it also checks your system against the current version of various software keeping you updated at all times. With excellent documentation that lists the actual number of application and separates the number of application with updates. With a free home edition that has a built-in scheduler and fully automatic updates, Patch My PC is one of the best Ninite alternatives.
Highlights of Patch My PC
Click here to visit official website
3. Windows Remix

Window remix is one of the best Ninite alternatives for you. There are many reasons to back this claim. With this free to use the tool, that is actually easy to use the website, all you have to do is to select all your favourite software from its predefined list that you want to install on your system, and click on install. That's all, you don't even need to install any Window remix app or third-party software like the other alternatives mentioned in the list.
Highlights of Windows Remix
Click here to visit official website
4. Scoop

If you like Chocolatey then Scoop will definitely make it spot in your favourites list. Scoop is free to use the command line installer that is similar to Chocolatey. Requiring no administrator permissions, Scoop installs the packages into the Scoop directory. To start the installation process, simply type in a specific command via PowerShell, and let Scoop do the rest. Keep all your apps up to date with Scoop; just enter the command via Powershell, and it will install updates to the applications. Scoop installs independent and self-contained apps and even lets you update one app at a time.
Highlights of Scoop
Click here to visit the official website
5. Just Install

With Just install create your own custom-tailored .exe installer which downloads and installs all the required application in one go with the free to use Just Install. Similar to Chocolatey, Just Install downloads applications from their original sources, and skips all dialogue and prompts. No repackaging is done during installation and all the installed apps can be viewed and uninstalled from the Control Panel, making it one of the best Ninite Alternatives.
Highlights of Just Install
Click here to visit the official website
6. Ruckzuck

Ruckzuck is a portable program that lets you install or update many applications with ease. The user interface is simple and easy to understand as all you need to do is to select the applications that you want to install on your computer, and then click on the "Start Installation".  It downloads and installs file on your computer by using the Powershell. To use Ruckzuck on an earlier Windows version, i.e., lower than Windows 10, you will need to install .NET Framework.
Highlights of Ruckzuck
Click here to visit the official website
7. Zero install

Zero Install is an open-source free to use the software, with few steps you are ready to go. In general, you need to install the software before you can use it. But Zero Install works in a completely different way, making it one of the best Ninite alternatives. Run applications without installing them as the software is downloaded from the Internet and cached and is subsequently accessed from the cache. You can control the installation by using either a GUI or a command-line based interface.
Highlights of Zero Install
Click here to visit the official website
Conclusion
We are confident that you have already found the best Ninite alternatives by going through our guide. All the above-mentioned software is personally tested by our team of experts and guaranteed to provide you with a seamless installation. Select any of them and update or install multiple software at once. Follow our website for more such latest updates.