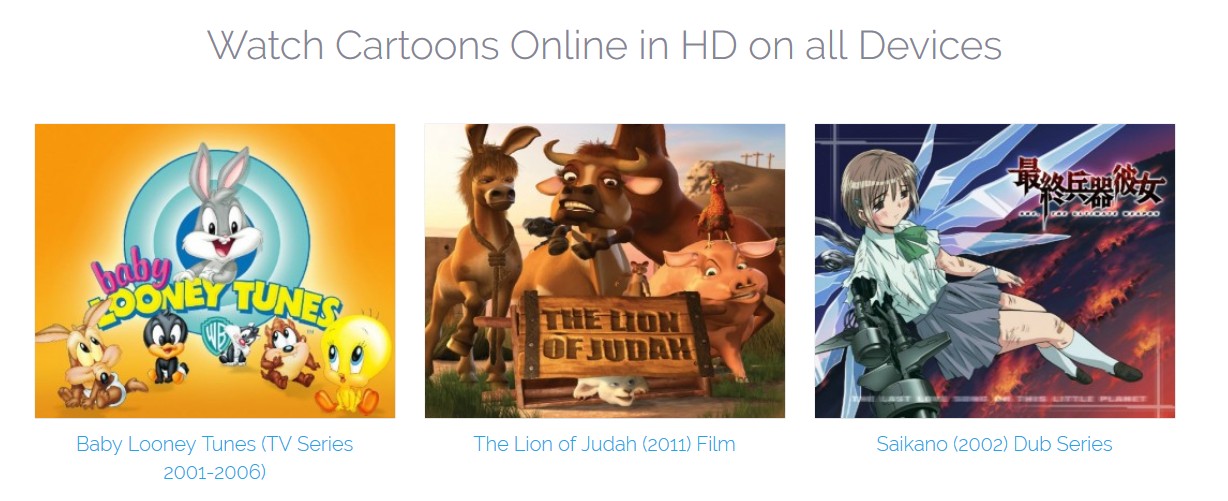 Kids, as well as teenagers, spend so much time watching cartoons every day and in case if they forgo any episode then try to find it over the internet. The cartoon characters have increased in the past few years as the cartoon and anime movies have gained a lot of popularity, but some of them are not available on famous TV channels.
Online websites are definitely a nice solution that doesn't just allow viewers to watch latest movies of their favorite cartoon character, but also let them search for the classic movies and watch all of them one by one as per their convenience. There are many scam websites available that offer free content, but most of them do not provide a link for streaming. Instead, they ask for the credit card details to proceed further.
Best Sites to Watch Cartoon Online for Free
Here in this article, we would like to give the details of some best free cartoon/anime websites that allow you to enjoy movies for free and are safe.
Without any doubt, Cartoon On is one of the best websites which lets users watch cartoons and anime online for free. The website is highly responsive and works fine with all kinds of devices such as smartphone, computer, tablet, iPad etc. You can stream online cartoon movies through direct links for streaming. There  are no unwanted pop-up ads and adult ads to showcase on the website so you can easily watch your favorite show with your family members. They have a huge collection and you can choose from various characters such as Mickey Mouse, Tom, and Jerry and also find the videos as per the studios like Warner brothers or Walt Disney.
Disney Junior is one of the most famous websites which has an easy to use interface and allows users to watch online anime for free. You can watch all popular Disney cartoons like Micky Mouse, Donald duck etc. The website is obstructed in many countries, but you can use VPN to view your favorite cartoons. One the best thing is that there are no irritating pop-up advertisements that spoil the fun while watching anime.
Across the globe, millions of users spend so much time daily on this website. YouTube is the best platform to upload, download, watch and share all kinds of videos and definitely cartoon characters and anime are not any exceptions. There are hundreds of online cartoon movies and shows available and you can find them out using the search bar at the top by entering the name of that character or movie series. Watching a video on YouTube is free. Though, advertisement banners pop-up all the time to bother.
Are you a big fan of classic cartoon characters like Popeye the Sailor Man, Looney Tunes or Tom And Jerry and want to see their best videos online for free? If yes, then ToonJet is the website that you are looking for. The site provides smooth online streaming of popular cartoon shows and doesn't require the user to sign up to watch any online video. However, Sing up with your account brings some additional features like the Profile Page which can allow you to access videos in a better way. The website is responsive and looks great on all kind of screens.
It is one of the best sites which allows users to watch online cartoons for free and also provides dubbed version of any anime in English. You can watch anime at the best possible speed without using VPN as the website is available across the globe. They have a huge collection and you can find almost all kinds of cartoon characters over there. The video quality is also good to provide the good experience on mobile as well as PC.
The site is highly recommended to watch online anime for free as it gives you the variety of them. The home page of the website consists a huge directory of multiple anime and let you enjoy some of the most famous animated characters such as Teen Titans Go, Uncle Grandpa Season 2, Clarence Episode and many more. There are plenty of cartoon movies available too. There is only one problem that while watching anime or cartoon, you get disturbed by pop-up ads most of the time.
The anime available on the website is limited to only Nick cartoons, still, the website is highly popular among teenagers. The website provides a nice platform to watch Nick cartoon movies online for free. There is a huge collection available and viewers can pick from their favorite characters such as Rugrats, Square-pants, Avatar, Jimmy Neutron, SpongeBob Square-Pants, Hey Arnold and many more. You won't face any problem while streaming online videos for sure.
This is the best option for those who love to watch anime as it provides an easy to user interface, a wide range of collection, and smooth streaming of videos online without any charge. The sidebar of the website consists a huge list from where you can pick your favorite character and watch the movie. They have a nice collection of movies released in 2016. The site works fine with all devices such as the tablet, PC, and smartphone and doesn't contain adult ads.
The video quality of a cartoon or anime movie depends on your device as well the website. If the format is not supported then you won't be able to watch the movie and if the audio/video quality of your device is below standard then also it will affect the performance. Though, this free cartoon websites sport almost all file formats so that users can find and watch even older movies from the collection. Hopefully, the list we have provided will help you find the cartoon movie or show that you are looking for.