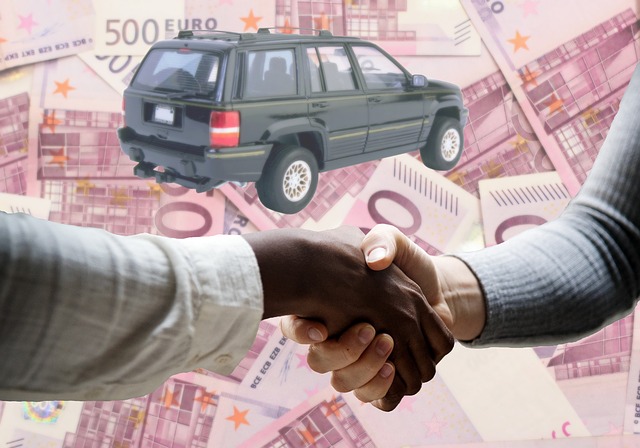 A human being's basic need is Food, Cloth, & House. When our basic needs get fulfilled, we think about the other stuff. Like in the current lifestyle, every middle class person dream is to have a car. In our society having a car is a symbol of reputation. When everything is going well in a relationship, family & financially. Then there is always a will to have a car. Ok, now consider you got your dream car and you are satisfied for a while but then you have to upgrade  according to technology and also match it with your reputation, so you start thinking about how to sell it. 
Now the big question is where to buy/sell a car and which one is best for me. Now you can buy/sell cars online. There are some good used car selling websites & apps on which you can find your dream car. It is easy to compare prices, models, brands, features, and many more.
Even if you can't afford a new one, you can go for the old one. These services verify the car before purchasing and also provides you with a few months warranty. 
Best Sites to Buy/Sell Second Hand Cars
These are top 5 websites & apps to buy/sell new/used cars in India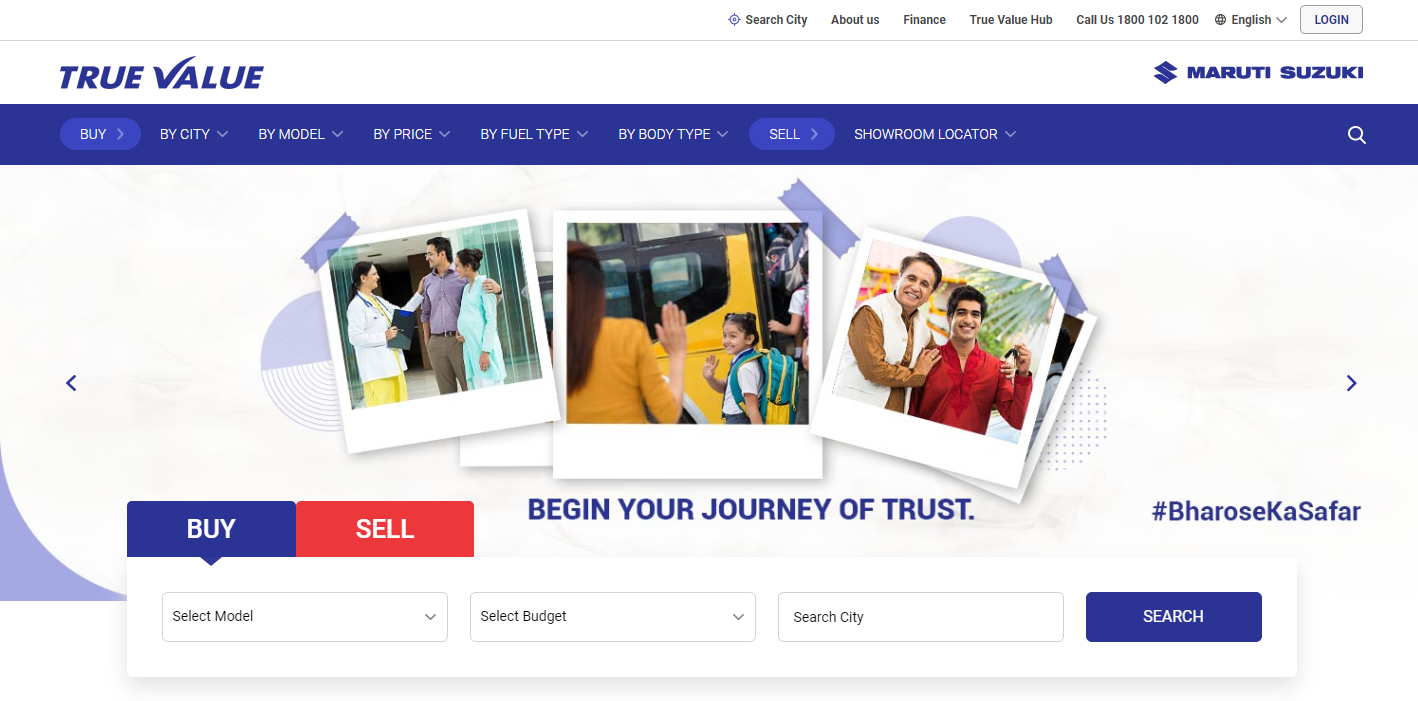 True Value is the fifth in our list. Maruti Suzuki True Value is a platform where a buyer and seller can buy or sell Maruti Suzuki cars online as well as offline. Professionals at True value help the customers to get their desired cars. The entire process of buying/selling is seamless and quick. 
Best thing of True Value:
True Value checks 356 checkpoints of pre-owned cars that win customers' trust.
Fair & Transparent Prices
They provide fair & transparent prices on pre-owned cars.
Transparency for Buyer/Seller
There never happens a blend of buyer and seller that's why True Value is good in transparency.
Comparison of Maruti Suzuki vs Maruti Suzuki
Maruti Suzuki True Value compares their own cars to each other that gives a straight way to the user to choose between two cars of Maruti Suzuki.
Pre-Owned Checking (#usedcars)
#UsedCars indicate cars that have to go for checking. True Value checks a wide background of second hand cars before listing it for selling.

Cartrade is fourth in our list. Cartrade.com is the platform of the auto marketplace on which you can buy/sell new/used cars online. They give all the functionality to choose a car.
      It shows the final price of a car without the indulgence of third person.      
     It is a mark of a tested & quality car. This certification inspects 139-point of a car. It            confirms below point:
Non-accidental car

Inspected & Test-driven by expert

Good condition engine & gear-box

Detailed condition report
Here, you can see a detailed sample certification report of a car's condition.
It also shows on-road prices of cars along with selling price.
Cartrade's experts give their reviews about the car after testing them on roads by themselves. The reviews based upon the road condition, traffic and etc. Expert reviews tell about the pros and cons of cars. It includes performance, build quality, interiors, comfort features etc.
Cartrade helps their customers in a very good way by recommending them cars                  according to customers' will.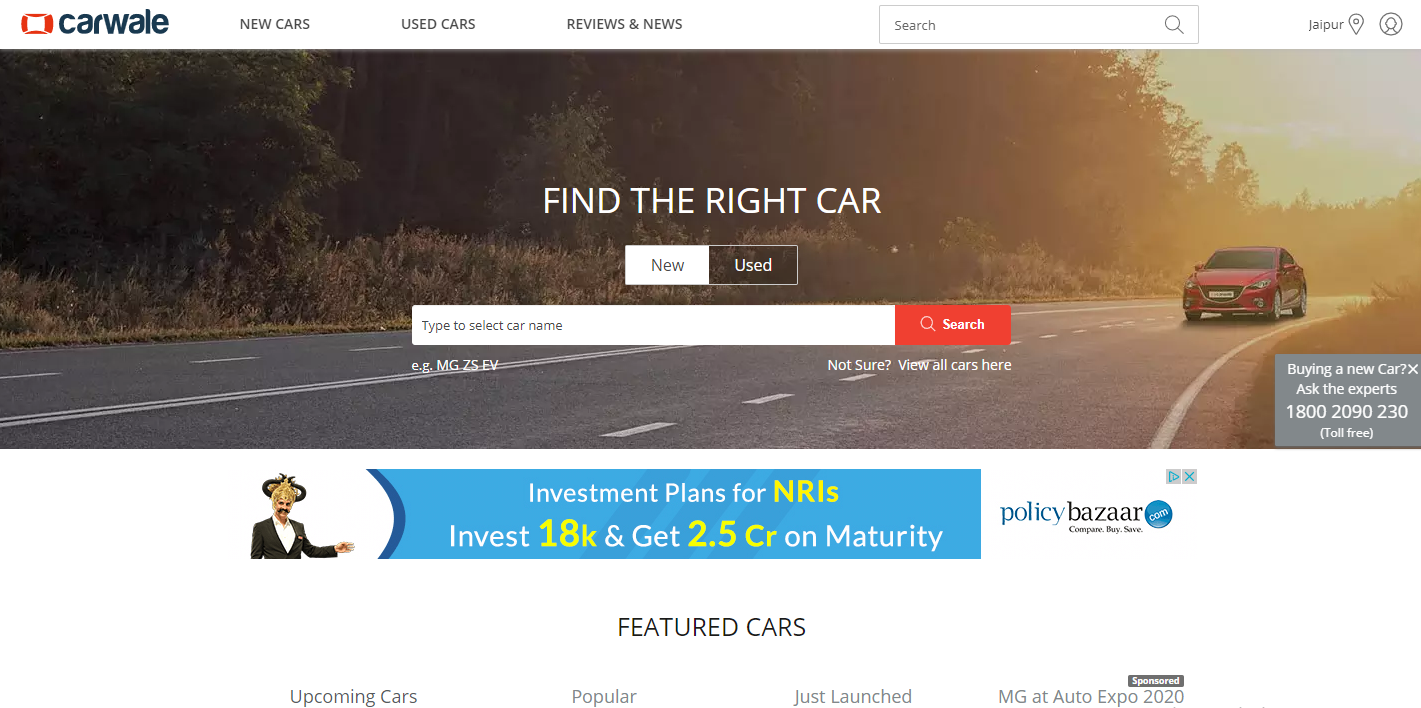 Carwale gives several options to get a car such as recommend-me-a-car, compare car, owner reviews, expert reviews. Most popular feature is "on-road prices". Carwale covers 200 cities & towns. 
Why to choose Carwale ???Because,
Carwale calculates car valuation according to manufacturing year, brand, city, model and etc. User Car Price Guide gives an easier approach to calculate your used car.
Carwale also has this feature called Recommend-me-a-car. That will recommend you a car according to your interest and usage. 
Owner Reviews describe the specs in detail.
On-road prices of Carwale are so accurate. You only have to put the model name and city then you can find the actual on-road price of that model.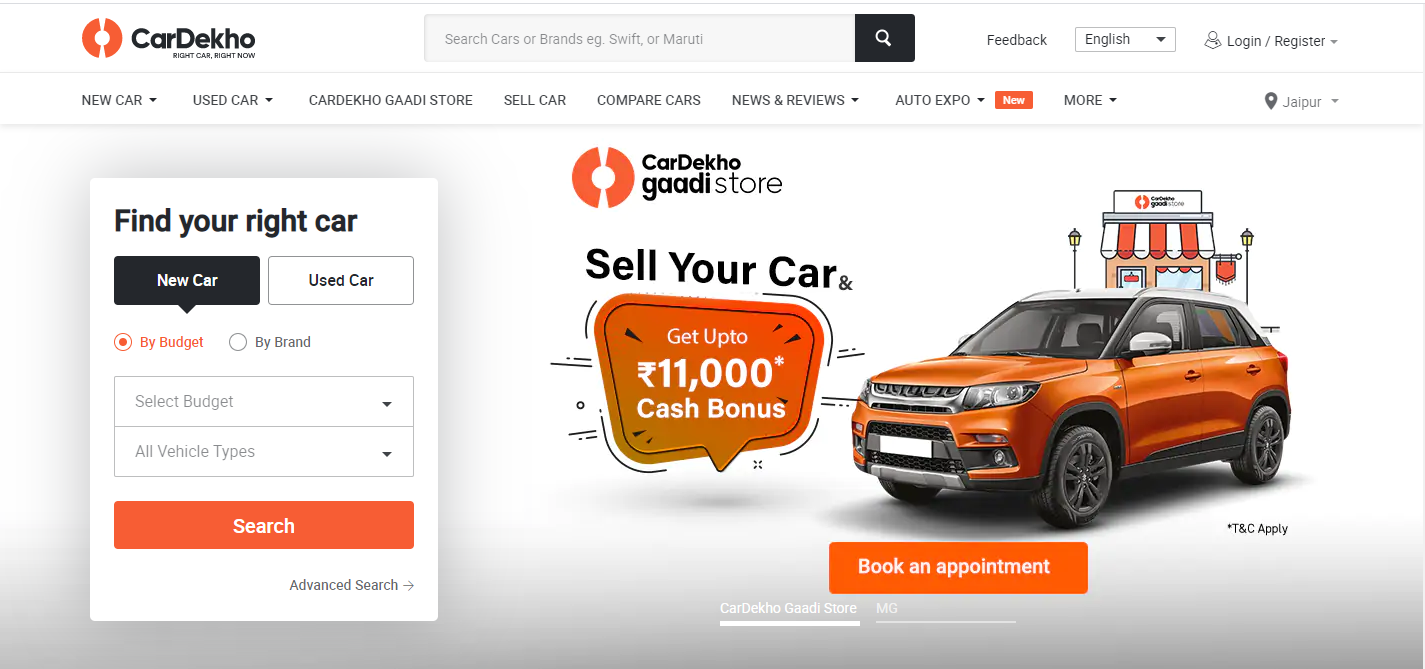 Cardekho.com comes at second position. It is the second biggest platform of new/used cars to buy/sell. It gives you detailed specs and prices, images, videos and models that are available in India. Cardekho has more than 4000 car dealer ties-ups in India.
Cardekho shows a detailed picture of the immersive experience of the car model before visiting the dealer showroom.
360-degree view of Interior/Exterior
Cardekho introduced the 360-degree view of the car's interior/exterior. It is the best way to know your car virtually.
The best part is the offers. The company is giving a cash bonus on selling a car. Get upto 15000 cash bonus on selling used cars.
Features of Car with Videos and 
Cardekho also introduced a video description of specs.
Search Filters & Comparison
Filter and choosing cars by body type is the best part of Cardekho as it shows the design of multiple cars (Hatchback, Sedan, SUV/MUV, Minivan/Van, etc.). Choose your right car by comparing it with others.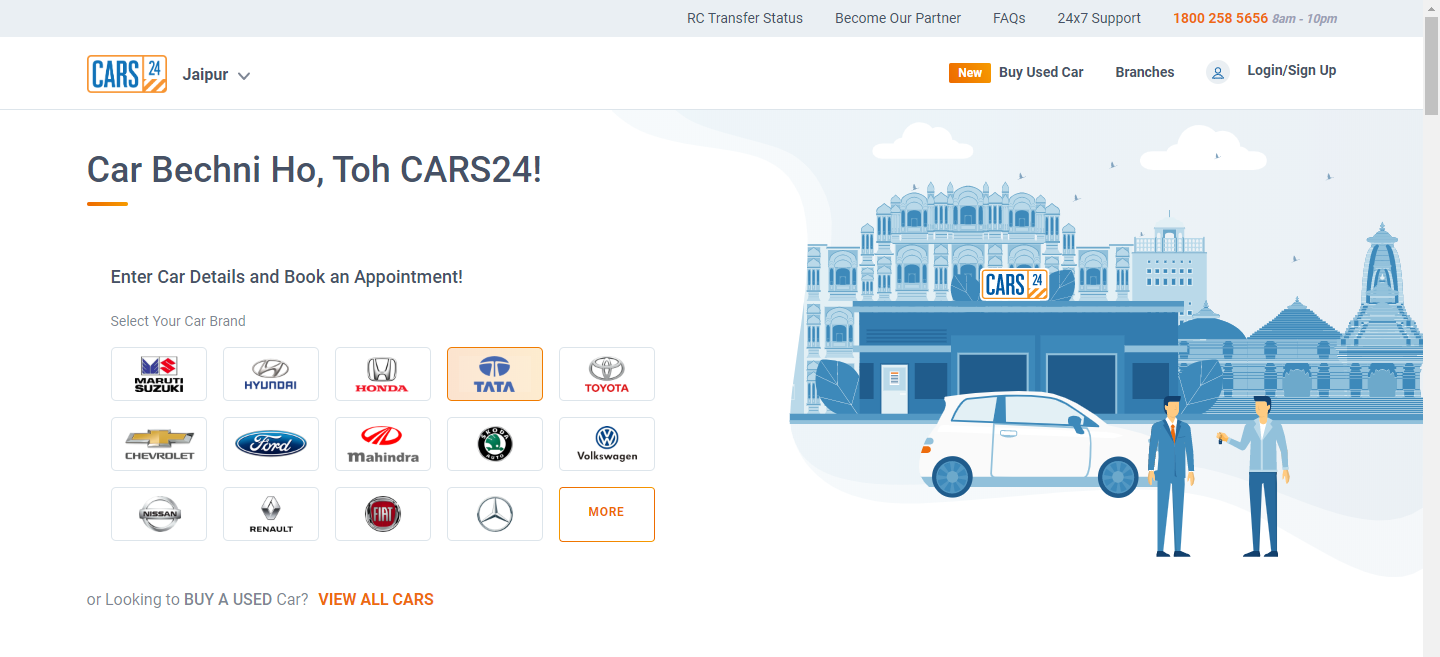 Cars24 is the top in the list. It is the largest platform for buying/selling pre-owned cars. They covers 77+ cities in India. It gives a reliable and hassle-free transacting of used cars in India. Cars24 is best in each format
At Cars24, No need to worry about selling. Because you don't have to visit buyers 10-20 times, you only have to visit Cars24 for once and you would get your first visit price.
The good thing is, you don't have to negotiate with the buyer hundreds of times. You          get your deserved price.
Cars24 doesn't do payment in cash. When you decide to sell your car and the buyer            agrees on that then you will get your money in your bank account instantly.
I think this is the most exciting feature of Cars24. If you sell your car without Cars24          you wouldn't get a free RC transfer. All RC transfer work has been done by Cars24.
The certification of Cars24 ensures the quality car for you. Always check the certification checkbox.
Conclusion
If you want to compare and want to buy a Maruti Suzuki car then simply visit True Value or if you are confused, which one to pick or selecting a perfect car for you then use the "recommend-me-a-car" feature of Cartrade and Carwale. Everyone likes cashbacks and offers then my suggestion would be Cardekho. 
If your main motto is to sell your used car, then Cars24 keeps you away from worrying about your car related problem (RC transfer, Selling, Payment, etc.).