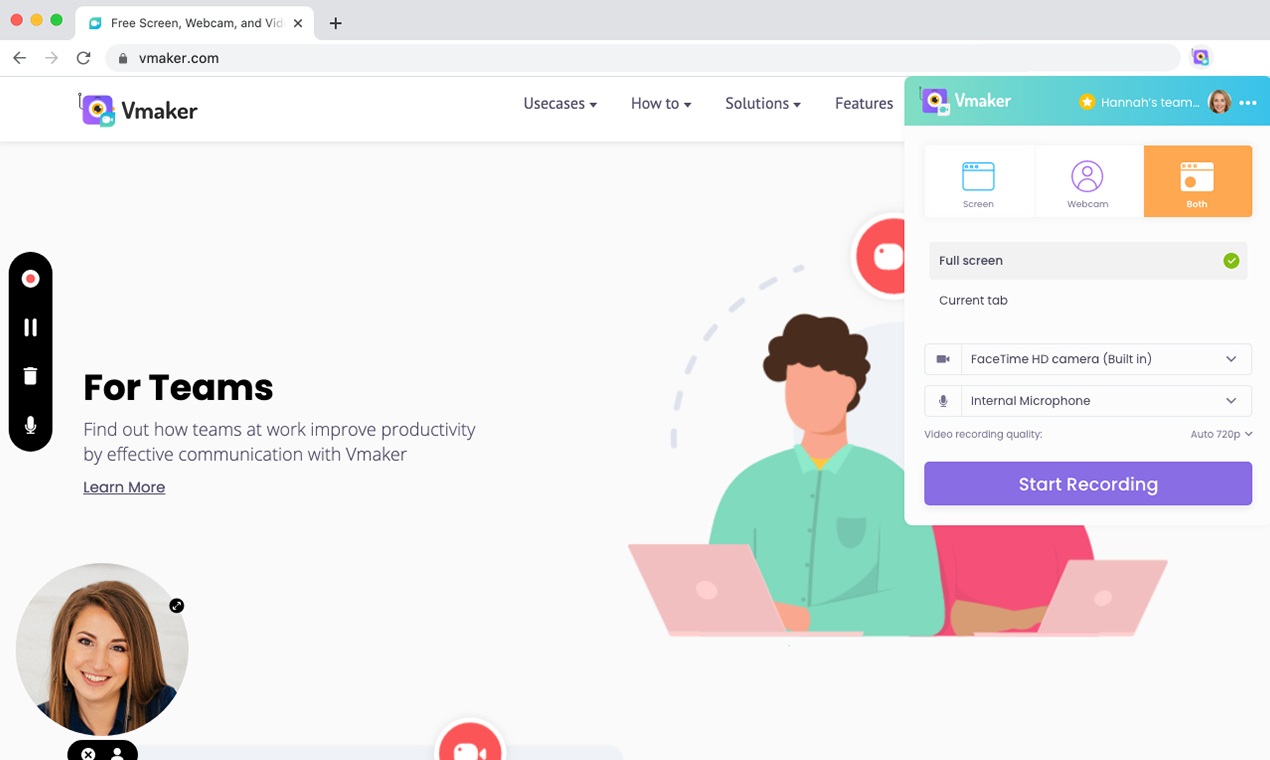 In the recent years more companies are banking on this opportunity to launch new products, and encourage users to create more content for the online users. This has given rise to a surge in the number of content creators  curating content for their online audience. 
There are millions of educational videos uploaded on a daily basis on different platforms. To create these video tutorials, video recording and editing software play a major role. While making video tutorials, it's very important to record the screen. 
Most of the online classes record both the screen and the webcam video to keep the training transparent and the engagement high with the audience. 
Although, there are many screen recorder tools available, and there is no doubt that they are performing well,however,  many of them lack  advanced features required like Screen Annotation, Noise Cancelling and others. So, after researching I found this tool named Vmaker by Animaker which is providing some interesting features which will be helpful for all whether you are creating software tutorials or Youtube Channel, Gameplay or any other screen recording content. 
Vmaker Review 
In simple words, Vmaker is a tool that records your computer screen, webcam or both at the same time. It can even record your system audio and microphone. Not only this you can even edit your video with this tool. So it's all in one video suite for video content creators.
The best part of this tool is it's free. Yes, you can upgrade to the paid plan which has more advanced features, but if you ask me, the free version of Vmaker has got almost everything that is required for screen recording and video editing. Additionally, the free plan doesn't asks for your Credit Card information and has no trial period which means you can use it for forever without any pressure for upgrading to a paid plan. Besides, there is no watermark on the videos that you record, you also get 15 GB of cloud storage, noise cancellation and DND recording feature..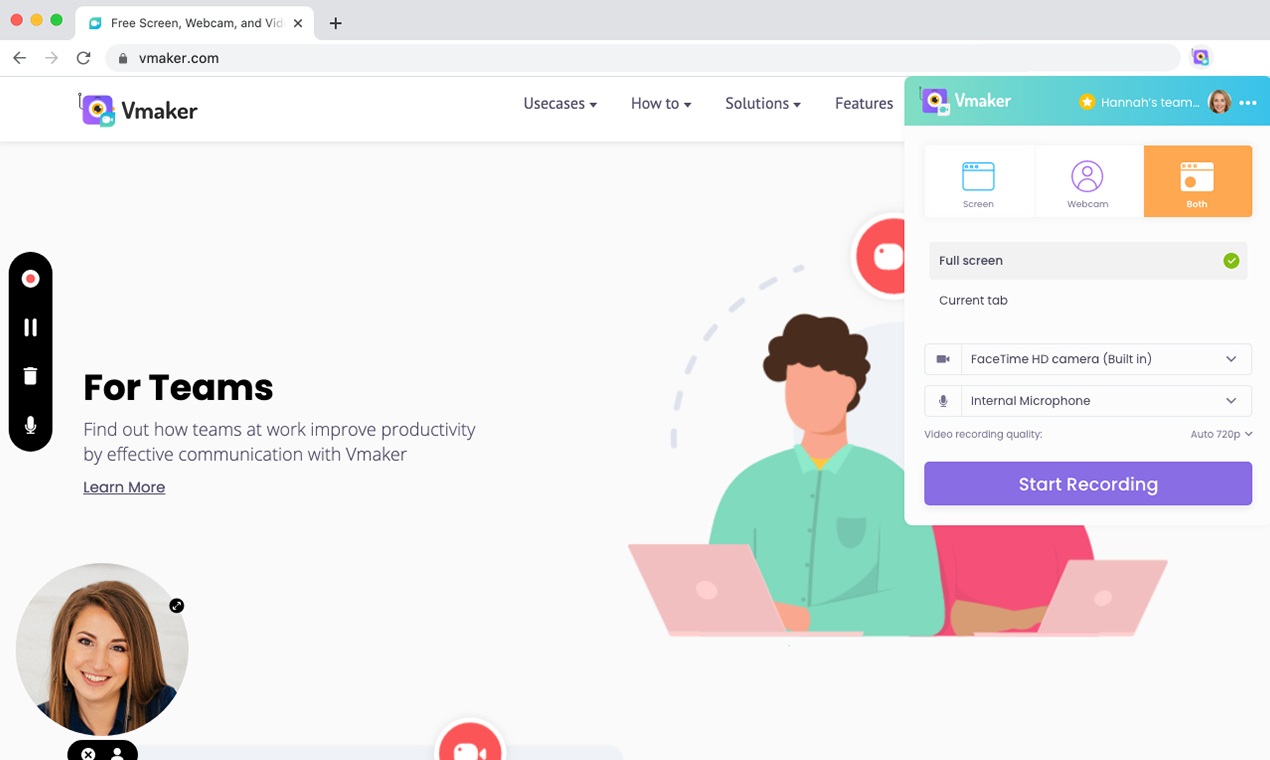 The second thing that I liked about this tool is that you can record your screen or webcam with its chrome extension. It's very easy to record and edit from one screen without switching to multiple windows. With Vmaker chrome extension, you can do unlimited recording without any time limit, record and make 4K videos, highlight and mark with it's screen annotation feature. Even some basic editing can be done directly from the chrome extension itself. This will definitely save a lot of time. 
If you want you can even download the software for your system. It's available for mac and soon they will launch a mobile app and Windows version too. 
Vmaker Features 
Let's now talk about Vmaker's features that make it one of the best screen recorder tool.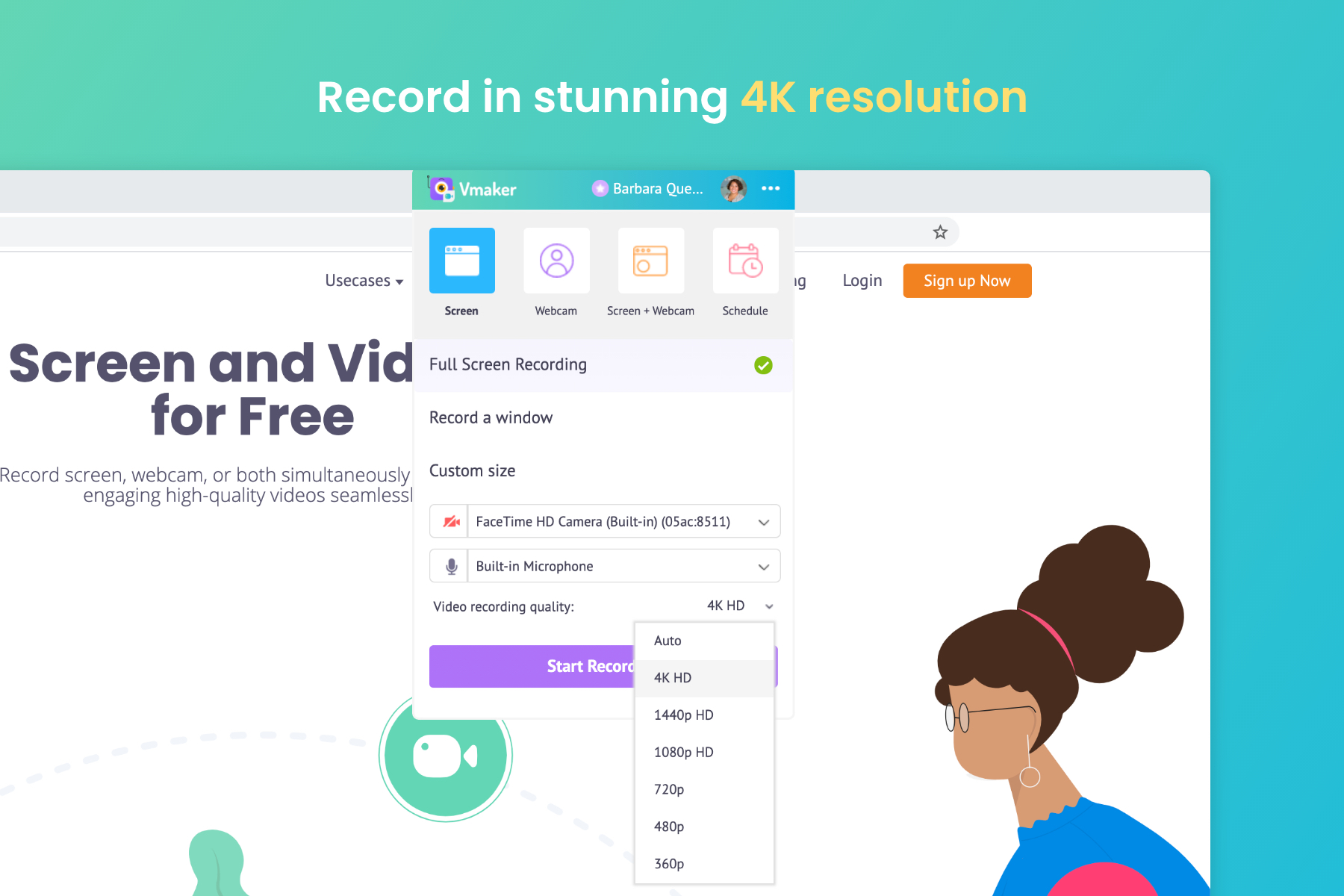 Recording Modes : It has 3 recording modes. You can record your screen, webcam or both at the same time. You just need to select the desired mode. You can even choose the option to record the complete screen or only some part of it. 
Screen Annotation & Mouse Emphasis : It's one of the most desired features for all video creators. While making tutorial videos you need to mark or highlight some areas on your screen. And with this tool, it becomes very easy to annotate on your screen while recording. Mouse emphasis helps your users to follow your mouse pointer, and see where exactly you're clicking on the screen. 
Team Collaboration : With this feature you can add your teammates to your workspace. Your team members can directly share videos and collaborate with ease.
Personal assistant

: Now you can schedule your screen recording with Vmaker. With the help of their virtual assistant Max, you can set up a schedule to start recording your screen automatically Max will start recording  your screen at the scheduled time even without your presence. 

Auto-expiry videos

: You can also set an expiration time for the videos that you record with Vmaker. This feature is very useful when you want to share something confidential with a very few people. After the set time has passed, the video link will expire, but the video will remain. This means, you can still share the video with someone if someone you trust asks for it.  

Cloud Storage

: Your videos get saved on the cloud;. It will be secure for you and your team to easily access them. With the free plan you get 15 GB of cloud storage. 

Video Editing

:  You can now

edit

your recorded video from this tool itself. Basic editing like trim, crop, flip , rotate and resize options are available.

Noise Cancellation:

Background noises can restrict users from listening to your voice clearly. Noise cancellation cuts out these noises to ensure that your audience listen to your voice and nothing else.
Some Upcoming Features
:
Screen Blurring

: Lots of time we need to hide something on screen like our personal information and others. This feature comes in handy for blurring and hiding some part on your screen. 

DND Mode

: If you have ever done screen recording, you must have experienced this issue. Pop up messages come in between your recording session, and all your time and effort gets wasted. Now with DND mode on, you can disable notifications so that there will be no disturbance at the time of recording. 

Custom Background for Webcam Recording

: With this feature, you can change the background of your video to add on to the visual appeal, and make it more interesting.
Vmaker benefits over other popular screen recording tools 
Let's now discuss some advantages and benefits of Vmaker in comparison with other popular screen recording tools like Loom, Camtasia, Snagit etc. 
Free Means Free

: With Vmaker, you get Unlimited recording, no video limit, no time limit, no watermark with their free plan. But, when you compare them with other tools like

Loom

, they say it's free, but they limit the number of videos to 100, video time limit is of 5 mins, and some tools even add watermark to the videos on free plans. 

Advance Features :

Even in a free plan from Vmaker, you get some advanced features which are not even available on premium plans of other popular screen recording tools. Like DND mode, background noise cancellation, Video editing, video streaming, insight, cloud storage and many more features.

Premium Features

: Other premium features like Screen Blur, Virtual background, recording scheduler, self destructor are not available in loom and other popular tools.

Pricing :

Although you get most of the features for free on Vmaker, still if you want to go with the

premium plans

for some advanced features, you do not need to pay a high amount as compared to others. 
In my opinion Vmaker is an extraordinary screen recording tool with many advanced features. It's easy to understand and use. Most of the features in free plan, is good for beginners, and individual users like Youtube creators. There are some features that still need to be rolled out, but I would say Vmaker is one of the best screen recording tools available in the market.