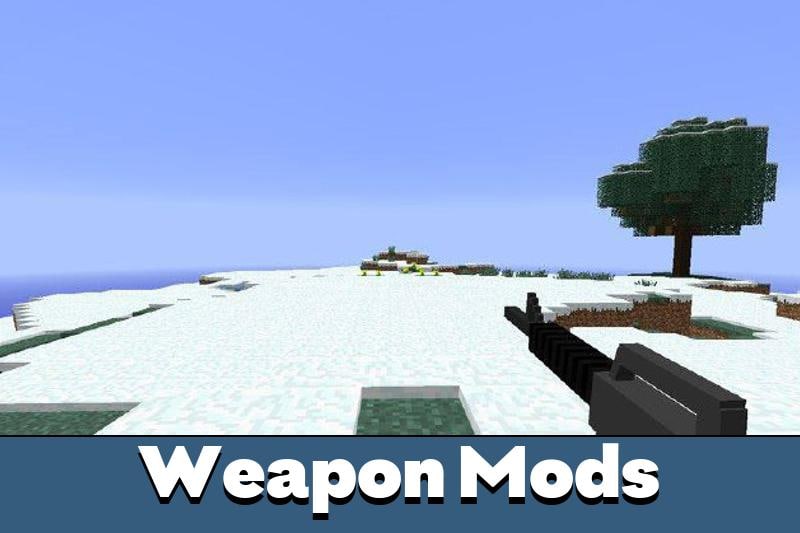 Download Weapon Mods for Minecraft 1.19 and 1.19.0: defeat the enemies with this powerful multifunctional guns.
Weapon Mods for Minecraft Bedrock Edition 1.19 and 1.19.0
Weapon Mods are the most popular category of addons for Minecraft Bedrock Edition. Authors present to the game different protection armors like swords, rifles, machine guns, pistols, and dozens of others. Supplement the gameplay with various Armor Mods and your hero will become an invincible and very dangerous opponent.
DesnoGuns
This Weapon Mod for Minecraft 1.19 and 1.19.0 is perfect for all connoisseurs of firearms. The modification adds more than 40 types of weapons to the game, from the simplest machine guns to modern sniper rifles with optical sights. Also, in the inventory, the player will find nine types of modern armor.
It is very durable and protects even from the most terrible hostile mobs. A sniper rifle is an excellent long-range weapon. It kills any enemy at the farthest distance in a matter of seconds.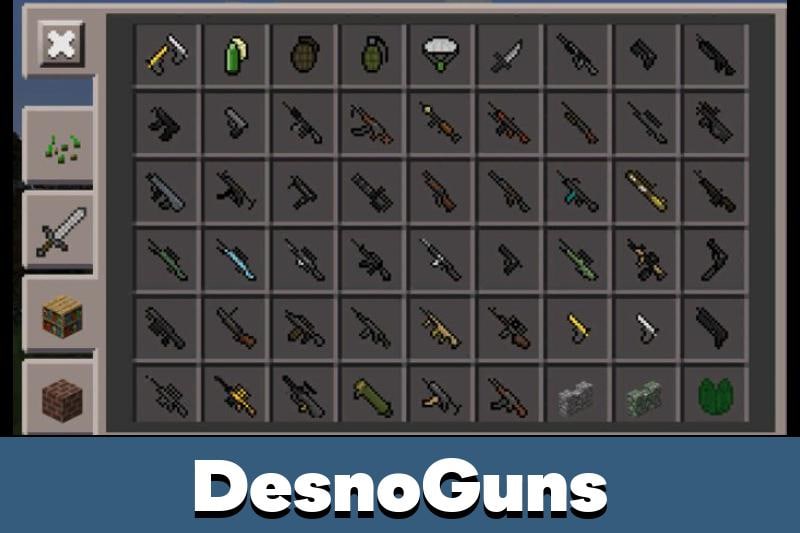 C4 Bomb
This Weapon Mod for Minecraft PE 1.19 and 1.19.0 will add a new explosive to the game, which will surpass even several TNT blocks in its power. You can blow up anything: buildings, caves, mobs. The bomb is easy to find since the C4 Bombs Mod for Minecraft replaces creepers.
This is a great way to gather the necessary resources: lay a bomb and blow it up.  It remains to collect the collapsed blocks – the method is very convenient, practical, and saves a lot of time.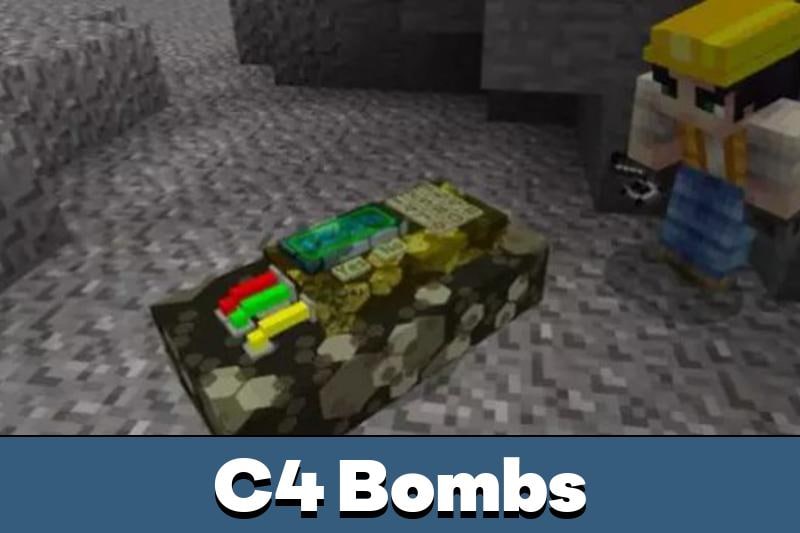 Portal Gun 2
This Weapon Mod brings a special protection to the game. Its main function is teleportation. In the inventory, the Minecraft Pocket Edition 1.19 player will find special guns. Using them he can create portals. Each one has its properties. Its functionality can be changed depending on the goals.
For example, if a player goes on a long journey, he can create a portal near the house. In this case, if there is an urgent need to return home, he will also be able to create another portal in any location. Both portals will synchronize and bring the player home.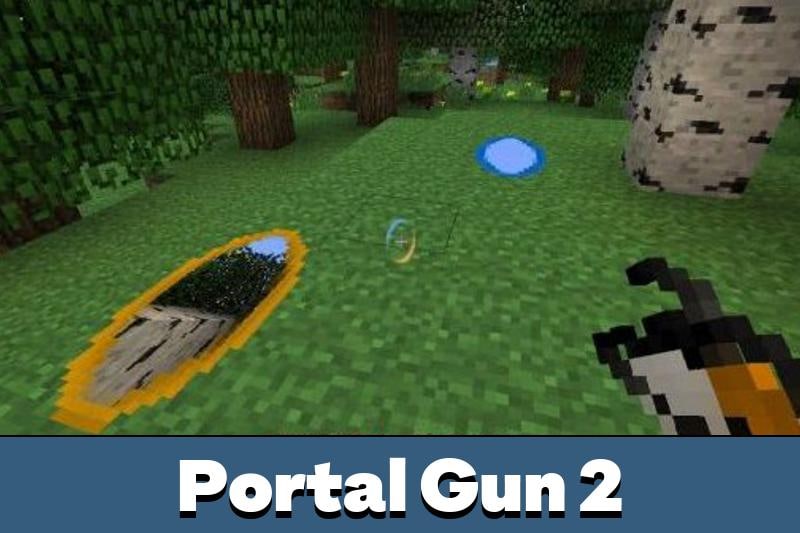 Mystic Weapon
The Weapon Mod will increase the collection in the Minecraft PE inventory. Each has its special magical ability. In total, three categories are added: sword, ax, and staff. Its strength and functionality will directly depend on the material or stones from which the weapon is made.
The player also receives stones that can be used to create the armor. Finding them is not so easy: Steve will need to find a merchant, kill a large number of mobs, or go on a journey through the biome in search of these stones. There are seven of them in total, and each item also has seven options.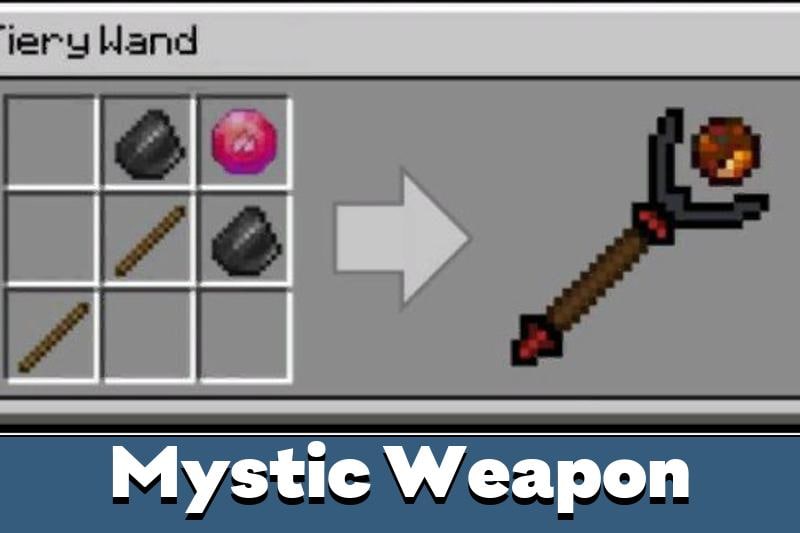 Simple Lightsabers
This Weapon Mod for Minecraft 1.19 and 1.19.0 will add 8 lightsabers and spears from the Star Wars universe to the game, as well as several artifacts that will empower the player. Now every fan of the Star Warrior universe will be able to get a lightsaber and become a real Jedi and stand on the side of light or go over to the side of darkness and become a Sith Lord.
There are also artifacts in the mod that will allow a player to interact with the force mobs and move faster, regenerate and jump high. Spears and swords will deal different amounts of damage: a lightsaber will deal 10 points of damage per hit, and a lightsaber will deal a little more than 12 points of damage.
To craft all the items from the mod, Steve will need the energy of power, which can be obtained by killing mobs, zombies, and cows. After each killed mob, they will drop 1 unit of force energy. In Minecraft PE 1.18.30, Steve can transfer the weapon in the boats with chests.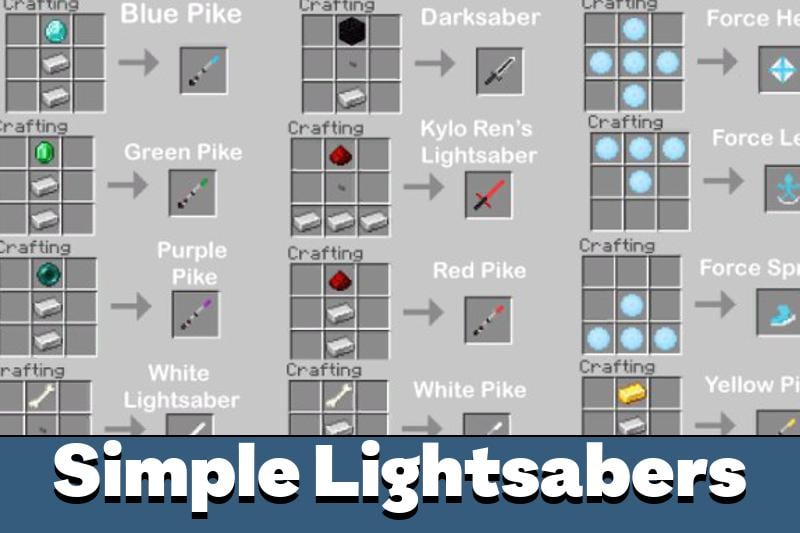 More TNT
Thanks to this Weapon Mod, a Minecraft 1.19 and 1.19.0 user gets  very powerful explosives of different types and with different explosion delays. Each type of new explosive will have its power and appearance. In total, the player will receive 8 types of TNT. Some of them are a little stronger than ordinary TNT, and some explosives have incredible power.
Pirate TNT – this explosive is made in the form of a barrel of gunpowder and has the greatest repulsion, which will allow Steve to use it for climbing high mountains. Pink TNT will be the best weapon in Minecraft PE 1.19.0. With it, Steve  can kill the Ravager in just 2 explosions. Galactic TNT is the most powerful explosive in this modification, which will leave a huge crater after the explosion.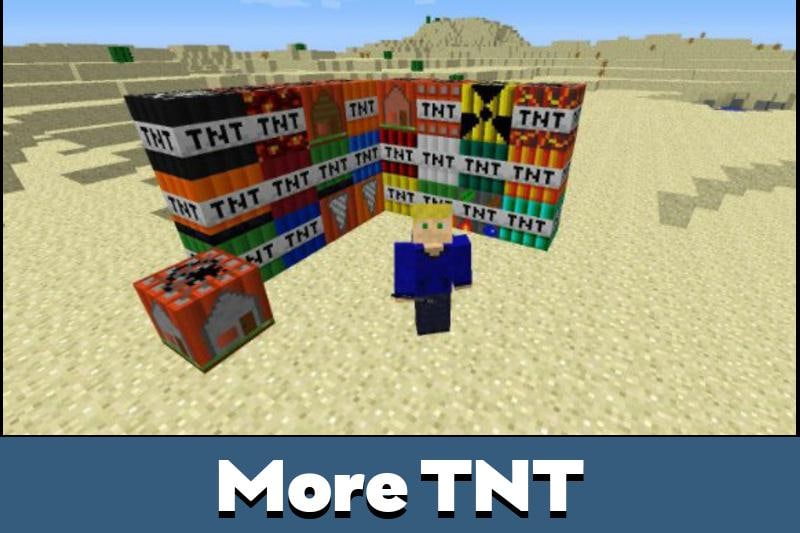 Crazy Weapon
This Weapon Mod adds more than 25 new guns to the Minecraft PE 1.19 and 1.19.0. Both melee and long-range guns for the non-contact killing of monsters are available among them. This includes different armour from swords to cannons. Everything is also fully adapted for survival, crafting, durability, and enchantments.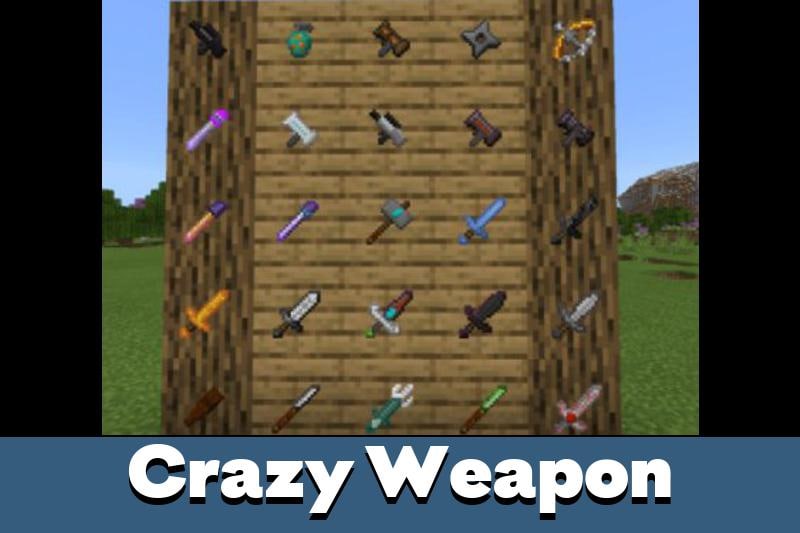 Download Weapon Mods for Minecraft 1.19 and 1.19.0
Best Addons: https://mcpe-planet.com/mods/weapon/