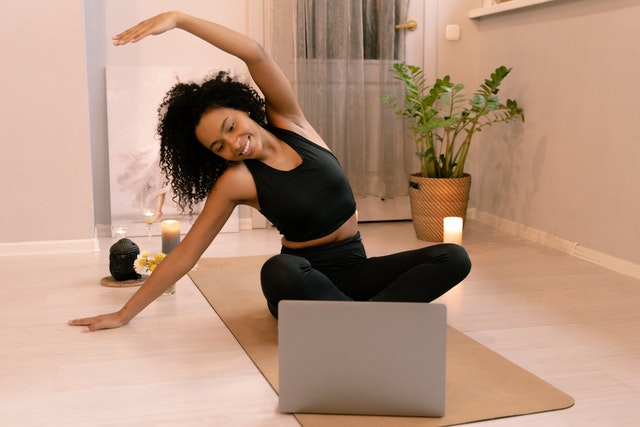 People are no longer exercising purely to achieve their body goals – now they are now thinking about their health more holistically. In 2020 alone, the World Economic Forum reported a 21% increase in health and fitness application downloads in America. With this, about 72% of fitness club owners started to offer on-demand and live streamed workouts. As more and more people prioritize fitness and wellness, experts predict that the virtual fitness industry will continue to grow.

A popular health application we previously discussed is MyChart. We showed readers how to login into their accounts and the benefits of using the application to track medical records and history. While health tracking apps are great, they can contribute more to your well-being when paired with fitness subscriptions that can provide you with exercise plans, customized menus, and more.

Here are five applications you can check out:

Daily Burn
Daily Burn is a health and fitness platform that offers new workout videos daily at 6 AM. If you're on a tight schedule, there is no pressure on what time you do your workouts since they are available throughout the day. They have extensive classes on almost every workout possible such as introductory exercises, yoga basics, cardio kickboxing, beginner Pilates, and even pregnancy and postpartum workouts. Aside from exercise plans, Daily Burn also shares nutrition plans. It will help you ensure that you're not only actively working towards your goal but are also eating healthy along the way.

Daily Burn is the perfect fitness subscription if you want to start a regular workout routine. For only $20 per month, you get unlimited access to over 2,500 videos. With their 30-day free trial offer, you can test and see if it suits your preferences.

Glo
If you prefer yoga, Glo offers a variety of online videos on yoga, Pilates, and meditation. There are classes in many various yoga styles, such as Hatha, Yin, Vinyasa, and Iyengar, and they have videos that suit every level of experience within those styles. Glo also creates high-intensity conditioning videos for your core strength and heart rate. Moreover, they aim to educate their audience by sharing lectures on topics like yoga history, philosophy, healthy practices, and lifestyle tips, so it also helps expand your thinking.

For $24 a month, you can access 3,500 classes on yoga, Pilates, and meditation. So, if you want to concentrate on learning or improving your yoga skills, Glo is the fitness subscription you need. They offer a 7-day free trial for all new subscribers.

iFit
iFit offers interactive and immersive fitness classes to level up your at-home workouts by simply using an iFit-compatible cardio machine or downloading the app on your device. They have classes on strength training, walking tours, mountain biking, rowing, and high-intensity interval training (HIIT). Moreover, AskMoney believes that iFit memberships are worth it because they offer global workouts that allow you to virtually travel to destinations around the globe as you stay fit and healthy. If you're in the mood for a run along the beach, iFit will take you there. The application also gives users access to radio stations, including upbeat cardio and a relaxed yoga station.

If you want to combine entertainment and exercise, you can try out the application with their 30-day free trial and subscribe to an individual monthly plan for $15 or a family monthly plan for just $39.

The Boxx Method
Another fitness application that offers niche classes is The Boxx Method. This application has 45-minute classes on boxing basics, such as BoxxHIIT and BoxxPUMP. So, if you want to upgrade your workout exercises into boxing while also enjoying some cardio and yoga exercises, The Boxx Method might be for you. Another great thing about the app is that it won't require boxing equipment since most workouts only use shadow boxing, but there's no harm in challenging yourself and using a pair of dumbbells. They also offer curated programs for individuals who want to personalize their workout routines.

If you're not ready to commit just yet, they offer a 7-day free trial to let you get a feel of what it will be like. The subscription price ranges from $13 to a maximum of $67 for an annual subscription.

Beachbody On Demand
If you want quick workout sessions in the middle of the day, Today claims that Beachbody On Demand has got you covered with their short on-demand workout videos. Most of their popular workout programs only last around 20 to 30 minutes per day. The application also offers high-intensity programs that will help you lose some body weight to achieve your beach body goals. Although some programs only need body weights, resistance bands, and a mat, some exercises, such as the P90X series, require additional strength training equipment.

With over 1,500 classes across more than 80 programs, you can try out Beachbody On Demand's workout videos within a 14-day free trial, and choose from a variety of subscription offers like a $60 3-month plan or a $99 annual plan afterward.

What sets online fitness subscriptions apart from your usual gym membership is that on-demand fitness workout classes offer flexibility both in time and location . Lastly, fitness streaming services are definitely cheaper than gym or fitness studio memberships making online fitness subscriptions worth it.