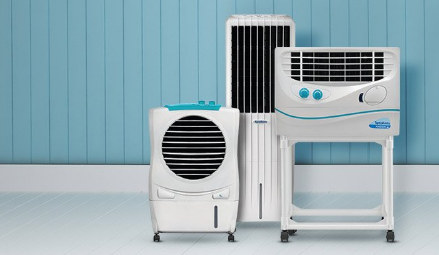 Summer is here and you must be feeling the heat. The best way to keep your room cool in this hot summer is by using some cooler or AC, but not everyone can afford Air conditioners. And most of the Indian homes have Air coolers installed, and that's the reason that we have curated this list of Best Air Cooler in India.
India has a lot of population of middle-class families, singles or small families. Which keep switching from place to place. For that, they surely need movable air cooler which doesn't occupy much of the space yet satisfy the need.
There are places which need the centralized cooling system, so for their air ducting cooler will suit. Then comes place which requires big coolers for cooling in the wide area, for that we need to seek the cooler accordingly. While buying air cooler you need to look for a lot of points, like budget, cooling capacity, Climatic conditions (If you're staying in the humid region) etc. Make sure you consider all such points.
| | | | |
| --- | --- | --- | --- |
| Name | Type | Capacity | Buying Link |
| Crompton Ozone  | Desert Cooler | 75 L | |
| Symphony Diet   | Personal Air Cooler | 56 L | |
| Bajaj DC 55 DLX  | Room Air Cooler | 54 Ltrs | |
| Symphony Hicool I  | Room Air Cooler | 31 L | |
| Bajaj Frio  | Personal Air Cooler | 23 L | |
| Hindware  | Personal Air Cooler | 36 L | |
Best Air Coolers in India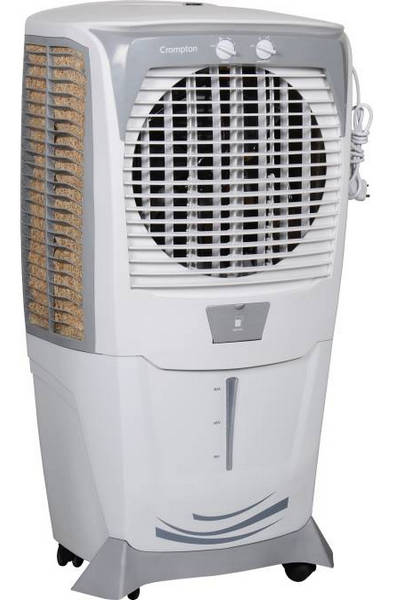 If you are in search for an air cooler that can cool a large area efficiently, this is the best option you can go for. Crompton excels in manufacturing top-grade products that can be used for commercial as well as home purpose. Crompton Ozone 75 has a strong built making it ideal for long-term usage.
With the water capacity of 75 liters, it can easily cool a room size of 550 square feet. When we talk about coolers the air throwing capacity is an essential part. It can through the air up to a distance of 52 feet. The power consumption is 190 watt.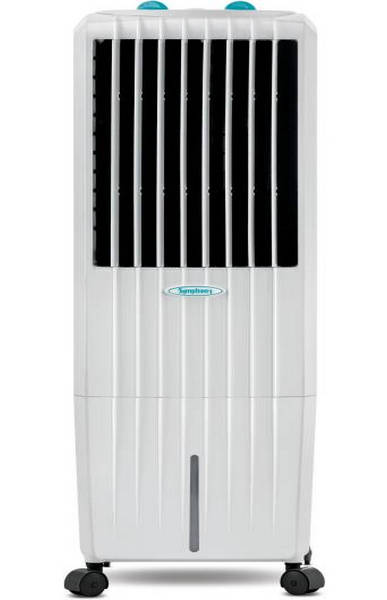 Traditional cooler are big and makes a lot of noise while working. But as technology is making progress new products provide more effective cooling and are less noisy. Talking about silent operation, Symphony is the best cooler you can buy if you want a smooth and noise free air flow. Symphony Diet 12T is a modern looking and easy to use air cooler that you can use at your home.
It has a water tank capacity of 56 Liters that is enough for running it continuously for a long time. The motor capacity is 1400 rpm that is enough to cool th eroom instantly and save you from the killing summer heat.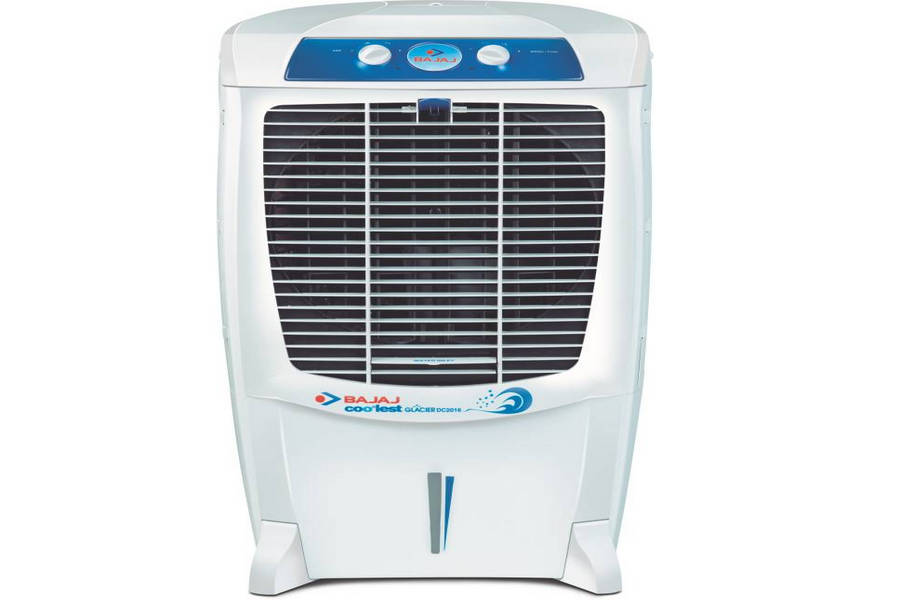 Compact air coolers can effectively cool a small area like a medium size room but if you are looking for a cooler that can effectively cool a large area, the Bajaj Room Air Cooler is the best option. Bajaj is the most trusted electronics brand in India. It has a trusted brand reputation.
No matter what type of environment you are in, it can cool even in extremely hot conditions. The high air delivery ensures a long-range air flow. Also, the large water tank saves you from the headache of refilling it again and again.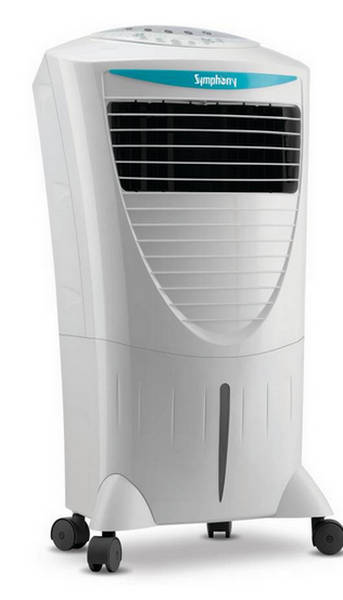 Most of us need an air cooler that can cool our bedroom or working area. The Symphony high-cool air cooler has a modern design and intelligent airflow technique. It is not heavy like traditional coolers, it can be placed anywhere you like easily. The compact size gives you the freedom to move it whenever you want.
Coming to the performance, this cooler contains a water tank capacity of 31 liters.  The fan can throw cool air upto 37 feet. There are three fan modes which you can use as per the requirements.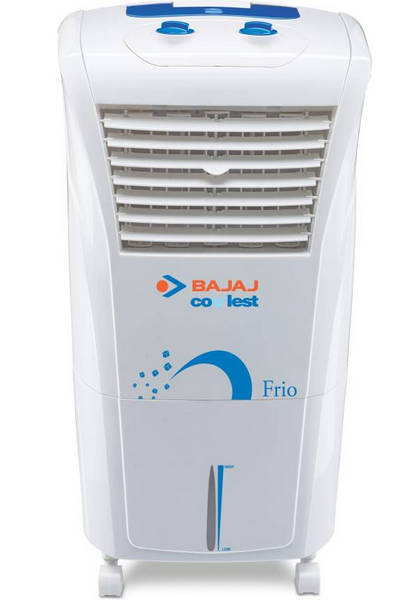 Bajaj Frio is another good product that can be used to cool a medium size room with ease. It has sleek and modern built. The build quality does feel premium. It is equipped with most advanced features like Honeycomb pads, ice-chamber for faster cooling, humidity controller and many more.
It has 23 Liter water tank and can cool an area of 150 spuare feet with efficiency. Also, the four way air flow ensures that air is reached to every corner equally.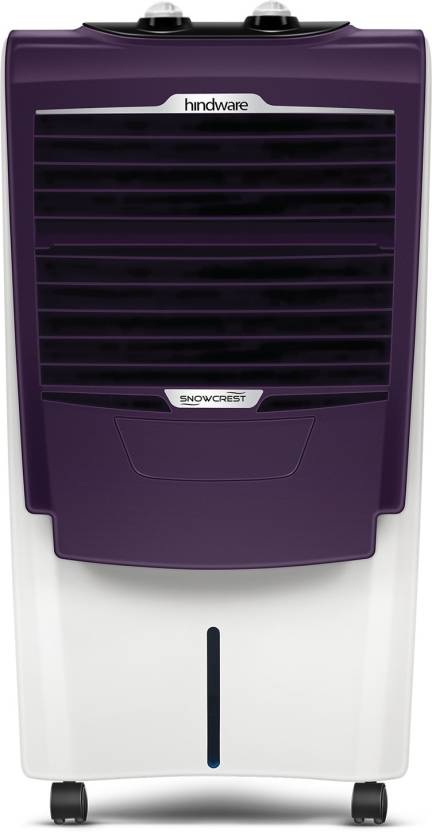 The Hindware air cooler is made to best suit the needs of a home. When using an air cooler inside the home the humidity is an issue. Hindware air cooler works effectively to keep the humidity level under control. The design and build quality are up to the mark. It comes in two-tone color combination which matches perfectly with the modern decorum of your home.
The tank capacity os 36 liters. There are honeycomb pads for more efficient cooling. Overall it is a decent choice for an indoor air cooler.
Wrapping Up
That's all about the best air coolers. The above 6 are framed undertaking all the knowledge of best suiting coolers. All of them shows the best attributes in their own category which is mentioned in the heading. Now enjoy summers freely and order it now before you lose best-priced product.