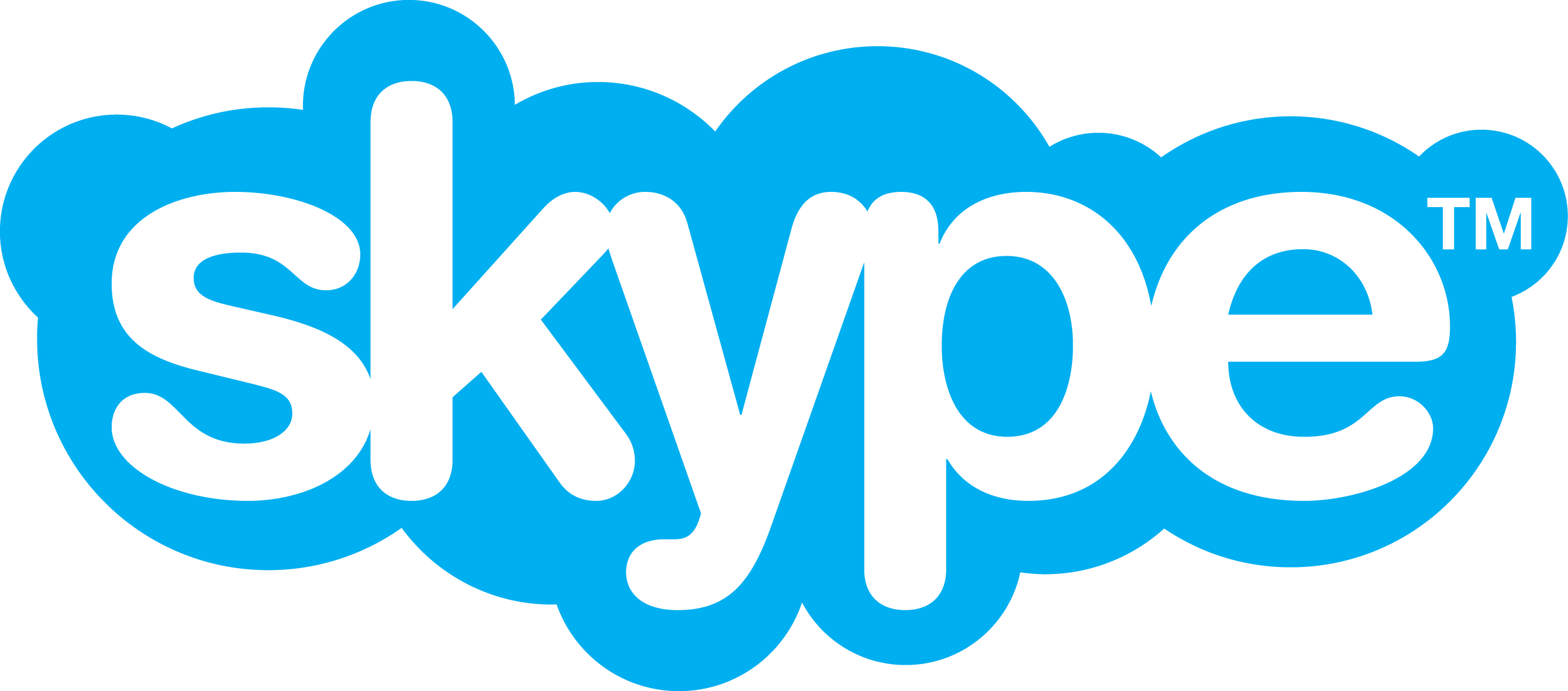 Best Alternatives to Skype
Skype is always the favorite of individuals or businesses for Video call, Conference or online meetings. But there are many issues with the Skype and people are looking for a better alternative. Recently, come news has already rolled out that Skype is shutting its services for desktops and everyone started facing the issue in signing on the desktop app of Skype.
So now we need a Skype Alternative tool that can work with all our devices and has all the features.
What Features an Ideal IM/Video Conferencing or Online Metting should Have?
For an ideal internet messenger, there are lots of features that today's users need. After analyzing all the needs of the users, Here I am defining some parameters for it.
Platform Support: The tool should be compatible with all the major OS and devices. Windows, MAC, Linux, Android, iOS.
Sync: It should be synchronized in real time with all the devices. So, if one switch from desktop to mobile, he/she can continue with its chat.
Instant Messaging: It should also provide features of instant text messaging with all the features like Emojis and other.
Group Video Call: It should have features like Group Video calling, Video conferencing or Online Meetings. So you can easily connect with all your family members or can do group business meetings.
File Sharing: A good instant messenger that is comparable to Skype should also allow file, photos sharing.
Screen Sharing/ Remote Acess: This is another useful feature that it should contain, this helps a lot when you need some help from your friend/client. Many companies uses this screen sharing feature for their product demo. Remote access also helps in fixing bugs and many other operations.
Video Call Recording: Sometimes when you are doing some online business meet, you need to have call recording. So it can help you later in your work and also act as a proof of discussion.
VoIP: Beside video call, it should also allow you to do voice calls.
Call Cellphones: It should also have a function to call on cell phones and landlines with minimum charges.
Security and Privacy: This is one of the major factors that we are considering while selecting the best Skype alternative. The tool should have proper safety features and should take care of person privacy.
Why Skype Replacement?
There are many reasons that we need some alternative to Skype. First, there is some news that Microsoft is shutting down the Skype services. And its desktop version has already stopped working.
Other reason that we need the better alternative is, it does not sync with your devices. Once you delete from your device, your all chats get deleted. I think there is no backup option also. It is slow and massive software.
Best Skype Alternative Video Conferencing and Online Meetings
Here I am listing some best alternative of Skype according to the parameters that we have discussed above.
1. Google Hangout 
Google Hangouts is the best alternative to Skype. Now you can say " hi " to your friends, family members, or any clients with video call or chat on Google Hangouts for free. Google Hangouts will keep you in touch with your contacts. And your Gmail Id is your Hangout id. There are lots of amazing features that you need to see.
Platform Support: It is available for all the main operating system and can be used with any device.
Android || iOS || Chrome Webstore
Beside this, you can use it in any browser by just sign in with your Google account. Even you do not require to download this tool. Just login in your browser and start hangout with friends.
Sync: Yes It keeps your chat and data sync with all your devices in real time. You can quickly switch from one to another.
Instant Messaging: It's instant messaging service is very fast with lots of Emoji packs. And you can also share files, photos, GIFs, videos, locations on Hangout. You can also do group chats with up to 150 peoples.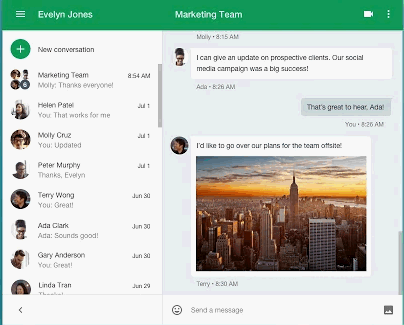 Video Call: With one to one video call, you can also do Group Video Call with up to 10 peoples. It also allows you to share your desktop screen and you can also do text messages with video.
Voice Call: Yes it allows you to do audio call to your hangout friends from all your devices. Cell Phone calling is only allowed for US and UK with some charges.
Security and Privacy: It's a Google product and your runs on your Google account. So there are no security breaches.
I have put this on the 1st number as it has all the features that we are looking. And you just need the Google account, which everyone has. Just invite your friend with their Gmail Id or phone and Enjoy with your buddies. It's 100% Free.
2. Amazon Chime
Chime is a newly launched app for video conferencing and online meetings by a famous company Amazon. This product is designed for business, but you can enjoy the free trial for 30 days. With its attractive features it is directly competing with Skype.
Platform Support: It is available for all major platforms.
 Windows || iOS || Android || MAC 
You can also use it's Web client to join or attend the meeting using any browser.
As it is cloud-based, it remains sync with all your devices in real time. You can quickly switch from one device to another.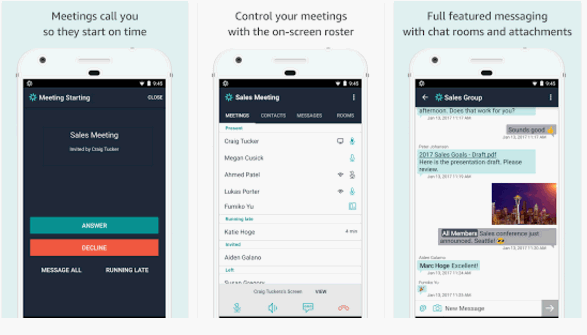 Instant Messaging: It allows you to chat with peoples in your connections. With the new message, you get the notification and also you can check signals for messages sent, delivered and read. It also allows sharing files in chat. And one can also create chat groups. In chat rooms, you can point a particular person with @handle of that person. Its chat history is also searchable.
Video / Voice Call: With its high HD quality video calling feature you can do Online meetings, video conferencing with up to 16 people on desktop and 8 peoples on mobile devices. For Voice calls it has embedded a noise cancellation technology to give you clear sound. It has lots of feature for Online meetings.

Manage meetings with Visual Roster.
Single Click Screen Sharing.
Personalize Meeting URL with instant meeting and rescheduling feature.
Attend meeting from standard phone line using its Dial IN number with very low charges.
Record meetings with video, voice, and chats.

Security and Privacy: Amazon Chime content is encrypted with 256-bit encryption. And is service of AWS, the most secured data center. Beside that you can lock your meeting, so only the rightful person can join.
As I already told this tool is designed for Online Business meetings and it has all the features that a video conferencing tool should have. It's available for free trial, and then you can buy some plans according to your business needs.
3. OOvOO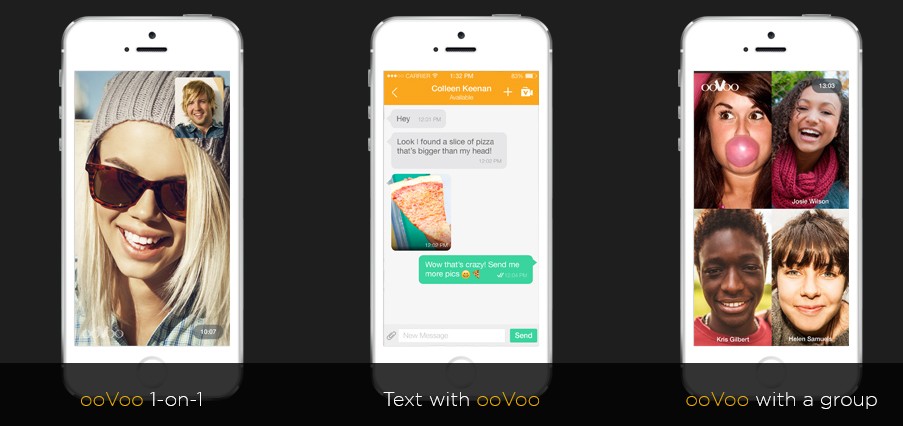 OOvOO is most popular video call app in the list. By using OOvOO you can do best high-quality video calls, instant message, voice calls with anyone in the world.  You can get the highest quality group video calling. You can text to anyone while video calling to someone. It's available completely free so that anyone can download this app on their mobile.
Key Features of OOvOO
Platform Support: It does not matter what device you are using because it works with all such as like Android smartphones, iPhone, iPod touch, iPod, Microsoft Windows phone, Android tablet, MAC, and PC.
 Windows || iOS || Android || MAC || Windows Phone
Instant Messaging: With OOvoo you can do text chats with your friends, send them pictures, Videos, emojis, and files. You can also add other members to chat for group chatting.
Video / Voice Call: With OOvoo you can do 1-on1 high-quality video chat, or you can do group video chat up to 12 people. You can also continue text chat during a video call. You can also record your video call to play it later. And one more interesting feature is you can watch Youtube videos with your friends while in Video chat. It also allows free in-app voice calling. You can also call on cell phones/landlines with OOvoo credits.
Security and Privacy: Regarding security, OOvoo is highly secured, and it takes care of user privacy. It has already crossed 150 millions downloads and is highly trustable.
Oovoo is awesome video chat and messaging app and as it provides high-quality video chat with its SuperClear technology automatically detects your connection speed to manage the call quality to reduce call drops.
4. Uber Conference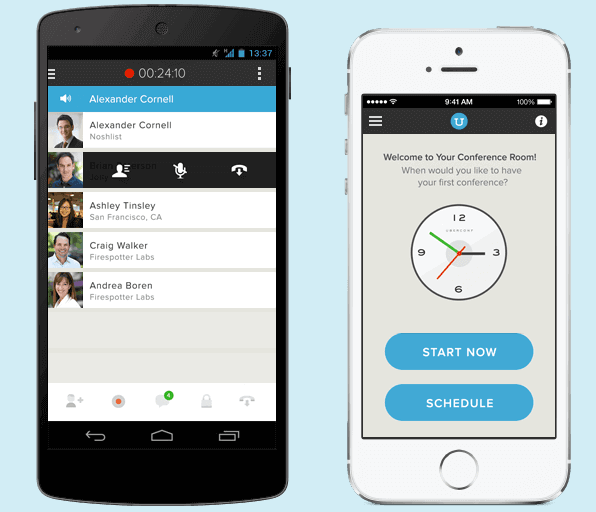 Uber conference is ultimate software for online meetings. It is designed for business by listening to their problems during online meetings. Let's have looked at its features. It is available for free with limitation; you can buy its premium for full access.
Platform Support: It supports multiple platforms so that you can attend the meeting from any device mobile or desktop.
Download Uber Conference for Android || iOS || The Web through Browser
Instant Messaging: Yes it allows you to chat during the meeting with members attending the meeting. There are not many options in conversation. It allows you to share a document from major cloud file sharing services like Dropbox, Google drive, etc.
Online Metting: You can start the online meeting by inviting your clients and other members. It allows 10 people in free plan and 100 in paid. You can schedule your meeting and can manage people attending the meeting. You can mute all with a single button.
It also let you record the meeting, share your screen and lock the meeting to prevent late attendees. And it does not require any PIN to attend meeting like other conferencing apps,
If you do regular online meetings, then this is helpful service. You can have HD quality voice calls, conference and lots of other features. You can also buy the paid plans (starting from $10 per user) for more features.
5. IMO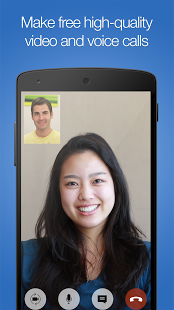 IMO is most popular video calling app. Nowadays everyone using it on their mobiles. It has a very friendly interface. You will not get any problem while using this app. You can learn it very easily. IMO is the best video and instant message app. It has lots of features that you might not know.
Platform Support: It is available for major mobile platform iOS and Android. It is not compatible with the desktop version. So this is one negative point of this app.
Download IMO for Android || iOS
Instant Messaging: You can do unlimited chat with IMO, share photos, videos and other files over chat. There are lots of amazing stickers to express yourself.
Video / Voice Call: Do high-quality Video and voice calling with this app. You can also do group video calling with your friends.
Security and Privacy: All its messages are encrypted, so no worry about the security. And it is one of the trusted apps with around 500 Million downloads.
IMO got famous in very short time and had the massive userbase. It has lots of feature like chat, group video call and lot more. You should try this app.
6. Jitsi

Jitsi is one of the best Video calling app. It's free for chatting and video calling. It has some unique features such as like video conferencing, voice message, instant messaging, file transferring, desktop sharing, etc.  Jitsi is available in more than 30 different languages. There are millions of people using it on their device. This tool integrate other instant messaging tools into its software. Like you can use Facebook Messenger, Google Talk and other in this app. So all your instant messenger comes under one roof.
Platform Support: It is currently available for desktop versions only and limited to the platform. Though it;'s Android version is in a development process.
You can download Jitsi for Windows || MAC || Linux
Instant Messaging: Yes it supports the one on one and group chat with file sharing.
Video / Voice Call: Do high-quality Video and voice calling with this app. You can also do group video calling with your friends.
Security and Privacy: It uses OTR encryption for the chat and ZRTP for voice calls.
It's different from other apps; it is all in one messaging app which integrates other apps into its panel. So you do not need to install separate apps.
7. Face-time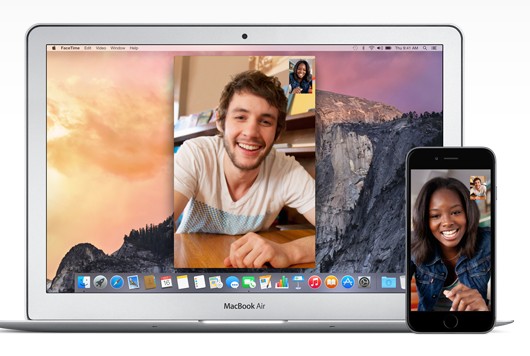 Facetime is one of the best video call app. for IOS mobiles and MAC. It was developed by Apple company. Face time is available for iPhone, iPad, iPod touch, iPad mini, iPad Air, and Mac. It can support more than 20 languages. If you like to use this app on your smartphone, then you can simply download it from Apple app store. It's completely free. The worst thing about face time is at a time; we can conference with the only single person. It has many different features such as like both audio and video calls, text message, push notifications, etc.
Key Features of Facetime
It's available in more than 20 different languages.
It does not support group conference.
You can receive messages and emails when you were facing to someone.
It's available freely.
You can send messages while video calling.
You can send voice message also.
These are best alternatives to Skype. You can select best one according to your choice. I have simplified the selection by highlighting the most important features. If your primary requirement is online meetings then Hangout, Chime and Uber conference is the best choice. Hangout is free, but other two are paid. Other apps like OOvoo, IMO are a great tool for instant messaging and video conferencing.