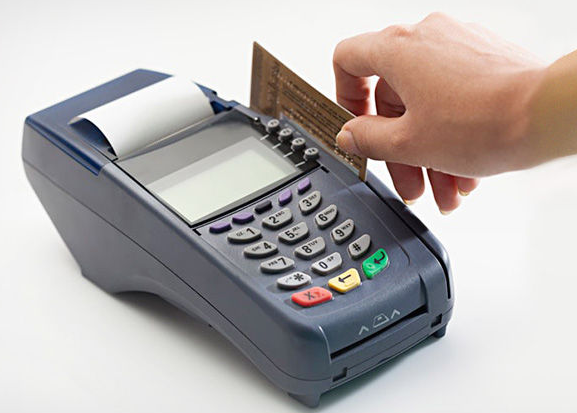 If you frequently travel to western countries, then you might have noticed that people over there hardly use cash for any transaction. Their entire society depends on plastic money and the second alternative is cheque if these two methods are not available (which usually doesn't happen anyway) then they prefer to pay by cash.
Recently, after a ban on notes of INR 1,000 and INR 500 many people in our country have also realized that doing the online transaction is not just fast and easy but also doesn't let your working capability get affected by any situation. Swipe machines or POS (point of sale) are those devices that allow you to accept payments through a card and all your customer needs to be just swiping his/her debit or credit card.
Best Card Swiping Machine in India – Best POS in India
So, in this article, we have decided to find out some of the best card swiping machines that retailers, businesses could install on their premises to accept payment through cards from their customers.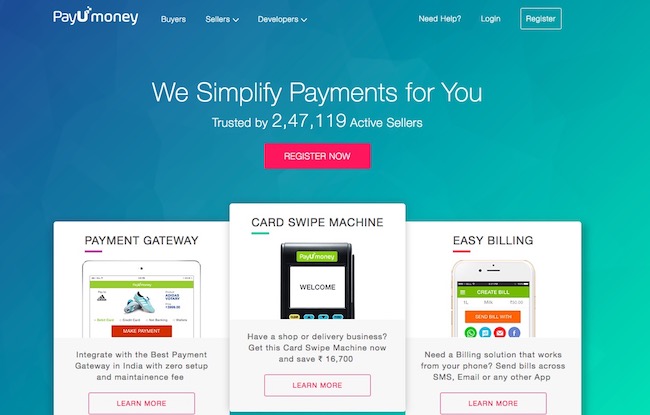 PayUmoney offers easy documentation and allows users to get POS with a canceled cheque and Pan Card to save your precious time. You can link POS to your existing current or be saving bank account and there is no minimum balance required.
You can get wireless connectivity through various networks such as Idea, Vodafone, Airtel, and BSNL as per your choice and take payment without any delay. And You can send the payment receipt directly to customer's mobile and save the cost of paper rolls and helps the environment too.
PayUmoney POS comes with a one-time charge which is INR 8,500 and you have no need to pay a monthly rental like a bank POS that ultimately costs you more.
Swiping Machine Cost : One time Rs 8500
Monthly Rental : Zero
Transaction Fees : 2% or less TDR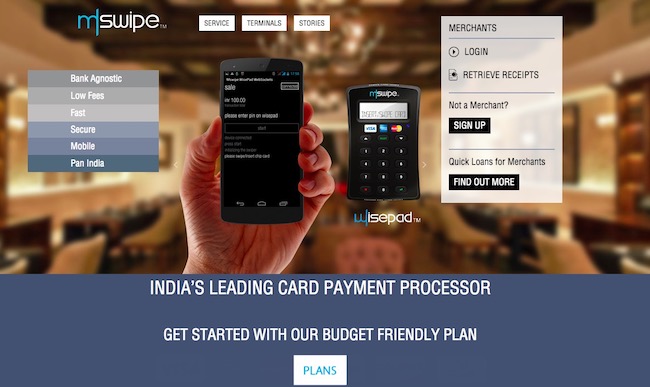 It is a cost-effective solution for users that accepts all kinds of debit and credit cards such as RuPay, VISA, MasterCard and American Express. Mswipe solution is approved by MasterCard MPOS and is certified as VISA Ready. Infect, Mswipe's Wise-Pad meets EMV L1/L2 and PCI PTS security standards for the industry.
Wise-Pad offers more privacy by connecting to host via wireless mobile connectivity and has an agreement with Corporation Bank & Axis Bank to hold the fund from the transactions.
You have no need to open a new bank account and a Mswipe transfers fund into your existing account in India via NEFT on the next working day. You have no need to store charge slips as they get stored digitally. Mswipe's mobile POS lets you to send an electronic receipt directly to customer's mobile too.
Swiping Machine Cost : Setup Fee (Rs 2000 – 6000 according to your plan)
Monthly Rental : Rs 350
Transaction Fees :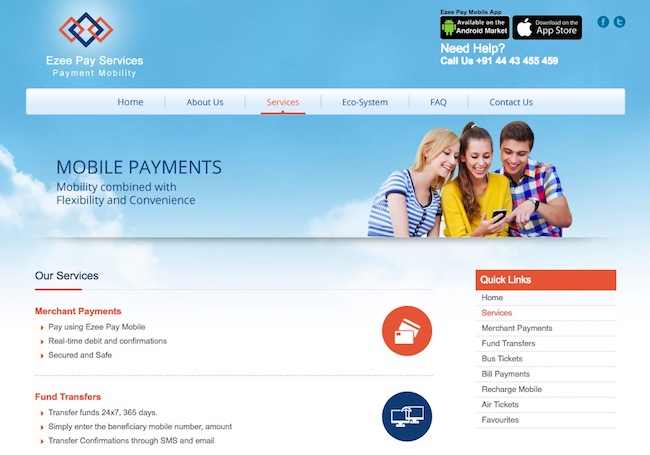 Ezee Pay mobile can be used for secure merchant payments as it offers real time debit with confirmation. You can transfer funds to any mobile number simply entering the number and the amount anytime. Since they support over 350 bus operators that cover around 4500 routes in the country, you can easily select the route, book the seat and get confirmation on your mobile.
It is a perfect solution to pay electricity bills, Insurance premiums, recharge mobiles etc. You can even book air tickets for domestic flights and get instant confirmation on your phone.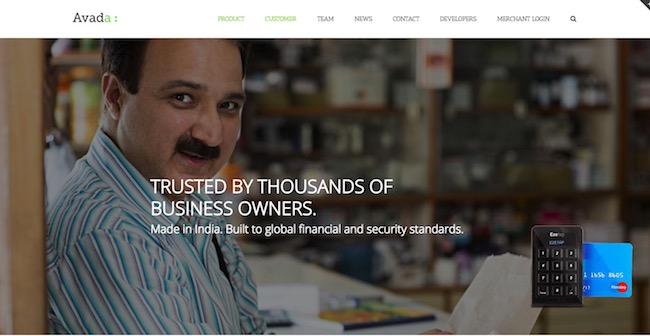 Ezetap is a mobile POS service and has proved to be a smart solution for accepting payment directly to the doorsteps of the customer. The Mobile payment platform simply turns your smartphone into a payment terminal and can be used as a micro ATM kind of alternative to connect people of remote areas with multiple services. Ezetap's service has been approved by some well known companies such as Citibank and Bajaj Allianz.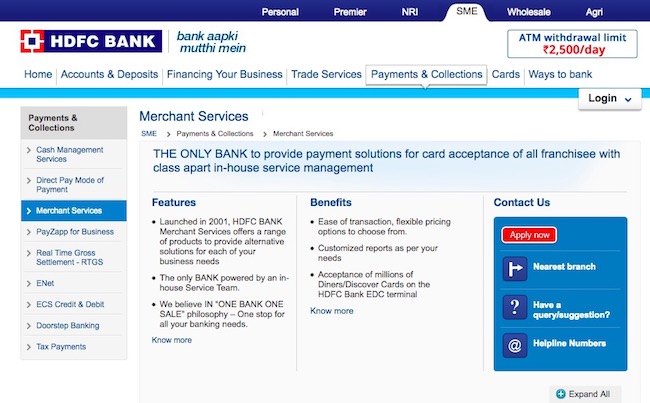 HDFC Bank Merchant Services offers a Mobile Point of Sale (MPOS) which is Electronic Data Capture (EDC) device and lets merchants accept payments via debit and credit cards. All you need to do is just pair the secure Card Data Reader with your Android smartphone (OS version 2.2 and above) via Bluetooth and install the MPOS application.
You have no need to fill and submit any document and once you get the authorization, start using the service. If you have the credit card from HDFC bank then you can pay to the bank in easy monthly installments for your purchases.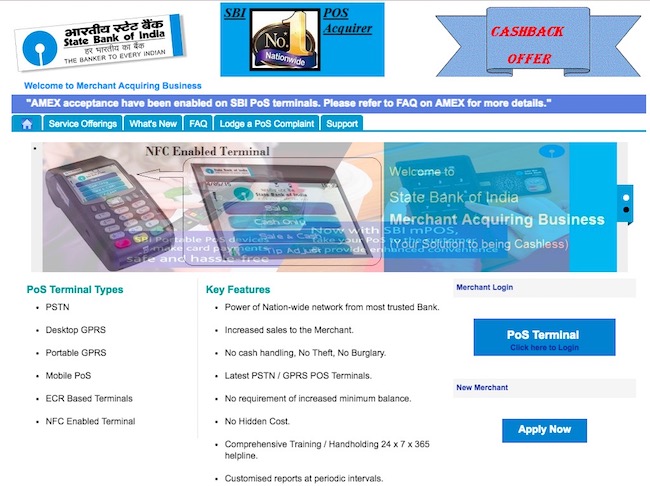 SBI offers various types of point of sale payment terminals such as PSTN, ECR Based Terminals, Mobile POS, Portable GPRS, NFC Enabled Terminal and Desktop GPRS. It is definitely useful for merchant category because it can boost the sale and also provides security from theft because there won't be any cash handling. SBI is one of the most trusted banks in the country and provides 24/7 support for any issue. There is no restriction of having minimum balance the bank doesn't apply any hidden cost for the service.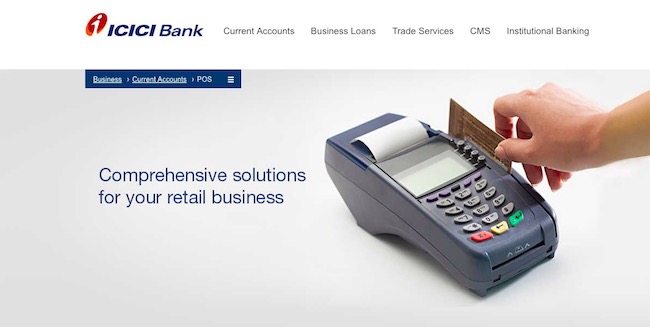 ICICI Merchant Services brings MPOS which works wirelessly and allows users to accept electronic payments anytime. All you need to do is just download the MPOS app into your smartphone > link MPOS with your smartphone via Bluetooth > swipes the debit or credit card of the customer on MPOS to get payment, simple.
The transaction through MPOS is secure because card details used for communication are encrypted and no data gets stored on MPOS or mobile. You can easily track every payment as it provides customizable reports, reconciliation, invoice ID etc. MPOS accepts all debit and credit cards and also supports payment via cash and cheques.

It complies with advance security standards for card transactions and accepts all kinds of cards such as Maestro, Visa, RuPay, MasterCard, Diners Club and Discover. It has the ability to accept domestic as well as international debit, credit and prepaid cards and offers Currency Conversion facility which is exceptional.
You get customized reports on a regular basis which help you to track each payment and in case you face any issue, on-site support and help desk are there to help you. The POS terminals offered by Axis bank feature clear display and provide both wired and wireless functionality. You don't need a PIN for a transaction below INR 2,000.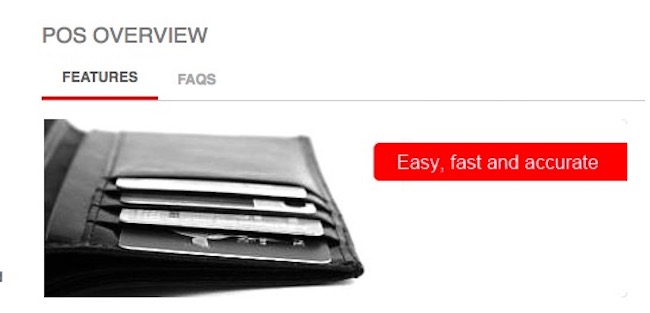 In order to use this service, you have to have a current account in an operational condition. Anyone who is in the negative list of Visa or MasterCard cannot apply for this. Your turnover via card transaction should be more than 50,000 per month and it is necessary to have a fixed land line phone connection for EDC Terminal.
Those who have mobile can apply for GPRS based machine. One more thing, the merchant has to fill and submit an enrollment form for an agreement with the bank. There are no hidden charges and the bank provides facilities to pay through EMI as well. Terminal installation and application approval usually doesn't take much time.
10. PAYTM POS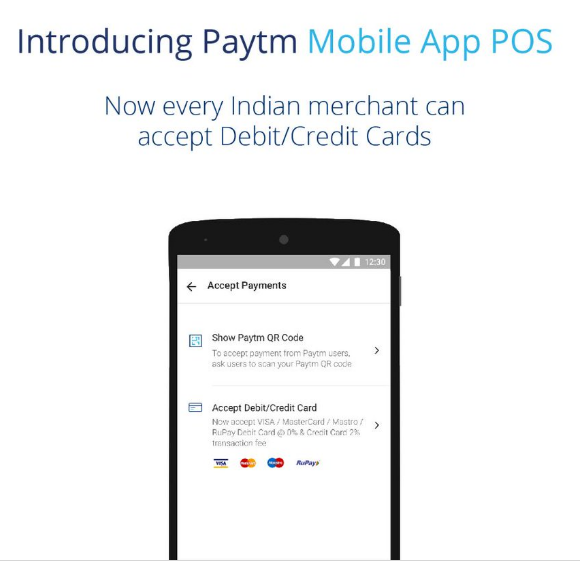 If you don't want any investment in POS or swiping machine, you can still accept payment from cards. Yes, you must feel confuse on this statement.
Paytm, one of the best mobile Wallet service in India recently introduced POS in it's newly updated app. You can now simply go to Paytm App>> Accept Payment and then select the Accept payment from Debit & Credit card. Now you need to enter the amount and customer mobile no. Then customers will receive an SMS with the payment link.  He/she can click on the link and can pay through Debit/credit card or net banking from their mobile only. And you can now easily accept payment from cards, without any swiping machine.
Swiping Machine Cost : Zero
Monthly Rental : Zero
Transaction Fees : Zero (Initially)
Hopefully, the list of best swiping machines in India we have provided will help you to choose the one that you are looking for and increase your sale and reduce the risk of theft by going cashless.