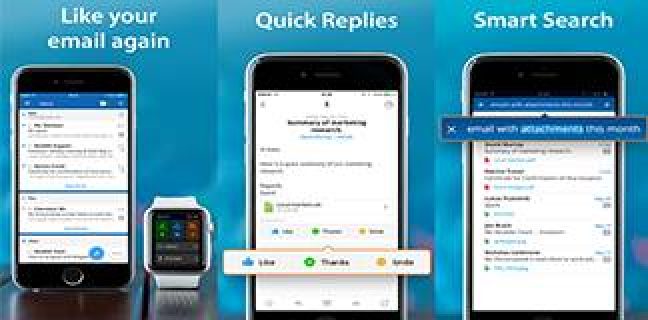 Hello, Guys, we all have one very useful tool that is Email. Whenever we want to start the conversation with the client or another person in a professional manner we need an email account. There are tons of email services and email apps available online. How can you choose the best among them so don't worry about them here we are providing you with the best email apps for Android as well iOS.
Email is one of the oldest and most effective forms of online communication. Email is a service many of us use every single day
Today, Smartphone has become the essential part of the life. A smartphone has made the things easy and most effective also. Most of the user access their email accounts on their smartphone. Now to manage your all email in one place here are the best email apps for Android/iOS.
Best Email Apps For Android and iOS Devices
1. Microsoft Outlook
Technology and application are meant to make your world easier and away from complications. Same goes with Outlook. The app lets you connect with millions of users and offers a quite easy interface. Not just email service it provides but keeps you updated about your schedules. Overall, it works as a managing tool. In Android, it works with Microsoft Exchange, Outlook.com, Gmail and Office 365.
https://youtu.be/LcxMuLoF0n4
The inbox will show most important messages first and maintain your calendar what more expect from a mail server. You can tackle more than one account over it. Nevertheless, its easy interface will surely make your work convenient. Plus its rich cloud storage integration, make it unique overall.
2. Gmail Official App By Google 
Gmail, id the most famous platform offered by Google across the globe. No wonder people are so comfortable with it. It is offered inbuilt with most Android smartphones. But if not get back to the link and download it.
The Gmail app is very easy to use because the interface is very cool. You can easily get familiar with that. There is some good action like swiping right will delete the email and you can also get a chance to undo the email.
If you are reading an email and want to read another just swiping right or left will lead you to the next and previous email. You can also add more than one Gmail account at the same time and access them.
3. Newton Mail – Email & Calendar
Newton Mail is email manager app providing the CloudMagic, Inc. The app supports the variety of platform. So you can add as many as email account in this app and access them at the same time. The app offers you a unique feature, the push notification for mail. App also consumes very less battery and space on your smartphone.
You can add important emails to your likely used apps like Evernote, OneNote, Todoist, Pocket, Trello, Zendesk, Salesforce, etc. It also works with Yahoo Mail, Hotmail/Outlook, Gmail, Exchange, iCloud, Google Apps, Office 365 and all IMAP accounts. So enjoy the vast world of emails.
4. Aqua Mail 
Aqua Mail is one of the oldest email apps for android. By the time app have become one of the better email apps. The app works with all the platform, including Yahoo, Hotmail, Apple, Gmail, AOL, and others.
The app also has the push notification feature. You can also use the widget like message counts, message list, Swiping in message list (actions) and between messages, Can save attachments as files.
5. K-9 Mail
K-9 Mail is one of the oldest email apps available in the app store. The app supports almost all the platform like Gmail, Yahoo, Hotmail, Outlook as well others. The best part is, it is an open source app so if you are a developer then you can customize this app by yourself.
This email app also has features like search, push, flagging, signature etc. So enjoy all the best features and get updated with your mails. Anytime, Anywhere!
6. Blue Mail – Email Mailbox
Blue Mail is one of the most popular email apps available on the Play store. It supports a variety of clients, including Gmail, Yahoo, Rediff, Outlook. The app also offers you a variety of notification settings for each one of your email accounts.
You can also customize the notification setting. The app also supports the Android Wear, configurable menus, and even a dark theme. Apart from this feature the app is so much smooth to use and won't take a much space on your phone.
7. InBox By Gmail
Inbox by Gmail is an experimental email app. Apart from the experimental app, it turned out to be very popular. It is an app by the Google, it only works with your Google account but still can do a lot of things which you can't imagine.
It will highlight the new email and any new activity on your Google+ account. It can also remind and snooze the email. However, you want to send an email it shows you the very frequent contact you used.
8. myMail
MyMail is managing all your email accounts at one place. Whether it's Hotmail, Gmail, Yahoo, Outlook, AOL, iCloud, Live, Exchange or GMX, myMail email client supports all major mail providers.
You can easily navigate through your inbox with menu icons and contacts' avatars as part of your conversation. The design and app layout is very simple and attractive also.
9. MailWise
Be comfortable with all your emails and see it as you should see without any complications. You'll find your emails in the very organized manner than ever. Easily get connected to the exchange, Hotmail, Outlook.com, Gmail etc and email servers such as Zimbra and Zextras Suite.
Moreover, It connects the Client to IMAP and Active Sync. So now manage all your emails on a single platform by importing it all here freely.

10. Nine – Email & Calendar'
Yet, another app which functions with multiple accounts and now with the fast running of technology, we want all of it on hands to deal it by the fastest method. "Nine" is a complete application based on Direct Push technology which synchronizes with Microsoft Exchange Server by Microsoft Exchange ActiveSync.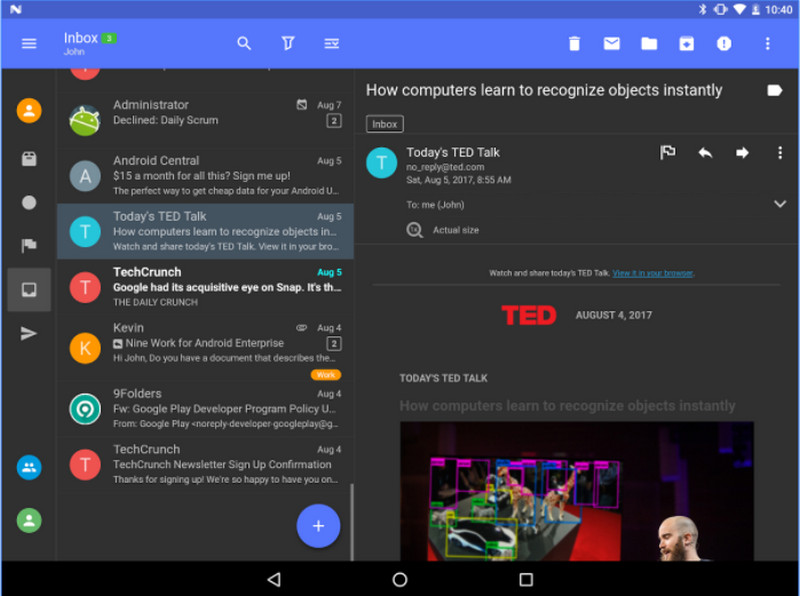 Moreover, it is designed for all the people who want to have an efficient communication on a good panel. So enjoy Nine.
Bottom Line
So roll up confidently through your email inbox and get a better vision and experience of communication world. Above are best options for managing emails which are trendy as well as user-Friendly. Download and Comfort your communication world.
Edited By- Anushka Ranka