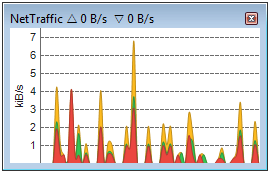 DU meter is an internet usage detector or monitor which can tell you and give reports and graph about your internet usage according to downloads, uploads or web surfing. It helps you to know your internet connection more proficiently and accurately by giving you an exact knowledge of the data usage throughout your computer's network connection. It is beneficial as it helps you to correctly using your data without any over usage. When it comes to monitoring the total bandwidth usage for your computer or laptop, this software DU Meter is the best. It can also help you to see your download, upload or pure speed in the taskbar.
So why should you look for an alternative to DU Meter?
But all these special features are not free. You can download DU meter whenever you wish to and can have 30 days free trail at your footsteps. But if you want it more, you will have to pay the software's price. But if you are searching for software which has a similar bandwidth monitoring tool and is free then here we are. Here is the list of the software which is safe and free.
6 Best FREE DU Meter Alternatives
1.Networx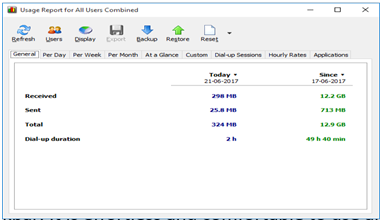 Networx is a good free network monitoring DU software that everybody can use very quickly. Like the first DU meter, it can it also shows your download and uploads speed easily in your taskbar. It is effortless and comfortable to use and also gives you a warning when you are reaching your data limit or have already overused it. It also provides you with the features of speed meter of the internet and also the usage report on a daily, weekly or monthly basis. All the free versions are below v6.0.
2. Glasswire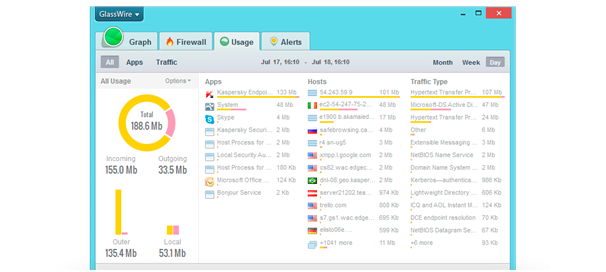 Glasswire is not that classy, but a good network was monitoring DU software which is easy to handle. The features are similar as that of the original DU software, but still, it is somewhat different as it also includes a built-in firewall and network stats. It can also give the overall usage of your data or system per app through a graph. Glasswire also alerts you if any new device is connected to your device, thus saving you from unknown sources to use your data. It has an excellent and creative user interface which is sure to be liked by you. As a whole, it is good alternative DU software.
3. NetTraffic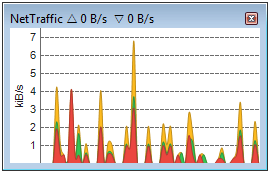 NetTraffic is one of the good alternatives for DU software. It not only shows the data graphically but also numerically. Like other DU Softwares, this alternative DU app also gives the toolbar access facility and provides you accurate details. It is not big software thus won't hamper your system. You can also customize this software quickly.
4. XMeters
You know what is the best part of XMeters is? It is that it provides us actual-time bandwidth usage. XMeters has a comfortable and safe interface, no over the top terminologies for regular users which are the best part of this XMeters software. It not only gives you the usage details on the taskbar like DU software, but also provides you with many other extra tools like monitoring CPU usage, storage usage, and the memory usage. If you Left click anywhere on the software's toolbar, the task manager pops up and if you right click the settings opens up. Well, I can say that it is one of the best DU software and also that is for free.
5. NetMeter Evo
NetMeter Evo is efficient software for calculating network bandwidth and your data usage on a particular basis. This software has a better than the original NetMeter software as it has a customizable graph which allows clicking on the screen even if your chart is opened up. It is light software which not utilizes much but provides similar facilities as the original DU app. A good and decent alternative for DU software for free.
6. UpDown Meter
UpDown Meter is a wise and good alternative for the people who are looking for a good and free software. After you have completed the setup of this tool, you must calibrate it as it enables UpDown Meter to know and observe the stats precisely. It provides you accurate details of your memory and data usage as it runs silently in the background without interfering with your work by repeatedly popping up.
This app is not as similar to DU meter as it doesn't show the statistical representation of your data usage, but not to worry it also have other impressive features like animated tray icon, multi-monitor screen edge docking, always on top, and the transparent window that you can try. It not only provides you the current time download speed and network speed but also tells you the overall average speed of the data connection you are having.
Final verdict
Here are the few fresh alternative DU meter softwares which you can use easily if you want a good free network monitoring tool. Networx, I must say is the best of all the above as it is mostly similar to DU meter but still provides you little for and that too for free! This app will not only sum up your total data used but will also warn you of any unwanted things you may encounter.
So In total, I can say that all of this software are the best alternatives and you won't get anything better than this in this year. It is also an excellent tool to use if you want to have a proper knowledge of your surfing, downloads or uploads in an exact graphical, statistical or numerical manner. These software's are identical to the original DU meter, but not totally, all of it has got its pros and cons. Nevertheless, all of them are sure to satisfy with its good look, easy use, and customizable interface. All of them listed here is free, so there is nothing to worry about! Just download it as well as use it as you please.